Welcome to NSFW Lesbosexy Sunday! Just so you know, you have really great hair today.
+ Sex strikes: they can work, and they will especially get you media attention. According to Slate:
"Generally, sex strikes–known in activist circles as 'Lysistratic non action,' a nod to Aristophanes' ancient Greek comedy–appear to be more successful when the women involved have little economic autonomy, when their demands are specific and realistic, and when they possess endurance and strength in numbers. In the tiny, rural Filipino town of Dado last year, women belonging to a sewing collective successfully brought an end to violence on a thoroughfare connecting Dado and a regional market center by withholding sex from their husbands for a week. And a four-month, 300-woman sex strike in the Colombian town of Barbacoas last year succeeded, with local authorities promising to improve conditions on the roads connecting Barbacoas to the nearest town."
+ Having constant orgasms because of everything really sucks, actually:
"Imagine feeling aroused for no reason other than you got up that day," she said. "I've even had one in public. I was travelling home on the train and it was a bit of a bumpy ride. Every jerk of the train or vibration made me more aroused and it was a 40-minute journey so there was nothing I could do. I just had to bite my lip and sit on my hands and hope no one noticed."
+ A Saturday History Lesson from The Rumpus on When Edith Wharton Wrote Erotica:
"Could she have known that 1968 would coincide with the sexual revolution, that what might have been obscene in her lifetime would change and no longer be? Could she have predicted that her narrative now sound so tame, set alongside our childhood V.C. Andrews collections, not to mention any current romance-bondage pulp-sensations That Shall Go Unnamed? Did she predict that at some future there would be no call from primness, or embarrassment, about these sorts of fantasies? Of course we'll never know. But that might just be how she wanted it." 
+ Babies and Bellybuttons and other weird-ass misconceptions about sex, from Kate Conway at xojane: "When I was a kid, my parents made sure to tell me that babies were made from sperm and eggs, but it took me 15 years to figure out that balls don't live inside dudes like sleeping chipmunks."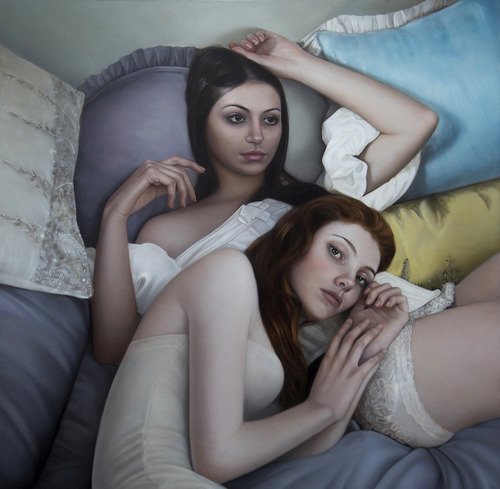 + This compilation of Disability and Sexuality Resources is quite something! On that same tip, if you're in London you should hit up the "Sexual Freedom Day for Disabled People" event on September 24th, scheduled to coincide with the Woodhull Sexual Freedom Summit happening in DC, which promises an "LGBT Grotto."
+ Too much sex can feel weirder than not enough sex, but that you should just appreciate it.
+ Go Topless Day in New York was a success, featured lots of topless women:
"'We say there is nothing wrong with the female nipple,' Karen Heaven, an organizer of the event, told the crowd that quickly formed around her in Manhattan's Bryant Park. She was wearing white pants and not much else besides a purse over her shoulder. 'My dog has six, I have two, but I can be put in jail for showing my nipples. It's 2012 — what are we thinking?'
It is legal for women to go topless in public in New York City but laws vary widely across the United States. Heaven and her colleagues say discrimination is unconstitutional and they want full equality."
+ Sometimes you just need to use a condom (sharing a strap-on, anyone?). According to Wirecutter, the best one is Trojan Ecstasy Ultra Ribbed (though note that anything with lube inside as well as out would make a less than ideal makeshift dental dam).
+ Pixel Smut, by Max Capacity, is a series of pixel-based drawings of lesbian sex.
+ Rachel Rabbit White went to a lesbian cougar meet-up, for Journalism:
"When I arrive at the bar a woman named Judith, who has small wire glasses and short neon blue hair wraps, waves me over. I introduce myself, as 'just the writer' and we start talking about what she is here for. Unsurprisingly, she's here for younger women.
'There is something about women at 27 or 28,' she says. 'They are young but they know themselves, they are grounded. Plus, I need someone who can stay up having sex all night.' Judith's eyes glitter and wrinkle at the corners. She looks like someone you might find yourself in an orgy with at an acid-fueled pre-Burning Man loft party. I am surprised when she tells me she is 60 years old — because she looks younger and also because, to my surprise, I was sort of into imagining that whole Burning Man orgy scenario."
+ There's pole dancing, and then there's epic pole dancing.
Disclaimer: All of the photographs on NSFW Sundays are taken from various tumblrs and do not belong to us. All are linked and credited to the best of our abilities in hopes of attracting more traffic to the tumblrs and photographers who have blessed us with this imagery. The inclusion of a photograph here should not be interpreted as an assertion of the model's gender identity or sexual orientation. If there is a photo included here that belongs to you and you want it removed, please email our tech director at cee [at] autostraddle dot com and it will be removed promptly, no questions asked.