This week in No Filter, the sun and the moon did some crazy shit and all the celebrities we pay attention to responded accordingly! At least, most of them did. Also, some of our problematic faves got caught up in the latest nude photo leak (or whatever), which we're not gonna write about here because it's violating and gross! Know what isn't violating and gross? Dorky eclipse glasses.
---

WHAT A CUTE COUPLE OF NERDS.
---

Stephanie Beatriz took some time out from looking really goodlooking to… nope, she multitasked.
---
https://www.instagram.com/p/BYEHbLxlNVU/
The Quin cats know how to handle a once-in-a-lifetime eclipse, let me tell you.
---

There are two Jasika Nicoles and they're both better at everything than twelve of you.
---

When you're a cool sexy famous person like Cara Delevingne, you can swim with whale sharks that look suspiciously like one of my favorite Facebook stickers of all time: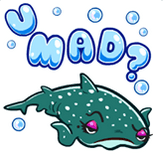 ---

Beth Ditto spent her eclipse time knitting adorably.
---

Nobody even told Stella Maxwell there even was an eclipse…
---

…while Chelsea Manning was the actual sun in the sky, so.
---

I guess ERW is upset that we're still in a fight because she performed this very sweet rendition of "Edelweiss" and dedicated it to her son. I FORGIVE YOU.
---

It's no Joan Didion, that's for damn sure.
---

Cameron Esposito and Rhea Butcher enjoy eclipsing responsibly.
---

Sarah Paulson and her costars (all playing different characters in Riese's real life in this season of American Horror Story) went to a Cher concert and she fucking livestreamed it and nobody has ever wanted to watch anything less than I want to watch your Instagram livestream of a concert I'm not at… but I will forgive you this one time.
---
Join us next week, for whatever extraordinary celestial something-or-other leads famous people to take goofy selfies.