Welcome back to No Filter, an increasingly necessary space in which we process the week in queer celebrity Instagram instead of dealing with other, more serious current events. When I'm not scouring the internet trying to figure out what Janelle Monáe's up to, I'm mostly screaming into a pillow!!! This week in important news, Cara Delevingne and Ashley Benson were seen near each other at a thing, these lesbians are dating, Kristen Stewart and Stella Maxwell are FINE THANK YOU and Lindsay Lohan tried to steal some children and got punched in the face????
This whole thing's a bummer from start to finish but I must point out how bizarre it is how the second she gets hurt her inexplicable accent suddenly evaporates. Nothing good is happening here.
---
Reader Claire WROTE IN to alert me to the fact that King Princess is indeed incorrect; Mark Ronson is (according to her) Dawn Denbo, and King Princess is none other than Billie Blaikey. I encourage everyone to jump in with their feelings about L Word characters, and the queer celebrities who embody them.
Now that she's pointed it out, I can't help but see the resemblance.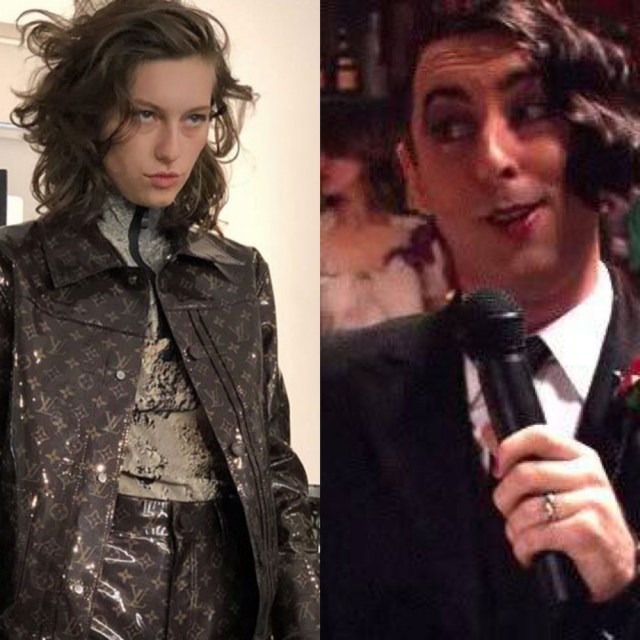 ---
https://www.instagram.com/p/BoPRMjsnM6D/?taken-by=teganandsara
This has been a stressful week so Tegan and Sara wisely turned off comments on their Instagram and then hastily filled it with cats and NONE OF YOU CAN SAY ANYTHING ABOUT IT.
---
Everything else in the world hurts so imagine these two lovingly eating birthday cake together.
---
https://www.instagram.com/p/BoZrgg7nj6k/?taken-by=kehlani
Please make Spookylani's Halloween Spectacular a thing I can have in my life? I envision it as a spooky variety show.
---
Look I know Hayley Kiyoko isn't from New York so maybe she didn't know but girl, when one car on the train is empty like that, there's usually a reason.
---
I wanna rent a shitty Halloween sequel from Lena Waithe so BADLY.
---
Mazel tov you crazy kids!
---
Gaby Dunn went to an aquarium and learned that jellyfish are gay. Also gay: garden eels, cuttlefish and all sharks.
---
This is a professional comedian hitting you hard with some area code humor!!!
---
I thought we could close this week out by pretending to dance to Whitney Houston with Samira Wiley; it's just about the only thing that's made me smile in days.