Never Have I Ever has returned to Netflix with a new season, and, much to my surprise, the series improves substantially in season two. It's clear that Mindy Kaling and the show's creative team took much of the criticism about the first season to heart, re-examining and removing some of the most offensive elements and adding much-needed depth to many of the characters. But while the season pulls off some incredibly touching and thoughtful stories, it continues to badly mishandle the issue of race.
---
Season two of NHIE portrays Indian communities with much more nuance than season one, but it takes some time to get there. It starts by making some of the same mistakes as its predecessor: barely two minutes into episode one, Nalini shares an instance of her "emotional exuberance" when she once hugged a stranger after hearing about a discount on a damaged printer. It's an unnecessary moment, dripping with stereotypes about Indians being cheap and emotionally detached.
Her visit to Chennai is similarly full of racist presentations of India: for instance, the ridiculous notion of winning favors with family through Trader Joe's snacks and the dig about losing power don't square with Nalini's wealthy family. As with season one's depiction of Indian community, the writers scatter kernels of truth here and there, but they're unexamined and not properly fleshed out: taking just one example, Nalini's family probably would have servants — but also, so would the ostensibly middle-class Nirmala. However, as the season progresses, the show thankfully moves away from making sweeping statements about Indians (that are pretty much always offensive) and focuses on developing the characters instead.
Nalini, in particular, undergoes a complete transformation between the two seasons. Throughout season one, Nalini was the type of emotionally abusive Indian parent who only ever berated her child. In season two, she shows much more willingness to see things from Devi's perspective right from the start. Multiple times in the first few episodes, Nalini lets Devi off the hook without any real punishment or lecture for breaking the rules. I'm not convinced that the type of parent Nalini was in season one changes so easily or quickly into one who can admit her own faults or when her daughter is in the right. Honestly, though, I think this shift is for the better because the show is actually able to develop a storyline of Nalini's own, as we learn more about her office, see her interact with her professional colleagues and grapple with the challenges of being a single parent.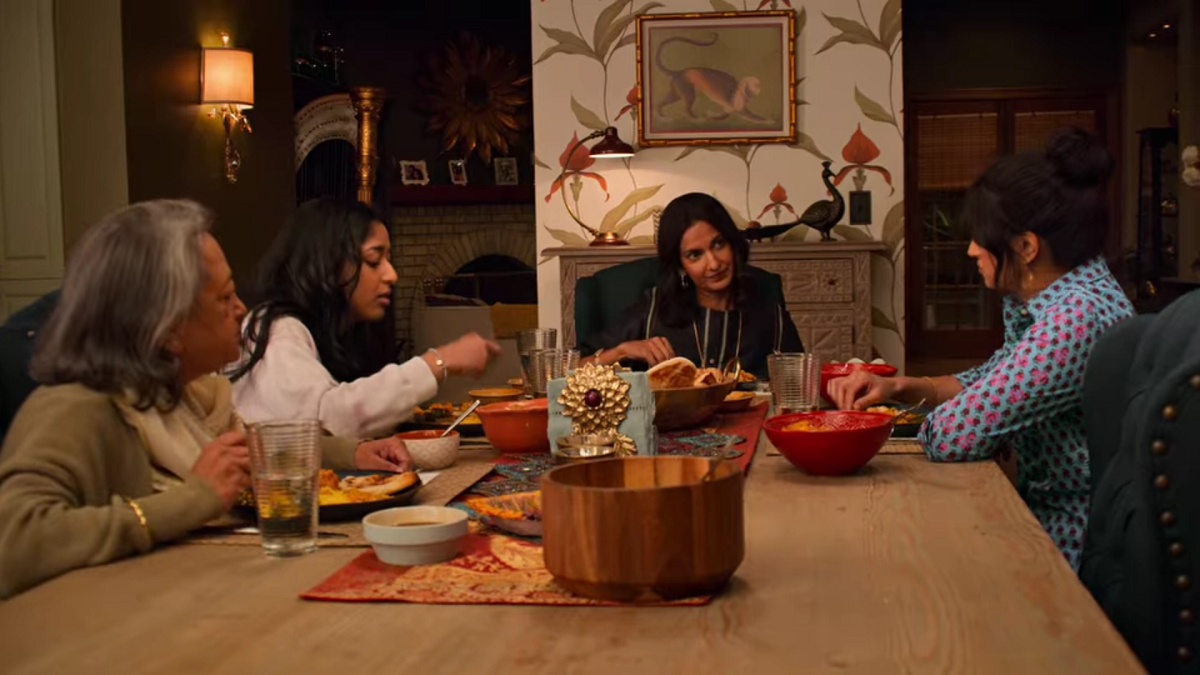 Kamala's arranged marriage storyline also gets a much needed reckoning. The show had previously presented arranged marriage in a shallow way by having Kamala dump her East Asian boyfriend to date Prashant, the man her family was arranging her marriage with, because he turned out to be hot. But in season two, Kamala starts to reconsider her relationship with Prashant as he continuously downplays the rampant misogyny at her research lab. The problems she faces at the lab and what that tells her about Prashant become the main tensions of Kamala's story in season two, offering a thoughtful re-examination of the sexist expectations placed on Asian women in both American and Indian culture.
Never Have I Ever also broadens its representation of Indian community with the addition of Devi's classmate Aneesa in episode four. The writers make a point of stating Aneesa is Muslim when she's introduced in class; other than that, her religion is mentioned only one time when she shares with Devi and her friends how she struggled to fit in with the cool kids at her previous school as the only Muslim brown girl. These references feel pointed: it's clear that Aneesa was added as a specifically Muslim character to correct NHIE's poor handling of Indian Muslims in season one, which had no Muslim characters at all and portrayed the latent Islamophobia in Hindu communities without actually calling it out as a problem. But what would it look like for Aneesa's religion to be more fully integrated into her character? Honestly, I don't know, because I can't speak to the experience of being Indian Muslim and American. The way NHIE handles it currently definitely feels tokenizing, though.
This question of how to incorporate racial, ethnic and religious identities of non-white and non-Christian characters into their stories is one that Never Have I Ever has to tackle repeatedly because of its diverse cast. In some ways, it's hard for me to not hold this show to a double standard because plenty of American media that centers white characters fails to address the racial identities of side characters in any kind of convincing way. But seeing Devi as both clearly Indian and clearly Hindu (even when the show does this poorly) makes the gaps in the other characters' identities stand out even more.
---
In season one, Devi's best friends Fabiola and Eleanor were two of the most obvious examples of nonwhite characters whose racial identities are completely ignored. In season two, we briefly see Eleanor perform with her Chinese acapella group; much like the references to Aneesa's being Muslim, it feels a little like a token. Fabiola's Afro-Latina identity, however, remains unacknowledged, and, in the context of Fabiola's season-two story, this becomes a glaring omission.
Out of the closet and dating Eve, Fabiola is engaging more with queer community, but she's struggling to fit in. Eve and her friends casually reference queer media and celebrities all the time, leaving Fabiola lost asking questions like, "What is a Vilanelle?" and wondering if King Princess is a play. Eve's friends don't hide their dismay at Fabiola's ignorance. Eve herself is the embodiment of every woke white lesbian trope you can think of: she's a leather-jacket-wearing vegan, her leftwing political views are buffoonishly on display constantly and pretty much the only thing she and her friends talk about is white queer culture. But in the story that unfolds, Eve also represents The Queer Community that Fabiola feels like she doesn't have a place in.
Much like season one, what NHIE portrays as The Queer Community is limited to white queer community, and the addition of Eve's friend Sasha as the only other queer character of color makes that even worse. Played by none other than Niecy Nash's daughter Donielle Mikel Nash, even the very cool, very queer Sasha never once mentions a single Black queer celebrity. It's hard not to watch season two without seeing the substantial disconnect between the diverse cast of queer and trans actresses (including Lee Rodriguez as Fabiola, Jasmine Davis as the nurse in Nalini's office, Alexandra Billings as the school's college counselor and Niecy Nash herself as Devi's therapist) and the show's entirely white and cis depiction of queer culture.
In many ways, I can relate to Fabiola's struggles. Before I started writing at Autostraddle, I had peripherally heard of The L Word but had no idea how iconic it was and certainly couldn't tell you anything about the show beyond, as Fabiola says, "the 'L' stands for lesbian." So I understand how it feels to realize you're gay and then realize that there's an entire culture and history that seemingly everyone assumes you also must be immersed in simply by virtue of being gay. I've also seen how knowledge of these cultural markers can be used as a shorthand measure of a person's queerness, even within the queer community. And while some of my experience has been tied to having different interests (for instance, I'll never be into bar culture or astrology), most of it is about race.
With Fabiola's story in season two, Never Have I Ever is putting a spotlight on the narrowness of mainstream lesbian culture, but the show fails to address how race factors into that narrowness. NHIE repeatedly shows Fabiola being alienated by her queer peers because she's too nerdy and not cool enough, and the person constantly driving that point home is Sasha. The show erases the racial identities of its two Black queer characters and yet uses them to tell a story about exclusion. This story plays out in a predominantly white space and participates in the fallacy of whiteness as the unstated default culture in a post-racial world. So a story that, on its face, feels somewhat relatable to me as a queer person of color instead ends up denying the existence of racism as part of the experiences of queer people of color.
Ultimately, Fabiola's white classmate Jonah encourages Fabiola to be herself (fulfilling the trope of the gay fairy godmother — the writers also fail to give Jonah's character real depth, though they toned down some of his stereotypical flamboyance). The crux of Jonah's motivational speech involves comparing Fabiola's attempts to fit in with the queer community around her, to being in the closet. If Fabiola's struggles over the course of the season had even peripherally involved her racial identity, I would have had no problem with this comparison. As a queer South Asian woman, I often think about the similarities and also overlaps in how racism, sexism and homophobia have shaped my life. But what should have been a profound moment fell completely flat because the very real issue of the othering of people of color in queer spaces has been completely side stepped. It's hard not to feel like Never Have I Ever has inadvertently elevated "making fun of nerds" to the level of systemic oppression, instead.
---
Fabiola's story tapped into a real dynamic in queer communities, but the show couldn't bring itself to actually identify the problem for what it truly is: racism. And this brings to light an issue with NHIE as a whole. Like so much mainstream media, Never Have I Ever flirts with the existence of racism but doesn't want to seriously confront it.
This even applies to the show's South Asian characters. We see Devi experience the occasional microaggression but, beyond embodying the model minority, systemic racism isn't something she really has to deal with: her unpopularity at school is chalked up to the excesses of her own actions, instead. (John McEnroe, narrating Devi's internal monologue, actually says this explicitly when Aneesa is introduced: "[Devi] had always assumed her unpopularity was because of racism, but this new kid was proving that Devi might just be objectively lame.") Racism is stated as the reason why Aneesa had previously developed an eating disorder, but the show treats the racism as a problem of Aneesa's past, left behind at her old school. Instead, as Aneesa's mother points out, the only other Indian girl at the school is the one to spread a rumor about her (in some ways echoing the ongoing dynamic between Sasha and Fabiola) and effectively denies the existence of race-based bullying.
The issues in Kamala's research lab are also more about gender than race. Kamala makes one passing reference to having been forced by her boss to play a woman kidnapped by a maharaja in multiple LARPs, but her colleagues don't say they can't understand her accent and her boss doesn't allege that her "poor" writing skills are the reason why she was left off the journal publication. The fact that what Kamala's going through is not about race is further reinforced by the fact that Prashant clearly can't relate to her experience at all.
The show's non-South Asian and non-white characters don't even get the microaggressions; for them, racism is a historical artifact. I was touched by Paxton's storyline of connecting with his grandfather and learning about his Japanese family's history of internment in the U.S. for a school project. But, Paxton also doesn't have to navigate racism in the day-to-day. There are a couple of passing references to the erasure of his biracial identity, but the larger story about people failing to see his interiority is that his family and friends assume he's not studious. Once again, the show is side-stepping race.
The only time the topic of anti-Blackness is skirted is when Fabiola's mother shares that she and Fabiola's father were the first queen and king of color of their high school dance. While I appreciated that this became the impetus for Fabiola and Eve nominating themselves to be the high school's royal couple at this year's dance, I was also disturbed by the implication that racism against Black and Latinx people is squarely a thing of the past. And, this is yet another instance where the interplay between racial and queer identities within queer community and culture is completely white washed.
I don't believe that every story about people of color has to be about our traumas. If Never Have I Ever wanted to center positive stories about people of color, I could understand that. In some ways, it pulls this off most successfully with Nalini's storyline, which was one of my favorites in season two. The show glosses over many things, like the anti-Blackness that is persistent in far too many Indian communities and Nirmala's easy acceptance of Nalini dating (and dating a non-Indian man at that), but we also get the rare joy of seeing two non-white characters of different backgrounds connect with each other over their shared experiences and not be bogged down by racism. (Arguably, though, Dr. Jackson's Black identity is also nonexistent.)
But in so many of the other plot lines, Never Have I Ever walks right up to the line of racism and then makes the story about something else. It makes for an unsettling viewing experience as a person of color. All of these characters of color are trying to find their place and come into their identities in ways that really deeply resonate with me. And then that connection slips away because, in the real world, these struggles would be very clearly related to the characters' racial identities, but the show insists that what's happening is really not about race — a claim countless white people have made in my life. I do recognize the feat of representation that NHIE is pulling off, but it's hard to watch a show that's so much about race — that clearly wants to engage with racism — repeatedly undermine the reality of structural racism, instead.