Welcome to the second edition of Sunday Top Ten, a list of completely random and undoubtedly self-indulgent things that may or may not be published on a Sunday or number "ten." This feature is a continuation of the Sunday Top Tens I used to write for my earth-shattering personal blog Autowin, where I talked about myself pretty much constantly from 2006-2008. 
---
Today a really important football game is happening on the television. Brittani is liveblogging it, and I'm kinda trying to watch it while doing other work, and honestly the only reason I have the foggiest idea what's happening on that field is because of Friday Night Lights. Isn't that the reason that we're all here? Even if by "we" I just mean "me" and my stuffed dog Tinkerbell? P.S. Obviously Tinkerbell's favorite character is Tinker.
Before we begin, I'd like to briefly mention that I think Carlotta was really hot and generally the bee's knees, but I have no idea what she saw in Matt Sereson and generally found that whole storyline a bit strange. So I thought long and hard about including her here but ultimately did not. There were many characters I felt similarly conflicted about. For the record, "The Swede" was not one of those characters, nor was his temporary lady love, the petulant Julie Taylor.
---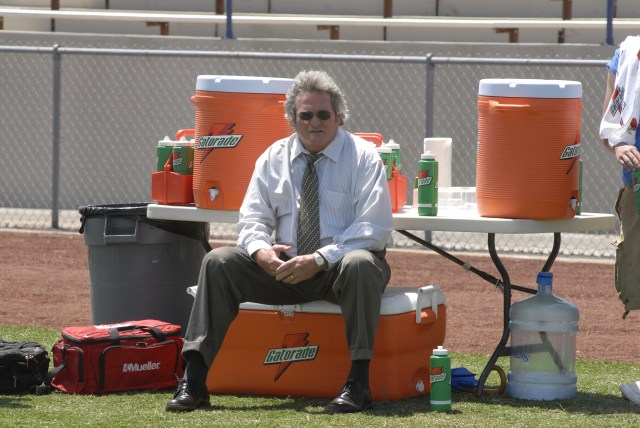 10. Buddy Garrity
Okay — I wouldn't exactly wanna hang out with Buddy Garrity or have him as a father or a friend. But I think his character was so well-done, and so well acted, and also he really evolved in a meaningful way and was great comic relief. He felt real, you know? He felt really, really real.
---

9. Bo Miller
I was super depressed when the Tim Riggins / Jackie Miller subplot got killed by Billy Riggins and then I guess totally slaughtered by some force I no longer recall, because I had a strange obsession with how adorable this little kid was and how much he admired Tim Riggins. I'm a sucker for the small-child-brings-out-a-steely-persons-softer-side storyline. The great minds behind The L Word Season Four should've dyed this kids hair and cast him as Shane's little brother Shay instead of that milkshake-spilling kiddo.
---
8. Devin the Lesbian
Remember when there was a lesbian on Friday Night Lights for like two minutes? She was really cute and in a band and took Julie to a lesbian bar. Unfortunately no romance ensued, despite the fact that I think she would've been a nice match for Becky Sproles.
---

7. Vince Howard
Pretty much anything Michael B. Jordan does, I am on board with, with the exception of That Awkward Moment, which I think is about That Awkward Moment when Michael B. Jordan is in a romantic comedy with Zach Efron. I really loved Vince's evolution as a character and always found the East Dillon storylines more compelling than the first few seasons' Panthers storylines — I'm not sure if that's a popular opinion or not. Vince Forever.
---
6. Corrina Williams
Mhm, Smash Williams' Mom KNEW THE SCORE in all the ways. I think I would've liked Smash a lot more if I didn't get so upset every time he mouthed off to his perfect best mother of all time. Much like Tami Taylor, Corrina came down hard when she needed to but loved hard, too.
---
5. Tyra Collette
What can I say, I have an endless appreciation for girls over 5'10 who look like they could demolish me at arm wrestling. Also Tyra, like many young FNL characters, often was forced to take on the parental role with her own parent, and that has a way of making a person strong and wise beyond their years. I included Tyra on my list of Ten Badass Yet Toxic Best Friends, noting that even the baddest bad girl can turn it all around with the help of Tami Taylor.
---

4. Landry Clarke
My girlfriend was worried that I'd have confusing feelings about Landry after his role as an evil motherfucker in Breaking Bad. But nothing can abate my love for Landry because he is a dork and he is funny. Not even murder, duh!
---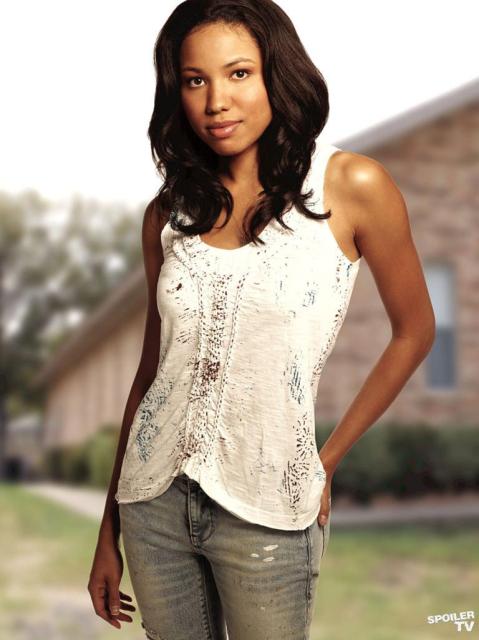 3. Jess Merriweather
I don't read much about Jess Merriweather when I read about Friday Night Lights because I think she never really got her chance to shine. Her character had so much potential and I appreciated them showing a girl who didn't just want to watch, but wanted to play — or coach, at least. In the imaginary Jess Merriweather spin-off in my mind she's coaching an NFL team.
---

2. Coach Eric Taylor
As I believe I've mentioned ~15 times, I hate men, even on television. But I don't hate Coach Taylor (except for when he wouldn't fire Coach Mac for being racist and insisted Coach Mac wasn't racist even though Coach Mac was obviously racist!). Speaking of hate, I always hated football, too — until I heard Coach Taylor describe it, and then I thought it was pretty alright and good for Building Character. Have you seen Academic Coach Taylor? It's the best tumblr ever.
---
1. Tami Taylor
FNL  honestly didn't have a great across-the-board track record for its female characters, yet they still managed to create the best female character ever of all time in Tami Taylor. In addition to being smokin' hot, Tami Taylor also possessed smarts, sass, strength and loyalty in spades and took a feminist stand against prioritizing her husband's career at Season Five's end. She encouraged her students to thrive and believed fiercely in their potential. She drinks a lot of wine. She balances a healthy skepticism of football's centrality to her local culture with undying support of her husband and the boys he coached. Tami and Eric have the best marriage I've ever seen on television.  Also, one of her daughters is a self-centered insolent bitch and the other is maybe an devil alien, and she seemed to handle that pretty well. 
---
Who were your favorites?