My Monday night television ritual is Weeds and VH1's Basketball Wives — H.A.M. and effery at its finest, Nancy Botwin included. If you're amused by watching hoodrat things pop off in high-end places, then THESE ARE YOUR SHOWS. They're very classy.
Also on Mondays, VH1 airs LaLa's Full Court Life. LaLa's Full Court Life is like the Tia & Tamera show — the girls are pretty and and you like them, so it can get a little boring.
It follows LaLa, the wife of the New York Knicks' Carmello Anthony, and her friends, who are mostly in the music industry or professional athletes. Lala's closest friends are Serena Williams and Kelly Rowland. She's essentially friends with all of Black Hollywood except for actual SAG cardholders.
Her cousin Dice and her best friend Po, who we met in last year's Wedding Special, are LaLa's closest non-industry friends. She's also got a brother named Diego.
So we have a Diego, a Po, and a LaLa.
A children's afternoon special! So there's that.
Po and Dice get the most airtime outside of Lala. Also, Po and Dice are both GAY.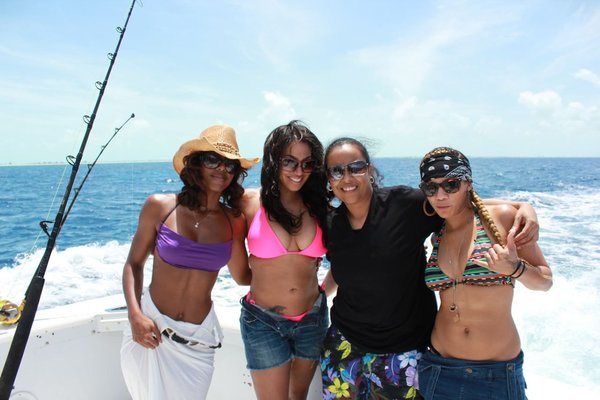 Po's the femmey-tomboy-hipster-fairy-child and Dice is the more masculine-gentle-and-kind-soul. From what I gather, Po's pretty open about her lady-loving — she talks about it a lot, even mentioning that she'd like to have more kids than Angelina Jolie, but that sperm is expensive and that she'd like to use one of Carmello's Denver Nuggets teammates as a sperm donor.
In the first episode; Lala, Kelly Rowland and Po lose a Boys vs. Girls bowling game against Carmello and a few of his teammates and the loser has to streak downtown Denver. Lala can't do it because she's married and has an Impressionable Toddler son. Kelly can't do it 'cause she's got a music career and its accordant publicist and endorsements. So Po has to do it.
Po running down the sidewalk in undies and suspenders:
Dice, on the other hand, is reserved and uber-conservative and she has yet to directly talk about her sexuality.
But in the third episode, the same episode that Po was on the phone freely talking with her girlfriend, LaLa asked Dice about her love life and it was like pulling teeth. Actually pulling teeth would be a breeze compared to that conversation.
LaLa: [imitating a news anchor] "So, are you in a relationship?"
Dice: "That would be uh — affirmative."
LaLa: "Does he or she provide you with everything you need?"
Dice: "Yes."
LaLa: "So that means you are not presently looking for another He or She."
Dice: "No."
LaLa monologues:
LaLa: "The thing about Dice's personal life is she's very private when it comes to talking about her relationship and her love life. We all know what's going on… I wish that she would open up. I think she would feel a lot better."
In a recent VIBE Vixen interview, LaLa had this to say about the importance of LGBT rights:
On the topic of LGBT sexuality that arises:
My cousin Dice is a big part of my reality show and what's important to me about Dice besides, obviously, that being my cousin and one of my best friends, is Dice is dealing with sexuality issues and different things like that. I think it's important to see things like that on television because you have a lot of people struggling with who they are and trying to find themselves and worrying about if people aren't going to accept them, and it's good that we touch on these issues on the show. I think that can help a lot of people.
There's lots of reasons why Dice might not be talking about it, especially in a public forum like Vh1. But there are rumors that Dice will "come to terms with her sexuality this season."
Latina and African-American lesbians have popped up here and there on reality television, but usually in competition shows or in the "special living environment" subgenre of documentary-style reality shows (e.g., Big Brother, Real World) — Paula from She's Got the Look, Ebony from America's Next Top Model, Kathy from College Hill: Interns, Tika Milan from I'm From Rolling Stone and Aneesa, Ruthie and Coral from The Real World. But special-living-situation and competition show genres by definition extract people from their actual lives, often surrounding them with strangers. Meanwhile, like Sajdah on The Real L Word, we see Po and Dice in their actual lives (more or less). Their sexuality seems like it's accepted by people around them. Now if only Dice would say it out loud we'd really be doing something special…
The show is pleasant. Everyone is pleasant. And copasetic.
Perhaps in upcoming episodes Po will add leopard print to her Doc Marten collection, Dice will announce to the world she's dating Nancy Pelosi, and LaLa will make it in the movie industry… as long as she stops calling them "movie people."