Come Super Bowl time, there's always so much talk about football but not a lot of talk about the digestive system. Dips have a lot going on. The real battle is probably happening in millions of people's stomachs as they take on bean, spinach, and/or several layer dips. I will pray* for you all. There's no reason for you to know this but I don't ever really have stomach problems. Now that could be somehow related to my impeccable immune system (is that even possible, I'm not a doctor) or because I have put really shitty foods in my body for my entire life and have never really taken a break from that so my body just kinda knows what's up I think.
*never think of anyone besides myself
This is supposed to be a live blog but it already feels like it's going to be a stream of consciousness situation for me so you know leave or stick around depending on your feelings re: that. I'll be here either way. You can share your favorite dips in the comments if you want to. Putting me in charge of this live blog seems like it might have been a bad decision on the part of several people. Oh man, is being self-disparaging charming? I feel like when most people do it, it's an act but this is REAL. I promise I'm ok though no one check on me, I'm fine.
https://twitter.com/SaraJBenincasa/status/430125930095181825
Anyway, FOOTBALL. The game is at MetLife Stadium in New Jersey and being co-hosted by New York and New Jersey. It's so cute that they're getting along for the sake of this game. The Seahawks are favored to win according to some people and the Broncos according to others. Personally, I just want Richard Sherman to stand in the middle of the field and lecture America on race relations but since that won't happen, I'm rooting for the Seahawks. Other things I'm rooting for: hard cider to replace beer at all social functions, phone calls without being warned that someone is about to call you being outlawed, and myself in general.
This game has the NFL's highest-scoring offense taking on the defense that gave up the fewest points AKA The Legion of Boom. Both teams were the number one seeds from their respective conferences and that pretty much never happens. I'm sure there's some stat on that somewhere online but if you're looking for that sort of information, you're in the wrooooong place.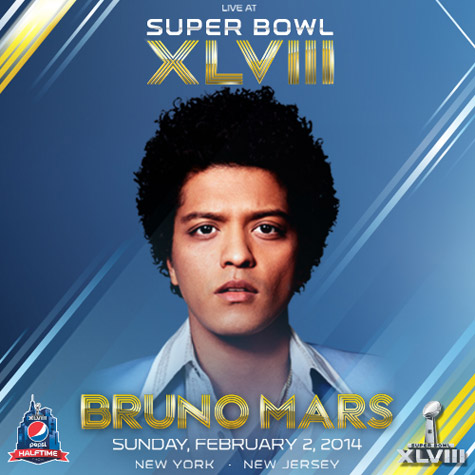 Also, HALFTIME Show. We've got Bruno Mars. In an effort to attract…I don't know. Who DOESN'T watch the Super Bowl, ya know. And if they don't, are they the people that will be drawn to it by Bruno Mars? I guess in an effort to appear hip and with it, he's performing since I don't consider him to be as big as the performers they usually have. This might have been a smart move though because NO ONE can top Beyoncé so good on them for trying something new and hoping for the best. The Red Hot Chili Peppers will be there to make sure white people don't get TOO uncomfortable.
Pregame:
3:20 PM EST: Is Queen Latifah on some sort of America's Sweetheart Tour? What's happening. Also, Renee Fleming, American soprano. What a great title to have.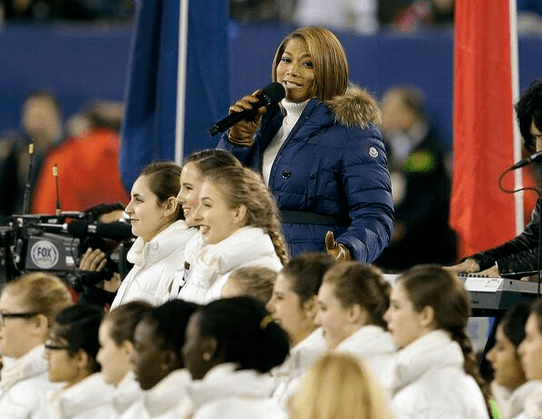 3:28 PM EST: Joe Namath is very excited to be there! And he is swagging on them with that American Hustle ass coat. Do you think he was singing "Thrift Shop" under his breath as he walked onto the field.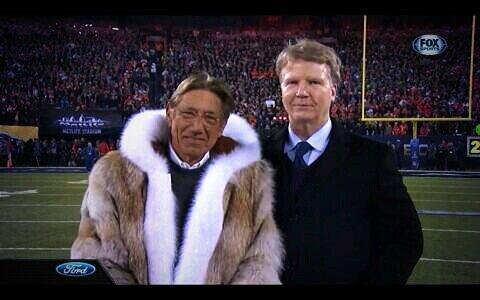 3:31 PM EST: James Franco has a commercial and after all that talk of double double double, the hashtag is #nearlydouble so I don't believe any of that smack you're talking Ford Fusion.
1st Quarter:
3:34 PM EST: Well the game gets going with a snafu as the ball is snapped over Manning's head and results in a safety. SEATTLE 2 DENVER 0. Fastest score in Super Bowl history.
3:34 PM EST: Reggie Watts and Quevanzhané Wallis in one commercial break so the world is winning. That Wallis commercial ended with her saying, "and strike" but it definitely should have been, "and fuck shit up." Also, that was a Maserati commercial?! Why was that not for a movie. I would see whatever movie that would have been FOR SURE.
3:34 PM EST: Seattle scores on a 31-yard field goal. SEATTLE 5 DENVER 0.
3:37 PM EST: Nothing makes me want to buy a car more than cows having sex.
https://twitter.com/Ethan_Booker/status/430125519514771457
3:55 PM EST: Turbo Tax was reaching with that John C. Reilly voiceover commercial but I liked it anyway.
Wait, is the Superbowl not brought to us by http://t.co/EaNF27Gii4?

— Benjamin Siemon (@BenjaminJS) February 2, 2014
4:03 PM EST: Just an update on me. This is really not a primo situation for me to snack the way I should be snacking.
4:04 PM EST: Bud Light sure picked the perfect BRO for that commercial. Don Cheadle is a national treasure. "Tiny tennis" made me laugh. How could it take anyone that long to recognize Arnold sSchwarzenegger?
4:05 PM EST: Ellen doing what Ellen does not best and dancing her heart out for America. Shout out to Aloe Blacc for making it into a Super Bowl commercial!
4:07 PM EST: Irving keeps Seattle from scoring a touchdown and they're forced to take a field goal which they make. SEATTLE 8 DENVER 0
4:10 PM EST: Sounds of the Game is just grown men yelling so thanks for sharing that.
4:12 PM EST: Chancellor with an interception! Seahawks ball. It is not looking great for the Broncos.
4:14 PM EST: I love me so Squarespace but that commercial did nothing for me. Now that Radio Shack commercial with Kid N' Play! I'll take that all day. I'm pretty sure the House Party series was a 90s thing but I suppose they were probably doing things before that and I just wasn't alive yet and have been kept unaware of those projects.
Also, they are correct. Radio Shack needs an update. I've wondered how they haven't gone the way of Blockbuster many a time.
2nd Quarter:
4:23 PM EST: Lynch just dug his way to a touchdown like he was in Diglett's Cave. It was the calmest Super Bowl touchdown I've ever seen. Extra point is good. SEATTLE 15 DENVER 0.
4:24 PM EST: Oh, Tim Tebow, we don't care anymore.
4:24 PM EST: How could WeatherTech.com afford a commercial? Was there a groupon?
4:25 PM EST: Mark Wahlberg is in the new Transformers movie so that franchise has become a spoof of itself.
What's going on RT @jcpenney: Toughdown Seadawks!! Is sSeattle going toa runaway wit h this???

— WHAT YOU SAY BABY (@dreadcraft) February 3, 2014
4:34 PM EST: Literally everyone on Twitter is making weed jokes and none of them are funny.
Can't wait for @JanelleMonae to play the halftime Super Bowl show!!…Oh wait it's Bruno Mars, oh well.

— reggie watts (@reggiewatts) February 3, 2014
4:39 PM EST: Migos thinks he is Beyoncé and is dropping a mixtape at halftime FYI.
4:39 PM EST: A Malcolm Smith interception leads to another touchdown after Manning floated the ball through the air. Extra point good. SEATTLE 22 DENVER 0.
4:39 PM EST: WHO LET THAT BIRD IN THE STADIUM. Is that bird drugged up? Or roped down? I'm concerned they're going to lose the bird. Forget the game, I'm now on bird watch. #BIRDWATCH2014
4:39 PM EST: Lol EVERYONE'S CABLE JUST WENT OUT in LA. Thanks Time Warner. Ok, I'mma go eat something I guess?
4:51 PM EST: Got a stream going. Looks like nothing THAT important has happened.
4:55 PM EST: Terry Crews is in a commercial with Muppets. Maybe we are living in a post-racial America.
https://www.youtube.com/watch?v=KcpyoRAiSf0
4:56 PM EST: Subway, you have lost your way.
5:01 PM EST: I guess Cure.com spent every last cent on purchasing the spot and then just made an animation on par with the Microsoft Word paperclip for the commercial itself.
https://twitter.com/LisaNicoleBell/status/430143814116728832
5:05 PM EST: I guess Seinfield is now officially dated.
Half Time:
5:10 PM EST: Bruno Mars emerges to kids singing his part from Travie McCoy's "Billionaire" and then he gives Major Lazer some love on the drums. Then he and his band of clones get into "Locked out of Heaven" followed by "Treasure."
5:13 PM EST: He might be the first act to ever have a hype man?
5:15 PM EST: "Runaway Baby" is on now and he is sticking to his guns. Just some singing and dancing and performing his pretty face off.
5:17 PM EST: I don't know how old the RHCP are but they look great. I can't understand a word they're saying and I think this is how white people feel when they listen to rap.
5:19 PM EST: This is what happens when Beyoncé shows up with an all lady band. The patriarchy is like, "NEVER AGAIN. ALL DUDES AMERICA." Maybe there's hope for a lady still? Cross your labias. In the meantime, "Amazing."
5:22 PM EST: That was great. I mean props to him but I wasn't captivated or anything but I mean, there will never be anything that tops Queen B unless she comes back and brings Jay-Z.
What if Kelly Rowland pops up by accident

— billy eichner (@billyeichner) February 3, 2014
3rd Quarter:
5:31 PM EST: Percy Harvin runs it all the way back to start the 2nd half. Extra is good. SEATTLE 29 DENVER 0. This is nuts. This is sad. The TV shows looking to get a huge bump in the ratings after this might not get all they bargained for since I'm sure people are BORED by now and tuning out since the halftime show is over. Let's just hang out with Erin Andrews for the rest of the game.
i think it's nice that manning is throwing the ball to the other team also. he sure knows how to share.

— samantha ronson (@samantharonson) February 3, 2014
5:40 PM EST: The much awaited GoldieBlox commercial was pretty par for the course but it's cool that that happened I guess.
5:40 PM EST: Ok, well 24 just had the most effective Super Bowl spot and it was like 5 seconds long so everyone take notes on how to properly brand your everything. Somewhere in America, your dad is flipping a shit.
5:46 PM EST: The Axe commercial was so Axe tho. Things got so hetero so quick and so bland and so dumb and I want to hold the hands of all the POCs in that commercial because I know YOU'RE JUST DOING WHAT YOU GOTTA DO BOO BOO.
OH MY GOD FUCK YOU @AXE. #SuperBowl

— Patton Oswalt (@pattonoswalt) February 3, 2014
Shout out to Alice with this next tweet.
Pssst! No one's looking, finish off that dip!

— Tricia McAlpin (@TMcAlps) February 3, 2014
5:52 PM EST: That red key, blue key shit would never work on me because I'd be all, "You know how many napkins and ketchup packets I got in my car, bruh? I can't just abandon them."
5:53 PM EST: I guess Sprint has set out to ruin everyone's friendships with that friends as family plan.
5:55 PM EST: The Seahawks look good in their uniforms and green shoes. They look sharp. I'm a grandma.
5:56 PM EST: Do you think Bruce Willis every calls Nicholas Cage and doesn't say anything, he just breathes into the phone with an air of superiority?
5:59 PM EST: If a Budweiser commercial and a Bud Light commercial were ever in the same room together, Budweiser would shiv Bud Light in the stomach one hundo percent.
6:02 PM EST: CAN SOMEONE PLEASE PUT A BLACK PERSON IN THE CONTROL ROOM SO THEY KNOW TO REPLAY THE CELEBRATION DANCE LIKE WTF HE STRAIGHTENED HIS TIE AND PUT DOWN HIS BRIEFCASE I WANNA SEE THAT SHIT AGAIN
6:03 PM EST: They scored again. Extra point etc. SEATTLE 36 DENVER 0.
6:04 PM EST: "Is there anything more American than America?" Ummmm, probably not? Is this a trick question? Is it Canada?
It's so much more fun to watch FOX when it's someone else being blitzed & sacked! #SuperBowl

— Hillary Clinton (@HillaryClinton) February 3, 2014
6:11 PM EST: Denver scored and went for 2 and got it. SEATTLE 36 DENVER 8. Here. Have some Skylar Grey as a reward.
6:11 PM EST: Now that's a good sports commercial! I was talking about how much sports commercials have been sucking lately.
"The great sports commercials are of the past," says @BisHilarious with a heavy sigh. And P.S., "The patriarchy is rough."

— Hillary Anne Matthews (@faloray) January 13, 2014
6:11 PM EST: Here, I'm feeling generous.
6:11 PM EST: Of course they call Wilson a "game manager," people hate non-white quarterbacks because it's a "thinking position" and thus POCs don't deserve it this is a real part of football culture just so you knowwwwwww.
4th Quarter:
6:23 PM EST: Baldwin slips in for another Seattle touchdown giving them a 43-8 lead.
Glad I learned candy is homophobic. #ThankYouSuperBowlCommercials

— Matt Stoller (@matthewstoller) February 3, 2014
6:29 PM EST: That British villains commercial just kind of shit on Americans and I'm wondering if they've ever met Americans because that seems ill-advised.
Thank God for that twist on the John Stamos yogurt commercial, I was going to be so disappointed.
6:31 PM EST: Richard Sherman is hurt so post game is going to be a WASH.
6:46 PM EST: GAY DUDES GET EVERYTHING
https://www.youtube.com/watch?v=443Vy3I0gJs
6:56 PM EST: And that's the game! First world championship in franchise history!
Post Game:
6:56 PM EST: Diet Mountain Dew has to be the most disgusting thing in the world but that Dale call commercial was hilarious. Also, how dare Time Warner Cable have a commercial when they had that blackout DURING the Super Bowl. Slap yourselves.
7:14 PM EST: GOOD THING I'M SURE HE REALLY NEEDED THAT TRUCK I BET HE IS REALLY HURTING FINANCIALLY
7:15 PM EST: Did that commercial just say kale salad? Middle America so confused right now.
7:16 PM EST: Walmart, staaaaaahhhhhp.
https://twitter.com/tayhatmaker/status/430177839363530754
Ok, we're done here. I'm gonna watch New Girl and then I have an improv show so my night is getting significantly better. I HOPE THE SAME FOR YOU. BYEEEEEEE