Welcome to the million billionth installment of Make A Thing, where this ain't our first time at the rodeo and also we make handmade gifts for people. Or ourselves. Or our cats. Mostly our cats. 
Header by Rory Midhani
Hello, thingers and thingees! Today I'll be stepping in for Hansen to bring you what is, to be totally honest, more like Paint A Thing than Make A Thing. I know I can't be all that Hansen is for you but please, give me a chance.
As a grad student and teacher and person who generally accumulates a lot of paper, I've needed a filing cabinet for about eight years. This week, a friend was kind enough to give me their old one, and I decided that if it's going to be the depository for all the paperwork that represents the dolor and stress of my last year of grad school, it might as well look cute.
Revamped Filing Cabinet
Supplies Needed:
+ Filing cabinet
+ At least 2 contrasting paint colors (I used spray paint; if you want to use real paint, you'll also need brushes, etc)
+ Screwdriver and baggie to hold screws
+ A drop cloth, plastic sheeting, or even paper bags – some sort of paint barrier method
+ A potato and Exacto knife, maybe. (You'll see.)
Level of Difficulty: The classroom I teach in is on the fourth floor, and so unless I make sure to plan my time carefully and leave a full five minutes to walk up the four flights of stairs slowly, I arrive at my classroom sweaty and red-faced and panting, which doesn't really inspire confidence in students. So what I'm saying is that this is not difficult, but requires some planning and has many steps. But is still easier than me making it to my own class on time.
1. Obtain a filing cabinet. Pretty much any kind will work, as far as I can tell. Next, check out the handles. If you pull the drawers out, you will likely find that the handles are attached with just a couple screws on the inside; if this is in fact the case, take out those screws and store them carefully in a baggie, and set the handles aside for now. If your handles are welded on or something crazy, it's ok, it's not the end of the world. We'll figure it out in a few steps.
2. Take your filing cabinet and handles to a well-ventilated location, preferably outside. This is especially important if you're using spray paint. Once you've done so, paint the large outer body (so, not the drawers) Color Number One of your two contrasting paint colors. I chose a sort of bright sage green that matches some other stuff in my office. I pulled the drawers out of the body of the desk (I know it's harder without the handles, but if you tip the cabinet forward they should slide right out) so that they wouldn't get painted just yet, but also it's not the end of the world if they get some collateral damage from Paint Color Number One because you're going to paint over them anyway. Anyways, paint the body of your cabinet. In retrospect, it might also be a good idea to wipe down your cabinet first and make sure the nozzle of your spray paint can stays clean or else you might get some grody paint clumping like I did.
3. While you're doing this, also paint your handles! If your handles are not a type that you were able to detach from your filing cabinet, don't sweat it. Once you've painted the drawers in step 4, you can go back and get these little dudes by hand with a small paintbrush or something.
4. Once Paint Color Number One has dried, however many coats of it you needed, you're ready to paint your drawers! (It's like saluting your shorts, but different.) Pull your drawers out of the body of the cabinet again, and use some sort of barrier method to cover the parts that you've already painted so that you won't get your second paint color on them. I have recently painted the inside of my house so I had some plastic drop cloths laying around, but a garbage bag would probably work great. I used tape to attach the plastic to the inside of the body of the filing cabinet for full coverage. Once you've done that, paint away!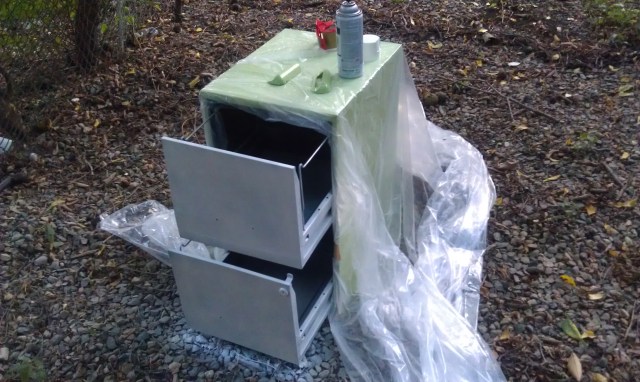 5. If you want to, you can be essentially done! Congratulations, you have a file cabinet that is probs at least 150% cuter than the one you brought home. But if you'd like, you can pull some seriously next level shit and put some sort of pattern or decoration on your contrasting drawers. There are many ways this can be done! You could stick on some homemade polka dot decals. You could cut some colored contact paper into strips for some intentionally irregular stripes. You could doodle some patterns or even words (looping cursive would be cute!) with a Sharpie. In my case, since I had a bag of potatoes laying around that were too mushy to eat and some leftover house paint that sort of matched Paint Color Number One, I decided to do some second-grade-level potato printing in a triangle shape. If you choose to go this route, all you need to do is use an Exacto or tiny knife to trace the shape you want in a potato, and then carve away everything around it. Easy peasy. Then you squish it into a puddle of paint and start stampin'.
6. After everything is dry, you can spray on a layer of shellac or finisher if you want, but also your filing cabinet is probably going to live a pretty sedate life, so no need to go crazy. Screw your handles back on and you're good to go! Don't your ungraded papers feel much more aesthetically pleasing now?