Lots of kids have treasured stuffed animal, and hey guess what? We were all kids one time too! This week we're talking a walk down memory lane to talk about our must beloved stuffed animals, and checking in with where they are now.
---
Laneia, Executive Editor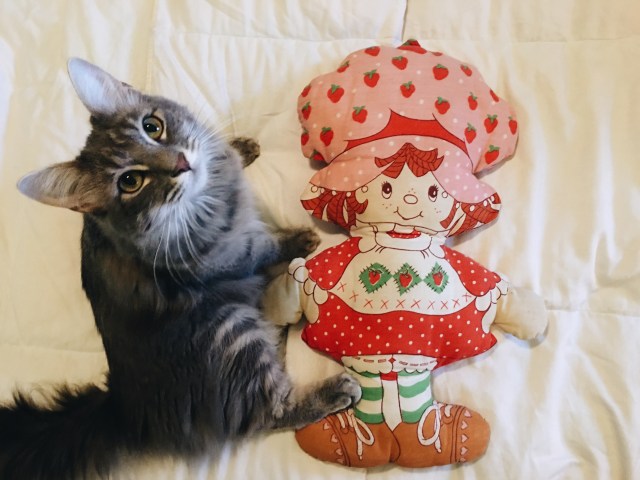 Um hello do you have a week and some time off so we can go tour my mom's attic because YES MA'AM, I sure did have some treasured stuffed animals! They're still treasured! Honestly I don't know where to start or how to narrow this down to just one, especially since they're all fully sentient of course and would heartbroken to learn that I didn't choose them, but for the sake of this community I'll go with the stuffed animal that happens to be in my room right now: Strawberry Shortcake.
There was special fabric you could buy in the 80s — and can maybe still buy, who knows — that had the front and back of popular characters printed on it, with a seam allowance and a dotted line around each. You'd cut the two halves out of the fabric, sew them together, stuff them with batting, close it up and BOOM instant soft doll thing, which is perhaps just a pillow, now that I'm thinking about it. Anyway, I don't know which kind old lady decided to do this for me when I was a small child, but I thank her and I hold her in my heart, because this is the best stuffed thing for cuddling! Cabbage Patch dolls had those hard heads, Pound Puppies were too small and really needed to be sleeping with their mama dog anyway, and have you ever tried sleeping with seven or eight plastic CareBears? Not cozy. This Strawberry Shortcake on the other hand! Pretty cozy! Again, literally a pillow, I've realized!
---
Rachel, Managing Editor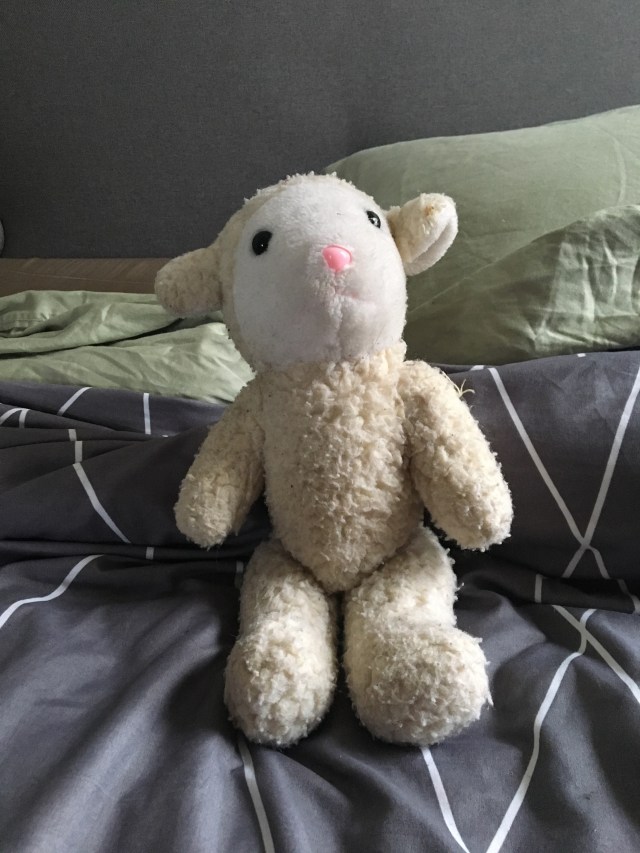 I don't know the story of how or why I got Lambie; Lambie has just always been present in my life, as far back as I can remember. Lambie's limbs are technically articulated and you can pose them in different positions, but Lambie is so old and stiff that I feel hesitant doing this. In my childhood we had a pet dog that liked chewing up stuffed animals, which means Lambie has had a few bouts of reconstructive surgery, but is doing great considering I am almost 30 and therefore so is she (I think?) (I feel like 65% confident using she/her pronouns for Lambie, that situation was never really a priority to get thought through). When I was a small child, my mom used to sing a song to me before bedtime, and I would make her sing it twice, once addressed to me and once addressed to Lambie. (The lyrics of the song were, in total, "goodnight [name], goodnight [name], goodnight [name], I hate to say goodnight.") Inspirationally or perhaps worryingly, I still have Lambie in my adult bed, where I sleep as a grown adult woman!
---
Heather Hogan, Senior Editor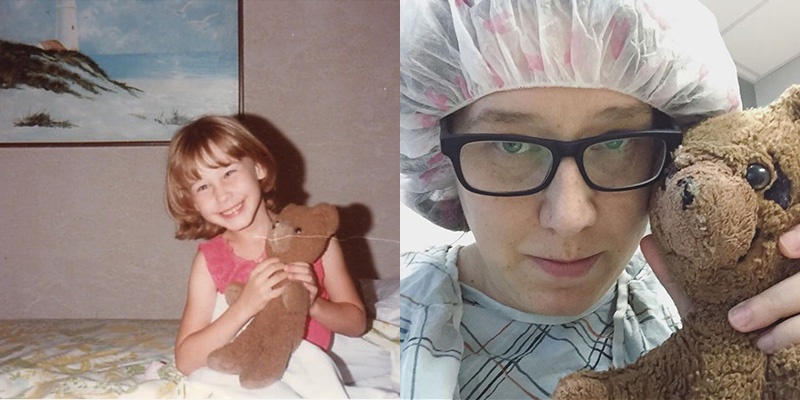 This is my teddy bear and his name is Teddy and even though there are approximately ten thousand photos of me and him together throughout my life — starting the very day I came home from the hospital — no one seems to know where he came from. Everyone in my family says they wish they could take credit for him, because no one they know has ever loved a stuffed animal so hard or so long, but they can't. It's like we arrived in the world together somehow. So Teddy has been with me for the whole time I've been me, except for a brief period when I went off to college and he got trapped in a box. When I was five years old I had corretive surgery on my lazy left eye, and I forgot him at my grandmother, Annie B's, house on the way to the hospital, so she had to call me and pretend to be him long enough to get me to calm down enough to sit still to get sedated. When I was 38 I had endometriosis surgery and I remembered him. Stacy carried him around all day, in and out of waiting rooms and the recovery room. When the surgeon saw him, he said, "And well here is a trusted companion!" And he was right, and Teddy sleeps right on my bed every night, and that will always be true.
---
Sarah, Marketing & Design Director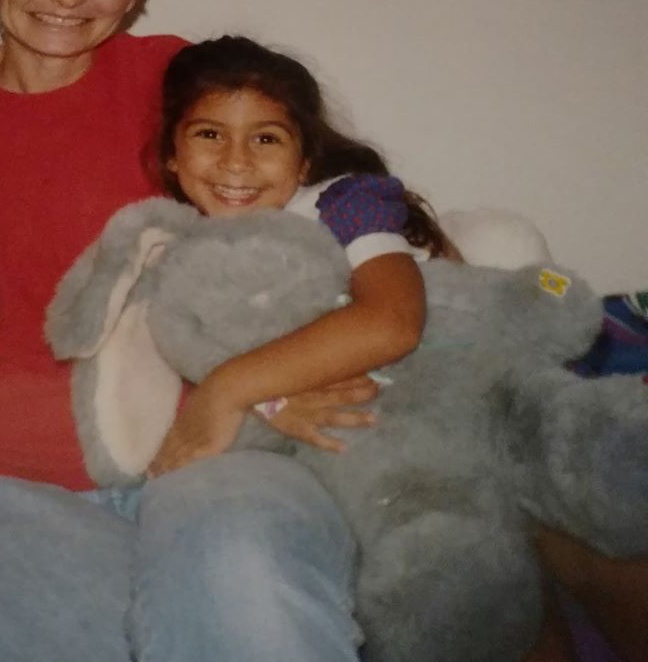 Yes! Their name is Grey, and they're a grey rabbit. Honestly I'm pretty sure this stuffed animal is non-binary because I don't remember ascribing them a gender! Anyway — I believe I acquired Grey from a family friend who gifted it to me days after I was birthed into this world. I don't remember being particularly attached to it as a child, but there is a specific instance in which I know I must have felt in some way about them. I was around 6 and on a road trip with my parents when I realized I had left it at the last relatives house — about 30 minutes away. I remember bursting into tears when I realized Grey was missing, but honestly I feel like I was also just a super dramatic child and often wanted car rides to be more entertaining than they were — so. I recently purged my collection of stuff of anything extraneous for my big move out west, and Grey survived the culling. I suppose that even if my feelings for Grey are tepid, they still make me feel some kinda way!
---
Laura M, Staff Writer
I had a ring tailed lemur from the Burnet Park Zoo in Syracuse! I had three, actually, because after I got the first one, I thought it would be a cool souvenir to get one from every zoo I visited thereafter. The issue I ran into was a) I was a child with no income, and therefore found myself unable to travel the world visiting all the zoos that I wanted; and b) there are a limited number of ring tailed lemur stuffed animal designs. Or there were during the late 90s/early 00s, anyway.
My mother also referred to stuffed animals as "dust magnets" and actively discouraged me from following this particular dream. I assume Ringo and friends have long since been donated.
---
Kayla Kumari Upadhyaya, Staff Writer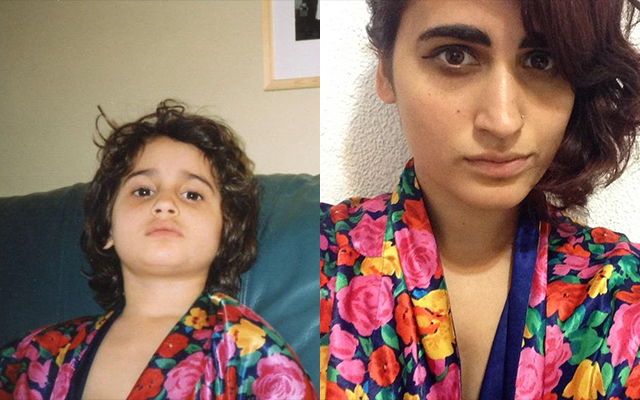 I had various stuffed animals through the years, but none of them were like The One, you know? Instead of a go-to childhood stuffed animal or blanket, I had a go-to childhood…satin robe. My mom had this floral satin robe from Victoria's Secret that I was absolutely obsessed with from pretty much the moment I could stand up and touch the bottom of it as it hung from the back of her door. It became a weird tactile obsession for me, and pretty soon, it went from being my mom's robe to being my "Snugly," as everyone in my family called it. I slept with Snugly, wore it, carried it around. The robe's sash became known as "travel Snugly," and I'd bring it on family vacations. I don't know what ended up happening to it. I assume it tattered and my mom threw it away when I no longer needed it. But a few years ago, I hopped on Etsy to see if I could find a replica by just searching "vintage Victoria's Secret floral robe" and sure enough I found A CARBON COPY!!!! So now I own one again, but since I'm an adult, I use it as a normal robe.
---
Archie, Cartoonist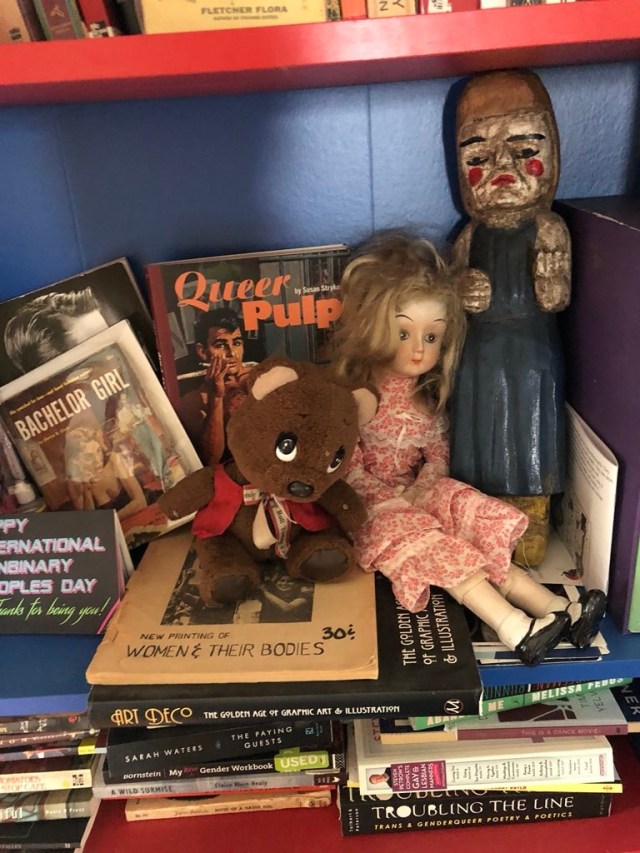 His name was Tootsie a bear created by Tootsie Roll Industries to help sell candy to kids- and I couldn't stand that candy but really was into that bear. The Tootsie pop he was holding has sense falling off, but overall he's in great shape for having him since I was five!
He currently resides on my shelf, next to my haunted dolls that I honestly wish MORE people would ask me about.
---
Alyssa, Comic Artist
My bear, Benjamin!
A nurse gave me Benjamin when I was maybe 7 or so in the hospital for one of many long term stays. Every time I had to have surgery, I'd wake up to Benjamin stitched up in the same exact spot. I once had a portable IV placed in my chest, and Benjamin got one too! I think ultimately Benjamin succumbed to our disease, but my man really got me through the worst of the worst. I don't think I'll ever forget him. He was the best.
---
Erin, Staff Writer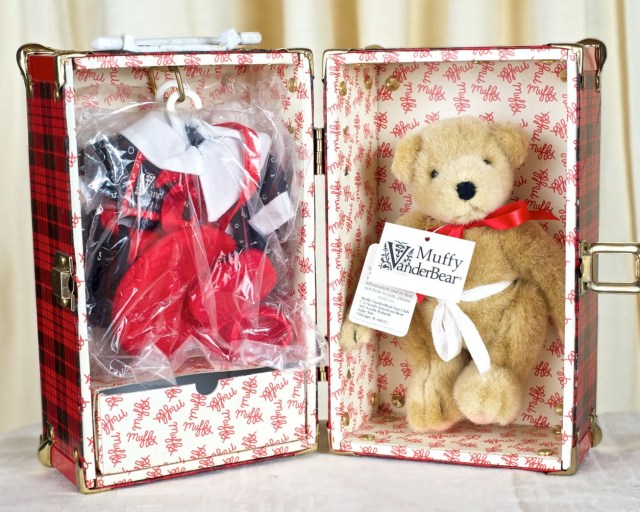 I had two stuffed animal bear friends as a child. Pretty tight crew, I know, but two bears was enough as I also had an imaginary friend who was an adult woman that I had to entertain. I was only one child!
One of the bears was named "Belkie" after the department store from whence he came, Belks, which is a fact that I sadly did not put together until I was an adult. I hated that I couldn't remove his Santa hat, as it was tragically sewn to his head, but that doesn't mean I didn't try on a daily basis.
My other bear was Muffy (lol), or as she was know officially, Muffy Vanderbear. Muffy's slogan was: "Life is one big dress up." That was sort of her whole deal. She came in and with a wardrobe closet full of ensembles tailored to the seasons, and while I think the idea was to change her outfits as the year progressed, my approach to her wardrobe changes was less fixed and more fluid, which meant changing her whenever I felt like it. Dressed as a duck in January? Bet. Heavy formal wear in June? You better believe it!
Belkie currently resides in the attic of my parents home, and Muffy was recently gifted to a family friend's daughter. May her flair live on in her. Also, no I did not get emotional when looking up their pictures, thank you for asking!
---
Alexis, Staff Writer
SIMBA FROM THE LION KING. The Lion King is my absolute favorite of all time the musical the movie the interpretive dance that I've come up with aLL OF IT. I got him when I was little but don't really remember how or when? Everyone in my life knows what Lion King means to me so it could've been anyone who got him for me. Where are they now? Literally eight feet away from me. I thought I lost him when I was little so when I went to Disneyworld, I got one and came home and found the other so now they're brothers! You didn't ask but in the picture are (Francis Capernum (the lamb who also came to camp with me), Beemo (who came to Lesbians Who Tech), Trip the Therapy Dog, and the rest Nightmare Fighting Gang)
---
Valerie Anne, Staff Writer
When I was born, my Nana gave me a Care Bear named is Wishbear who, despite the near-constant coming and going of other fluffy friends over the years, has remained my favorite stuffed animal. I love the pictures of us together when I'm a baby because she's bigger than me. She has a shooting star on her tummy that I thought was a rainbow for a long time, when she appears in the cartoons, she's kind and hopeful and sweet. She values the combination of wishing and hard work, and I really respect that about her. My Wishbear has been with me on long vacations when I was little, to college and back, and still sleeps in my bed with me to this very day. She's a little faded, her curl has stretched out, some of her belly badge threads are coming loose, and she has a few scars from things like a run-in with a radiator, but all in all I think she looks pretty darn good for a well-loved 31-year-old stuffed animal.
---
Stef Schwartz, Vapid Fluff Editor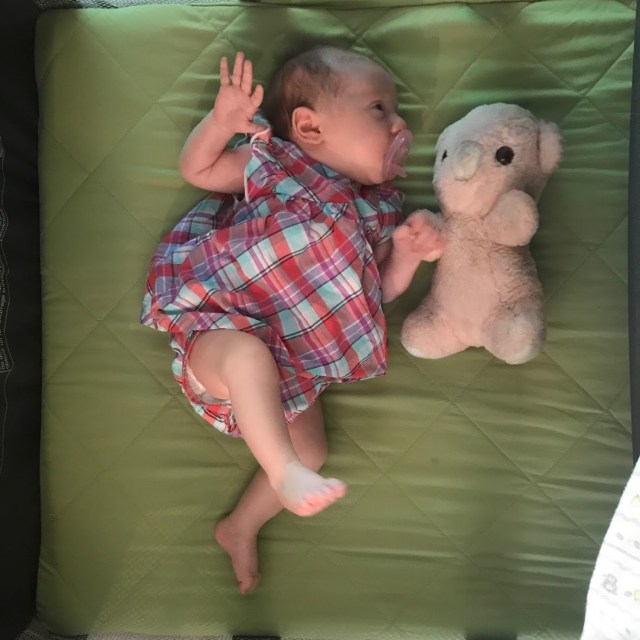 My first stuffed animal was a pink bear named Ruthie. I was very into animals and for birthdays etc I would usually just decide I NEEDED a stuffed animal of a kangaroo, or an elephant, or whatever, and I can't imagine how annoying that was in a world before Amazon. Ruthie stuck around for the long haul despite losing her nose and I believe having at least one eye replaced. She still lives in New Jersey with my parents, where she occasionally keeps my baby niece company.
---
Vanessa Friedman, Community Editor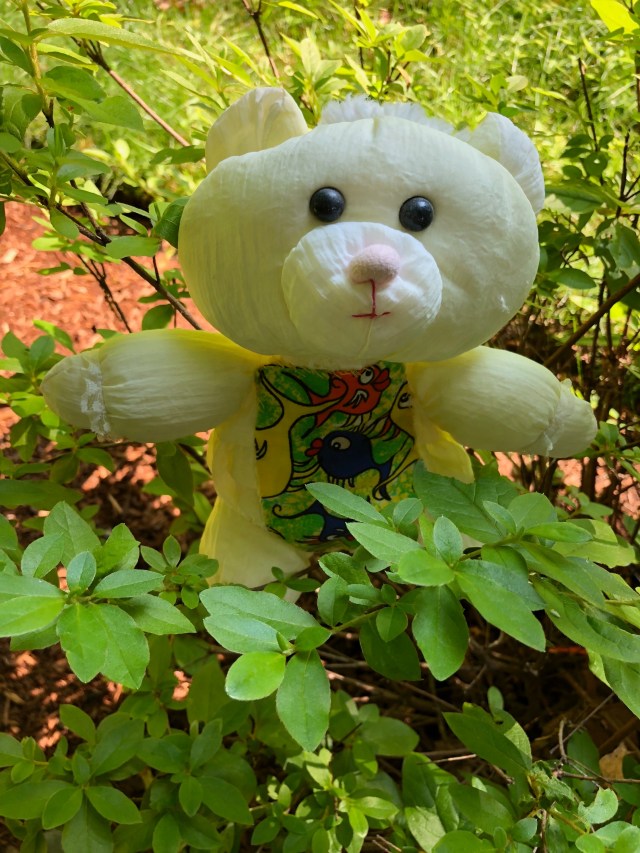 My favorite childhood stuffed animal was Popple. Popple was a bear, I think, and very soft. She wasn't a furry stuffed animal – her fabric was crinkly and delicate, the palest yellow you can imagine, sort of like fresh whipped butter. I'd like to tell you a story about Popple.
When I was four, my parents decided to move our family from South Africa to Canada. My dad moved first, and my mom, my little brother, and I stayed in an apartment for a few weeks before flying over to join him. One night, my mom was giving my brother a bath and I was entertaining myself in the bedroom. There was a lamp on the bedside table, you know, a regular bedside table lamp, and I decided it would be fun to give my stuffed animals a spa treatment. I gathered the small group of them around the lamp and set them up carefully, making sure each one got an equal amount of "sun" via the lamp's lightbulb and doting on them as I imagined any spa attendant would.
Popple, being my favorite stuffed animal, got the prized spa spot: directly next to the light bulb, delicate crinkly fresh whipped butter yellow fabric pressed against the heat, held in place by the wire frame around the bulb.
Once my stuffed animals were all comfortable at the spa, I disappeared from the room, eager to keep my mom and brother company in the bathroom. Which I did. Until we smelled burning.
Yep, exactly what you were worried might happen, happened. I set Popple on fire. Accidentally! Who knew there was such a thing as too much lightbulb spa for a delicate stuffed animal. Not my 4 year old self! My poor mother. She scooped my little brother from the tub, ran to the bedroom, saved Popple and all our possessions before things got too bad, and managed to not throw her eldest daughter out the window for almost starting a fire while attempting to give her favorite stuffed animal a spa treatment. Uh huh.
I'm almost 30 now and haven't accidentally set an apartment building on fire yet, in case anyone was wondering. Also, my grandma, who has since passed away, sewed up the wound on Popple's stomach with this truly hideous neon green fish print fabric, and I had to pretend to be grateful because really, that was a very nice thing to do. So Popple has seen some things now, and has a belly to prove it, and honestly, same.
---
Carmen, Staff Writer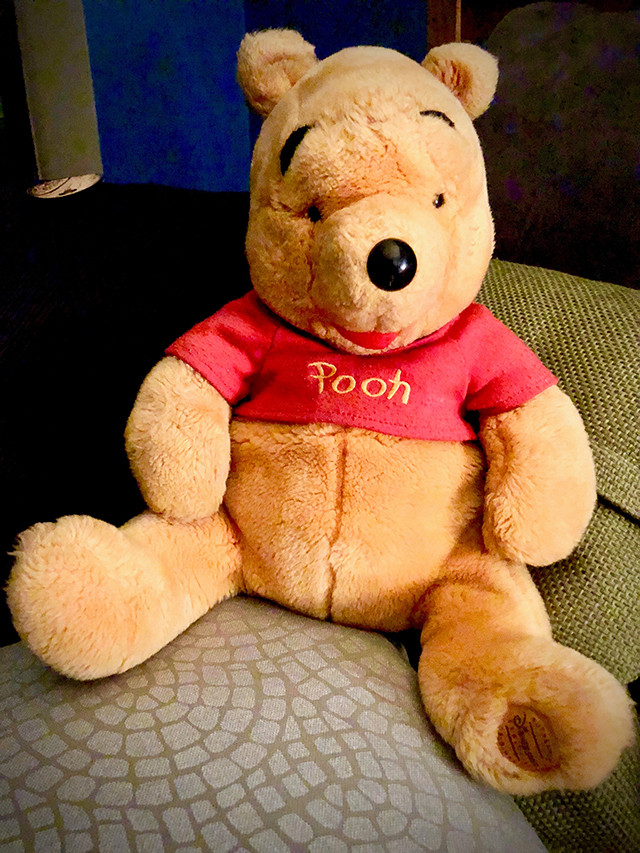 The Winnie the Pooh photographed here isn't, technically speaking, "my childhood Winnie the Pooh." He's the Winnie I've had since college and love dearly (I even got his soft velvet nose replaced at a Doll Hospital when I first moved to New York. The original fell apart in a tragic laundry related incident). His face is squished from all the naps I took with him curled into my side, so now it looks like he's permanently winking at me. His fur is matted from all the hugs I've given him. He has lived with me in four cities over the last decade and he is perfect.
But I got my first Winnie the Pooh when I was nine years old. I saw him at the Disney Store (does any one remember those?) at our local mall. He was huge! At least a third of my childhood height. The first time I saw him my heart did a backflip. I couldn't explain it, but I knew he was supposed to be mine. I pleaded with my mother who scoffed at the price (large trademarked stuffed animals don't come cheap) and politely dragged me out of the store. I wouldn't give up and eventually she relented. I still remember how soft his fur was pressed up against my face for the entire ride home.
I was right, that Winnie the Pooh and I were destined for each other. My grandmother got sick the same winter that he first came home with me. She died in the spring. Everything that year was dark and awful. By the time school let out for summer break, Winnie's fur was caked and stained from all of my tears. I took him everywhere. He was my best friend. He held all my secrets without me having to same them out loud.
Winnie slept in my bed for ten years after that. He followed me when my family moved from upstate New York to Michigan. When I was eighteen and leaving for college, I simply couldn't fathom making the leap without him by my side.
My mom thought that a freshman with a vaguely grime covered, worn in, stuffed animal the size of Texas in her dorm bed would be terrible for my social life (she was probably right about that, thanks mom!). The summer after my high school graduation she bought me Winnie the Second, who is pictured here.
Winnie the Second is a bit smaller than his big brother, but just as loved. He became the "unofficial" mascot of my college years — literally all my friends knew him by name. Along the way somewhere he stopped sleeping in my bed, but that's OK. He's a part of my heart.
---
KaeLyn, Staff Writer
My childhood stuffed animal was a little, spotted deer named "Reindeer." My grandma crocheted him a blue deer sweater he still wears to this day. He lives on a bookshelf with Waffle's childhood friend, "Teddy" the teddy bear. We were obviously brilliant and creative children who were great at naming things.
---
Reneice, Staff Writer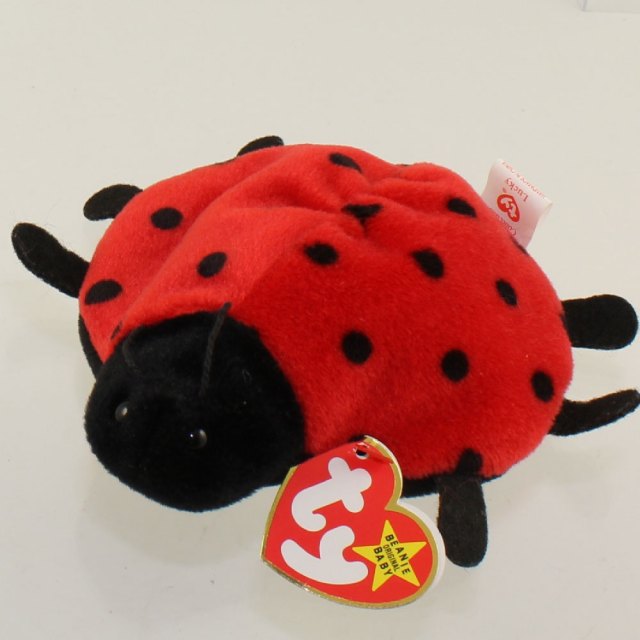 Lucky the Ladybug Beanie Baby was my one and only treasured stuffed animal as a child. I was never really into stuffed animals and hated it when people gave them to me, but I've always had a deep deep love for lady bugs and when this beanie baby came into my life I attached quickly and fiercely. I didn't bring her everywhere with me, but I brought her the important places, the places I needed comfort like church which made me feel othered and therapy which made me feel things I didn't like or understand. Lucky was also the only thing allowed in the operating room with me when I had my heart surgery, her most important escort job of all. My mother couldn't come with me into surgery but Lucky could and that was enough to keep me calm. I've always credited her for the success of that surgery along with the surgeon. Heartbreakingly, I lost Lucky in college and honestly haven't been the same since. I still miss her pretty often, mostly I miss that she smelled like the Just For Me hair products I used as a child from all the nights I slept with/on her. She helped me be brave as a little girl, then kept me connected to that brave little girl as an adolescent. There's now nothing in the world that excites me more than spotting ladybugs and thanking them for the gift of their luck.
---
Molly Priddy, Staff Writer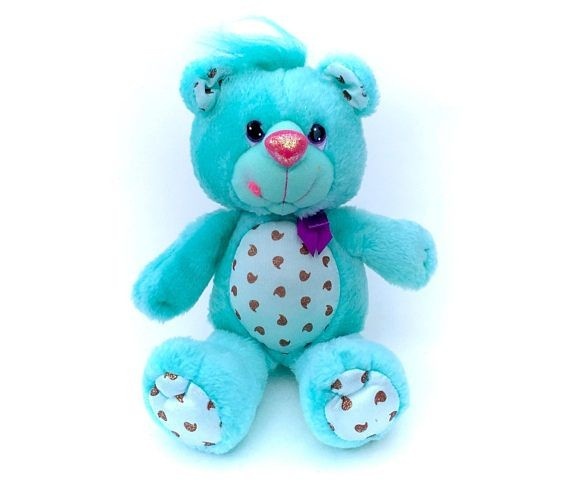 My best stuffed animal when I was little was a Yum Yum Chuckle Chip Bear, this sort of Care Bear knockoff that had this intoxicating sweet smell and a sparkly nose.
I love it so much, literally almost to its death. It was green, with chocolate chips on its paw pads and belly. I would drag the tuft of hair on the top of its head across my face when I was trying to fall asleep; I just loved that goddamn bear. It lived on my bed, and now, I am unsure where it is, alone and unloved, running on the fumes of memories.