The world is our very own fashion runway and we're wearing our favorite outfit because we look damn good in it. Here are our staff writers' fave outfits and the reasons why we love these looks.  
Tell us about or show us a photo of your favorite outfit in the comments!
---
Creatrix Tiara, Staff Writer
So this outfit was originally for a burlesque performance that was about PMDD (Pre-Menstrual Dysphoric Disorder): in the number, I go through 3 different versions of You Spin Me Right Round, and this outfit is from the second version where the song's much more stripped down and I act very robotic/puppet doll. I found this outfit at the Australian Red Cross op-shop/thrift store after a fruitless search through about 5 other stores for something that was glitzy, easy to take off, and fits me (getting 1 out of 3 was hard enough). It makes me look like a vintage Playboy bunny! I've since worn it for Christmas and New Years because it looks really festive while still being really comfortable.
Vanessa, Community Editor
Here's the deal with this outfit: Mommi t-shirt. Oversized dusty pink wool cardigan with impractical sleeves that don't give me a great range of motion but drape over my arms just right. Girlfriend leggings. Danner boots. Earth element pendant. Purple lipstick. Unbrushed hair. Hello, this is me dressed up as the Hottest Version Of Myself!
I put this outfit together a few weeks ago and to be honest, I haven't really taken it off since. Oh sure, I wash each piece every now and then, but mostly I've been living in this look. It combines everything I love: a pink and purple color palette, Autostraddle merch, black leggings as pants, and excessively draped fabric. In December I decided my 2018 aesthetic would be "femme dirtbag" and I feel like this outfit nails that look x 1000. Occasionally I add a neon pink hat to my unbrushed locks and then I feel like the ultimate hipster mommi/dirtbag and maybe that is my truest self.
A.E. Osworth, Staff Writer
So remember when, in the Holigay Gift Guide this year, I said my new look was Masculine Nerd Witch Vibes? Well my family got together and got me nearly all the outfit stuff on my list! I've avoided black most of my life and now I want to convey that I have run out of fucks and I'm a very powerful witch. So my favorite outfit rn is:
A black velvet blazer from Wildfang
Over a black v-neck sweater from Banana Republic
Grey jeans from Frank and Oak
My new Moriarty glasses from Warby Parker
And to finish it off, a pair of boots from Bed Stü
Photo ripped directly from my wife's Instagram, thank you honey.
Kayla Kumari Upadhyaya, Staff Writer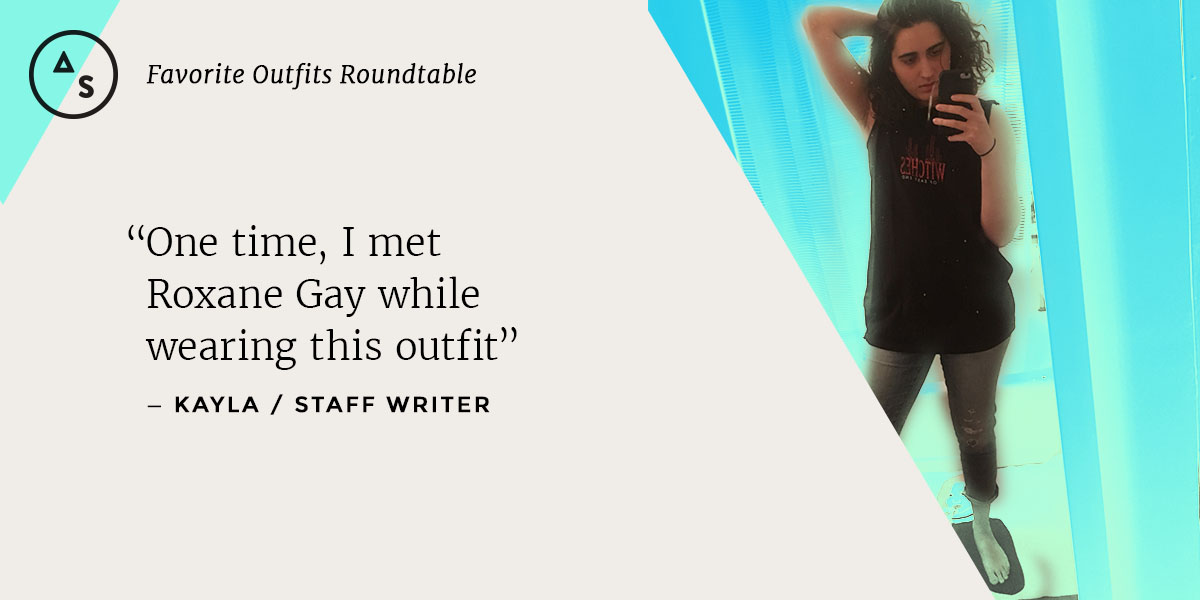 I don't think I technically have a favorite outfit. I have favorite items of clothing and I do wear a lot of the same outfits over and over, but favorite? That's a deceptively hard question. I do, however, have a lucky outfit. Every time I wear my oversized Witches Of East End tank top (once upon a time, it was a t-shirt, but I cut the sleeves off duh), black sports bra, and my ankle-cut loose jeans from Uniqlo, I end up having a fantastic day/night! One time, I met Roxane Gay while wearing this outfit, and she said she loved the Witches Of East End tank (which by the way, was thrown at me by someone promoting the show at San Diego Comic Con). I like to think that when I'm wearing the shirt, the spirit of Mädchen Amick, who stars in Witches Of East End and is the only real reason to watch the show, is with me.
Molly Priddy, Staff Writer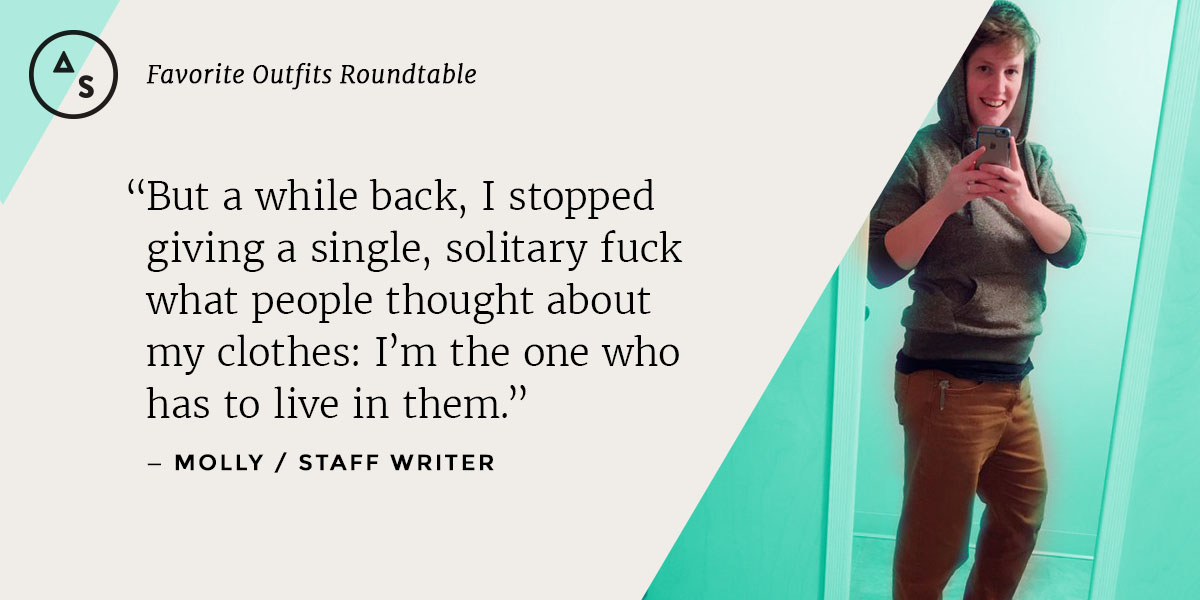 My favorite outfit is one in which I'm finally allowing myself to be comfortable. I wasn't always super soft butch in my aesthetics — there was a lot of pressure for me to have long hair, wear more "feminine" outfits as a journalist, etc. But a while back, I stopped giving a single, solitary fuck what people thought about my clothes: I'm the one who has to live in them. Now, I wear what makes me happy, which is pants always, and button-up plaids, especially buffalo plaid, and other outfits of canvas pants and heathered hoodies in what I call my "urban forester" or "robin hood business attire." Shoes are key, and generally leather or sneakers.
Valerie Anne, Staff Writer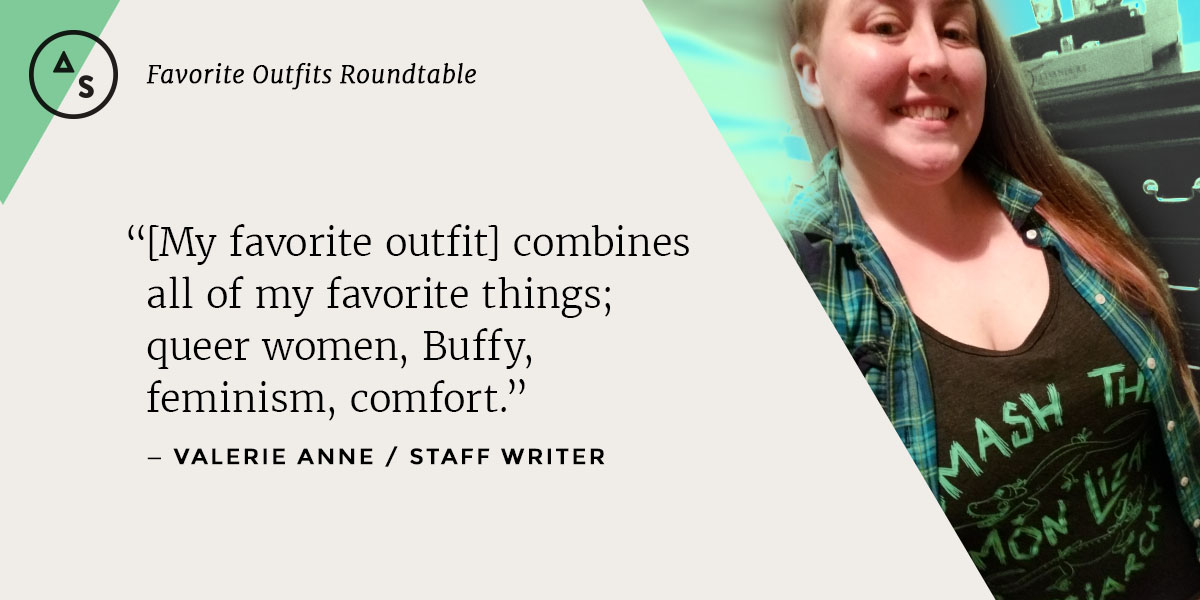 Right now my favorite outfit is my Buffering the Vampire Slayer "Smash the Demon Lizard Patriarchy" tank top under my coordinated flannel. It combines all of my favorite things; queer women, Buffy, feminism, comfort. I don't wear a ton of color in general, and when I do it's usually purple or blue, but for some reason this green get-up really does it for me.
Erin, Staff Writer
This is cheating a little bit because it's from a What I Wore, which is a series where I crush the patriarchy like a empty water bottle between my bare hands via my clothing, but I like it for a couple of reasons. One, it's tite as fuck and I'm loving my choices on the day I put the outfit together. I'd go back in time and give myself a little kiss on the cheek if I could. Two, it's what I wore on my way to A-Camp to see all of my lovely friends who work and live here at Autostraddle, where we had a crazy cool time and you can't take that away from me or this outfit.
Stef, Vapid Fluff Editor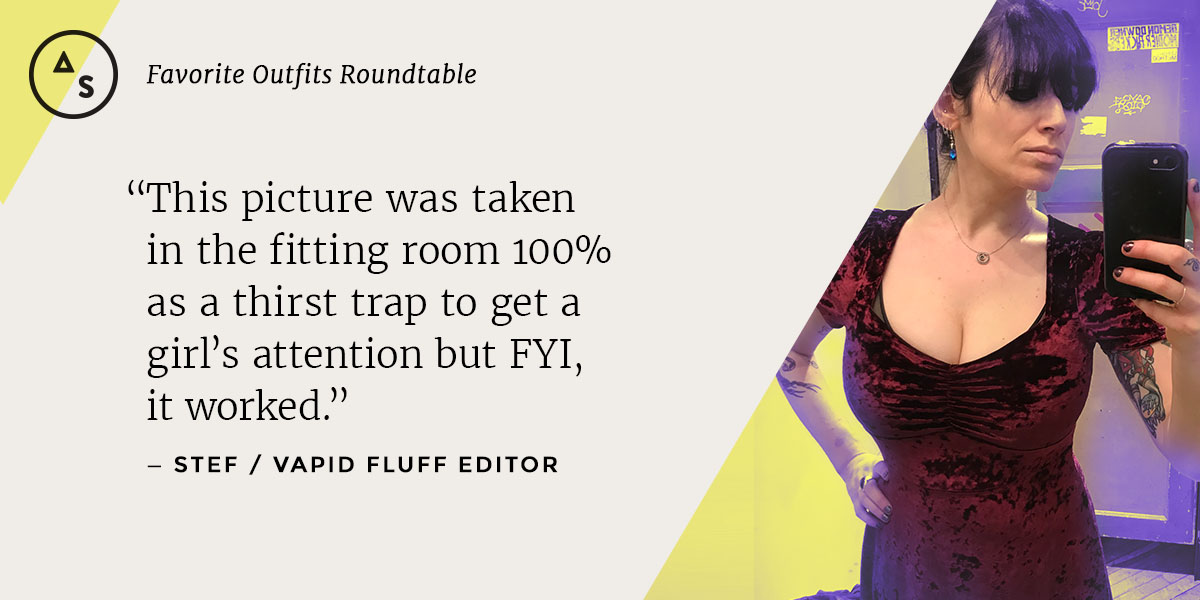 I tend to wear a pretty standard uniform most of the time — black skinny jeans, black boots, usually a black band t-shirt or tank top. I don't deviate particularly often. When I play shows though, I absolutely prefer to do so in dresses and heels. I just bought this dress (from Urban Outfitters, do not @ me) last month and am looking for a reason to play in it. It's very 90s and you can see a hint of my thigh tattoos in it, which was sort of the point of getting thigh tattoos. This picture was taken in the fitting room 100% as a thirst trap to get a girl's attention but FYI, it worked. Therefore, until I see evidence to the contrary, this dress is my favorite outfit. Please invite me to your vaguely formal event, or pay me to play music at your informal event.
Carolyn Yates, NSFW Editor and Literary Editor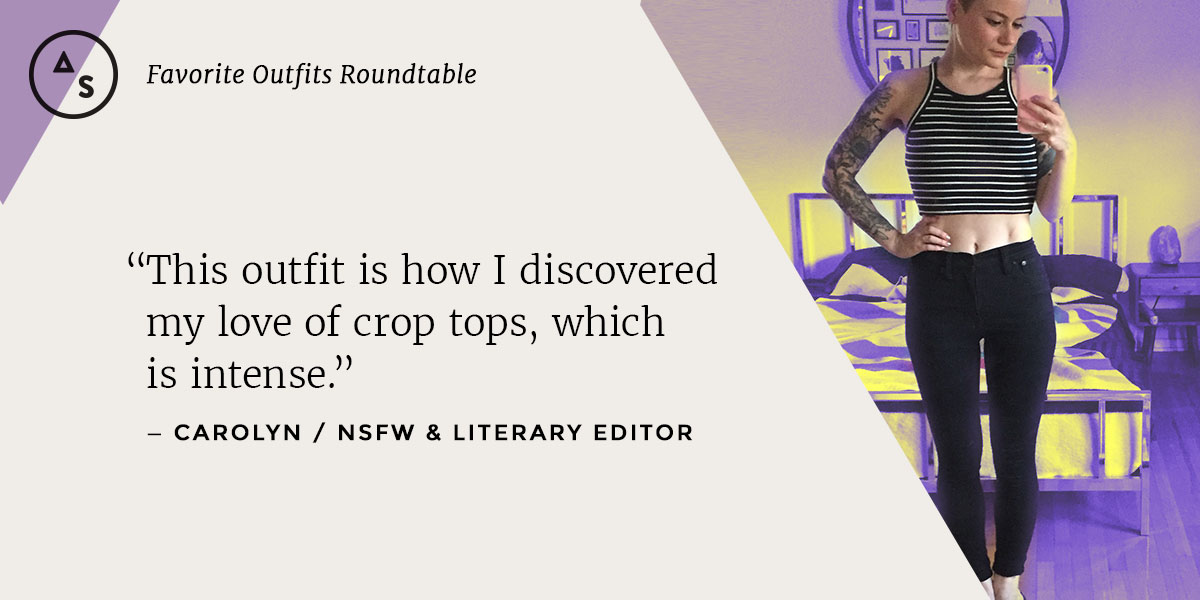 This outfit is how I discovered my love of crop tops, which is intense. It has no backstory, it has no future, it has only now, and also is thick enough I don't feel weird about never wearing a bra in it even though it's not black.
Raquel, Staff Writer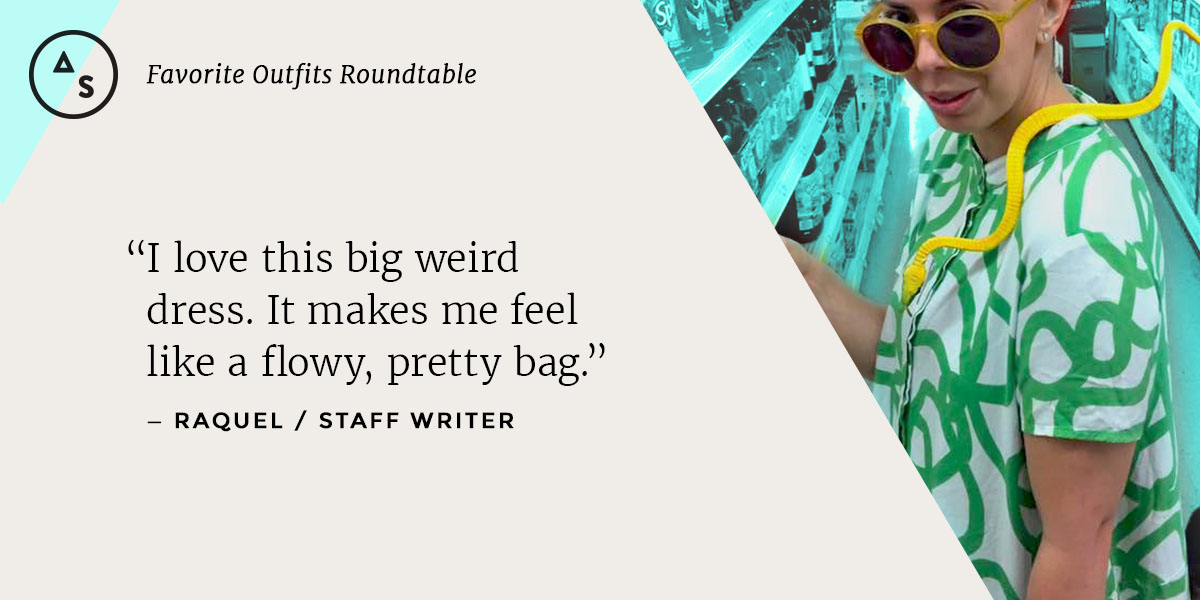 Ignore my weird face! But I love this big weird dress. It makes me feel like a flowy, pretty bag, and the strange squiggle pattern from Dusen Dusen feels modern and sleek and a little goofy, which would ordinarily be pretty hard to find in one place. Despite being a shift, this dress is so, so flattering in its cut, with off-shoulder sleeves and a hidden-placket button-up with a statement button on the band collar. It's a dress that isn't too dressy, or too femme, for me to pull off. ALSO IT HAS POCKETS.
You can't quite see it, but my earring is a green opal triangle, also a personal favorite. I'll wear these mustard-yellow sunglasses at any hint of sunshine, and they're unfortunately not in the photo but I'm wearing leather boots by Rachel Comey that I spent way too much money on, even on sale, in a color called "honey whiskey," and they make me feel like a decadent badass. The yellow toy snake is optional, but it really ties the whole look together, doesn't it?
Alexis, Staff Writer

My favorite outfit is honestly just my underwear but I don't think we can do that here. A close second is me in jeans, Timbs (or Jordans if we're being real fancy), and a t-shirt with a message that always makes me chuckle when I look at it, because I'm a simple butch with simple tastes. Also bless up cause Autostraddle got me learning how to use the timer on my camera 2018 is lookin like roses.
Mey, Trans Editor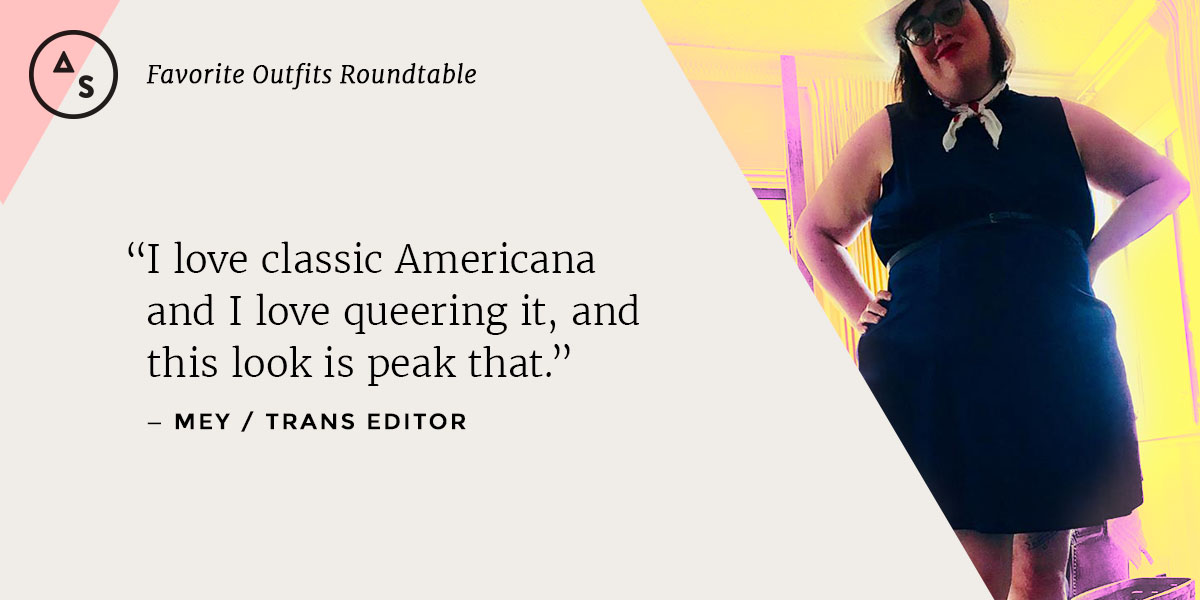 This is honestly so hard for me because I don't really take days off from fashion. I struggled picking between about ten different outfits and thirty different pieces of clothes. In the end, after I sorted through half a dozen completely iconic looks, I settled on this one. It's a blue velvet dress, red cowboy boots, an American flag hanky and a white cowboy hat. Look how great I look! I love classic Americana and I love queering it, and this look is peak that. I look one part drag queen, one part rodeo queen and one part that cute bisexual gal at the back of the western-themed bar. In this outfit I'm exactly what Red State voters are scared of. I'm one of them, but I'm way hotter and way queerer and way more stylish.
Laneia, Executive Editor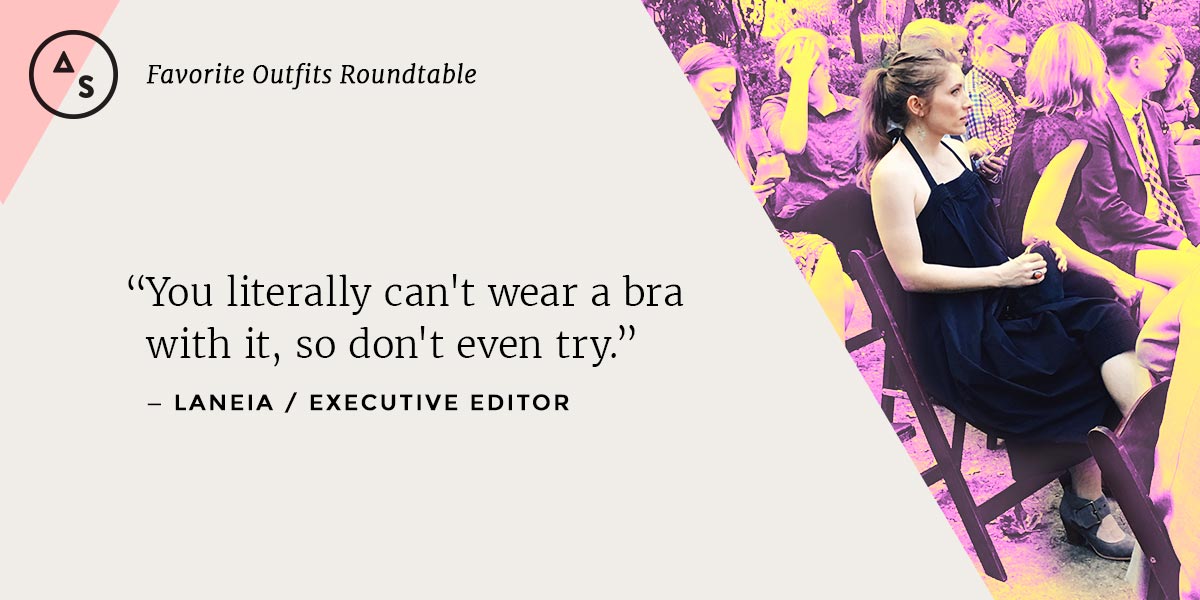 This, friends, is my enormous black jumpsuit. It fits like a sexy potato sack, feels like expensive 900,000 thread count cotton sheets, is backless, requires these long straps to be tied together at the back of my neck, and HAS FUCKING POCKETS. You literally can't wear a bra with it, so don't even try. This outfit is perfect for anything: weddings, buffets, trips to Target, watching castle documentaries, sitting on your therapist's couch, picking up a smoothie for your person when she's hungover. YOU NAME IT, MAN. The only thing you can't do in this jumpsuit is own a kitten with a fabric fetish. :(
---
How To Post A Photo In The Comments:
Find a photo on the web, right click (on a Mac, control+click), hit "Copy Image URL" and then…
code it in to your comment like so:
If you need to upload the photo you love from your computer, try using imgur. To learn more about posting photos, check out A. E.'s step-by-step guide.