For a while there, the fashion was adding bacon to cocktails. As I am a vegetarian and didn't even much like bacon when I wasn't, I am super glad to see that fashion replaced by barrel-aging a cocktail. The nice part is you can barrel-age a wide variety of things, and at home too! If you ask people what their favorites are, a few come up repeatedly: Negronis, Vieux Carres and Manhattans. I've had barrel-aged Negronis, Manhattans and Boulevardiers, but I've never made one until right now. My favorite of those I tasted is a Manhattan, so for my first foray into barrel-aging, that's what we're going to go with.
Barrel-aging a cocktail is something you do when you want to a) add a woody, oak-esque flavor to your cocktail with the barrel and b) when you want to give the cocktail ingredients the chance to really mingle together — it's the same kind of philosophy as letting things you're cooking marinate overnight. The longer the ingredients are together, the more unified they become.
---
The Equipment
You'll need all your standard bar equipment (we'll go over that in a hot sec) but you'll also need a barrel for aging. You might see tiny little casks on the market, but I'm personally using a Hudson Whiskey small-batch kit, developed by Tuthilltown Spirits — that's glass with an oak stave, and perfect for your first time because then you're not committed to, like, two gallons of cocktail. You'll recall that Hudson Whiskey was our A-Camp sponsor for October 2013, and I've been planning to do this for a while. As for why now, well, it was raining on the day that I mixed it. And something about the clouds just makes me want to age something that feels like sinking into an armchair. Here's what Hudson Whiskey did with their barrels:
And here's what I'm going to do with my mini glass jar.
You will also need:
Rye whiskey (I'm using Bulleit)
Sweet Vermouth
Dry Vermouth
Angostura bitters
Orange bitters
a measuring cup to mix in
a jigger
a spoon to mix with
an orange (for garnish)
a classy glass to serve in (I'm using a tumbler)
---
The Recipe
I'm adapting a classic Manhattan recipe from The Fine Art of Mixing Drinks by David A. Embury. It's not the exact recipe, but it's pretty darn close. The reasons I chose to do this are a) I love that book and b) the way that Embury states his recipes is in parts. So like, one parts this and two parts that. This way of thinking about recipes is very easy to scale up or down. So making a larger batch? Really easy.
So the recipe in the original is:
4 parts rye whiskey
1 part dry vermouth
1 part sweet vermouth
1 dash Angostura bitters per drink
The recipe that I came up with is:
1.5 oz rye whiskey
1 oz sweet vermouth
1 oz dry vermouth
1 dash Angostura bitters
1 dash Orange bitters
Yes, I'm aware my ratios don't match. It's because I'm bad at math, but this tasted really good, so I'm keeping it.
And the recipe that fits in this here mini glass jar with an oak stave in it is:
6 oz rye whiskey
4 oz dry vermouth
4 oz sweet vermouth
4 dashes Angostura bitters (add one more for good luck because it's your party, etc)
4 dashes Orange bitters
Now if you want to do something a little closer to the original recipe (and with WAY more of a whiskey kick to it), you could try:
2 oz rye whiskey
1/2 oz sweet vermouth
1/2 oz dry vermouth
1 dash Angostura bitters
Scaled up to fit your barrel, of course.
Follow your heart, is what I'm saying. Manhattans are one of those things everyone does a little bit differently, so find your grail.
I prefer to think of my life as one big musical, you guys.
---
The Process
Measure out your 6 oz of whiskey. Chuck that into a measuring cup.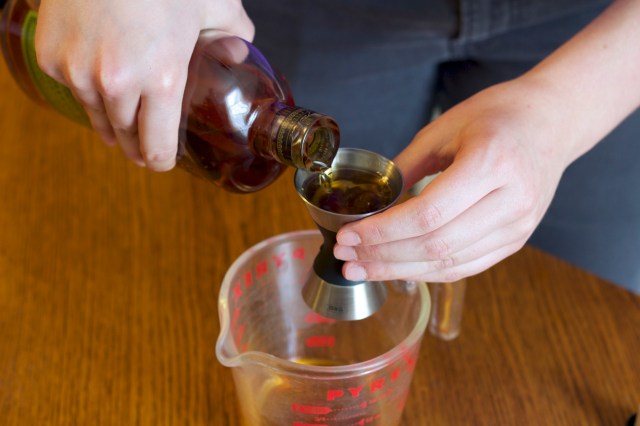 Do the same with your 4 oz sweet and dry vermouth.
Add your bitters in. And note that I did add an extra dash of Angostura bitters in the end. I dunno, the spirit moved me or something.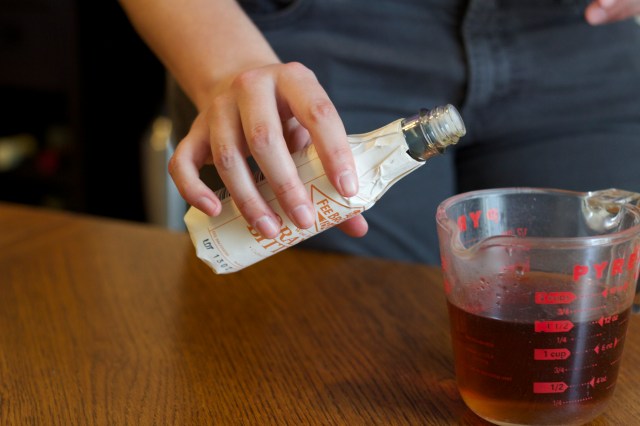 Stir it up. I could have used a regular spoon, but I prefer to feel like a giant. So I used my big bar spoon in my short measuring cup. There's also no need to do this with ice because you're not serving it right away. Pour it into your jar (or barrel or what have you), close it up and tuck it away.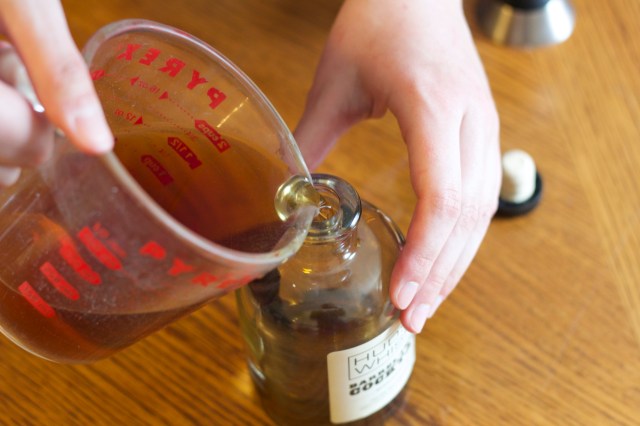 Wait six weeks.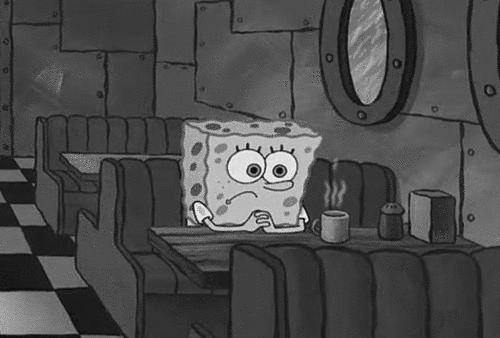 I know, sorry guys, but it'll be worth it.
When six weeks have passed, stir a portion of the cocktail with ice (or use whiskey stones to cool it). Strain the Manhattan into a glass. Garnish with orange peel (style is up to you). Please note that some people prefer to drink barrel-aged Manhattans at room temperature like they would drink whiskey neat (I am one of those people). If that's also you, just pour right into the glass and garnish with orange peel.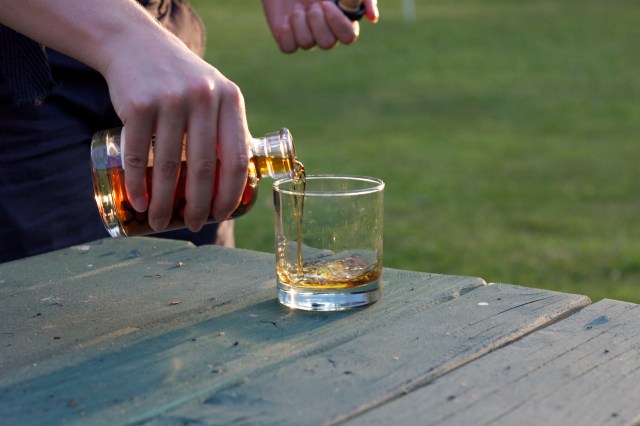 What I would do differently next time: Maybe, MAYBE I would try something closer to the original. But honestly? Happy accidents are wonderful, and I like the recipe I developed because I'm bad at math. For the first time ever in me effing up a recipe I was developing, I wouldn't change a damn thing.
So — who's gonna barrel age with me? What's your Manhattan recipe? What happy accidents have lead to even happier cocktails?
---
In a semi-regular segment entitled Liquor In The ______, I'm going to write to you about all the different ways you can liquor. I recognize that it's weird, especially for those of you who have actually had a drink with me, because I am what the frat boys would call a "two-beer queer" (what I would call a "no-beer queer," as I'm gay all the live long day). But I get drunk very easily, is the point. Still, I really really like beer, wine and liquor and want to share that love for the artistry of alcohol with you all, my favorite queers. Let's lift a pint to alcohol and our Autostraddle community – they go together like wine and soft cheese.
Header by Rory Midhani