I am currently sitting in Butler Library, the extraordinarily beautiful Columbia University library that I never, ever step into. I generally hate this library. For one, I cannot get work done in here because it is too pretty and I end up spending an hour taking pictures of how pretty it is. I then spend another 20 minutes figuring out how to send those pictures to my friends from home as if to say "Ya, this is my library, isn't it gorgeous? Don't you wish you were here? Aren't you jealous?wp_posts(I never get texts back).
Another problem with this library is that during the school year I can never find a seat. I am generally that asshole who wears heels to the library, a fact that does not exactly make my treacherous library excursions go any smoother (I just want to feel pretty and tall!). Unfortunately, a crowded library means a lot of walking around in quiet rooms while desperately searching for a seat. I am forced to walk around multiple rooms, my heels loudly click-clacking on the floor, while 100 pissed off faces stare up at me as if to say, "I hope you die in a painful high heel-related incident."
But the main reason I never study in here is because of all the smart people. I feel inferior to everyone. I know that I am not, I really do. But the second I step into this goddamn library I feel as if my IQ has dropped 50 points and that the highest number I can count to is 10—maybe 11.  Every time I have attempted to do my work in here my mind doesn't seem to want to focus on whatever vaguely-gay-related paper I am writing but rather on whatever the person sitting next to me is working on. My brain does a whole "oh god, I'm sitting here writing nonsense while some grad student next to me is figuring out a cure for AIDS.wp_postsWhenever I see a lot of numbers and weird symbols I just assume that it is the formula to cure some previously incurable disease.
Yet here I am sitting in Butler Library, not curing AIDS. Why? Because it is a thousand billion trillion fucking degrees in New York City and my tiny jail cell-like dorm room has no air conditioning, directly faces the sun and is a generally unfun place to hang out in. Butler Library has air conditioning, spacious tables and books! Also, it is summer and I feel like library people are way less judgmental during the summer.
Gay Marriage NYC
A couple of weeks ago my friend and I decided it would be a good idea to go downtown to watch people get gay married. Is it creepy to casually eat your breakfast while watching people you don't know get married? Maybe. But it is 100% worth it. The plan was to stay for an hour and then go to the beach, but the sky was dark, the beach was far and the couples were too beautiful to miss. We stayed for almost four hours.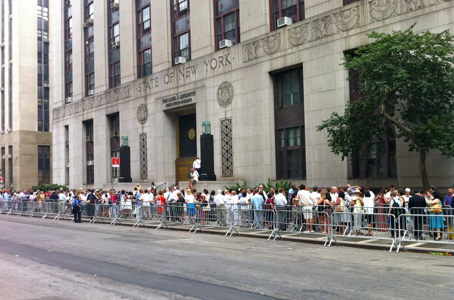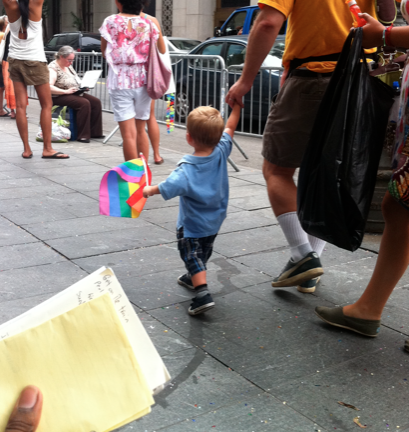 This Summer Is Going By Super Fast and There's a Bunch of Stuff I Didn't Get Done.
I had many lofty goals this summer, including:
1) Find a gym and go to it. (Did not happen.)
2) Become someone who "doeswp_postsyoga. (Nope.)
3) Read a bunch of books. (I read half of one!)
4) Write a screenplay about a 20 year-old girl on summer break who realizes that her life long dream of becoming a child/teen star will never be realized because she is no longer a child/teen. Also, she has no acting talent. Call it "That's Not So Raven.wp_postsPretend it's a work of fiction even though everyone knows it's about me. (I have written two lines of this future Demi Lovato-starring and Oscar-winning picture.)
5) Find a therapist. (See below.)
For the last two years I have felt as if I have been in constant search for a therapist. The reality is that I just tell myself (and countless other people) that I am in constant search, when in actuality the most I ever do is compile names and numbers on my "Therapi$tssswp_postsword document and think really hard about calling them. This summer I told myself I would actually pick up the phone and dial some numbers. It took me a month and a half but I finally began calling and meeting with ladies who charge me $150 to sit in a chair and talk for 40 minutes about my fear of accidentally stepping on small animals. (I really hope I conquer that fear soon because there are a TON of small birds who walk extremely close to my feet and I truly fear for their poor little lives).
I have read enough books from the psychology section of Barnes and Noble to know that many of people (read: lady memoirists ages 20-45) have compared looking for a therapist to dating. But it has taken me years to experience what that actually feels like. One therapist didn't call me back for a week and I thought about it every single day. Did I say something wrong in my phone message? Did I come on too strong? Are we moving too fast?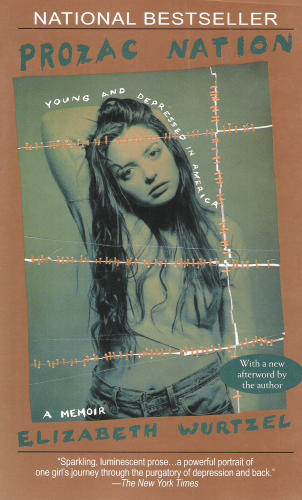 The one question that I couldn't stop asking was why I wasn't just "clickingwp_postswith someone? It's really not hard to "clickwp_postswith me—all you have to do is laugh at my jokes. Seriously, if you think I am funny I will like you. That's my one requirement for a therapist and my one requirement for a potential romantic partner.
I just recently found someone I think I'll stick with. My school insurance covers her and she laughs at the jokes I make so basically it's a match made in heaven.
Perhaps I should start real-people dating instead of just therapist dating. But the thing is, I have this very strong feeling that I will one day marry Ellen Page. I tell people this in jest (like, haha what a silly notion, look how funny I am!) but I am actually 100% serious. So really, there is no reason for me to date people now when I am just going to end up with Ellen later.  I am quite lucky to have that kind of security in my life.
Wisdom Teeth and College Wisdom
In less than two weeks I go back home to Florida to get my Wisdom Teeth pulled out. I am scared for the pain and chipmunk cheeks, excited for the pain meds and even more excited to get a quick break from the hectic environment that is New York City.
Also, if any of you wonderful people have questions about Barnard, college or what it is like to look and sound exactly like Beyonce, feel free to message me or ask me questions in the comments! I certainly don't have the answers to most life questions but I can try and do my best to answer any of your college-related questions!