Meet Allie. Allie is a rockin' North Jersey native and an awesome photographer. Gotta be honest here guys, Allie is a friend of a friend. I didn't just walk up to her on the street. It turns out that's really scary to do. Also, it turns out that it's not socially acceptable to ask strangers what their sexual orientation is and then ask if you can take their picture. Who knew?
Allie claims she's all about being comfortable, but it's obvious she knows how to put a look together. "Since I'm only five feet tall and about 90 pounds, finding the perfect shirt/jeans/whatever can be tough." Plus, Allie's figured out the secret to slim fitting button ups: the little boys' section. "Almost all of [my button ups] come from Crewcuts (little kids J. Crew) and they fit perfectly. Most boys' button downs are so puffy! These ones are super slim."
Either way, if it's already August and someone needs to warn J. Crew about an impending rush on the little boys' section, then I'll have what she's wearing: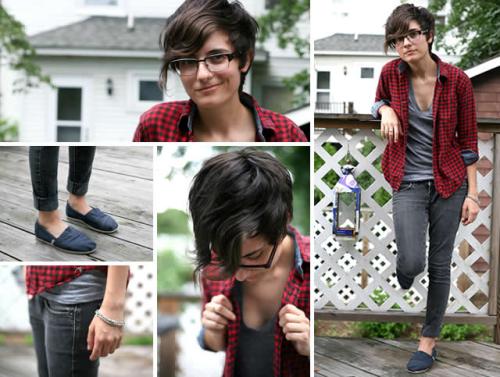 Man, that little boy's shirt looks awesome. Crewcuts goes up to boys' size 14 which is around a women's size 4 if you're not busty. And by not busty, I mean really not busty at all. Also, Allie points out, "the sleeves are a little shorter, like right above my wrist, but I like them like that — and I can roll them up."
Well, Allie goes basic with a red plaid button up and an American Apparel v-neck. Her jeans are the best kind — hand me downs and worn in — but she makes sure they don't blend in too well with her shirt. She finishes off with a pair of TOMS shoes (which we all have a lot of feelings about) and winning Jean Lafont glasses.
Oh, and if you recognize Allie's name that's probably because she took pictures for us at NYC Rodeo Disco last year. As you see (if you clicked on that link) Allie isn't just a sharp dresser, she's a bomb photographer, too. So check her out if that's something you want/need.