Feature image via shutter stock.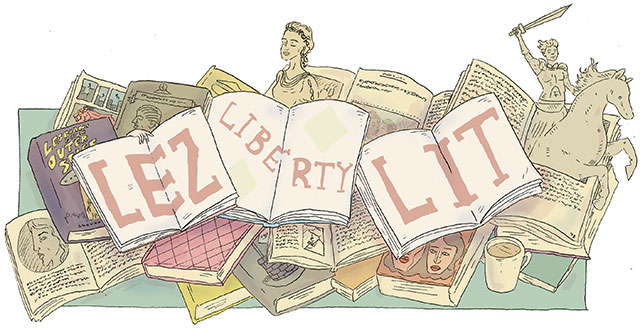 Things About Queer Books (And Other Books Relevant To Your Interests)
Vetch, the first submission-based literary magazine dedicated to poetry by trans authors, was recently released and is available online (pdf). In a note, the editors write:
"We founded Vetch to combat a few problems. The greatest is silence, a dearth of published work by trans poets dealing with trans themes (a silence which makes no sense, considering the trans poets currently at work). Another, less structurally supported, problem is the prominence of poetry that hits the palliative buttons of liberal inclusivity-oriented ideology. In response to both problems, Vetch offers a collection of poetry and poetics that rejects the distinction between the aesthetic and the political."
Eileen Myles's I Must Be Living Twice: New and Selected Poems 1975–2014 came out this week and everything is beautiful. (Chelsea Girls: A Novel was also rereleased.) At Vulture, Rachel Monroe writes that Myles is finally getting her due:
"Myles's first mimeographed book of poetry came out in 1978; since then, she's published 19 books of fiction, poetry, and criticism. In 1992, she campaigned as an "openly female" write-in candidate for president. She toured the country as part of the lesbian, feminist spoken-word/performance-art group Sister Spit. Part of Myles's enduring appeal is that she's experimental in the true sense of the word; every time you turn around, she's up to something different. "I keep trying to do something that will look good with everything," she says, treading water. "But then the world changes and I have to make something entirely new." She just finished her first sci-fi book, about a time-traveling dog. She considers it a memoir."
She is also in conversation with Ben Lerner.
Book Riot has complied books that Roxane Gay has recommended on Twitter.
Your local librarian does not have an emergency eggplant parmesan recipe.
Your independent bookstore might, though.
Casey the Canadian Lesbrarian's books to get excited about for fall include Under the Udala Trees by Chinelo Okparanta, All Inclusive by Farzana Doctor, Dirty River: A Queer Femme of Color Dreaming Her Way Home by Leah Lakshmi Piepzna-Samarsinha and more.
It's banned books week! Read some banned books for free.
Shipping involves many grammatical considerations.
Definitions of happiness change over the course of a lifetime.
The number one way to really tell if you're a grammar nerd is to ask whether someone sent you this infographic.
As an adult, colouring books can be fun, "perhaps… to feel a sense of artistic accomplishment without the inevitable disappointment of a failed line drawing."
At Lambda Literary, John Erickson reviewed Ain't Gonna Let Nobody Turn Me Around, edited by Alethia Jones and Virginia Eubanks.
At Autostraddle, Melanie wrote about Life Is Wonderful, People Are Terrific by Meliza Bañales. Beth wrote about queer tarot book She Is Sitting In The Night. Mey wrote about Carey Pietsch.
Book Things To Do In Person
1 October, New York: Jennifer Pashley, Dia Felix and Sarah Schulman will discuss their relationship with censorship and queer writing to celebrate Thérèse and Isabelle, the classic French love story by Violette Leduc published in the U.S. for the first time, at Albertine (972 Fifth Ave.), 7 p.m.
1 December: Submissions for Topside's short speculative fiction anthology by trans writers are due.
1 December#Trans: An Anthology Collection about Transgender and Nonbinary Experience Online are due.
Know of a queer event with literary merit? Send it to us! The Liberty Lit is bi-weekly.
---
Books! They are really great. You just won't believe how great they are. You may think that the Internet's great, but that's just peanuts compared to books. In Lez Liberty Lit, we talk about literary shit that's happening that you should probably care about.
The name "Liberty Lit" was inspired by the short-lived literary journal produced by Angela Chase at Liberty High School in 1994.