feature image via coffeelyeverafter.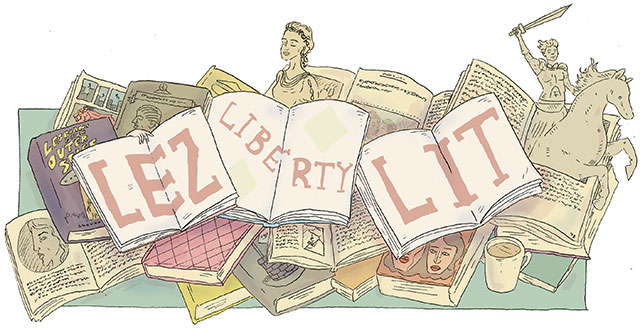 In an Asian American literature roundtable at the Toast with Cathy Linh Che, Ari Laurel, Christine Hyung-Oak Lee, and Nicole Soojung Callahan, Karissa Chen notes:
"It's taken me several years to reclaim the terms "Asian American literature" and "Asian American writer" for myself. I began to think — why should I let others define this term for me? I am an Asian American; ergo, my writing is Asian American. Why allow someone from outside define the box I have to be in, when it is my prerogative to define my writing? I feel like these terms are often confused with marketing slots, to know which shelf to throw a book on, but nobody tells white American writers they have to write about hot dogs and baseball for their work to be considered proper American literature. So I refuse to be told that Asian American literature exists within certain thematic boundaries as well."
The first issue of Doll Hospital Journal, which features work by Mey Rude as well as by Tavi Gevinson, Latoya Peterson, Esme Wang, Kate Zambreno, Kristina Wong and Diamond J Sharp, is now available and looks incredible.
At Rookie, Zadie Smith wrote about trying and failing to keep a diary, and why she doesn't:
"I realize I don't want any record of my days. I have the kind of brain that erases everything that passes, almost immediately, like that dustpan-and-brush dog in Disney's Alice in Wonderland sweeping up the path as he progresses along it. I never know what I was doing on what date, or how old I was when this or that happened—and I like it that way. I feel when I am very old and my brain "goes" it won't feel so very different from the life I live now, in this miasma of non-memory, which, though it infuriates my nearest and dearest, must suit me somehow, as I can't seem, even by acts of will, to change it."
Shelly Oria, author of New York 1 Tel Aviv 0, spoke to Alanna Schubach at the LARB about the short story, unconventional narrative realism, the fluidity of nationality, sexuality and reality, and more.
People forget things, and by things I mean beautiful love letters, in books sometimes.
In a review of Michelle Tea's memoir How to Grow Up, Sarah Maria Medina writes, "At times, Tea's memoir — which supersedes any self-help book I desperately thumbed through in the back of a bookstore in my twenties — is light-hearted. But it also resonates with truthful witchy wisdom."
Casey the Canadian Lesbrarian now has a book advice column and I am so excited about it. Also check out her list of Canadian queer women's classics.
Roxane Gay is going to edit an anthology along with Ashley Ford called Not That Bad: Dispatches From Rape Culture.
Here are things to maybe use as bookmarks.
And here is a 50 Shades text generator. Even though said generator might make you feel otherwise, remember that everyone worries that something will ruin the English language but so far it's fine.
There's gonna be new Dr. Seuss in July.
Sometimes book covers can judge you.
Lorrie Moore reviewed Miranda July's The First Bad Man, her "somewhat bonkers" first novel, and discusses how it fits into the rest of July's work and how "we don't always know what intimate life consists of until novels tell us."
At Forth, Meghan Daum discusses her literary version of a concept album, her influences and why she hates being called brave: "'brave" implies a certain recklessness or exhibitionism. 'Brave' is doing something you're afraid to do. 'Brave' often involves relinquishing control. And I'm not afraid to take on the subjects I do because I have complete control over how I'm presenting them."
"When pressed, I do find I have strong views about commas."
Mary Oliver is a beautiful poet, in case you forgot:
I know, you never intended to be in this world.
But you're in it all the same.
So why not get started immediately.
At Lambda Literary, Alex Tunney reviewed Queer in the Choir Room: Essays on Gender and Sexuality in Glee edited by Michelle Parke. Julie R. Enszer reviewed The Evening Chorus by Helen Humphreys. Anna Furtado reviewed Love is Enough by Cindy Rizzo. Paige Cohen interviewed Chloe Caldwell about writing the book she wanted to read, depicting the discovery of queer culture and more. Mel Morrow reviewed Jam on the Vine by LaShonda Katrice Barnett.
At the Lesbrary, Anna M. reviewed The Paying Guests by Sarah Waters. Casey reviewed Miss Timmins' School for Girls by Nayana Currimbhoy. Ashley reviewed Forgive Me If I've Told You This Before by Karelia Stetz-Waters.
Recently on Autostraddle: Carmen wrote about nine badass black feminists and their books.
Rachel wrote about how sexism in the classroom hurts everyone. Mey wrote about Lumberjanes #10 and about Asgard's Assassin.
Book Things To Do In Person
To 30 May, Lots of Places: Poet Andrea Gibson is on tour! And is going to a lot of places across the US and Canada, and to a few places in the UK. Maybe somewhere near you?
21 February, Los Angeles: Learn how to make your own zine at the Nothing New Zine Making Workshop at the Last Bookstore (453 Spring St.), 1 p.m.
28 February, Oakland: Queer As In: An LGBTQ Healing Writing Workshop, facilitated by Maisha Z. Johnson, will be held at Inkblot Arts (763 15th St), 2 to 5 p.m.
1 March: Submissions to Femme to Femme close.
1 March: "cream city review is curating a genrequeer folio for our 2015 Spring/Summer issue featuring writing, art and/or multimedia work by transgender, transsexual, two spirit, genderqueer, intersex and gender-non-conforming writers. We are especially interested in textually inventive work which plays, bends and queers forms and borders (of language, of the page, of the body, of identity etc)." Submissions close 1 March.
7 March, New York: It's NYC Feminist Zine Fest! Where "artists, authors, community organizers, and other feminist killjoys hold a day long celebration of DIY media." Barnard Hall, Barnard College, 12 to 6 p.m.
15 March: Submissions for an anthology called Bad Dates: Hilarious Tales of Queer and Trans Romance Gone Wrong close.
Know of a queer event with literary merit? Send it to us! The Liberty Lit is bi-weekly.
---
Books! They are really great. You just won't believe how great they are. You may think that the Internet's great, but that's just peanuts compared to books. In Lez Liberty Lit, we talk about literary shit that's happening that you should probably care about.
The name "Liberty Lit" was inspired by the short-lived literary journal produced by Angela Chase at Liberty High School in 1994.