Welcome to Dykes on Dates, where I usually break down a date with my fiancé Kristen that you can then execute in your own life! This week, we're doing things a bit differently though, because it's my column and I make the rules!!! Instead of specific tips for a date night you can do, I'm offering up a little mini essay on the last-minute trip I took to Charleston with Kristen and my parents where we basically ended up going on a bunch of double dates with my parents, which unexpectedly made me think a lot about marriage, family, renegotiating relationships with parents in adulthood, and the ways Kristen and I like to have fun together.
---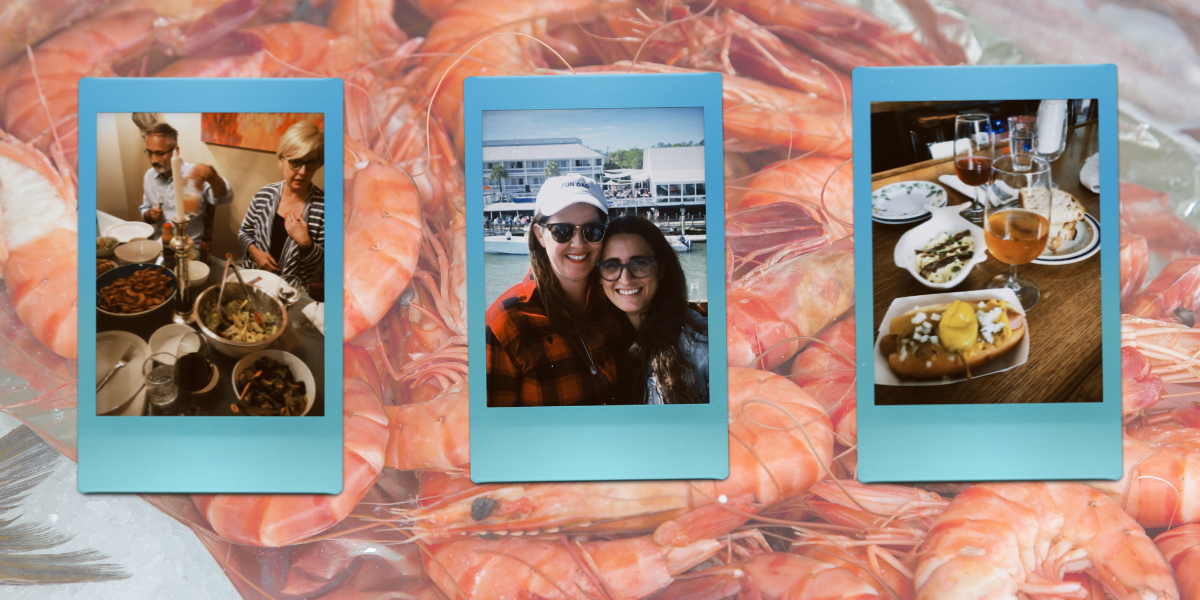 Usually when we travel, it's just the two of us. We love exploring and eating our way through a place together. It's how our relationship started. Kristen was on book tour for her first novel, and I had a flexible work-from-home job that let me travel, and it was when pandemic was just the name of a board game I played sometimes, so we flew and trained and drove all over the country. I made the restaurant reservations and navigated walking directions. She booked the hotels and read from her book in packed bookstores and spent so much time with every single person who wanted to meet her, and I watched from the back of the room trying to play it cool when really I was falling in love. Yes, all the conditions were right for rosy romance. A cross-country book tour, endless dinner reservations, hotel sex. But it was much more than a romantic comedy montage. We were creating something real and lasting together, evidenced by the relationship's continuation mere months later when everything about the way we spent our time together changed drastically. Even in lockdown though, we made food and fun and spontaneity core parts of our relationship in whatever ways we could.
Usually when we're with my parents, we're also with a lot of other people, too. I don't travel home as much as I'm sure they wish I did, but it's difficult to explain to them that it doesn't really feel like home to me, because most of the time no place does. I left Virginia after high school, lived in Ann Arbor, Jackson, Michigan, D.C. Los Angeles, Chicago, Brooklyn, Las Vegas, Miami, and Orlando since then. No one place feels like a fixed home. I make every place into a home or at least something close to it. And besides, my parents no longer live in the place I was raised but nearby, in a city I know much less familiarly than any of the others ones I just named even if I technically grew up 20 minutes away from it. So when we go home, it's usually for a week at Christmas. It's usually for some sort of familial obligation, and so other family members are there, my siblings, my cousins, aunties, uncles. My family doesn't feel big to me, but I'm told it is. And Kristen was thrown into the deep end when she met my parents for the first time. It wasn't for Christmas or for a birthday. It was for my mother's book club meeting for her first book, at the tail end of tour. Kristen was quite literally in the hot seat as my mother and a long dining table full of her friends asked her questions about her art. Not a lot of people would have been game for that; Kristen nailed the whole thing.
Traveling together, the four of us — Kristen, me, my parents — just wasn't something I ever really thought would happen. I always figured at least my sister would be around, too. But my parents only invited us to their weekend in Charleston, where they had access to a friend's condo, dangling the promise of a free place to stay for a weekend in a fun food city in front of us. It's perfect, really. Charleston is equal driving time from where they live and where we do. In fact, it's where we usually stop overnight on our way to Christmas.
To be completely honest, I didn't want to go. Work has been even busier than usual. I'm loving planning our wedding, but I'd be lying if I said it has been stress-free. I was sort of looking forward to the prospect of no trips in April, every weekend spent at home. My parents also have a wildly different approach to vacations than I do. They plan next to nothing; I like to have reservations and an itinerary for every day. But Kristen convinced me to go. We've never done this, not really. Even when they visiting us in Orlando, it didn't feel like the four of us were really, truly hanging out on vacation together. We were hosting them. I know I'm lucky that taking a trip with my fiancé and my parents is even possible. Most people in my life couldn't even fathom it as a possibility, some fully estranged from their parents, some with parents who are no longer living, some with just complicated fraught familial relationships. Basically, I was being a brat. There was no compelling reason not to go on this trip, even if it was last minute. We do last minute all the time. We love spontaneous adventures when it's the two of us. Why not do so with my parents? We'd still be able to work (which we often do on our trips, because it's what works for us). Plus, a free place to stay!
Something I keep forgetting about is that getting married does mean to a lot of people that Kristen is officially becoming part of my family. I keep forgetting, because I already consider her part of my family. But I think I would be oversimplifying things to accuse anyone in my family of heteronormativity for seeing marriage as the "official" way for Kristen to join our family. I know that even if we were making different choices about our relationship, they would still treat her like family. But I also know that our upcoming marriage is meaningful. If I were having a more traditional Indian wedding, parents and family would be a hugely important component. I'm not, and it's bittersweet; I know it's ultimately for the best for a lot of reasons. I'm honestly still figuring out my relationship with my parents, even at 30, and I think that's normal. More and more, I want to be friends with them. When I'm with my siblings and my parents, I just feel like their daughter; I don't open up to them the way I would with friends. And my parents haven't had a lot of time to get to know Kristen — or for her to get to know them. Christmas is always chaos. Maybe as a foursome, we could all unlock new relationships to each other.
Listen, I truly never thought going on a full weekend of double dates with my parents would be fun let alone revelatory, but it really was, and it reminded me that their steadfast marriage and the ways they constantly compromise — because at their core, they're extremely different people to the point where I use them as proof that "opposites attract" isn't just a platitude — have greatly influenced my own concept of long-term partnership. They're good relationship role models, and again, I'm lucky for that.
Anyway, I'm still clearly unpacking a lot of that, but we had a great fucking time in Charleston. We walked over ten thousand steps a day. We ate so much good food, had so many good drinks. Our favorite spot hands down was Bar Rollins, a natural wine bar with tinned fish a.k.a. exactly my kind of place, and we slipped away to it just the two of us, making sure to divide our time between quality one-on-one time and double dates with my parents, which worked out really well in terms of bonding with them but also still making sure we had time to connect with each other. We also liked the cafe Babas on Cannon, where I wrote the beginning of this column you're reading right now while eating a delicious slice of deep dish quiche. Kristen got the pickled shrimp toast, and you should, too. We also ventured over to Mt. Pleasant to go to the seafood bar/party spot Red's Ice House because — and yes, even though I am a proud Bravo Dyke, I am a little embarrassed to admit this — Craig Conover from Southern Charm told us to go when we unexpectedly had a chance to meet him and Paige DeSorbo at Craig's pillow store. Iykyk, please don't make me explain it! It was hard enough explaining who they were to my parents, who also decidedly did not want to discuss Scandoval! Red's was exactly our vibe in the sense that it's on the water and has cheap drinks and local oysters. THANK YOU, CRAIG!
Also, if you're ever visiting Charleston or any seaside town known for its seafood and you're staying at a place with a kitchen, I highly recommend planning for at least one of your dinners to be at home and going to a fish market. It'll save you money by not going out for a night, and you can keep it really simple. We did a couple pounds of fresh shrimp and cooked them in just lemon juice, garlic, butter, and Old Bay, served with a big salad and bread. Delicious and sooooo much cheaper than going out, and if you like to cook, it's fun to do so on a trip!
At a cocktail bar one night, I ordered a drink with pickled peanuts nestled at the bottom, and I talked to my parents about things I don't usually talk to them about — relationships with other family members, thoughts about the wedding, even using the word "boundaries" for the first time ever with them. None of it felt dramatic, but it felt like a shift in the things I can talk to them about. They could see how much Kristen does for me, how she can lower my anxiety with just a hand on my back. And I could see them seeking out fun, spontaneous adventures together the same way the two of us do. They still go on dates, even after being married for nearly 30 years. Their relationship looks more like ours than I ever realized. They hang out a lot, socialize together, share friends. They've always found ways to make last-minute adventures happen, which often means having to bring work along, like we always do. If a rando reality show star told them to go someplace, they'd do it too, because even if it sucks, at least there's a story there, and at least you're experiencing something uncertain together.
While our days were spent walking, eating, and drinking, we ended each night the same way, back at the borrowed condo, doing newspaper crossword puzzles together. We didn't always agree on the puzzle answers, but we got there.
---
Dykes on Dates is a new series by Kayla Kumari Upadhyaya chronicling dates with her fiancé Kristen and offering ideas, tips, and tricks for stoking the flames of romance.