Something special and a little bit magical has been happening in Central California this past year — something new, something fresh, something exciting — and this month, you're gonna be hearing a lot about it! For example, you can look forward to strip mall flash mobs blasting Alan Menken's greatest hits mixed by DJ Samantha Ronson, whimsical ad campaigns highlighting Hercules' carefully sculpted physique at Equinox Gyms, a feature story about that Bear from The Jungle Book and his adopted son in Gay Parenting Magazine and so many Vitamin Water giveaways at Pride Events that you'll never need to buy water again. All of these things will be happening in celebration of Disney's boldest move since inventing Abby Cadabby: the creation of Gayworld, an amusement park that will marry the rich history and culture of the lesbian and gay people with fun and entertainment for the whole family!
"We were getting a lot of pushback from the gays about 'whatever' and basically, it was either 'make a gay amusement park' or let Regina and Emma move in together as lesbian lovers on Once Upon a Time," Disney's Diversity Director Joseph McSmith told me. "The park seemed much easier."
We were lucky enough to visit the park in its opening weeks and speak to many of the straight white people involved in bringing this fantasy to life. McSmith and his gay second cousin, Bryan, took us on a tour of the park last week, which is currently open only to press and members of Disney's Elite Park Fanatics Club. I specifically asked to be shown the areas of the park most relevant to queer females, and after explaining to Joe that "queer" isn't offensive anymore, my tour began!
Full Disclosure: We were given one park pass, a $25 iTunes gift card, two free hot dogs and $125 to write this article.
---
The Happiest Place On Earth
The first thing we noticed was that the park's attractions and layout seemed eerily similar to Disney parks. Turns out that's no accident — 75% of the park's attractions were repurposed attractions from other parks! Upon entrance, you're immediately accosted by a plethora of drag queens, who will leave lipstick marks on your cheek while crowing popular Drag Race catchphrases as you make your way onto Gayworld's Main Promenade — Castro Street USA, home of the famous activist Harvey Milk. "I really liked Milk," McSmith told us.
Strollers are available for rent at the park's entrance, but if you find yourself childless and strollerless, Gayworld has you covered with a bevy of rentable foster children already strapped inside their own strollers and ready to roll. "Because of adoption or whatever," McSmith said. "You know, gays want to adopt kids? I heard they're adopting all the kids."
McSmith informed me that most of Gayworld's employees were indeed gay, which he admitted wasn't done on purpose. "We called a big meeting for the gay employees of Disney Parks in Anaheim and basically that turned out to be all of our employees." At this point, Bryan stopped making the gagging gesture he'd been pantomiming since adopting children came up and broke into a riotous guffaw.
As you stroll down the bustling streets of Castro Street USA you may hear a riot nearby — yup, that's going down at The Stonewall Inn, hosted by Zappos, where a pile of high heels are provided for you to throw at "cops" to join in the action! Although noticeably tamer than the actual Stonewall Riots, it was thrilling to see small children working in cahoots with gay men and drag queens to protect their bar! After the "cops" hauled an effeminate gang of Ducktales characters away in their paddy wagon, the few remaining patrons thanked the audience participants profusely for their participation, reassuring them that none of this could have happened without them. Then fireworks erupted in the sky while "A Dream Is A Wish Your Heart Makes" played on loud speakers. I almost shed a tear!
Shops lining Castro Street USA sell a variety of items, like Neil Patrick Harris action figures, Ellen DeGeneres collectable plates, and sunglasses just like Elton John's. In a special old time photo saloon hosted by Logo, you too can get the RuPaul's Drag Race Makeover Experience — if you're willing to wait in line for five hours. "It's overraaated!" Bryan loudly sing-songed to me as we passed a queue that wrapped all the way into Tomorrowland.
I was really looking forward to The House of Gay Icons, a spin-off from The Hall of Presidents featuring anamatronic figures of Joe Solomonese, Harvey Fierstein, RuPaul, Harvey Milk, Barney Frank, Macklemore, Gavin Newsom, Dustin Lance Black, Ellen DeGeneres and Audre Lorde, but Bryan said it was really boring, McSmith agreed, and thus we plowed gayly forward into the rest of the park.
---

Equal Rights and Crazy Nights
Of course, the signature Sleeping Beauty Castle is visible from the moment you enter the gate, only this castle isn't a castle — it's a majestic Grandest Marriage Chapel, sponsored by The Learning Channel and Barefoot Wines. We all know the story of Sleeping Beauty, who dreamed of marrying her Prince Charming. In the Grandest Marriage Chapel, all homosexuals are invited to live out their one and only dream: getting married. We counted six lesbian couples who looked barely old enough to vote get married in the time it took us to finish our rainbow Sno-Cones! Ceremony packages are available at a range of price points and include add-ons like matching Cinderella gowns and a small selection of pre-made wedding cakes by Duff Goldman of Charm City Cakes.
On the other side of the Grandest Marriage Chapel lies a variety of entertaining rides and performances, such as Mr. Gay's Wild Ride sponsored by Old Spice After Hours and Sleep Number Beds, which replicates an authentically gay wild and crazy night out with your gay pals. The ride whizzes you past famous dance clubs like The Planet, She-Bar, Central Perk and Babylon. You'll fly over a White Party on a yacht, zoom 'round and 'round a Foam Party somewhere vaguely South American, and finally find yourself falling into dreamland on a Sleep Number m9 Memory Foam mattress.
If you've got any energy left after that, the Glee Musical Spectacular is not to be missed. 'Shippers will be delighted to see their favorite Glee numbers performed the way they were always meant to be performed: in a world where everyone is gay.
---
The Future Is So Bright
Tomorrowland, McSmith admitted, is very much a work in progress. "We're trying to figure out how you can get even more gay married than current technology allows," McSmith explained. "Once we've ironed out the kinks there, it will become part of the Tomorrowland experience!"
McSmith also brought up Tomorrowland when asked about the lack of specifically bisexual representation in Gayworld. "We're still waiting for the numbers to come in as far as whether they really exist," he said. "If it turns out they do, though, we've ordered some focus groups on a ride that simulates the experience of a four-episode same-sex relationship on a teen drama which is never mentioned again after sweeps." When asked about transgender representation, McSmith asked, "What? Like Peter Pan?" and before I could figure out how to answer that question, he gestured grandly and declared "There are drag queens everywhere!"
"But drag queens aren't trans—" I began before Bryan cut me off.
"Don't bother," Bryan said. "He still thinks LGBTQ stands for lesbian, gays, bisexuals and drag queens."
Before I could even say "but—" McSmith interrupted me to show me an unfinished Mulan-themed area in Tomorrowland he'd forgotten about. Basically, it's a sad green screen karaoke studio where you can pay $20 for a VHS of yourself singing "I'll Make A Man Out Of You" on video. I slipped Mulan my number and said I'd be back later.
The only fully functional Tomorrowland exhibition is The Carousel of Progress, sponsored by Barnes & Noble, which guides you through three decades of progress in Ellen DeGeneres's career, from her early days on Ellen the sitcom to her more recent career on Ellen the talk show. Furthermore, I was told that the now-shuttered Epcot attraction Ellen's Energy Adventure will soon be restored to its full glory in Tomorrowland.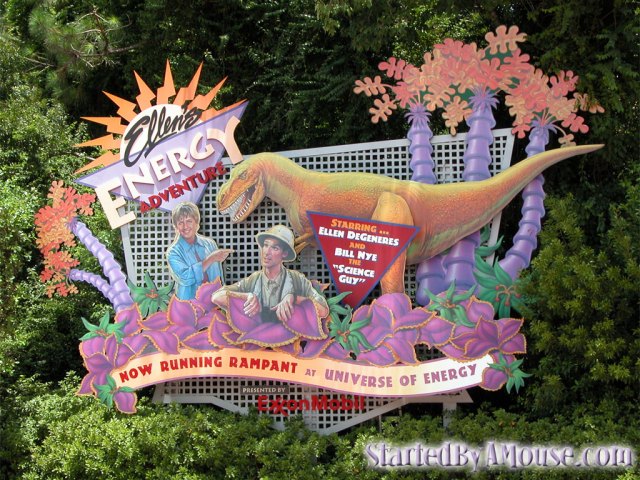 ---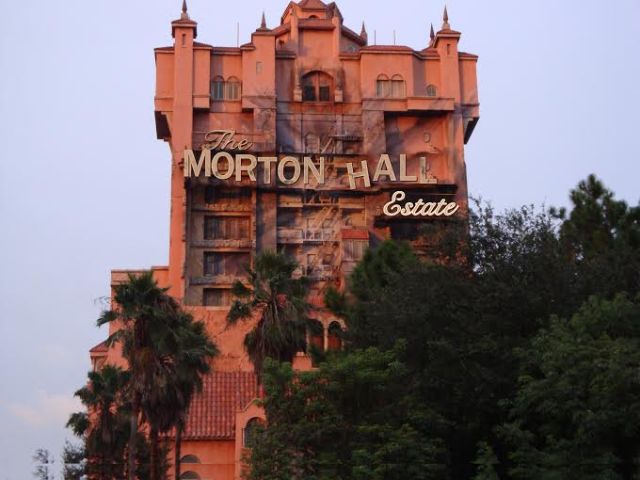 For The Thrill Seekers
The park's scariest ride, undoubtedly, is The Well of Loneliness, inspired by The Tower of Terror and sponsored by Netflix and The Radclyffe Hall Estate. Here's the description from my pamphlet:
This adaptation on the legendary "Tower of Terrorwp_postsis recommended for depressive lesbians who identify as female but go by a nickname that suggests maleness. After the queue winds you through a majestic tableau of late Victorian era English high society and introduces you to a series of captivating characters, such as Collins the housemaid and World War I driver Mary Llewellyn, visitors will enter a small carriage at a great height and plummet to their deaths.
Like most rides at Disney Parks, the lines at Gayworld are incredibly long, and visitors are encouraged to install Gayworld's exclusive friendship app, Friendzone, sponsored by Hallmark Cards. Friendzone is a lot like Grindr or Tindr or OkCupid, but ostensibly just for finding potential friends within the park. "Pshhhh FRIENDZONE, more like QUICKFUCKZONE," Bryan sort of squealed incredulously. "Everyone who uses that app ends up meeting behind Ariel's Grotto for a quick hand job."
While it's no Well of Loneliness, It's A Small World, sponsored by Gold's Gym and Valeant Pharmaceuticals, is a pretty horrifying adventure in its own right. Instead of piling into a boat and traveling through far away lands like the beloved original ride, this Gayworld version guides you through different social scenes — a friend's house party, a busy street corner, a coffee shop, Whole Foods at 9:55pm — while you come face to face with your worst nightmare: your exes. Why? Because it is a small world after all!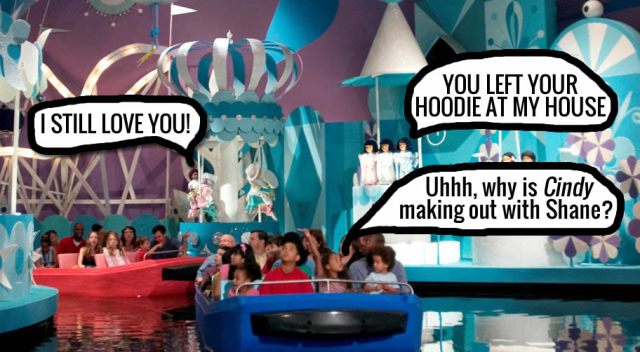 You won't find any singing children along the way, because they've all been replaced with gaunt, almost possessed-looking versions of Ellen Degeneres yelling and singing a half-tempo version of that song from RENT.
"Jesus Christ this place gives me an eating disorder," said Bryan.
---
Back To Life, Back to Reality
For those who are missing more traditional park and carnival rides, never fear! The classic fun offered by bumper cars is still alive and well at Gayworld. Men have a choice of several colors and models of tiny, inefficient sports cars resembling the Mitsubishi Eclipse, and women can ride a bumper car Subaru with a U-Haul trailer hitched to the back for maximum bumping potential.
At the nearby Bibbidi Bobbiti Boutique, guests can enjoy the experience of shopping with a park-assigned gay man and get their princess on!
As with other Disney Parks properties, visitors will find a wide array of fine dining and entertainment options. I was particularly impressed by Gayworld's proprietary ice cream flavor, The L Whirled, sponsored by Ben & Jerry's. A lychee ice cream base includes Lorna Doones, lingonberries and latkes. I wasn't as much of a fan of the signature cocktail The Twink, which is built around marshmallow vodka and is garnished with an entire fried Twinkie, but to each their own.
Lesbians may also find their expectations dashed at Space Mountain, which is identical to the original. "Nobody's gay in space," McSmith reminded me. I was surprised, however, by the plethora of unhappy lesbians milling around outside the entrance to the thrilling coaster. "I thought this was a mountain where I could get some fucking space from my clingy girlfriend," one told me.
"There should be a mountain for that," I agreed.
"You're telling me," said another sad lesbian.
---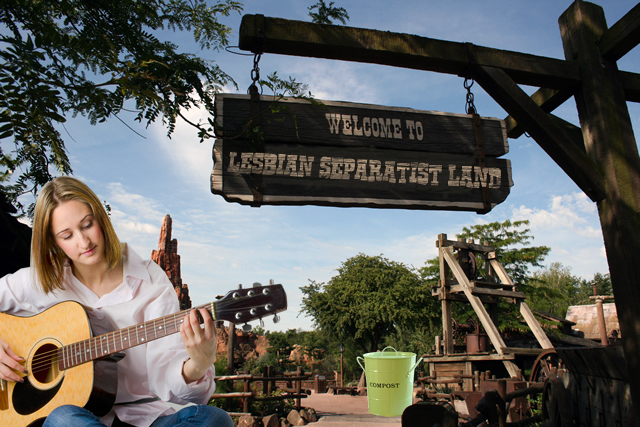 The Lesbian Separatist Commune (formerly Frontierland)
Perhaps the park's most prescient problem lies, however, in the Lesbian Separatist Commune. Initially intended to introduce families to family-friendly topics like farming, couples therapy, womynhood, and drum circles, I got the distinct impression the women hired to staff the Commune have banded together against the park. McSmith and Bryan refused to enter — or sign the petition against Gayworld, which all humans must sign upon entry. "Last time I went in there, I left with a glob of hummus in my ear," McSmith confessed. "Count me out."
"I have to make a phone call," Bryan insisted, already fake-talking on his iPhone.
The first thing you notice upon entering The Commune is the music, because a girl with shortish brown hair is sitting on the ground in front of you playing her guitar and singing songs she wrote her freshman year of college. The second thing you notice is the smell, because The Commune features compost bins instead of garbage cans. "There is no garbage on The Land," a woman who referred to herself as Lizzy Van Dyke told me. "Well, every now and then a man finds his way in, HAHA! But that's what Tonya Sawyer Island is for."
Technically, men are allowed in The Commune — a radical departure, Van Dyke tells me, from what they signed up for. "I guess by "SEPARATIST" they meant "patriarchist," she says, scowling. "These 'Disney Family Magic Guys.'" She said, doing air quotes. "They said it was against 'the rules' to forbid men to enter. We said okay fine, they can come in, but we're not going to make space for them or prioritize their needs."
Van Dyke showed me the It Takes A Village daycare center, where you can drop off your child (or rented child) for one-hour intervals, and while you're at the unscheduled and unsanctioned yurt building seminar, take heart that your children are having a great time tie-dying menstrual pads and learning basic Sanskrit. But don't miss dinner at Farm To Lesbian To Table! Reservations are required at least seven hours in advance, as these womyn need ample time to harvest the vegetables you select for your evening meal. Plus, everything is on a sliding scale and all the employees seem genuinely happy.
The gift shop initially built on The Commune, which sold flannels and overalls with Gayworld logos, was forcibly removed by a group of "burly lesbians" who opposed the commercialization of their culture. The rogue band of lesbian park employees, using their own tools, dismantled the shop and then, in an unexpected twist, rebuilt it in a new location, which partially obscures the entrance to the  aforementioned Bibbidi Bobbiti Boutique, which Van Dyke refers to as "princess shit."
Items available for barter within The Commune itself include pamphlets on sustainable agriculture, back copies of Heresies, Olivia Records mixtapes and inedible hand pies made with spelt and organic apples.
Bryan told me later that The Lesbian Commune, for all its daytime dowdiness, is the place to be at night. That's when the Hookah-Smoking Caterpillar Lounge transforms into a bacchanalia, replete with "all the best drugs," lots of lesbian sex ("whatever that is") and wild dance parties. The Dykes on Bikes Ride, which the Van Dykes have converted to run on vegetable oil, only functions at night, and "at least six lezzers have lost their virginity on those bikes if you know what I mean."
I did know what he meant.
Later, Bryan added, "I mean, it's no Butt-Pirates of the Caribbean, but close."
---
Critter Corner and Log (Cabin Republican) Flume Ride
After an intense experience at The Commune, I was ready to hit up Critter Corner, sponsored by PetSmart and JCPenny. A bronze statue at the entrance to Critter Corner commemorates the first effeminate gay man to ever own a very small dog, and caricature artists stand by ready to illustrate portraits of lesbians as their own cats — be sure to bring a photo reference. A small animal enclosure houses a group of penguins in honor of Roy and Silo, Central Park Zoo's famous gay penguins. McSmith couldn't verify that these penguins were also gay but said, "I read a thing about it on Huffington Post, like how penguins are gay?" Critter Corner also boasts Jafar and Uncle Scar's Tea Room, as well as a dog park where attractive actors (mostly former Real L Word cast members) pretend to be other dog-owning lesbians who flirt with you.
But I was still curious, after my experience on The Commune, hearing McSmith's earlier conflation of transgender people and drag queens and witnessing that conflation at The Stonewall Riots attraction, if the creators of Gayworld had consulted any LGBTQ people when constructing the park. Turns out that the answer is "no," with one exception — The Log (Cabin Republican) Flume Ride, sponsored by Log Cabin Republicans, which takes visitors on a chilling slow-mo drift past animatronic "Song of the South" characters posed to depict the joys of small government and the horrors of safer sex education, universal healthcare, and environmental regulation before a deathly plunge into the cold icy waters of the 99%.
"Those guys got real involved," McSmith recalled. "They wanted the full hands-on control of the ride, like every last detail. Nice guys though," he smiled. "We had some good times, me and those boys. Mostly at Applebee's."
Apparently the Log Cabin Republicans also had a hand in transforming the Mad Tea Party into an unpopular attraction wherein actual Tea Party members invited guests to sit down with them over a cup of Lipton and help them prove that the President doesn't have an American birth certificate. McSmith repeatedly assured me that rumors of Mad Tea Party employees threatening to use their second amendment rights against park visitors were false.
---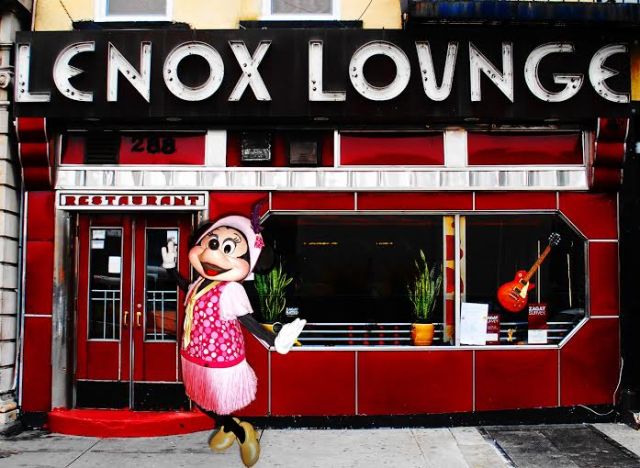 The Harlem Renaissance
Just when I thought my day at Disney was coming to a close and I'd said my goodbyes to dear Joe McSmith, Bryan let me in on a little secret — the best world in Gayworld isn't even on the map. According to Bryan, McSmith and other park directors have no explanation for why The Harlem Renaissance has been left off the map and refuse to discuss it. "Last time I asked Joe about it, he literally pointed at the sky and said Is that Aladdin? Like that's literally what he actually did."
When I asked a Josephine Baker impersonator if she knew the reason, she looked me right in the eyes and asked "Why do you think?" The James Baldwin impersonator behind her laughed, "maybe the map-makers just don't see color," a joke I understood about thirty minutes later.
But by that point, I'd already had a kickass time dancing at the jam-packed Savoy Ballroom and was heading over to the Ubangi Club to see a Gladys Bentley impersonator with Bryan and his friends. I mentioned that I was worried about missing the nightly Gay Pride Parade, but Bryan insisted it was both "sponsored by Logo" and "super-douchey" and that The Dyke March at The Lesbian Commune was probably "more my style" but "never starts on time, so whatever."
At some point later in the evening, a very drunk Bryan confessed that Out magazine had been given $12,500 to write their article about Gayworld even though we'd only been given $125, but before I could get too bitter, Josephine Baker, assorted Glee cast members and a gang of Van Dykes tripping on mushrooms invited me to the Minnie Moms Mabley Mouse Show sponsored by HBO and I couldn't be sad for too long. After all, who needs money when you've got Disney magic?
---
Gayworld is located in Hollister, California. Opening festivities for the park will take place April 24th featuring live performances by Katy Perry, Miley Cyrus and Justin Bieber. Tickets go on sale next week for $3,500 each. Regular park admission will be $124/person or $650/family, hours 9am 'til 2AM.