Since moving in with my girlfriend in August, I've learned a few surprising things:
Our mothers apparently had very different ideas on which food items need to be refrigerated (and, consequently, so do we).
Our money management styles go together like oil and water, tribbles and Klingons, rhinestone-tipped manicures and vaginas. What I'm saying is, they're totally incompatible… or at least, that's what I thought before my girlfriend and I started using expense sharing app Splitwise.
For the first several months of our cohabitation, money management was an ongoing annoyance. My sensible and organized lady likes to set strict budgets, track exact numbers, and settle up debts on the regular. I, on the other hand, prefer to eyeball expenses, keep a rough tally in my head of who paid last, then approximately alternate who ponies up the next time. To be honest, I really don't feel very comfortable talking about money most of the time, even though it's absolutely necessary when you live with someone. (Is this possibly a byproduct of being raised in the United States, which my girlfriend was not? I don't know, but there are at least a couple senior editors here at Autostraddle who also prefer to communicate about money with their significant others via ESP.)
Anyway, after a couple months of ineffectually flailing around and generally frustrating each other, I suggested that my live-in love and I set up a Google drive spreadsheet with a formula to determine who should pay next. It seemed like a logical compromise to me — I'd write down my half of the expenditures to fulfill her budgeting desires, and she'd look at the data and make adjustments to what she paid for, sparing me from incessantly having to discuss money — but we never got a good system down, and just ended up causing more aggravation than before. On her suggestion we opened a Bluebird account together, giving us a shared card that didn't link our our credit histories. But we never remembered to use it consistently, so that, too, was an annoying no-go. I'd just about resigned myself to suck it up for a future of awkward conversations and begrudging checkwriting when my oh-so-clever cutie suggested that we try Splitwise.
It's fantastic.
Here's what Splitwise looks like on your iPhone/Android (which is what my girlfriend prefers):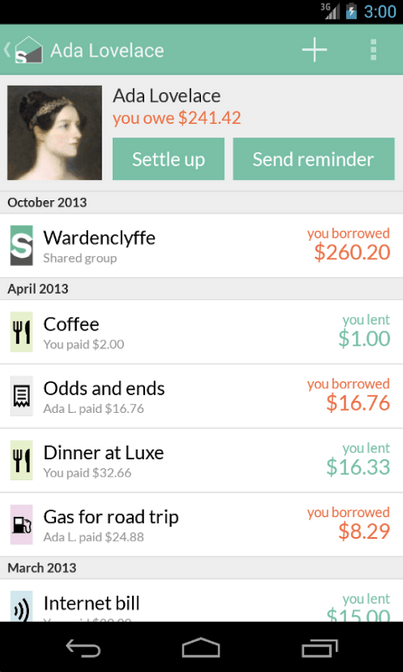 And here's what it looks like on your laptop (which is what I prefer):
The app itself is so easy to use that I feel ridiculous for ever having wanted to do anything else. You just sign up, input receipts/bills as they come up, and designate the percentage you want to split. It defaults to a 50/50 split, but if, say, your girlfriend makes significantly more money than you do (or you ordered more drinks than she did at dinner, or whatever) you can adjust the percentage to whatever you decide is most fair. Splitwise gives you a running tally of what you've spent money on, and whenever either of you feels compelled to settle up, you just hit the button and either record a cash payment or send the money via PayPal.
My partner and I have been using this for about a month now and have zero complaints. It's super convenient, and we both get what we want out of it. She's happy because she can see exactly where our money is going, and I'm happy because I no longer have to own up to my weird discomfort with regular conversations about who owes who what. Also, I like the charts Splitwise generates!
I haven't used any of Splitwise's "fairness" calculators (which do exactly what they sound like they do), but I find the data fairly interesting. Splitwise conducts polls to determine what is popularly considered "fair," then offers their analysis as a way to settle debates by appealing to them as a neutral outside authority. Example: when living with roommates, at what point does your new girlfriend who basically lives with you have to start chipping in for rent? Supposedly the tipping point occurs when she sleeps over 5+ nights a week.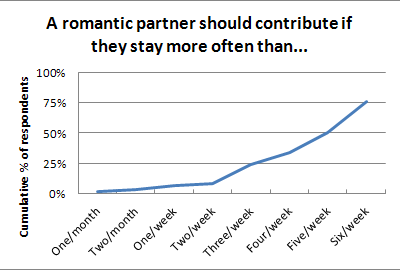 How do you handle split expenses?