Why is Brooke Always Telling Me Where She's Having Dinner, wtf is Foursquare
Mikey is excited to get indicted into the Chamber of Commerce and she's brought her assistant and her intern to the celebration of Los Angeles's Whitest Men Ever — but hark WHERE IS RAQUEL? Raquel said she'd be there maybe!
Mikey: Raquel is MIA, I think her phone is dead because it's going straight to voicemail.
The Douchebag is giving out the plaques to all the old white men being indicted and time is tick-tocking away as Mikey plays Ms.Pac Man on her phone and saves a seat for Raquel like a man waiting for his real doll to come in the mail. Alas, Mikey is handed her plaque before Raquel arrives, and she is delighted to be back there with all the men and says something about her big dick/plaque again.

Anyone Wanna Strap on my Plaque?
As Mikey's busting that pop stand, Raquel shows up and says someone was just talking about Mikey being a boy, which pretty much makes up for everything. I wonder where Raquel was/what she was doing? Probs wizardry or fishing.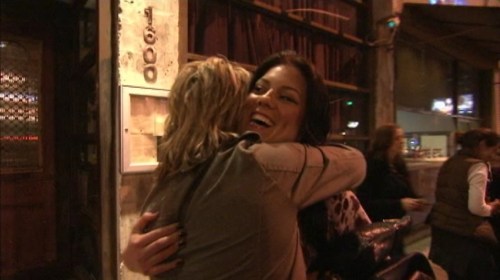 Omg haaaayyy
Mikey: It's hard to have a relationship when, you know, she's working all the time. It's really really tough to find that balance.
Laneia: It's so hard to date when we're both douches.
Riese: It's like summer's eve meets summer's evening.
---
+
Remember when Tom Green did this to his parents on The Tom Green Show
Tracy used to go out 'til 2-3 in the morning before she started dating Stamie! She used to do shots at bars! Like on Intervention! Now she gets woken up early by LITTLE MONSTER CHILDREN. JK she doesn't care really, but I think the producers really want her to.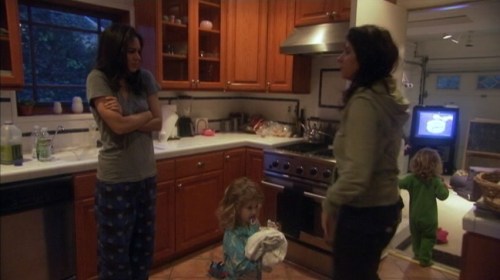 A Floorplan of my Head and Heart Includes These Human Children
Stamie: You can't go back to sleep now, that's not fair, you can't. I know you didn't sign up for the kids, I know you didn't have 'em, but —
Tracy: It's a package deal?
Stamie: You're SOL, sister!
Then we get to look at their house while a voiceover says "Can I go back to bed now" with a cough punctuating the scene like the crying baby in Aaliyah's song for Dr. Doolittle.
---
+
Look, it's a Rack of Clothing
Mikey and The Gallery LA have lots of castings! And fittings! And they're doing a fashion shoot for a girl named Ani, with a model who is kinda suck.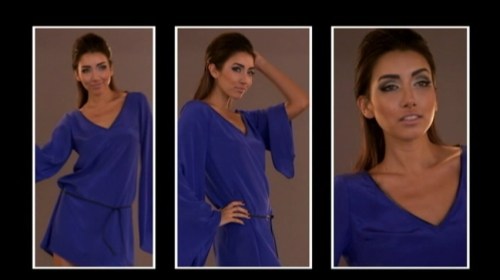 I Wish Whitney Was Here to Take That Dress Off and Fuck You
Mikey: I decided to hire Raquel to do hair and makeup because this is the one opportunity I get to spend the day with her.
Then Mikey gets a call that they need a Plan B for their space and is stressed out. Someone else took their space. Most of my friends can't afford to buy fruits and vegetables, and we like, went to college, which is actually probs the reason why, right now, there's a convo happening behind me about how all of us have longer hair than we did last year because we can't afford haircuts. I don't know, I just find this whole thing really weird. But that could be because I just smoked a bunch of weed in order to make it through this recap. It was on sale, obvs.
---
+
Hey I don't know if you knew this about Rose, but it turns out that she used to party a lot. Yup. And Natalie isn't like that. She wants commitment. Uh-huh. SO WEIRD RIGHT.
Rose's friends come over to drink and play games, and Rose acts like a complete and total douchetard the entire time, and Natalie gets pissed. She looks super-cute, so one of Rose's other 600 friends should probs pick up her tiny little body and whisk her away to Never-Neverland.
This is all you need to know about this scene:
1. Justin Beiber shows up with a girl wearing a Snuggie, which makes me love this girl. Hey, This Girl, call me — we're working on a website that'll pay you nothing, which is slightly less than you'll make being in this show.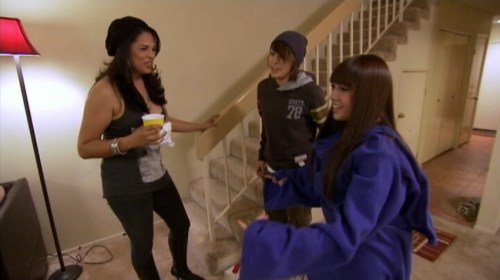 2. Look, it's the Dykes to Watch Out For, love them, srsly for reals.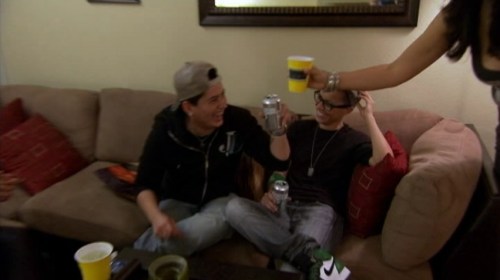 3. Hot Girls Kissing: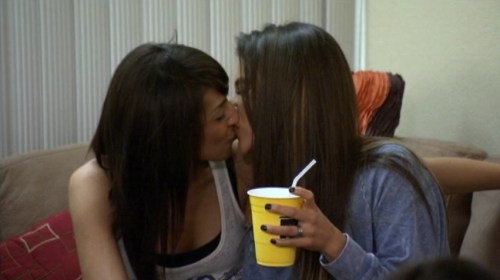 4. I've been noticing this a lot lately — that bra-strap-matching-with-your-tank thing? That's over now or something right? Because everyone seems to be rocking racerback tanks with regular bras, and I'm not wasting money on special bras for nothing.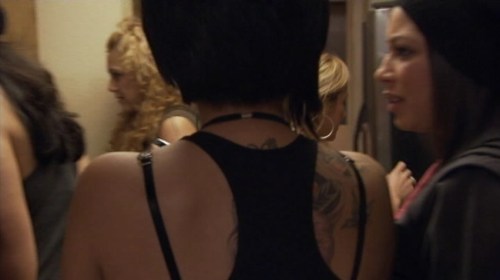 5. At some point everyone starts chanting, "Show your tits!" and this girl actually does: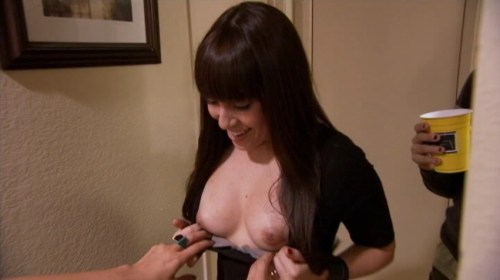 Rose tells her friend, who she calls "Dude" so I'm gonna go with that —
Dude: There's not that much hot girls in LA!
Rose: And I get 'em all!
Dude: I've noticed!
Rose: I get 'em all, so I don't give a fuck, dude. The last chick I was with was like, fuckin' banging, dude! ….Honestly having a girl kills like — [does some weird diving hand motion] — all of it. I'm gonna be honest with you, that's why I fuck like five girls at a time.
Just so you know, we've figured this out physically – fucking five girls at a time – and it involves lying on your back with your legs and arms in the air with someone's vagina in your mouth.
---
+
Yet another tragedy has befallen Whitney: Taylor is having a party, and Romi is gonna be there. Whitney cannot possibly be deterred from attending this social gathering because then the terrorists would win! Alyssa is like, "No you can't go," and stuff.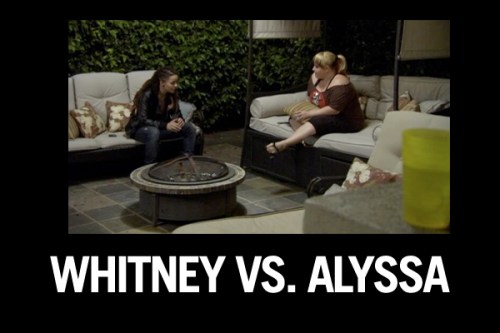 Lesbian Squabble #9: This Episode Is Almost Over What Are We Ordering For Dinner

In the Ring: Whitney vs. Alyssa
Content: Whitney doesn't know if she wants to get into anything with Tor and it's a lot to deal with so she's gonna keep on doing exactly what she's been doing this whole time and not change a thing.
Who Wins? Alyssa hands-down
Laneia: You know how Spencer Pratt is fun to hate? They're not even fun to hate.
Riese: Who?
Laneia: Oh COME ON.
Sarah: It's just hate-hate.
Riese: I just hate them and don't want to be around them.
---
+
okay actually you know what i can't keep doing this i have to stop
Pages: 1 2 3See entire article on one page