The Senate confirmation hearings for Supreme Court nominee Elena Kagan began yesterday. Generally, hearings like this are kind of pointless for the general public. Senators ask the nominee a bunch of questions, and the nominee generally declines to answer them. Fascinating, right?
Anyway, one thing happened! Yesterday Kagan got in a verbal tussle with Senator Sessions about the Harvard Law School/military recruiters thing.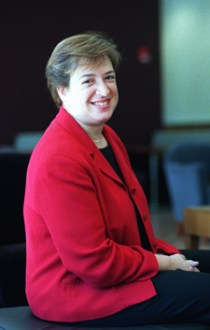 The first real flashpoint in the hearings came as Mr. Sessions grilled Ms. Kagan on her decision, while dean at Harvard Law School, to briefly bar military recruiters from using the school's recruitment facilities, in protest over the "Don't Ask Don't Tellwp_postsban on gay men and lesbians serving openly in the armed forces.
Ms. Kagan reiterated that she found Don't Ask Don't Tell "unwise and unjust,wp_postsand told the committee she was trying to reconcile Harvard's own antidiscrimination policy with the so-called Solomon Amendment, which requires universities that receive federal financing to give full access to the military. Mr. Sessions helped write the amendment, and made clear his displeasure with Ms. Kagan.
Mostly, we agree with this guy: Mr. Schumer may have offered the most revealing assessment of the day when he mused that Supreme Court confirmation hearings have "the potential to be like eating spaghetti with a spoon — it's a lot of work, and it's hard to feel satisfied at the end.wp_posts(@nytimes)
The second most exciting thing that has happened so far was when Kagan was asked if she thinks she's a legal progressive. "I guess I think that people should be allowed to label themselves. And that's — you know, I don't know what that label means, and so I guess I'm not going to characterize it one way or the other." And about her politics: "I'm not quite sure how I would characterize my politics. But one thing I do know is that my politics would be, must be, have to be completely separate from my judging," Kagan said.
….um….
I understand that these things are boring by design. That's how the system works, I guess, but it sure doesn't make for good TV. Or blog posts. It will put you to sleep, though, just like Ambien. We're not sure if these hearings also come with the other side-effects of Ambien, which according to our Editor-In-Chief Riese include waking up and finding Chinese food & another person on your floor.
But rest assured, if something actually interesting happens at the hearings this week, we will be sure to tell you about it.
UPDATE: I do care about this: Kagan confirmed that she thinks cameras in the courtroom are a good idea. You might remember that the current Supreme Court ruled against broadcasting the federal Prop 8 trial.