Welcome to the first recap of the second season of The L Word: Generation Q, brought to you by the same network that brought you The L Word, a show about a sociopathic aspiring lesbian club mogul with a Lover named Cindy who moves to Los Angeles to destroy every lesbian eatery and bar that interferes with her dreams, orchestrates a backroom threesome with the town ladykiller on opening night, ruins a very fun party after said ladykiller has sex with aforementioned Lover (who is naked except for her kitten heels) on their white couch, hosts a scandalous oil wrestling event where young starlets rip each other's hair out, unleashes a cage of wild rats in a local coffeehouse and then hosts a mafia-style showdown with her rivals in a scorching hot conference room during a city-wide power outage, after which time she is bested by a rich heiress who steals her club and her girlfriend, the afore-aforementioned Lover Cindy, who loves pastries and silk tank tops.
It's finally time for this absolutely ridiculous adventure into Season Two of this show. Do you remember Season One? Back before so many of us had stared into the dark void of our own humanity for a series of terrifying months? Ah were we ever so young. We will never be young again! LOL!
Question for Everybody: When do you plan to watch the episodes? Friday mornings? Friday nights? Saturday? Sunday? Lemme know so I know the ideal time to drop this recap!
---
We open at the Tower Of Babel, which Sophie Suarez is ascending, wearing a sharp tailored suit and a tentative facial expression. As the music swells around us, I think to myself "hmmm, this definitely isn't the Hollywood Burbank Airport aka the Bob Hope Airport, a public airport three miles northwest of downtown Burbank in Los Angeles County." As you may recall, last we saw our young charges, Sophie was running through the airport in her Wildfang outfit, Dani was wearing Gucci high-tops and Finley was boarding an airplane while listening to my favorite podcast, To L and Back. But my friends, time has passed, as it so often does. And at the top of the stairs, Sophie finds her dearly betrothed Dani looking very hot.
It turns out that Sophie did visit the Aloha State with Dani, but they didn't marry there. Instead, they intend to marry right here, in sunny Los Angeles California!!! Inside a very large building!!!!
Dani's father is now 100% on board with the union, citing Sophie's integrity and generosity. Furthermore, he has never seen his daughter as happy as she is right now in this moment, probably because he has never seen her look at art with Bette Porter.
---
We leap back in time an entire 15 hours to find Shane in a skinny tie (classic) and shoes I deeply covet (sure), walking her new dog friend, who I will call Sounder III, through an underground tunnel. Here, my friends, we stumble upon the Lost Butches of Los Angeles, hidden behind a vending machine that appears to be delivering candy bars and Cups-o-Noodles but is actually a door. And who is behind that door??!!
It's Eddy (Lena Waithe), who has allegedly been eager to meet Shane, as allegedly they are the "white and Black versions of each other" because every masculine person of color in L.A. is just an [ethnicity] version of Shane. Turns out Tess is an employee of both Dana's and Cup o Noodles Secret Texas Hold Em Club and she will be dealing this evening with no limits.
A hot femme in a hot pink dress flirts with Shane while Eddy looks on. DANGER!!!!
---
We then travel over the 405 and into the woods over to the annals of education, where Alice and Nat are dropping off the kids and Alice is re-reading a draft of her upcoming memoir, in which there'll be a chapter called "Boobs, Tubes and Pubes" that will not be about the Autostraddle column Boobs on Your Tube but in fact about Alice's ovarian cysts. This is important for ovarian cyst visibility!
Stuck in line behind a hetero soccer Mom, Nat suggests a quick tryst in the backseat but Alice has only begun to scale the median when who should pop in but Gigi!!! Gigi is here to give Eli his class cupcakes, inform us that Nat's always been into public sex, chew two pieces of Alice's gum, and give me false hope that they might one day have another threesome.
Alice suggests they find Gigi a girlfriend and Nat is like, "that is why I love you, you have all the best ideas." Hopefully Alice is gonna just shake the lesbian phone tree and see if maybe Pink falls out and then wants to raise her glass with Bette.
---
We then shoot across town to Chez Bette, where our Lady of Porter is gamely pulling off some bold taupe leisurewear and speaking to a potential employer as Tina and Carrie show up and my friends the class war starts at home!!!!!
Yes the legendary Rosie O'Donnell is playing Carrie and I would take a bullet for her. A classic silver fox in a practical shirt about to die of shame over kinda nicking Bette's mailbox? Who then offers to fix it up real fast no problem if Bette perhaps has some housepaint? Who had a Groupon for a Vietnamese bakery and got them all some giant meat buns? Who hasn't heard of the internationally renowned art guy who wants to hire Bette? Welcome to Los Angeles, Carrie, we are so very happy to have you!
Basically Carrie is the polar opposite of Bette. While Carrie's clearly eager to impress her forerunner, Bette cannot tolerate the simple fact of Carrie's existence, let alone anything she actually dares to say out loud. It's a big shift for Tina, too.
Oddly enough, it was from Rosie that I first heard this idea that "in every couple, one person is the flower and the other is the gardener." The gardener is steady, reliable, calm, controlled. She waters the plants and picks the right soil. The flower blooms. I don't think that's true about every couple, I think that's actually a very specific kind of relationship — one that's probably especially common amongst celebrities with non-famous partners. But it was absolutely true about Bette and Tina. And maybe now… Tina has a gardener of her own?
Angie bounds in to the kitchen to be a normal teenager not involved in this tense love triangle of intergenerational lesbian romance and to eat some breakfast. She says it's cool that Tina and Carrie wanna get married this summer in Palm Springs, which is honestly a terrible idea because it will be at LEAST 120 degrees and everybody will melt and die faster than my dreams in March 2020.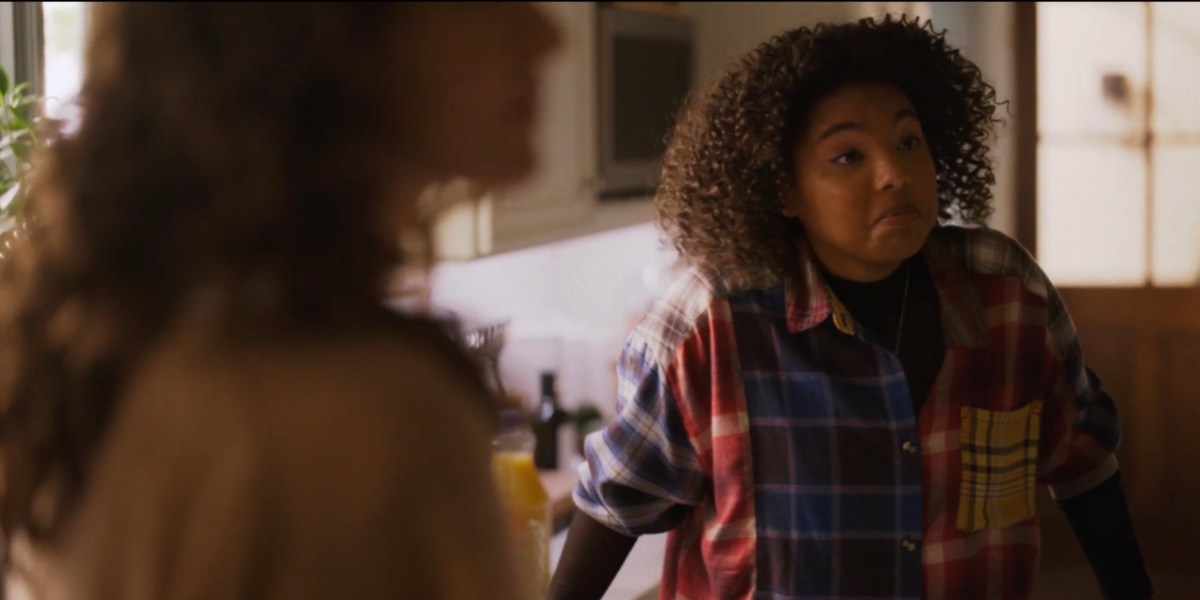 More pressing to Angie is that she's got no idea who her donor is, unlike me and all other viewers of Season One of The L Word, who remember illustrious artist Marcus Allenwood. Unfortunately, her Moms squash that potential journey of discovery immediately, explaining she can't meet her donor 'cause they'd agreed he would stay anonymous until she turned 18.
Carrie quite adorably begins rambling about how she did one of those genetics tests you can get in the mail and found out she was 100% IRISH and had family in West Palm Beach in the jet ski industry! Unfortunately, Mama B and Mama T don't like the idea of Angie doing a genealogy test either.
Bette is… sad.
---
Back at DaSoMi's chateau, Dani's eyeing a table of tiny paper tents upon which the seating-related fate of their wedding guests is at stake.
Sophie implores her betrothed to stop obsessing over the seating at their wedding.
Dani: Do you think my Dad can just sit at a table in the corner by himself?
Sophie: Whatever Nuñez, it's gonna be perfect because after we're gonna go to your family's house in Ojai and be naked all day.
Dani: Maybe we should just run away now.
Sophie: No no no no no. I wanna make these people cry. (Slaps her ass) So don't fuck it up.
---
Dani texts Micah who's allegedly at the gym but is NOT actually at the gym because he is putting his clothes back on after doing SEXUALS with JOSE who is MARRIED.
Exposition time!!!!!!!!!
Jose can't go to the wedding with Micah.
Jose moved back in with his husband so they can break up their marriage?
It's time to give this man the boot!
---
IT'S THE ALOCE SHOW!!!!!!!!!!!! Big news: Margaret Cho keeps calling, and thus I anticipate she will appear on a future episode. Alice explains to Sophie that she is SWAMPED these days with writing her book and doing the show and holding a water bottle and on top of all that, they want her to launch a new segment!
Alice: The network wants me to do a new segment on the show this season, like a carpool karaoke but with more gravitas? So like Carpool Karaoke meets—
Sophie: Intervention?
Alice: No, like Ellen's Teacher Giveaways meets Oprah 2.0 meets the viral nature of carpool karaoke?
Sophie: So uplifting, but not silly, but interesting enough for people to watch and share?
Alice: Right. But through the Alice lens.
Sophie: Alright, I didn't think I had to say QUEER.
Guess what: Alice needs to hire a producer for the segment and she's got her eye on our very own Sophie Suarez, which's great 'cause Sophie was craving a production job back in Season One, which aired 150 years ago. However Sophie's reaction to this news does not seem to reflect expected enthusiasm levels, perhaps because her heart is heavy. Why is that? We will find out very soon!
Also, the assistant Alice hired to replace Finley is really bad at coffee.
Alice feels lost without Finley! Finley made great coffee. Finley gave her encouraging finger-guns to pump Alice up and make her feel jazzed up with the eye of the tiger.
But, it turns out the reason Sophie and Dani's intended marriage has proceeded at an alarming clip is not 'cause Sophie resolved her dilemma with either party. It's because she has banished Finley from the Los Angeles metro area.
Alice: You don't think Finley's coming back? There's not a chance or anything.
Sophie: NO. She's not coming back. She's staying in Kansas City forever.
Alice: Well, I'm gonna have to switch to tea if that's the case.
Alice asks her inadequate assistant to get Sarah Finley on the horn.
---
Jordie and Angie are being REALLY FUCKING CUTE. Angie's chomping on a sandwich, and Jordie's hair is waving in the wind, and they are clearly deeply in love but also respect and value each other for who they are as people!?!?!
ANYHOW Jordie suggests that Angie try the genetics test if meeting the donor is totally off the table. Angie fears Bette won't go for that 'cause it was Carrie's idea. In fact, just this morning, Angie noticed that Bette was horrified by Carrie's inalienable right to exist. Jordi says Carrie is the best and Angie agrees. Gen Z rules!!!!!!!
---
Meanwhile, Mom's at Dana's with her best buds, Alice and Shane, acting like she was not aggressively meat-tagged at The Planet in 2007 and is at risk of Dying Alone.
Bette: I think it's because their togetherness just highlights the fact that I'm alone, and Tina has Carrie and she makes her laugh and she's all JOKEY and I have… oh yeah that's right! I have no one and I'm gonna die alone.
Shane: No no no no, you know why that's not gonna happen? Because you always have Angie.
Bette: (scoffs)
Shane: What's wrong with that?
Alice: Yeah, you two could be like, the Grey Gardens of this generation. But I mean in a much nicer house. Less racoons.
Shane: Cleaner, for sure.
This reminds me of when I was like, I'm going to die alone because nobody will ever love me, and Heather was like, that's not true, Carol loves you so much!
Bette's questioning the likelihood that she'll ever meet someone who meets all of her criteria. Considering she's one of the most beloved lesbians in the history of the sport, I'd say her chances of meeting someone criteria-approved is in the 100% range. This, by the way, is her criteria:
Has kids of her own
Isn't married
Isn't straight
Has a job
No, not a job, a career
And must be passionate about her work
Alice and Shane are skeptical that she truly wants a lady with a career instead of a wifey wife who will do the dry-cleaning and iron her yoga shirts and make balsamic reductions for her to eat when she comes home from her passionate job. Then Alice is like OMG, I know the perfect person to set you up with!
Shane: Don't let her set you up, that's how I ended up spending my 30th with eight hippies in a fucking yurt.
Alice: Okay, you loved it.
For anybody following along at home, this anecdote means that the unaired spin-off in which Alice went to jail for Jenny's murder is officially not cannon, 'cause she would've been in jail for Shane's 30th!
---
Pages: 1 2 3See entire article on one page