Back in the seedy underbelly of Los Angeles's indie lesbian gambling scene, Shane arrives with a cheerful Tess for a poker game to find an empty room and low bisexual lighting.
Eddy asks Shane to take a seat, and explains that she started this game to give Black lesbians a place to kick it because white people take up a lot of space in WeHo, which is an objective fact. And then….
Lesbian Squabble #2: Wife Swap
In the Ring: Eddy vs. Shane
Content:
Eddy: That Dinah Shore shit is not for us, and I don't fuck with your music. It's whack. What I wanted to do was sort of bring our worlds together. So by allowing you to come into our space, I assumed you'd be respectful of my house.
Shane: Um, okay, I think you lost me —
Eddy: You tried to fuck my wife.
Shane didn't know Chloe was Eddy's wife, but Eddy says that doesn't matter — Chloe can fuck whomever she wants to, but she'd asked Shane to behave herself and not colonize their game night and now Shane needs to LEAVE FOREVER!
Who Wins? Eddy, because when Shane asks for her $10k back, Eddy says she's keeping it and "let's call it reparations." Shane has no choice but to bow to the superior competitor and vacate the premises.
Back out in the tunnels, Shane insists she was unaware of Chloe's marital status and Tess believes her. This is nothing like when Shane slept with Tess's girlfriend who she definitely KNEW was Tess's girlfriend LOL! Tess and Shane tease each other in the Los Angeles Tunnels with the energy of teenagers in an '80s movie. Friends, I am SHIPPING IT.
---
Cut to The Club, where Dani and Sophie are riding the shots shots shots train to Wedding Hangover City. The lighting's sexy, the music is blasting and maybe, just maybe, Sophie might tell Dani that she cheated on her with Finley? Nah! Instead she brings up her potential promotion. It's a quick convo during which I had a number of pressing questions.
The scenario is: They wanna start a family. Sophie's gonna carry the hypothetical baby. Also, Sophie doesn't wanna be a working Mom. Therefore, she shouldn't take the promotion. They both agree that Sophie will not in fact take the promotion.
The thing is: one simply cannot become pregnant! One must do her tests and see her doctor and pick a donor and then try every cycle until you get pregnant and it could take months, maybe even years for this to happen! Luckily she's young so I bet her antral follicle count is epic but still, there is but one thing to do in this scenario: take the promotion! Get that higher paycheck locked in before you go on maternity leave!!!
Anyhow, Dani's got a sordid confession: along with all of us, she had a dream about Bette Porter last night. Unlike all of us, she thinks that's a sign to confess to Sophie that she had a wee crush on Bette when they worked together but don't worry, nothing happened! She didn't cheat! Of course not! She would never! Because, as Dani says quite explicitly: "That's like, dealbreaker shit! That'd be it. We'd be done. Like there's no coming back from that." So now of course Sophie absolutely cannot confess to Dani that she cheated on her with Finley, she's just gonna marry her with that secret tucked away in her back pocket.
At last, FINALLY, we get the season's very first sexual scene, and it is between the two young women who brought us Season One's first sexual scene: Dani and Sophie.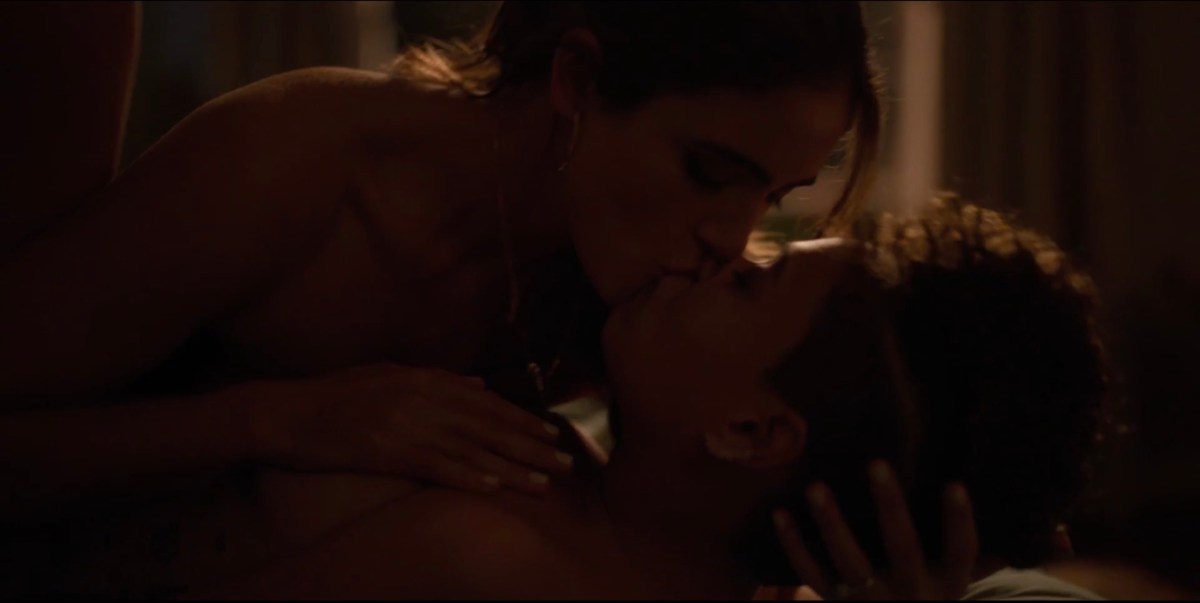 LESBIAN SEXY MOMENT #1: One More Night, The End Should Be a Good One
The Players: Dani and Sophie
The Pick Up? "Let's get out of here"
Hot or Not? Raw, drunk-in-love abandon. There's this moment that's like when you know somebody's body so well but it never stops amazing you with hot it is and how hot you are together. Dani's already forgotten everything that doesn't fit between their legs and for this hour, Sophie forgets it too.
---
And now it's time for our two young guns to go to the Venue and get M-A-R-R-I-E-D! Bette is once again doing the most and by doing the most I mean "wearing the most fabric."
Alice and Nat want all the deets on her date with Gigi. Bette attests that it was "a disaster" until Carrie and Tina showed up with their opinions about scallops and the Yankees, at which point Bette stopped being a jerk and appreciated the goddess seated beside her. Furthermore, Bette admits, they did indeed kiss.
Initially, Nat and Alice are delighted by this information but upon further pondering, Alice determines that perhaps this is kind of awkward now that they "share something in common." I guess this "something" is Gigi. But um, I think they share something far more intimate in common than Gigi? Like… each other? Did they forget that Bette FINGERBANGED ALICE AT THE OPERA?!!? What could they ever "share in common" that would be more intense than THE DUET FROM THE OPERA "LAKME"?!!
Meanwhile, Tess tells Shane she's pretty sure she lost the Cup O Noodles Poker Game gig which blows cause she needs money to live, like for food and shelter. Shane says she'll help any way she can and Tess says "you don't owe me anything" which isn't true, she absolutely does!
Alice gets a 911 text from Sophie and dips out to rendez-vous in the corridor, where Sophie looks amazing and is also dying inside. Listen I love television. Somehow this is going to go off the rails, and the only way this will end well is if Dani admits that she's actually been dating Melissa Rivers this whole time.
Sophie tells Alice she never confessed her sins to Dani, and makes Alice promise she'll never tell a soul. Alice is VERY good at secrets so this will absolutely work. Then, Sophie brings up her resistance to Leaning In by declining Alice's job offer because her and Dani wanna start a family. 
Alice returns to the wedding mainstage and is horrified to spot her very own girlfriend speaking to another woman and possibly (!?!?!) enjoying herself doing so! Alice trots over to interrupt the gabfest, and Nat explains that her new friend Marissa (played by trans Latina actress Carolina Gutierrez) was just telling her about her husband and her girlfriend. 
Alice recalls that her and Nat also once had a throuple, and it didn't go well. Nat says it had ups and downs. Alice reiterates that it ended poorly. I appear suddenly and announce that in fact the throuple was a highlight of Season One and I am offended that they chose not to maintain it indefinitely for my specific entertainment. Furthermore, it went VERY well! Also, Alice seems to have forgotten that she loved it until Nat and Gigi broke a rule that had never actually been set. AHEM.
As Alice and Nat make their way back to their assigned seats, Nat begins, "She was actually kind of bringing up something kinda interesting —" and Alice immediately shoots her down. Yikes!
There are like 50 people at this wedding which i guess means that Daddy did not in fact invite all of his evil associates to come drip money all over the cobblestones. Anyhow, the orchestra starts playing an instrumental version of the classic wedding march, "Show Me Love" by Robyn. The wedding procession begins!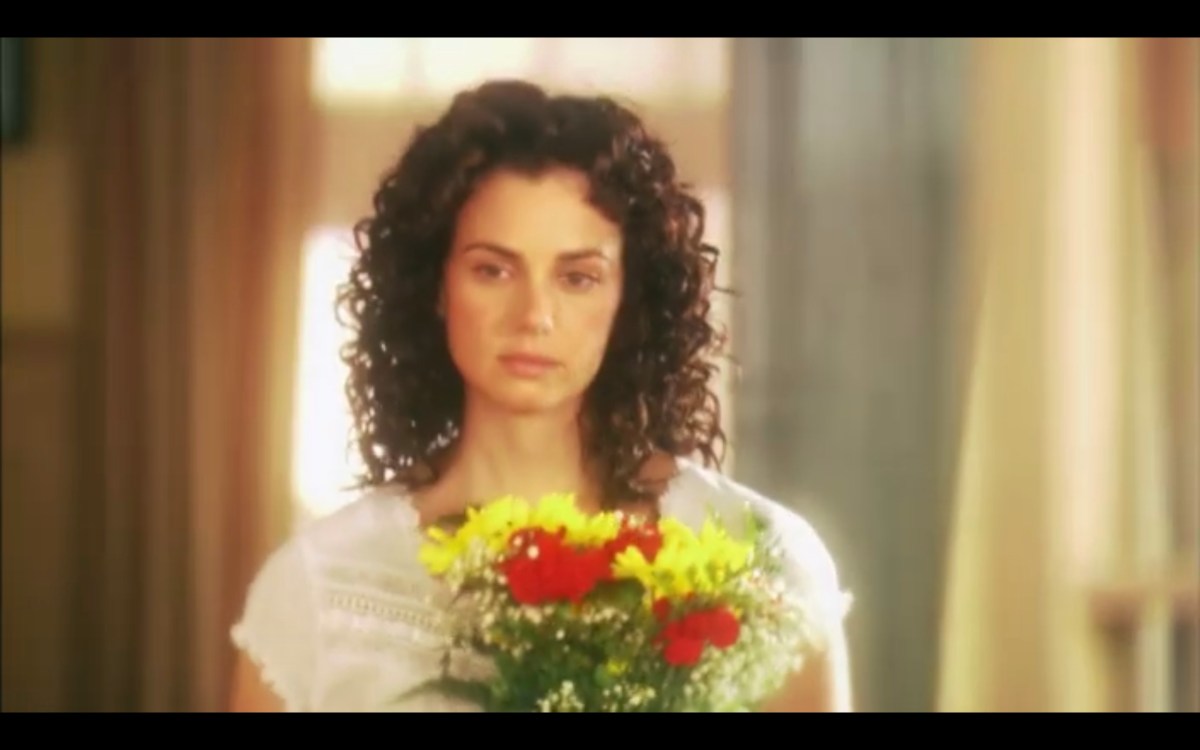 Oooop sorry wrong picture! Here it is:
Forces outside of my control compel me to cry even though I do not believe these two women should marry. Micah's on one side of the arena and Maribel's on the other, both of them radiating "why didn't you tell her that you fucked Finley in the green room" vibes in Sophie's direction, which are somewhat overpowered by everybody's belief in the power of Lesbian Love.
Sophie's like, wow my wife is hot!!!!! Dani's like…. wow, MY WIFE is hot!!!!!!!!!!!!!
"When I look around—" the lesbian in the I Marry People Robe begins.
And then. Before another word can be spoken, before another vow can be made and never unbroken, before anybody promises to see anybody else through sickness, health, loving, cherishing, etc — we have a late arrival to the party. Her name is Finley. And she just got off a motherf*cking plane.
Finley — likely smelling of pretzels, recycled air and Bloody Mary mix — drops the carry-on duffel bag hanging dutifully from her tender gay hand. She walks down the aisle while the audience gasps in horror and disbelief.
Before we continue let me just say that this is truly bananas and a bit out of character, but I will allow it.
Finley: "I love you. I think I've always loved you. And I just didn't want you to get married without all that information. And if you don't feel the same way I'll leave right now and you know, this would be a great story to tell or something but um, I do love you. So. And I'm pretty sure you love me too."
Dani: "Sophie, what's going on? Sophie, what is she talking about?"
Sophie: "I -"
AND CUT!!!!
I tell you what this is an interesting parallel to the original series, in which Season One ended with Tina discovering Bette had cheated and Season Two ushered us into the painful aftermath.
---
In summary:
Lesbian Sexy Moments: 1, 1 all season
Squabbles: 2, 2 all season
Quote of the Week: I CANNOT DECIDE, I am accepting nominations.
Pages: 1 2 3See entire article on one page