Welcome to the first recap of the second season of The L Word: Generation Q, brought to you by the same network that brought you The L Word, a show about a sociopathic aspiring lesbian club mogul with a Lover named Cindy who moves to Los Angeles to destroy every lesbian eatery and bar that interferes with her dreams, orchestrates a backroom threesome with the town ladykiller on opening night, ruins a very fun party after said ladykiller has sex with aforementioned Lover (who is naked except for her kitten heels) on their white couch, hosts a scandalous oil wrestling event where young starlets rip each other's hair out, unleashes a cage of wild rats in a local coffeehouse and then hosts a mafia-style showdown with her rivals in a scorching hot conference room during a city-wide power outage, after which time she is bested by a rich heiress who steals her club and her girlfriend, the afore-aforementioned Lover Cindy, who loves pastries and silk tank tops.
It's finally time for this absolutely ridiculous adventure into Season Two of this show. Do you remember Season One? Back before so many of us had stared into the dark void of our own humanity for a series of terrifying months? Ah were we ever so young. We will never be young again! LOL!
Question for Everybody: When do you plan to watch the episodes? Friday mornings? Friday nights? Saturday? Sunday? Lemme know so I know the ideal time to drop this recap!
---
We open at the Tower Of Babel, which Sophie Suarez is ascending, wearing a sharp tailored suit and a tentative facial expression. As the music swells around us, I think to myself "hmmm, this definitely isn't the Hollywood Burbank Airport aka the Bob Hope Airport, a public airport three miles northwest of downtown Burbank in Los Angeles County." As you may recall, last we saw our young charges, Sophie was running through the airport in her Wildfang outfit, Dani was wearing Gucci high-tops and Finley was boarding an airplane while listening to my favorite podcast, To L and Back. But my friends, time has passed, as it so often does. And at the top of the stairs, Sophie finds her dearly betrothed Dani looking very hot.
It turns out that Sophie did visit the Aloha State with Dani, but they didn't marry there. Instead, they intend to marry right here, in sunny Los Angeles California!!! Inside a very large building!!!!
Dani's father is now 100% on board with the union, citing Sophie's integrity and generosity. Furthermore, he has never seen his daughter as happy as she is right now in this moment, probably because he has never seen her look at art with Bette Porter.
---
We leap back in time an entire 15 hours to find Shane in a skinny tie (classic) and shoes I deeply covet (sure), walking her new dog friend, who I will call Sounder III, through an underground tunnel. Here, my friends, we stumble upon the Lost Butches of Los Angeles, hidden behind a vending machine that appears to be delivering candy bars and Cups-o-Noodles but is actually a door. And who is behind that door??!!
It's Eddy (Lena Waithe), who has allegedly been eager to meet Shane, as allegedly they are the "white and Black versions of each other" because every masculine person of color in L.A. is just an [ethnicity] version of Shane. Turns out Tess is an employee of both Dana's and Cup o Noodles Secret Texas Hold Em Club and she will be dealing this evening with no limits.
A hot femme in a hot pink dress flirts with Shane while Eddy looks on. DANGER!!!!
---
We then travel over the 405 and into the woods over to the annals of education, where Alice and Nat are dropping off the kids and Alice is re-reading a draft of her upcoming memoir, in which there'll be a chapter called "Boobs, Tubes and Pubes" that will not be about the Autostraddle column Boobs on Your Tube but in fact about Alice's ovarian cysts. This is important for ovarian cyst visibility!
Stuck in line behind a hetero soccer Mom, Nat suggests a quick tryst in the backseat but Alice has only begun to scale the median when who should pop in but Gigi!!! Gigi is here to give Eli his class cupcakes, inform us that Nat's always been into public sex, chew two pieces of Alice's gum, and give me false hope that they might one day have another threesome.
Alice suggests they find Gigi a girlfriend and Nat is like, "that is why I love you, you have all the best ideas." Hopefully Alice is gonna just shake the lesbian phone tree and see if maybe Pink falls out and then wants to raise her glass with Bette.
---
We then shoot across town to Chez Bette, where our Lady of Porter is gamely pulling off some bold taupe leisurewear and speaking to a potential employer as Tina and Carrie show up and my friends the class war starts at home!!!!!
Yes the legendary Rosie O'Donnell is playing Carrie and I would take a bullet for her. A classic silver fox in a practical shirt about to die of shame over kinda nicking Bette's mailbox? Who then offers to fix it up real fast no problem if Bette perhaps has some housepaint? Who had a Groupon for a Vietnamese bakery and got them all some giant meat buns? Who hasn't heard of the internationally renowned art guy who wants to hire Bette? Welcome to Los Angeles, Carrie, we are so very happy to have you!
Basically Carrie is the polar opposite of Bette. While Carrie's clearly eager to impress her forerunner, Bette cannot tolerate the simple fact of Carrie's existence, let alone anything she actually dares to say out loud. It's a big shift for Tina, too.
Oddly enough, it was from Rosie that I first heard this idea that "in every couple, one person is the flower and the other is the gardener." The gardener is steady, reliable, calm, controlled. She waters the plants and picks the right soil. The flower blooms. I don't think that's true about every couple, I think that's actually a very specific kind of relationship — one that's probably especially common amongst celebrities with non-famous partners. But it was absolutely true about Bette and Tina. And maybe now… Tina has a gardener of her own?
Angie bounds in to the kitchen to be a normal teenager not involved in this tense love triangle of intergenerational lesbian romance and to eat some breakfast. She says it's cool that Tina and Carrie wanna get married this summer in Palm Springs, which is honestly a terrible idea because it will be at LEAST 120 degrees and everybody will melt and die faster than my dreams in March 2020.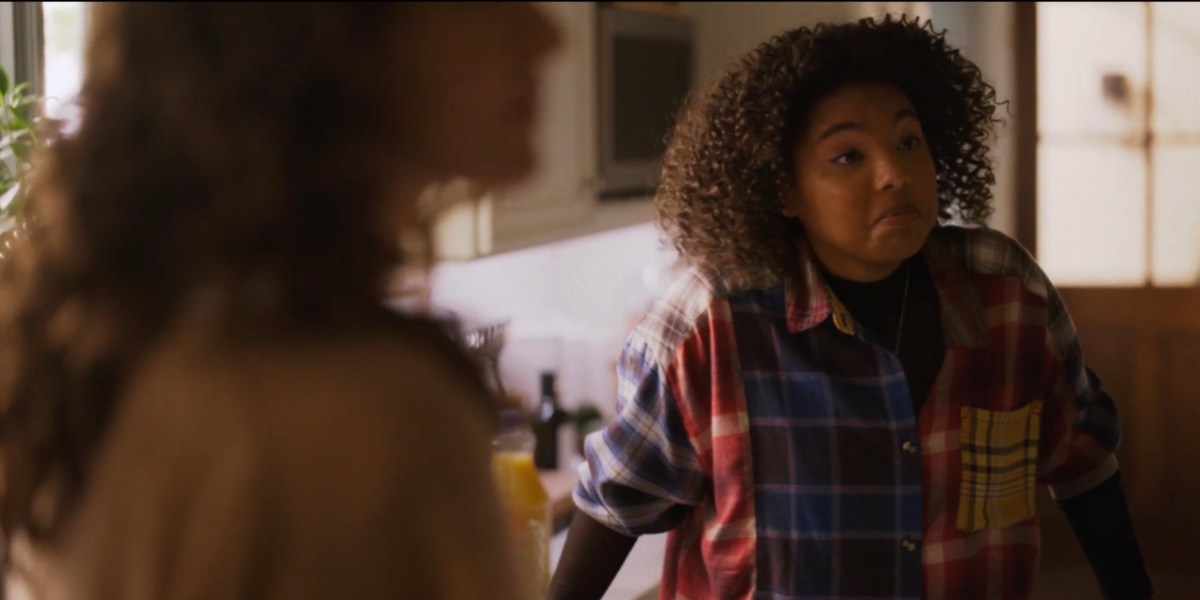 More pressing to Angie is that she's got no idea who her donor is, unlike me and all other viewers of Season One of The L Word, who remember illustrious artist Marcus Allenwood. Unfortunately, her Moms squash that potential journey of discovery immediately, explaining she can't meet her donor 'cause they'd agreed he would stay anonymous until she turned 18.
Carrie quite adorably begins rambling about how she did one of those genetics tests you can get in the mail and found out she was 100% IRISH and had family in West Palm Beach in the jet ski industry! Unfortunately, Mama B and Mama T don't like the idea of Angie doing a genealogy test either.
Bette is… sad.
---
Back at DaSoMi's chateau, Dani's eyeing a table of tiny paper tents upon which the seating-related fate of their wedding guests is at stake.
Sophie implores her betrothed to stop obsessing over the seating at their wedding.
Dani: Do you think my Dad can just sit at a table in the corner by himself?
Sophie: Whatever Nuñez, it's gonna be perfect because after we're gonna go to your family's house in Ojai and be naked all day.
Dani: Maybe we should just run away now.
Sophie: No no no no no. I wanna make these people cry. (Slaps her ass) So don't fuck it up.
---
Dani texts Micah who's allegedly at the gym but is NOT actually at the gym because he is putting his clothes back on after doing SEXUALS with JOSE who is MARRIED.
Exposition time!!!!!!!!!
Jose can't go to the wedding with Micah.
Jose moved back in with his husband so they can break up their marriage?
It's time to give this man the boot!
---
IT'S THE ALOCE SHOW!!!!!!!!!!!! Big news: Margaret Cho keeps calling, and thus I anticipate she will appear on a future episode. Alice explains to Sophie that she is SWAMPED these days with writing her book and doing the show and holding a water bottle and on top of all that, they want her to launch a new segment!
Alice: The network wants me to do a new segment on the show this season, like a carpool karaoke but with more gravitas? So like Carpool Karaoke meets—
Sophie: Intervention?
Alice: No, like Ellen's Teacher Giveaways meets Oprah 2.0 meets the viral nature of carpool karaoke?
Sophie: So uplifting, but not silly, but interesting enough for people to watch and share?
Alice: Right. But through the Alice lens.
Sophie: Alright, I didn't think I had to say QUEER.
Guess what: Alice needs to hire a producer for the segment and she's got her eye on our very own Sophie Suarez, which's great 'cause Sophie was craving a production job back in Season One, which aired 150 years ago. However Sophie's reaction to this news does not seem to reflect expected enthusiasm levels, perhaps because her heart is heavy. Why is that? We will find out very soon!
Also, the assistant Alice hired to replace Finley is really bad at coffee.
Alice feels lost without Finley! Finley made great coffee. Finley gave her encouraging finger-guns to pump Alice up and make her feel jazzed up with the eye of the tiger.
But, it turns out the reason Sophie and Dani's intended marriage has proceeded at an alarming clip is not 'cause Sophie resolved her dilemma with either party. It's because she has banished Finley from the Los Angeles metro area.
Alice: You don't think Finley's coming back? There's not a chance or anything.
Sophie: NO. She's not coming back. She's staying in Kansas City forever.
Alice: Well, I'm gonna have to switch to tea if that's the case.
Alice asks her inadequate assistant to get Sarah Finley on the horn.
---
Jordie and Angie are being REALLY FUCKING CUTE. Angie's chomping on a sandwich, and Jordie's hair is waving in the wind, and they are clearly deeply in love but also respect and value each other for who they are as people!?!?!
ANYHOW Jordie suggests that Angie try the genetics test if meeting the donor is totally off the table. Angie fears Bette won't go for that 'cause it was Carrie's idea. In fact, just this morning, Angie noticed that Bette was horrified by Carrie's inalienable right to exist. Jordi says Carrie is the best and Angie agrees. Gen Z rules!!!!!!!
---
Meanwhile, Mom's at Dana's with her best buds, Alice and Shane, acting like she was not aggressively meat-tagged at The Planet in 2007 and is at risk of Dying Alone.
Bette: I think it's because their togetherness just highlights the fact that I'm alone, and Tina has Carrie and she makes her laugh and she's all JOKEY and I have… oh yeah that's right! I have no one and I'm gonna die alone.
Shane: No no no no, you know why that's not gonna happen? Because you always have Angie.
Bette: (scoffs)
Shane: What's wrong with that?
Alice: Yeah, you two could be like, the Grey Gardens of this generation. But I mean in a much nicer house. Less racoons.
Shane: Cleaner, for sure.
This reminds me of when I was like, I'm going to die alone because nobody will ever love me, and Heather was like, that's not true, Carol loves you so much!
Bette's questioning the likelihood that she'll ever meet someone who meets all of her criteria. Considering she's one of the most beloved lesbians in the history of the sport, I'd say her chances of meeting someone criteria-approved is in the 100% range. This, by the way, is her criteria:
Has kids of her own
Isn't married
Isn't straight
Has a job
No, not a job, a career
And must be passionate about her work
Alice and Shane are skeptical that she truly wants a lady with a career instead of a wifey wife who will do the dry-cleaning and iron her yoga shirts and make balsamic reductions for her to eat when she comes home from her passionate job. Then Alice is like OMG, I know the perfect person to set you up with!
Shane: Don't let her set you up, that's how I ended up spending my 30th with eight hippies in a fucking yurt.
Alice: Okay, you loved it.
For anybody following along at home, this anecdote means that the unaired spin-off in which Alice went to jail for Jenny's murder is officially not cannon, 'cause she would've been in jail for Shane's 30th!
---
Cut to The Zakarian Gallery where Bette's wearing 45 coats and a man dressed like Professor Plum is commenting on her extraordinary work at the CAC, where she mixed politics and art and also fucked the carpenter in multiple locations.
He's like, if you work here with me you could champion the work of so many artists of color and marginalized voices!! But she's like, excuse me, what about Impressionists in Winter?!?!
Bette: "You know I could be a little irritated that in your myopic vision you've somehow solely associated me with BIPOC artists when in fact I've worked with pretty much every major artist of the last two decades but instead I will simply point out that you represent exactly THREE artists of color."
Professor Plum: "Which is another reason I need you. I mean those marginalized artists are suddenly the hottest commodity in the art world and I have found for the first time I am behind the curve."
This man has given us nothing and would like to continue giving us nothing by instead hiring Bette Porter to give us everything. I'm in favor of this plan, because he also wants to meet her salary demands, pay off her campaign debt, and give a signing bonus to all her BIPOC artists but Bette wants them for EVERYBODY lest any white people be left out in the cold of an impressionist winter which is so…. Bette. He agrees to this and further stipulations and then shows Bette to her office where she may or may not have liaisons with passionate women.
---
Alice's book is moving along significantly faster than my book, and I have only one job and one girlfriend and zero children. HOW DOES SHE MANAGE TO DO IT ALL? Her publishers wanna move up the publishing date and also give Alice an editor. She thinks this means they adore the book but I suspect she's getting an "editor" 'cause what she really needs is a ghostwriter.
So, big news for Sophie and me: Finley's totally down to come back!!! Sophie's unhappy about this which brings is straight into….
Lesbian Squabble #1: Somewhere Between The Moon and Kansas City
In the Ring: Alice vs Sophie
Content: Sophie says Finley's supposed to stay in Kansas City and is horrified to learn that Alice told Finley that they both missed her. "You gotta tell her that she can't come back," Sophie insists. "She can't come back here." Sophie's saying all this at an alarming volume, thus alerting the entire office to her situation. Thus, Alice yanks her into her private office where everybody can still see them, but not hear them. Within the office walls, Sophie confesses that her and Finley boned after The Aloce Show wrapped its Roxane Gay episode. Alice is distressed to hear that this happened on her couch.
Sophie: And look it was — it was a one time thing, and it didn't mean anything. I mean… it was fucking amazing —
Alice: Well I don't need the—
Sophie: But she's gone and Dani doesn't know and now I think that I should've told her. do you think that I should tell her?
Who Wins? Alice because Sophie forfeits by immediately pivoting the fight into a confession session.
Alice suggests leaving the past in the past and moving gamely forward. Sophie thanks her for those wise words and announces her intention to tell Dani tonight! At the rehearsal dinner! No better moment than far after the checks have been signed, the mixers have been wrapped, the venue has been booked and the love has been declared not a lie.
---
We return to the Wedding Venue Location where we began the episode. Will everybody build a tower high enough to hit heaven? Will they rehearse a dinner? Well, Sophie is quietly hyperventilating. Micah and Maribel are lurking in the immediate corner like the first exhibit on a dark ride at Disneyworld, where they're singing Did you tell her? Did you tell her? The next thing that will happen on this ride is that the music will start and we will careen into a grim land of horrors in which Sophie will tell Dani about smacking the salmon with Finley and then there will be a steep drop into a thicket of thorns.
As Sophie stands at the front of the room with Dani's family, freaking out internally, we get a fun little erotic voiceover that on par with the legendary EZ Girl hit "Shane and Carmen Fucking." We hear Finley: don't do that, you're getting married tomorrow. We hear a lot of deep breathing. SEX BREATHING.
Back in the hallway, Micah once again implores his friend Sophie to tell Dani the truth, and Maribel agrees wholeheartedly. Real quick I would just like to remind everybody of something I said in 2019: "Since everybody else is offering free ideas to the Gen Q Writer's room, here's mine (besides my #1 idea which is "put me in the Gen Q Writers Room"): Maribel and Micah! I love both of these characters and the actors who play them SO MUCH and I'm excited just THINKING about what they could accomplish together. "
I am getting very strong VIBES here that my dream might come true!
Anyhow, Sophie tells them of COURSE she's gonna tell her and OF COURSE Dani shows up at exactly that moment to ask, "Tell me what?" But before Sophie can answer, Dani bulldozes her with an uninterrupted monologue that begins with "is it the place?" and ends with a confirmation that tonight they'll go out dancing and get drunk and do the horizontal hula. Dani promises to make it up to her, whatever "it" is. The place. The place? What's wrong with the place?
I guess an advantage to marrying very young is that you can go out the night before a photoshoot (a wedding is a photoshoot, don't @ me) and not worry that you will wake up the next morning looking like the Grinch Who Stole Christmas just got rescued from a coal mine.
Regardless; that's always been the thing with these two: they don't really see each other, but they're long past the moment in their relationship where that failure had any hope of getting corrected. They've got incredible physical chemistry. They love love — love being in love, love loving each other, are electrified by the rush of taking each "next step" in their relationship. Sophie admires Dani's ambition and conviction and she knows Dani will always take care of her. Dani needs Sophie's playfulness to keep her from getting too serious. Both of them are convinced they are ready to settle down.
But a long time ago Dani decided who Sophie was and what Sophie wanted, and since then, to Dani, Sophie's always been 50% actual Sophie and 50% Dani's idea of her. When they fight, Sophie's angling to bring her real self to the surface, to be seen, and when they make up, Sophie doesn't necessarily feel self-actualized, but she does seem to feel safe and honored. Those are good feelings to feel, although they're not necessarily feelings that engender a sustainable relationship.
But whatever has happened between this season and last season, Sophie's got more on the line than ever to be seen how Dani sees her, because who she really is — what she really did — Dani can't ever see that. Now they're both invested in maintaining the image and obscuring the reality. A dangerous place to be right before you get married!
---
Back at Chez Bette, Angie's pondering the genealogy kit but thrusts it into her backpack when Bette arrives in the kitchen looking amazing. She explains that she's just going out on a little date and "it'll probably be a disaster." Clearly "having to go on an arranged date" is the ultimate low point in Bette Poterland. She's used to just being able to seduce the power-drill-wielding visiting artist who just joined her department or, you know, her T.A.. Or Tina, again! I love this humbling journey for our queen!
Angie, an exemplary mature child, wants Bette to know she doesn't think the donor is her real Dad, she's just curious about where she came from and it won't make Bettina any less her Moms. Bette says it's not that, it's that the contract they established with her donor included a clause that he'd stay anon 'til she turned 18, because he gave Bette & Tina his sperm during a time when it was really difficult for "us as lesbians" to have a child. Also she doesn't want Angie giving her DNA to the deep state, sorry!!!!!!
---
Meanwhile on the mean streets, Shane got Tess a sandwich and Chloe is blowing up her phone with erotic desires for later that very evening at Cup o Noodles Door Poker Night.
---
At the restaurant, Bette's feeling very nervous about her date when in strolls Gigi, all smiles and laughs and absolute utter radiance. Gigi's amused that Nat and Alice orchestrated this date between two unsuspecting hotties. She complements Bette on her dress and asks if it's Tom Ford. Bette looks at her with unforgivable contempt.
---
Over at Natalice's, Nat's watching Law & Order SVU on her laptop like a lesbian sophomore trying not to obsess over why her crush hasn't texted her back. Alice arrives and declares that she has had "a day of lesbian sex and scandal." Also, Alice says she's never seen SVU before.
Alice: Does she always wear a leather jacket?
Nat: Of course.
Alice: She's serious.
Alice gives SVU about 30 seconds before turning immediately to her girlfriend's hot bod, which she mounts and begins to kiss. Unfortunately, Nat gives Alice about ten seconds before falling asleep, and then Alice wants to die!
Nat: "I wasn't asleep I was just resting my eyes! I have heavy lids!"
The weirdest thing about this is that it is almost definitely impossible for Nat to have fallen asleep that quickly so if I were Alice, I'd be convinced Nat was making it up, and then I'd develop like yet another carousel of baggage all about it. Being alive is fun.
---
Back on Dating Around, Gigi's doing 95% of the work for this date while Bette gives it about as much attention as Mark Zuckerberg gives opposing counsel in that deposition scene in The Social Network.
Bette actually TELLS GIGI that she finds DATES "a little sad" and to be honest, I understand where she's coming from and I too find myself fundamentally uncomfortable with the concept of a date but listen lady, you gotta do what you gotta do to find love. Gigi is like, "Oh, I don't know, I think it's a useful step in getting to know somebody." Bette gets defensive in response because she is hellbent on blowing this date.
But then SURPRISE! Guess who else is dining here tonight???
Gigi: Nice to meet you! And you must be Carrie. I've heard so much about you!
Carrie: Oh really? Anything Bette's told you about me is subject to cross examination!! (laughter) I'm kidding, I know we're all part of the same team.
Gigi: And what team is that?
Carrie: Yankees. All the way. Yankees or die.
Tina: Well I hear this place is great.
Gigi: It is. Get the scallops! They are perfectly seasoned.
Carrie (to Tina): Ahhh honey I can't, I've got a texture thing with the scallops, no can do.
Gigi: Well, save em for the grown-ups, right?
Everybody stands still in awkward hell and I'm truly unclear regarding what Gigi was trying to communicate here but I think I hate it. The two couples separate to talk about each other in peace. Finally, Bette turns to Gigi and is like, "I'd say I love you but I don't know you that well" and I breathe a sigh of sweet relief that perhaps Bette will not blow this date after all.
Gigi asks Bette if it's hard to see Carrie and Tina together, like it was for her with Nat and Alice. Bette says nothing for a long time, 'cause she struggles with you know, vulnerability, and then:
Gigi: You make a life with someone and when it's over … it's like you're spinning in the dark.
Bette: I… just really thought that I…  well at first when she left, I thought "Tina just needs some space, she spent her entire adult life in my orbit, she probably just needs to be front and center for a while."
Gigi: You thought she'd come back to you?
As we all know and can see, Bette did indeed expect Tina's return and Tina did not in fact return. Instead, she's sitting with Carrie, who's a bit anxious about the menu font being too tiny for her to see the ingredients. What if she orders the wrong thing and gets reflux??????
Tina: Do you think Bette's okay?
Carrie: No, I don't think Bette's okay. I think she's in love with you.
Tina: No she's not.
Carrie: Yes, she is. I mean, she's sitting with that beautiful woman and all she can do is sit over there and stare at you.
Carrie says she'll try the scallops if Tina wants to try the scallops! (She should really try the scallops, scallops are great.) Also Tina tells Carrie that she's beautiful and Carrie and I both tear up.
Meanwhile, over at Love at First Date, Bette remains unable to focus on aforementioned beautiful woman as she blinks back tears while casting excruciating glances in Carrie and Tina's direction. "Come here," Gigi demands. Bette leans in, asks, "you're really doing this?" She is. We are. LADIES AND GENETLEPEOPLE WE ARE REALLY DOING THIS !!!!!!!
"You're naughty," Bette says under her breath. Okay Dean Porter.
Back in the seedy underbelly of Los Angeles's indie lesbian gambling scene, Shane arrives with a cheerful Tess for a poker game to find an empty room and low bisexual lighting.
Eddy asks Shane to take a seat, and explains that she started this game to give Black lesbians a place to kick it because white people take up a lot of space in WeHo, which is an objective fact. And then….
Lesbian Squabble #2: Wife Swap
In the Ring: Eddy vs. Shane
Content:
Eddy: That Dinah Shore shit is not for us, and I don't fuck with your music. It's whack. What I wanted to do was sort of bring our worlds together. So by allowing you to come into our space, I assumed you'd be respectful of my house.
Shane: Um, okay, I think you lost me —
Eddy: You tried to fuck my wife.
Shane didn't know Chloe was Eddy's wife, but Eddy says that doesn't matter — Chloe can fuck whomever she wants to, but she'd asked Shane to behave herself and not colonize their game night and now Shane needs to LEAVE FOREVER!
Who Wins? Eddy, because when Shane asks for her $10k back, Eddy says she's keeping it and "let's call it reparations." Shane has no choice but to bow to the superior competitor and vacate the premises.
Back out in the tunnels, Shane insists she was unaware of Chloe's marital status and Tess believes her. This is nothing like when Shane slept with Tess's girlfriend who she definitely KNEW was Tess's girlfriend LOL! Tess and Shane tease each other in the Los Angeles Tunnels with the energy of teenagers in an '80s movie. Friends, I am SHIPPING IT.
---
Cut to The Club, where Dani and Sophie are riding the shots shots shots train to Wedding Hangover City. The lighting's sexy, the music is blasting and maybe, just maybe, Sophie might tell Dani that she cheated on her with Finley? Nah! Instead she brings up her potential promotion. It's a quick convo during which I had a number of pressing questions.
The scenario is: They wanna start a family. Sophie's gonna carry the hypothetical baby. Also, Sophie doesn't wanna be a working Mom. Therefore, she shouldn't take the promotion. They both agree that Sophie will not in fact take the promotion.
The thing is: one simply cannot become pregnant! One must do her tests and see her doctor and pick a donor and then try every cycle until you get pregnant and it could take months, maybe even years for this to happen! Luckily she's young so I bet her antral follicle count is epic but still, there is but one thing to do in this scenario: take the promotion! Get that higher paycheck locked in before you go on maternity leave!!!
Anyhow, Dani's got a sordid confession: along with all of us, she had a dream about Bette Porter last night. Unlike all of us, she thinks that's a sign to confess to Sophie that she had a wee crush on Bette when they worked together but don't worry, nothing happened! She didn't cheat! Of course not! She would never! Because, as Dani says quite explicitly: "That's like, dealbreaker shit! That'd be it. We'd be done. Like there's no coming back from that." So now of course Sophie absolutely cannot confess to Dani that she cheated on her with Finley, she's just gonna marry her with that secret tucked away in her back pocket.
At last, FINALLY, we get the season's very first sexual scene, and it is between the two young women who brought us Season One's first sexual scene: Dani and Sophie.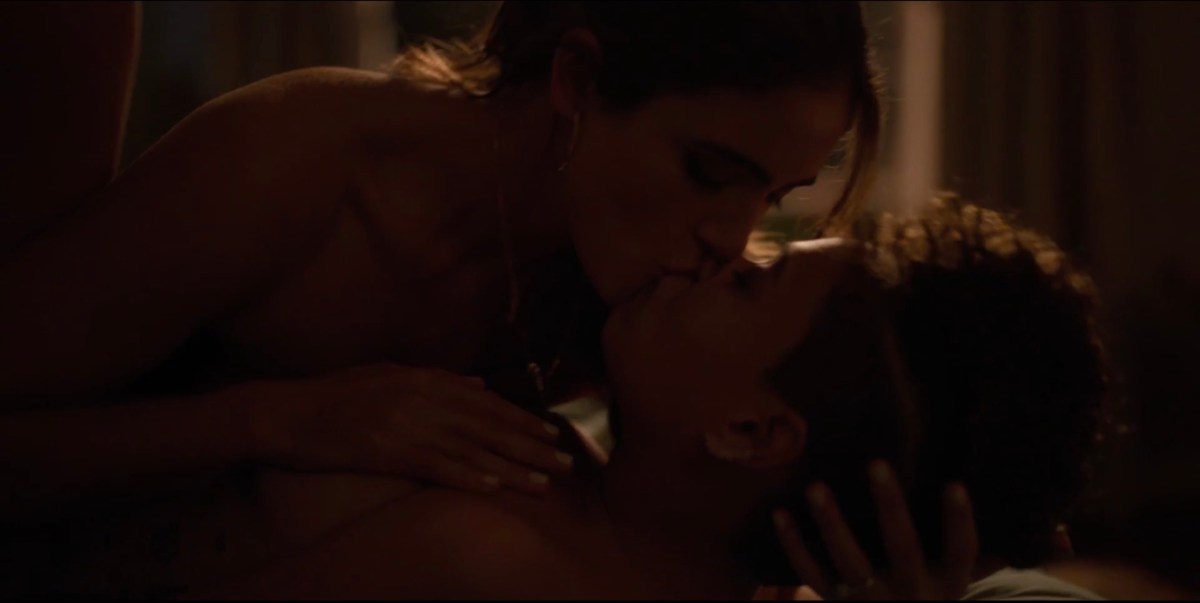 LESBIAN SEXY MOMENT #1: One More Night, The End Should Be a Good One
The Players: Dani and Sophie
The Pick Up? "Let's get out of here"
Hot or Not? Raw, drunk-in-love abandon. There's this moment that's like when you know somebody's body so well but it never stops amazing you with hot it is and how hot you are together. Dani's already forgotten everything that doesn't fit between their legs and for this hour, Sophie forgets it too.
---
And now it's time for our two young guns to go to the Venue and get M-A-R-R-I-E-D! Bette is once again doing the most and by doing the most I mean "wearing the most fabric."
Alice and Nat want all the deets on her date with Gigi. Bette attests that it was "a disaster" until Carrie and Tina showed up with their opinions about scallops and the Yankees, at which point Bette stopped being a jerk and appreciated the goddess seated beside her. Furthermore, Bette admits, they did indeed kiss.
Initially, Nat and Alice are delighted by this information but upon further pondering, Alice determines that perhaps this is kind of awkward now that they "share something in common." I guess this "something" is Gigi. But um, I think they share something far more intimate in common than Gigi? Like… each other? Did they forget that Bette FINGERBANGED ALICE AT THE OPERA?!!? What could they ever "share in common" that would be more intense than THE DUET FROM THE OPERA "LAKME"?!!
Meanwhile, Tess tells Shane she's pretty sure she lost the Cup O Noodles Poker Game gig which blows cause she needs money to live, like for food and shelter. Shane says she'll help any way she can and Tess says "you don't owe me anything" which isn't true, she absolutely does!
Alice gets a 911 text from Sophie and dips out to rendez-vous in the corridor, where Sophie looks amazing and is also dying inside. Listen I love television. Somehow this is going to go off the rails, and the only way this will end well is if Dani admits that she's actually been dating Melissa Rivers this whole time.
Sophie tells Alice she never confessed her sins to Dani, and makes Alice promise she'll never tell a soul. Alice is VERY good at secrets so this will absolutely work. Then, Sophie brings up her resistance to Leaning In by declining Alice's job offer because her and Dani wanna start a family. 
Alice returns to the wedding mainstage and is horrified to spot her very own girlfriend speaking to another woman and possibly (!?!?!) enjoying herself doing so! Alice trots over to interrupt the gabfest, and Nat explains that her new friend Marissa (played by trans Latina actress Carolina Gutierrez) was just telling her about her husband and her girlfriend. 
Alice recalls that her and Nat also once had a throuple, and it didn't go well. Nat says it had ups and downs. Alice reiterates that it ended poorly. I appear suddenly and announce that in fact the throuple was a highlight of Season One and I am offended that they chose not to maintain it indefinitely for my specific entertainment. Furthermore, it went VERY well! Also, Alice seems to have forgotten that she loved it until Nat and Gigi broke a rule that had never actually been set. AHEM.
As Alice and Nat make their way back to their assigned seats, Nat begins, "She was actually kind of bringing up something kinda interesting —" and Alice immediately shoots her down. Yikes!
There are like 50 people at this wedding which i guess means that Daddy did not in fact invite all of his evil associates to come drip money all over the cobblestones. Anyhow, the orchestra starts playing an instrumental version of the classic wedding march, "Show Me Love" by Robyn. The wedding procession begins!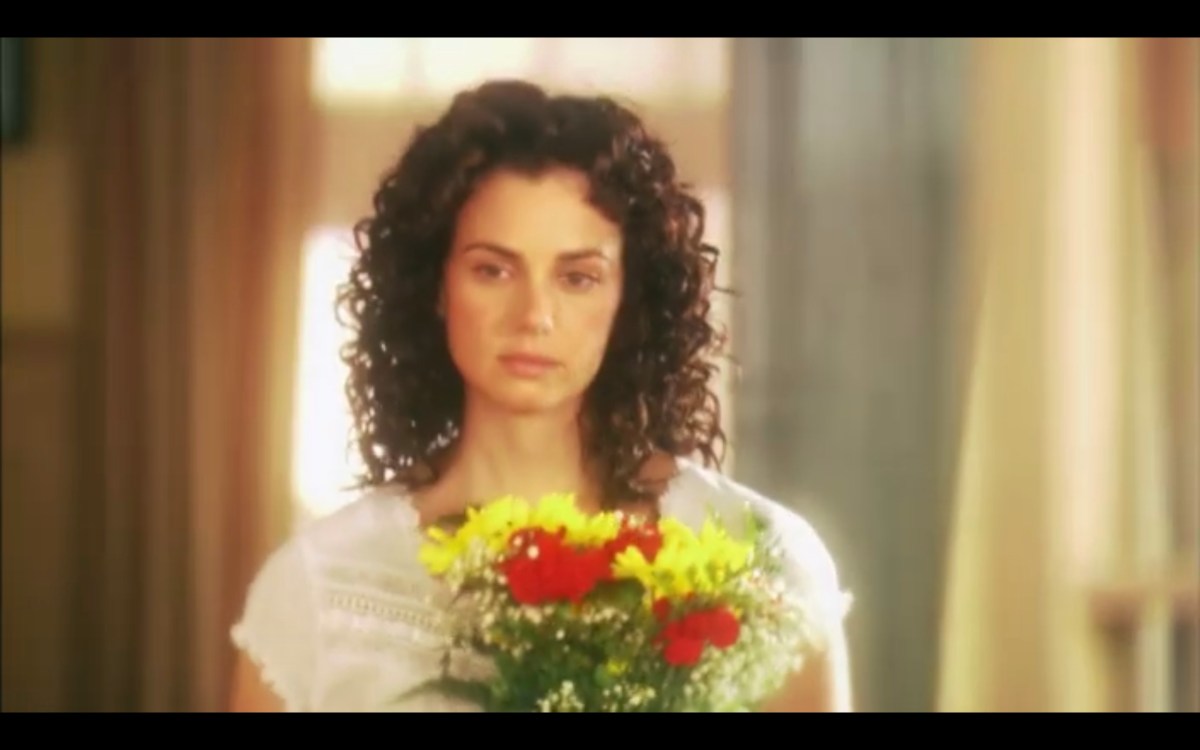 Oooop sorry wrong picture! Here it is:
Forces outside of my control compel me to cry even though I do not believe these two women should marry. Micah's on one side of the arena and Maribel's on the other, both of them radiating "why didn't you tell her that you fucked Finley in the green room" vibes in Sophie's direction, which are somewhat overpowered by everybody's belief in the power of Lesbian Love.
Sophie's like, wow my wife is hot!!!!! Dani's like…. wow, MY WIFE is hot!!!!!!!!!!!!!
"When I look around—" the lesbian in the I Marry People Robe begins.
And then. Before another word can be spoken, before another vow can be made and never unbroken, before anybody promises to see anybody else through sickness, health, loving, cherishing, etc — we have a late arrival to the party. Her name is Finley. And she just got off a motherf*cking plane.
Finley — likely smelling of pretzels, recycled air and Bloody Mary mix — drops the carry-on duffel bag hanging dutifully from her tender gay hand. She walks down the aisle while the audience gasps in horror and disbelief.
Before we continue let me just say that this is truly bananas and a bit out of character, but I will allow it.
Finley: "I love you. I think I've always loved you. And I just didn't want you to get married without all that information. And if you don't feel the same way I'll leave right now and you know, this would be a great story to tell or something but um, I do love you. So. And I'm pretty sure you love me too."
Dani: "Sophie, what's going on? Sophie, what is she talking about?"
Sophie: "I -"
AND CUT!!!!
I tell you what this is an interesting parallel to the original series, in which Season One ended with Tina discovering Bette had cheated and Season Two ushered us into the painful aftermath.
---
In summary:
Lesbian Sexy Moments: 1, 1 all season
Squabbles: 2, 2 all season
Quote of the Week: I CANNOT DECIDE, I am accepting nominations.
Pages: 1 2 3See entire article on one page