Another day, another top-level LGBT allyship award being granted to Katy Perry, an accomplished musical artist who produces irresistibly catchy pop songs on topics including but certainly not limited to: feeling like a plastic bag, dancing through fire while feeling like a tiger, and making out with the cherry-flavored mouths of girls for ambivalent and largely absent boyfriend figures.
This weekend, the Human Rights Campaign granted Katy Perry its National Equality Award, described as the group's "highest honor." This morning, the national media is buzzing regarding Perry's disclosure during her acceptance speech that she, in fact, has done far more than just kiss a girl, although she apparently didn't like it enough to actually be gay. But she did like it enough to get a very misleading haircut!
"I kissed a girl and I liked it," Perry confessed. "Truth be told, I did more than that." But she was unable to reconcile those feelings with her conservative upbringing, continuing, "What I did know is that I was curious and even then I knew sexuality wasn't as black and white as this dress."
After citing her LGBT fans as the group she feels most indebted to, Perry admitted that she "hasn't aways gotten [representation] right," but that "in 2008, when that song came out, I knew that I started a conversation that a lot of the world seemed curious enough to sing along to." Perry recounted growing up in a community where homosexuality "was synonymous with the word 'abomination' … and hell." She gave a strong shout-out to our VP, continuing, "A place of gnashing of teeth, continual burning of skin and probably Mike Pence's ultimate guest list for a barbecue. No way, no way. I wanted the pearly gates and unlimited fro-yo toppings."
Perry recalled wondering about her own sexuality, trying to pray the gay away at Jesus camp and eventually breaking free of her close-minded bubble through her music career, which opened her eyes to the fact that "these people were nothing like I had been taught to fear." She continued:
"…they were the most free, strong, kind and inclusive people I have ever met. They stimulated my mind and they filled my heart with joy, and they freaking danced all the while doing it. These people are actually magic, and they are magic because they are living their truth. Oh, my goodness, what a revelation! – and not the last chapter of the Bible."
(FTR, Revelation is the last book of the Bible, not the last chapter.)
It is fantastic that a person from such a conservative background as Katy Perry has recognized faults in her own thinking and dedicated herself to fighting those beliefs through her advocacy. Her narrative was clear and impactful, eventually leading up to:
"It would have been easier just to stay the whipped-cream-tits-spraying-poppy-light-fluffy-fun-anthems-by-the-way-of-animal-totems singing girl who was basically somewhat neutral in stance and just that, 'more hugs could save the world' [mentality]. No way. No longer can I sit in silence. I have to stand for what I know is true and that is equality and justice for all period."
Perry ended her speech on an inspirational note, concluding:
"I hope I stand here as real evidence for all that no matter where you came from, it's about where you are going, and that real change, real evolution and real perception shift can happen if we open our minds and soften our hearts."
Perry was introduced at the HRC Gala by her best friend, actress Shannon Woodward, who wore a suit-type outfit in an apparent attempt to queerbait our hearts. Woodward noted Perry's chart-topping successes in the music industry and called her a "tireless campaigner" for "equality champion" Hillary Clinton. Woodward added, "Katy finds a way to act as an ally virtually every single time she performs or speaks publicly." This is certifiably false, but whatever.
What has Katy Perry done for LGBT folks, though? For a certain segment of mainstream America, even Katy Perry's now-frequent social media shout-outs to LGBTQ folks and pro-equality messages have made a quantifiable difference. She is the world's most popular Twitter user, with more than 96 million followers, which undoubtedly includes a lot of Trump voters and their family members, as well as closeted queer kids all over the world and people from conservative religions struggling to accept their queer family members.
Perry has long been a darling of Gay Inc, starting in 2008, when Out Magazine couldn't bring itself to put a lesbian on the cover of its People of the Year issue, but it somehow made room for Katy Perry. In 2012, Katy Perry received an award from The Trevor Project, a non-profit dedicated to LGBTQ youth suicide prevention. It was a puzzling choice, as in 2007 Perry had released a song called UR So Gay, which opened with the lines "I hope you hang yourself with your H&M scarf /While jacking off listening to Mozart." But that was only part of the Overall Problem with Katy Perry. I don't think I have to get into the lesbian discomfort around 2008's "I Kissed A Girl" with y'all, it's become a tale as old as time within our community, and its message was critiqued at the time by celebrities like P!nk, Beth Ditto and Kathleen Hanna. Although I will take this opportunity, while I have your attention, to remind you that in 1995, out queer artist Jill Sobule released a song called "I Kissed A Girl" with a delightfully campy music video starring Fabio that appalling numbers of young people seem entirely unaware of, and if you are one of those people, you should go watch that video ASAP.
Furthermore, you're likely already familiar with Katy Perry's history of otherwise problematic behaviors and rampant cultural appropriation (including her explicitly racist Geisha-inspired AMA performance), as well as her ignorant rebuttals to this criticism and continued employment of AAVE. Perhaps you also noticed that when she performed "I Kissed a Girl" at the Super Bowl in 2015, it was turned into a duet with Lenny Kravitz, of which (former Autostraddle writer) Gabrielle Korn wrote at Nylon, "as if by adding a male voice to the lyrics, the already-vague bisexual (or as some call it, barsexual) themes are watered down." Katy Perry is one of many straight cis white musicians whose aesthetic is almost entirely borrowed from people of color and gay camp and who manages to make a shit-ton more money than those marginalized folks ever do when they express themselves authentically. In an excavation of the "contemporary fag hag," in Stan Hawkins' Queerness in Pop Music: Aesthetics, Gender Norms, and Temporality, the style of Perry and her contemporaries is described as "defined chiefly by their effervescence, a quality that they share with (and in some cases even borrow from) certain practitioners of drag."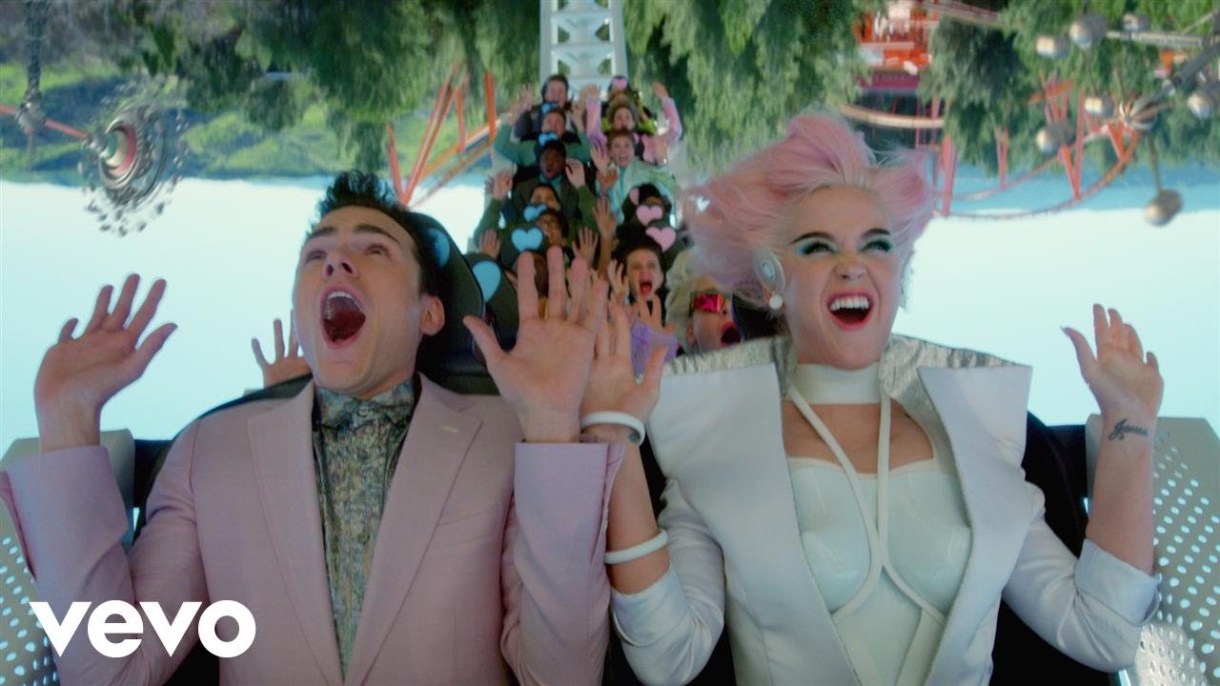 Still — it has been ten years since the release of "I Kissed a Girl" and "UR So Gay," and we can give her space to grow and change, right? Yet regardless of how you feel about those songs, it's still not entirely clear what Perry has done for the LGBT community that other bankable pop stars or celebrities haven't. Being a pro-equality pop star isn't, in and of itself, remarkable, and hasn't been for a few decades now — popular musicians were some of our very first visible allies. It's also difficult to state if Perry "deserves" an award like this because it's not entirely clear what the National Equality Award truly represents, besides its repeated citation as "the HRC's highest honor." I couldn't find a definitive list of previous honorees, but pieced together from various press coverage that the award has previously gone to Governor Mario Cuomo (2016), gay pop star Elton John and his husband David Furnish (2014), the Prop 8 Plaintiffs and Attorneys (2013), NAACP President Ben Jealous (2012); out actress Jane Lynch, politician Nancy Pelosi and basketball player Sheryl Swoopes (2007) and out Tennis star Billie Jean King (2006).
It's true that since the election, Katy Perry has become more explicitly political. She's recently used her instagram and twitter accounts to raise awareness of progressive causes like letting trans kids go to the g-damn bathroom already, Planned Parenthood, fighting Betsy Devos' confirmation, Black Lives Matter (although her caption about "woke af" holiday shopping is cringe-worthy) and Standing Rock. Perry has also donated to a number of AIDS charities. According to Look to the Stars, Perry's charitable contributions include Elton John AIDS Foundation, AIDS LIFE and the American Foundation for AIDS Research. Those donations shouldn't be overlooked, but it's worth noting that there are no explicitly gay non-profits listed on her profile… not even the HRC.
But does it actually even matter if Katy Perry deserves this award? It very well might not. She did give a good speech, it got a lot of press, and hopefully will resonate with people. Regardless, the HRC probably should've waited to see what happens next with Perry, and how her increased political awareness will play out beyond social media, rather than lowering the bar in order to shoot her a premature but expediently quick award toss. It is troubling that Perry's honoring fits into a longstanding tradition of gay organizations headed up by cis white men often elevating straight artists who produce sanitized and desexualized queer representation rather than promoting more authentic work that might challenge the status quo. "In America, politically thoughtful artists are looked down on," writes novelist and activist Sarah Schulman in Stagestruck: Theater, AIDS, and the Marketing of Gay America. "… art that exposes uncomfortable truths is diminished for being didactic, while art that promotes a false veneer of comfort is considered neutral and is promoted." Perhaps the real danger in this ongoing celebration of Katy Perry is that it plays into the myth of a "post-gay" society, pushing forward a narration of mainstream acceptance that erases the very much ongoing struggle for actual queer equality beyond state-sanctioned institutions like the military and marriage. As Alexandria Lenzi wrote after Perry's Super Bowl performance, "The only time I've ever seen a football stadium cheer for same-sex attraction is when Katy Perry sang about it at the Super Bowl."
In today's political climate, Katy Perry's Equality Award is probably last on my list of "upsetting things in the news this week," but I'm annoyed just enough to think about it just enough to definitively say she couldn't have been a standout candidate. So why was she given the award? Well, obviously the Human Rights Campaign needs to raise money in order to do its work, and these galas are some of the organization's biggest fundraisers. How does Perry's presence impact their bottom line, though? Certainly a diehard Katy Perry fan would rather invest in a concert ticket than tickets to a gala where she's gonna speak for five minutes. But the HRC isn't just selling tickets in a room, it's also selling table sponsorships and VIP packages, which sometimes include face time, photo ops, private receptions with or adjacent seating to honored celebrities. This HRC Gala also honored America Ferrera, who was introduced by Lena Dunham (who yes, I know at least half of you have strong negative feelings about), as well as Senator Tim Kaine. But the big money for these events comes from corporate sponsors. Local businesses can pay $12,500 – $50,000 for packages that net them VIP tickets that are often seen as big perks for their employees or potential clients. I've been to these galas before as a volunteer or on a press invite, and usually ended up sitting with LGBTQ people who were given tickets by their employers and were very happy about it because galas like this are pretty fun. Free drinks, great food, gift bags, cute outfits, lots of famous people on stage talking about the gays. National Sponsors like Coca Cola, Target and Nike could be especially keen to sign on to an event that honors a bona-fide and non-controversial success like Katy Perry, rather than a more progressive choice that might not sit well with the board.
One thing that's not up for debate, however, is America Ferrera's worthiness of the award she was granted for Allyship. So let's end on an excerpt from her speech, which contained no headline-grabbing disclosures of sexual dalliances with woman, but did address intersectionality and reflect her ongoing dedication to speaking out on social justice issues. Ferrera "fired up the crowd," according to The Advocate, with this "inspirational moment":
Anything I've ever done on behalf of the LGBTQ community, I did in service to myself. Anything I ever did for the rights of this community I did because I believe — with every fiber of my being — that my liberation is bound up in the liberation of my LGBTQ brothers and sisters, and in the liberation of my black brothers and sisters, and in the liberation of immigrants, and refugees, and Muslims, and sikhs, and women all over the world, and the incarcerated, and the criminalized, and the uneducated, and the poor, and the hungry, and, and, and, and, and."