Art, music, community? A venue full of cute, talented girls? Kaki King didn't need to give me another reason to love her, but she did it anyway.
Back in the spring, singer/songwriter/guitarist extraordinaire Kaki King realized that she was lacking visual artist friends. She could've pitched Kaki King's My New "Artsy" BFF to Logo but instead King made an offer to fans via her Myspace page: she had 12 guitars for 12 artists to use as a canvas to visually represent their choice of one of her songs. This project was to culminate four months later in The Exhibition, a free showcase/bangin' party in Brooklyn's own Littlefield, a performance/art space.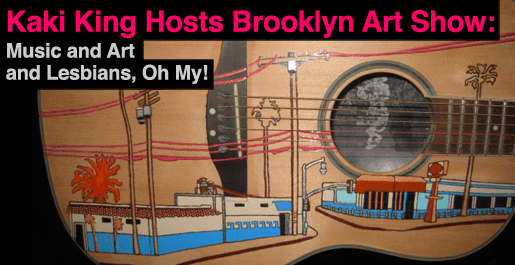 Eventually ending with 16 artists due to an overwhelming response from her fans, the project was also fueled by the idea that King's music is best experienced visually. In Kaki King's June "Beat on the Street" Interview with Autostraddle, King revealed the inspiration behind her project: "A friend of mine saw me playing at some point and said, 'You know, it'd be interesting if you took paint and put it on your fingers and and left a mark of where your fingers traveled on the guitar." I kind of took this idea for a minute and thought well, OK… That was the first seed planted, and then I thought: There are a lot of people who are really creative out there, and what if I were able to get guitars in their hands and have them interpret a song of mine on the guitar?"
Her music is like a stream of consciousness for your ears; it's how your thoughts sound when they're not words.
More often producing instrumental-only tracks rather than conventional singer/songwriter lyric-heavy songs, King uses her guitar as bass, percussion, and melody, looping beats and weaving riffs into layered monoliths of sound. Her music is like a stream of consciousness for your ears; it's how your thoughts sound when they're not words. "Ahuvati," a finger-picked, orchestral-backed song off King's third album … Until We Felt Red, is a four-minute trance-inducing dream that creeps into the listener's conscience and leaves them with a sort of dark, almost theatrical fade.
With King, seeing is believing any time you see her perform; she wields the guitar like a tool, focused and precise, as if building something delicate.
"I feel like visual art and music are two vital aspects of the human experience that couldn't exist without each other," said Morgan Grenier, one of The Exhibition's featured artists. "They're both things that can't truly be created without the human element, so they're essentially thoughts made into something you can see or feel or hear."
While visual artists and musicians tend to congregate in their own communities, it's a rare chance to see the two so distinctly overlap. The Exhibition felt like the middle of a giant Venn Diagram. As an added bonus, openly gay King tends to draw a pretty considerable amount of alternative lifestyle girls, creating a physical community so often lacking in the lesbian world. Anyone who plays the game "Gay or Hipster?" knows that the real winner is the one who can spot someone and confidently say, "Both." And at The Exhibition, I felt like a big winner.
Also, this helped:
skinny gene (n) – the number one cause of the blurriness of the hipster/lesbian line, a phrase used to describe the phenomenon that causes lesbians to insist upon wearing ankle-choking skinny jeans (often from Urban Outfitters); this insistence is so strong that it seems to be genetically coded in lesbians. Results in increased attractiveness but also a tragic increase in difficulty and awkwardness when undressing.
"Are we really listening to this?" King exclaims laughing from Littlefield's bar, referring to Until We Felt Red, which has just started pouring through the bar's speakers in anticipation of the 7 p.m. show. The bar opens up into a bigger room, a small black-walled warehouse with a stage. 16 guitars, all donated to King's project by Ovation, hang suspended from the ceiling around the perimeter of the room.
The works are in varying states of guitar: one has been opened up and turned into a suitcase, another's front has been deconstructed and transformed into a pair of hinged wings surrounding a painted face. Also there was a guitar turned into an ant farm still waiting for its ants. The forms of others' remained true to the guitar, such as a SoCal street scene painted onto the still-playable instrument.
Interpretations of King's songs varied from elaborate metaphors and political commentary to physical representations of song structure. For her project, Grenier received a lapsteele, King's instrument from "Gay Sons of Lesbian Mothers" and Tegan and Sara's "Knife Going In" fame. In her interpretation of "Can the Gwot Save Us?," Grenier incorporated Arabic symbols and destroyed dollar bills into her design, a statement challenging the legitimacy of the United States' military involvement in the Middle East. She explains, "I chose to do the song "Can the Gwot Save Us?" because I felt it had the most to say. At times I was at a loss as to what to say back. I then realized that I didn't have an answer; the song just led me to more questions-has the War on Terrorism saved us? Will it? Is it saving us at this second? Ten minutes from now? Are the costs worth what salvation it offers us? the end result of the piece is what I hope the Middle East is able to achieve- functionality with replaced inner wiring and some upgraded parts. In other words, yes, the lap steel still works."
King spends the evening rushing around the venue, helping out with the setup, preparing for her performance, and talking with the artists, the majority of whom flew from different parts of the country to witness the debut of their work. Miling around Littlefield are a few Brooklyn locals who followed sidewalk chalked advertisements starting blocks from the venue, but the place is mostly filled with King's fans, eager to support her venture into the visual art world.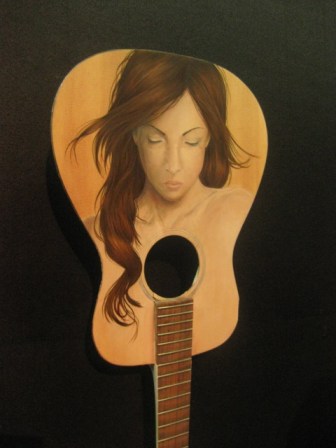 At 9 o'clock King begins her performance, a shy, casual affair done on a near-empty stage (except for the classic singer/songwriter props of a stool and mic) without the support of a band. Weaving elaborate acoustic-only versions of songs like "Sad American" and "So Much for So Little," King remained concentrated on the art and thankful to her artists, making sure to highlight their works between songs. She closed the set with what she referred to as her contribution to the night's visual displays, performing "Playing with Pink Noise" with pink-painted fingers to track her movements. The still-playable guitar is to be auctioned off and the proceeds given to Save the Music.
More than just an art exhibit, The Exhibition also served as a temporary center of queer girl culture. Featured artist Nina Ulloa had the following feelings on why music and art are such integral parts of lesbian community-building: "People need ways to communicate their inner feelings, and that could be through music, visual arts, or even dance. The value of this goes up even more in minority groups, such as the girl-on-girl community. With oppression comes a need to express yourself in a multitude of ways, and the arts are an excellent form of expression."