Jennifer Beals is the August covergirl for DIVA, the lesbian mag available only online and in the UK. I was a bit surprised that Our Lady Jennifer Beals stuck to her usual pre-programmed answers, even while interviewed by Helena Peabody herself, Rachel Shelley. The most interesting part of the article is actually Rachel's intro, which manages to pull back the curtain on Jennifer Beals for a hot minute.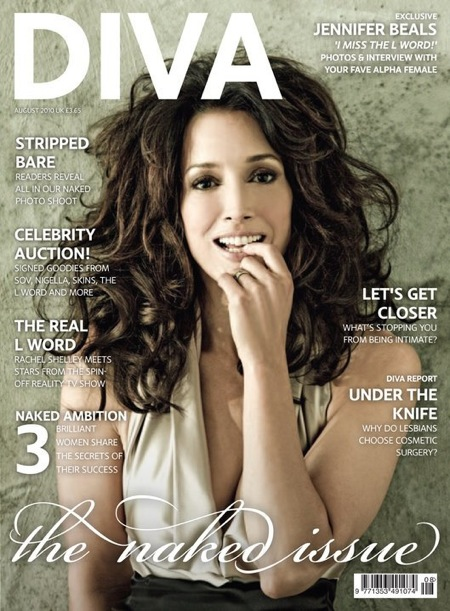 "It was on the red carpet for the second season L Word premiere that I first realized how exceptional Jennifer Beals is. She was mid interview with E! Channel or some such, and had just expressed her very real grief at the death of actor Ossie Davis who played her father in the series. Barely acknowledging her words or giving her space to draw breath, the interviewer was straight in with his next question – what was she wearing tonight? Jennifer paused. Amidst the madness of flashbulbs and cacophonic name-calling that is a crazed red carpet experience, she had the wherewithal to fix the guy with a hard stare. Struggling to be heard over the hubbub, she chided him concisely: did he not hear what she had just said? How could he plunge into inanities when she had been marking the life of a great and esteemed man?
I was blown away. Those red carpet interviews represent life at its most vapid, yet it didn't deter Jennifer from her true nature. The easier response may have been just to name the designer.To give good interview and pass it off as a Hollywood moment. But Jennifer's not prepared to reduce her life or emotions to a series of easy sound-bites for media satisfaction. Everything she is or does is without compromise, and with total commitment to the truth.
So I have to admit, I was a little trepidatious about interviewing Ms. Beals. As much as I've come to love you, dear DIVA reader, I'm not about to ruin a valued relationship by (asking the wrong question and) blurring the lines between journalist and personal friend. There have been, of course, many conversations and experiences she and I have shared over the years that would be unsuitable for a magazine article, whether she was famous or not. Most are obvious, others are wonderfully weird, like the names of her pets. She is, by her own admission, a very private person."
Within the actual interview, Beals talks about missing her Bette Porter wardrobe and attitude, but you've kind of heard it all before. She also discusses her L Word photography book, which she talked about with Autostraddle back in March (AHEM best JBeals interview EVER!) and her return to TV next year as a hot Chief of Police in the brand new FOX series, Ride-Along.
Rachel Shelley has a regular column in DIVA, where she shares anecdotes about her time on The L Word and relates them to her present day experiences.