Feature image via Shutterstock
Up in the northwest corner of Montana, the leaves are crimson and gold, crinkling underfoot and dancing in the breeze overhead. That same breeze carries with it a breath of winter with just enough chill to sneak down the neck of your shirt and tickle your back. Fall is upon us here, and I can only say that for about a month before winter takes over. I love most aspects of the season — hello, crockpot dinners — but none mark it for me as much as the return of my soft, warm friend — flannel.
As long as I can remember, I've been a creature of comfort. When I was a kid, my mom would have to chase me down to brush my long, blonde hair; one time, when I was about 7, I refused to let her tame the curls and snarls before church, and asked her if my looking good was more important than me feeling good. I also refused to wear jeans until at least fifth grade. Sweatpants were where it was at for me, and jeans were too stiff and scratchy.
All of this changed, though, when social pressures started mattering to me in middle school. Jeans became the everyday wear, and suddenly I cared what other people thought about my hair. But even then, I wore my flannel proudly. Even my parents, who were to some extent worried about me looking too "butch," couldn't say no.
In Montana, flannel is what black is to New York City or leather to Florence, Italy. Everyone wears it here, and flimsy fabric is rarely tolerated. No, our flannel must be thick and hearty, else we freeze in our classrooms or offices or ski boots.
This works out well for me, because yes, I'm a stereotypical lesbian when it comes to my love for the plaid and fuzzy. I celebrate fall as a time I can wear my favorite clothes and look my gayest without standing out so much in an otherwise largely heteronormative culture.
But as much as I love flannel, it can be a bit of an emotional red herring here. I know at this point it's a cliché to conflate lesbians and flannel, but clichés are clichés for a reason. A quick perusal of the Internet has articles about lesbians and flannel on Slate, Jezebel, Esquire, BuzzFeed, and more. One Yahoo! Answers question (always the font of wisdom) just reads "Flannel Shirts = Lesbian?" The question is reiterated in various forms on Yahoo! enough times to fill up 10 pages of results. When people ask those questions, it's not about clothing. Well, maybe a little bit — like those querying where to buy the best shirts. But in general, it's about identity. Flannel has been a lesbian signifier for Melissa Etheridge knows how long, but the associations run deep.
For a kid growing up in relative ruralness, it was tough enough finding friends when I was a kid. I was (and still am) a nerd, I love learning, and I thrived doing the outdoor activities that only the boys did, like fishing and hunting. I felt alienated for my interests, especially when my parents stopped letting me have sleepovers with my boy friends when I was 10 or that one time when I was 12 in hunter's education class and one of the instructors made a dick joke and I felt like I couldn't do anything but turn red and wish there were other girls there.
But when I started realizing I was not like my gal friends, that I didn't care about the boys but had some pretty intense, painful, unrequited friendships with girls, the relief of understanding that I was gay, that I wasn't something new and therefore unknowable, was quickly followed with that familiar pang of loneliness.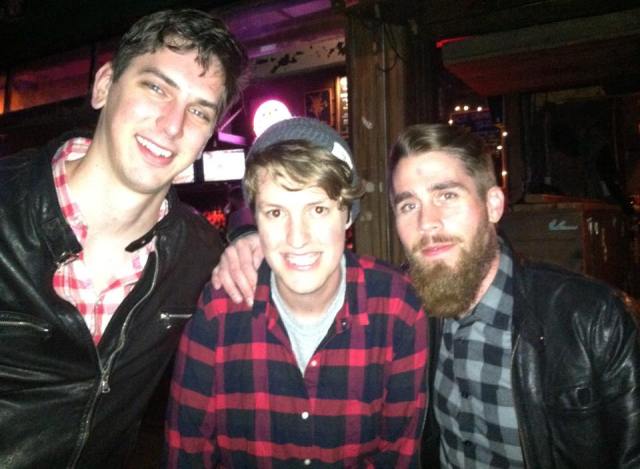 I didn't find others like me until college, or none who I knew about anyway. A few childhood friends have come out in our adulthood, but back then, I thought I was alone, a lesbian Matt Damon on Mars (without the troublesome racial or homophobic statements, clearly).
When I did find community, though, I reveled in it. I wanted to be as gay as possible, and luckily for me, I already had the flannel. It accompanied me through my first romantic encounters and relationships with women, it dried my tears when Dana died on The L Word, and it kept me warm when the wind blew so terribly in the winter that my eyelashes froze together.
College is land of transition, however. Nothing lasts there, and the fledgling queer community I had finally found spread across the country upon graduation. I moved to an even smaller town in Montana, up in the northwest corner near Glacier National Park, where I can drive to Canada in an hour and where wolves and bears run through town.
My hometown, Missoula, is known as the blue freckle on Montana's otherwise red face — the liberal bastion in an enthusiastically conservative state. My new home was about as opposite as it could be from Missoula — no Democrats in office, no university to keep things progressive and young and fresh, and definitely no noticeable gay people. I lived there because it was the closest journalism job I could find to Missoula, where my girlfriend was still going to school. Once again, I was alone, without my partner or my crew of lesbians. I couldn't decide if it was worse not knowing queer people existed, or knowing they did but not living around any of them. The only enjoyable part about digging around and trying to find the LGBT community here was that it made me feel a bit like Indiana Jones on a treasure hunt, and we all know he had the best outfits, and was probably a flannel fan.
Otherwise, I felt lonely again. The tried-and-true lesbian signifiers of short hair and flannel shirts failed me; the women who looked like the stereotypes of lady gayness were usually married to men, with children, a ranch, and a 10 Commandments billboard in their yards. Winter was especially difficult, because everyone dresses practically and resourcefully here. Jeans, leather boots, beanies, flannel — you name it, straight women wear it. Of course, there's nothing wrong with this; I'm a fan of women wearing whatever they want to feel comfortable, and honestly, most women's clothing falls apart under the stress of really living here — think hiking, camping, weather changing every five minutes — unless it's quality gear.
However, there was a bittersweet disappointment that came with seeing a woman dressed like I did, like a stereotypical lesbian, and then finding out that she wasn't one. My loneliness had reached the level of disappointment in strangers for not being who or what I wanted them to be and I was applying said stereotypes in a way that I'd hate for someone to do to me, which, as just about anyone can tell you, is about as attractive to potential friends as hot, wet garbage.
I should mention that I've made lifelong heterosexual friends here, and I love them dearly. But there's always a pull to find people like me, a drive that has existed since I was young and new, when I was trying to find people to whom I didn't have to explain myself, with whom I could just be.
It took years of living here to finally find who I was looking for. My then-girlfriend (now my wife) moved here, which helped immensely. We were not closeted about our relationship – if someone asks, we tell the truth with as much kindness as we can muster – and eventually, other queer women and men approached us. A straight friend even set us up on a blind friend-date with one of her gay friends, who has become one of the cornerstones of my new queer-lady squad.
Oddly enough, none of these friendships were formed over flannel, or any other lesbian signifier. I had to learn to see deeper than the plaid, to get to know the people underneath the conventional haircuts, to let myself be truly open to friendship of all kinds instead of throwing it away because it didn't meet my preconceived notions of what I wanted.
Now, six years after moving here, my wife and I continue to build our community. There are days when we feel like giving up and moving to a city where the queers are plentiful, a sort of rainbow Promised Land flowing with undercuts and sleeve tattoos, just to feel the relief of not feeling like we're the only ones.
But Montana is my home. It's where my roots grow, the Big Sky state, where a million people share 147,164 square miles, a place where the mountains and the sky and the water are as much a part of my life as my friends and family. I refuse, largely out of stubbornness, to subscribe to the notion that I have to leave my home so I truly can be myself.
So while it may take more guesswork than our peers in larger cities have to do, we will continue to search for our kind here. I don't believe it's our responsibility to educate an ignorant public about how my wife and I deserve to breathe and live and love just like everyone else, but I do know the more open we are about who we are, the more responsive most of our neighbors and community members have been to us.
Sure, we get the occasional homophobic remark in bars, we have to look around before holding hands, and it's still legal in Montana to fire someone or kick them out of a rental for being LGBT.
But for change to happen, for the community I want to grow, someone has to stay. Someone has to wear the flannel not just because of its function.
Someone has to wear it because flannel and skinny jeans and boots and a snapback are the way I can pay homage to those who came before me and couldn't dress the way they wanted, and because one day, when I'm wearing that outfit with my undercut and tattoos, maybe a lonely queer kid will look at me and feel less isolated and more like a part of a constellation where the stars may be few and far between but they make something beautiful.
Until then, I'll keep building. Which actually works out great, because do you know what construction workers love wearing?
I bet you can guess.