Last night, five Democratic candidates for presidential nominee — three of which most people had heard of before — answered questions on a national stage to show off their chops at trying to be the next President. As has been roundly observed already, in many ways this was actually a two-person debate; Bernie Sanders and Hillary Clinton are considered the only two serious contenders in the race as far as polls go. The other three candidates — Lincoln Chafee, Jim Webb, and Martin O'Malley — generally either failed to distinguish themselves (many on Twitter were concerned about whether O'Malley was going to stay awake for the entirety of the debate) or managed to make themselves significantly less appealing than they had been previous to the debate (Chafee seeming to imply he didn't really know much about it when he voted for Glass-Steagall and so shouldn't be held accountable for it, Webb constantly demanding more time to speak in order to rant about the South China Sea and "the situation of African-Americans."). You can read a full transcript of everything at the Washington Post, and also watch the full debate yourself if you missed it.
https://www.youtube.com/watch?v=qNaHbbIDdik
Looking at the frontrunners' performances, then, both had some notable breakout moments. Hillary, whose platform has been gradually nudged to the left by pressure to keep up with the more radical Bernie Sanders, was able to differentiate herself from him on the issue of gun control — Anderson Cooper pointed out that Sanders voted against mandatory background checks and waiting periods, and Hillary earned applause by calling for "standing up to the NRA." On the other hand, Bernie Sanders stood out as the only candidate who not only unequivocally stated that Black lives matter, but named at least one specific victim of state violence (Sandra Bland) and discussed the need to combat institutional racism and mass incarceration in his answer. Both Bernie and Hillary scored a rhetorical point or two by sidestepping the machinations of the debate process; when Hillary was pressed on the seemingly neverending issue of Hillary's emails, Hillary questioned its relevancy in the debate and Bernie cut in to agree, arguing that there are much more important issues at stake and "the American people are sick and tired of hearing about [Hillary's] damn e-mails." When asked if she wanted to respond to Lincoln Chafee's querulous implication that the issue makes Hillary untrustworthy, Hillary responded "No," to much rejoicing. It was a smart moment, played well by both, that succeeds in making them look like confident candidates who want to engage with real issues, and Hillary as someone who won't be put on the defensive in the public eye.
As far as their performance on the actual issues, though, consistency was lacking — Sanders seemed impassioned and boldly claimed his socialist label, but was also sometimes weirdly petty, referring to an objectively calm Hillary as "shouting" and at one point telling O'Malley "well, you haven't been in Congress!" Hillary, in turn, was very prepared, with a smooth delivery; at times, though, appeals to liberal feminist voters felt transparent, like when she described herself as a 'progressive' despite a track record that's just objectively moderate-to-liberal, or when she answered questions having to do specifically with policy by reminding viewers at home that she would be the first woman president (which is true, and long overdue, but has nothing to do with policy). Bernie seemed to have the stick-to-itiveness, standing by his principles despite being warned that they were unpopular, while Hillary had changed her mind on many of the issues at hand, but Hillary also seems more fundamentally electable. Where one seemed to equivocate on an issue, the other came through, but then that dynamic would be flipped five minutes later. It was not an uncommon feeling among viewers, I don't think, to wish that you could pick them up and smoosh them together like a kid with Play-Doh to form one candidate that more or less covered all the bases you wanted.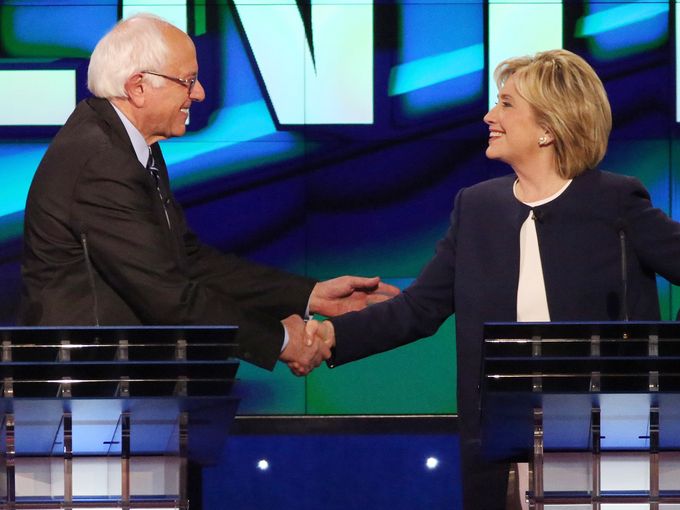 The debate opened with a pre-recorded message from President Obama, acknowledging how hard many citizen Dem voters worked to get him into office — truly impressive voter drives, community initiatives, door-to-door campaigns and grassroots organizing. He called back to this, and then asked viewers to work even harder than that this election cycle. The thing is, though, that people put in all the work because regardless of how you think his terms have worked out, Obama was a candidate that many people supported without reservation. Many people saw something in his candidacy — at the risk of cliche, they saw a chance for real change — and were willing to put everything they had into making it happen. Their endorsement of Obama was wholehearted and uncomplicated; the choice seemed clear, and the dangers if he wasn't elected were obvious and alarming. This debate showed us that the situation today is radically different in a number of ways. Whereas in 2008 we may have felt like there was a clear-cut Republican Platform and Democratic Platform, and we knew which one sounded worse, there's now several different potential platforms on both sides of the party line. Seeing firsthand how much President Obama hasn't been able to accomplish in his eight years in office, largely due to Republican gridlocking, has perhaps dampened our enthusiasm or faith in any one candidate as an agent of change. The voter pool has changed since 2008, and it's been a major few years for political awareness — we saw huge changes in the political discourse, from the heyday of wonk-blogging to social media, which may have made some voters more aware of the complexities and difficult nuances of many issues and candidates. Increased discourse around issues like drones, the Black Lives Matter movement, the epidemic of violence against trans women of color, attacks on reproductive rights showed us that sometimes the people we voted for, or even felt like we supported unconditionally, didn't respond in a way that made us feel good about our vote.
In short, many Democratic voters wish they could feel now the way they felt about Obama in 2008 — that they had found a candidate who truly embodied their values and had what it took to act on them — but most aren't finding it in either Hillary or Bernie (although to be certain, both candidates certainly have diehard supporters who have been waiting for their 2016 runs with great excitement). It's anecdotal (although then again, so are debates, kind of), but among my peers, I heard a rousing chorus of uncertainty — people who didn't feel all that excited about voting for anyone on the stage. Not the apathy that millennials are so often accused of, exactly, but a sense that they're disappointed that so much of the rhetoric around this candidacy already seems to be centered around which candidate you disagree with least.
Of course, we are still what feels like light years away from the actual election, or even the nomination of a specific Democratic candidate to participate in that election. There's plenty of time for anything and everything to happen in the meantime; I mean, technically it's still possible for Joe Biden to join the race, completely changing all the present dynamics. It remains to be seen whether any candidate can ignite real passion in a voting populace that's spent the last couple years feeling tired, strained, and mistrustful, but the good news is we'll have many more debates and virtually endless election cycle coverage to process all of it!