**BREAKING UPDATE: Sarah will be accompanying me to Bonnaroo! Wheee!**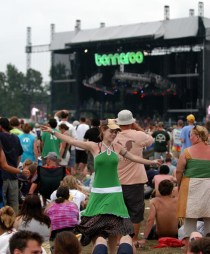 One week from today, 80,000 people will be gathering in a field in Manchester, TN, for four days of music, comedy, art, and questionable personal hygiene known as The Bonnaroo Music and Arts Festival! This little party's been taking place every year since 2002 and for the first time in festival history, I'm gonna be there! I got myself a press pass, a backpack and I bet everyone's really excited to see me, and I'm totally psyched to see them. Also? I'm a teensy bit nervous. Let's talk it out.
There'll be tents and peanut butter sandwiches and beer and music and art! Here's the complete lineup and here's the schedule. Here's that music festival survival guide we wrote a long time ago. Conan O'Brian! Jay Z! She & Him! Chelsea Peretti! Showers for $7! Probably hummus and falafel!
I'll be writing you love letters from Bonnaroo all weekend, so I hope you write back. Are there specific bands you think I should see? Let me know so I can plan my schedule accordingly and feel ambient intimacy. Brandi Carlile will be there, too. You guys love her, right?
I'm Totally Psyched About These Things:
+
1. The Black Keys
OMFGWTFBBQASLDKFJALSJBALLS. I am Really Excited about seeing The Black Keys, you guys. The scheduling is weird, because they're up against The Flaming Lips, who'll be performing Dark Side of the Moon. I'm not a huge fan of The Flaming Lips or Pink Floyd, but it would've been neat to hear. When I feel sad about this, I remind myself that Dan Auerbach and Patrick Carney might perform "The Lengths," which I love, and then I feel a lot happier!
Their latest album, Brothers, is really fucking good. You should buy it. Here they are performing "Tighten Up" on Letterman.
+
2. The Gossip
Shut up. Just shut up. THE GOSSIP! If you don't already have Music For Men, go make that happen now.
3. Using this neat solar-powered charging apparatus.
The Brunton Portable Power Device. I think this will make me cooler than most people.

4. Local Natives
This band is for when you're over Vampire Weekend, or so I read. Their album Gorilla Manor is a thing I like. Makes me want to cuddle and think about the future and eat fruit at dusk.
+
5. Steve Martin and the Steep Canyon Rangers
Did you know that Steve Martin's been playing banjo for over 40 years? That's probably twice as long as you've been alive. His latest effort, The Crow: New Songs for the Five String Banjo, won a Grammy this year for Best Bluegrass Album.
+
6. Being in a "photo pit."
Sounds pretty exciting, doesn't it? I have photography credentials! So fancy.
7. Margaret Cho
I think she'll see me in the audience, have her handlers usher me backstage, then feed me alcohol and strawberries while we talk about Autostraddle and her Hitachi Magic Wand.
8. Wearing yellow rain boots.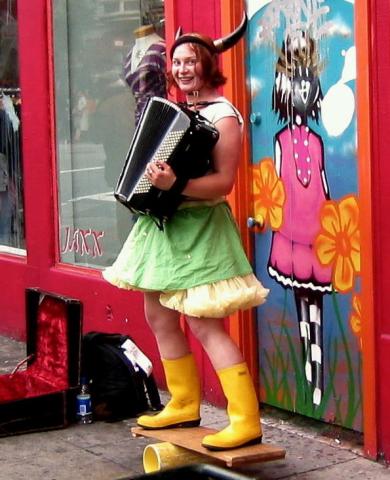 9. Warpaint
Warpaint is an all-girl quartet out of L.A. and I think I may love them? Here's what their blurb says: "They weave intricate guitar lines, hypnotic vocals, and driving post-punk rhythms into gorgeous, sprawling songs that skirt the line between the soundscapes of psychedelia and intimacy." Yeah, pretty sure I love them. You can download their album, Exquisite Corpse, and then we can talk about our feelings. Sarah said the lead singer, who I assume is Emily Kokal, sounds like she's singing into a fan and then Riese said that singing into a fan was like "autotune for toddlers."
+
10. John Fogerty
Well hello there, American legend. John Fogerty was the lead singer of Credence Clearwater Revival, which is another thing I like a lot. According to online sources, he's been performing some CCR songs lately, so I'm really hoping to hear "Fortunate Son" or "Keep On Chooglin'" (bitchin' harmonica solo!) OR BOTH.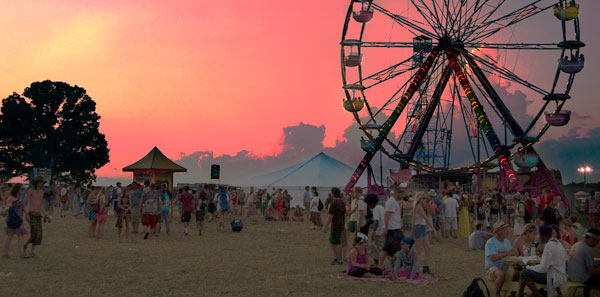 I'm a Teensy Bit Nervous About These Things:
+
1. Camping, in general.
I really love the idea of camping, but I don't really like actual camping because I don't know how. Yep, that's right – I don't know how to camp. Go ahead and laugh, you smug tent-loving bastards. The good news is, Bonnaroo's website has a handy list of what to bring, as well as personal accounts of "How to Bonnaroo," like this one by Drew, who suggests I bring vodka and Red Bull for the perfect morning drink.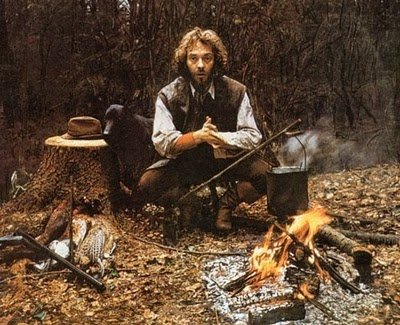 2. Going alone!
Ok, not totally alone, (also it's hard to be 'alone' in a sea of 80k) but I'm going without a bff or gf, which is SO WEIRD to me. I could get into how I've never really been single and how I didn't let my mom send me to boarding school in grade 7 because I was terrified of meeting new people, but I won't. To move past this fear and nervousness, I've decided to pretend to be the person I thought I'd grow up to be when I was a child, which is to say: AWESOME.
3. Edward Sharp and the Magnetic Zeros
What if they suck?
4. Being in a "photo pit."
Dude. You guys. What if the other photographers laugh at my camera? What if I do something uncouth?
5. Dysentery / Dehydration / Heat Stroke
I don't want to die.
So! What do you think? Can a person call themselves a peace-loving hippie if they don't know how to camp? Have you been to Bonnaroo? Are you going this year? Do you want to meet me by the showers?
Also attending: Dave Matthews Band, Damian Marley and Nas, Phoenix, Blues Traveler, Weezer, Tenacious D, Regina Spektor, Norah Jones, Tori Amos and OK Go.
How many cases of canned beer should I pack?