feature image via shutterstock
This past weekend millions of people around the country — and the world! — got out and marched in the largest inaugural protest and one of the largest protests at all, ever, in US history. It's clear that a significant majority of us feel not only that Trump's presidency is dangerous, but that we personally need to take action in response to it. For many of us, we've been organizing and working for change since well before this election; this presidency just illustrates the urgency of our work. For many people, though, especially if we aren't necessarily familiar with taking political action as a private citizen outside of voting, that's a daunting prospect. Where does one start? Well, here! Members of the Autostraddle staff of varying backgrounds and experiences weigh in on how they've been working for our communities and what they're doing now to make sure they're best able to organize and resist, whether it's getting organized, self-care, or getting involved on specific issues.
Other good places to turn after this if you're not sure of next steps? Check out the Be The Change series from KaeLyn, a community organizer; check out newsletters that will deliver doable action items directly to your inbox; check out resources like Call the Halls, the Indivisible Guide, the Resistance Manual, and The 65. You can also look into local organizations in your city; there are some listed here and also here! However you choose to get involved, know that we're here along with you.
Our community is so strong and has organized itself to survive so much; that won't change now. Please feel free to share what you're doing personally, and support each other, in the comments!
---
Alaina, Staff Writer
I am not alone. This has been my mantra for almost a month now, and in addition to saying it, I'm putting it in action by doing the work community building requires. Here in Austin, I've already started that by committing to hosting one meetup a month with the Austin Autostraddlers group. We're alternating between doing work together that benefits communities we care about and just getting together to love up on each other. I think both are equally important to helping all of us remember that we can only get through this together. And because I feel like I really learned about the importance of community from time spent at A-Camp and on Autostraddle, I'm saving the money I usually budget each month for a public radio membership to help a potential camper get to A-Camp this year. It's not a lot, but it matters, and doing small important thing I can stick to feels like the right move for me in the coming year.
Ali, Geekery Editor
My mantra for the next four years of the white nationalist administration is "meet grief with art." What I'm trying to do, whenever I feel heartbroken or panicked or whenever I've had enough, I'm going to make something. Because the opposite of destruction is creation, and I will feel so much better as good, meaningful aspects of our society are being demolished, if something gets made in response. Even if it's drawing in my sketchbook for no one else to see, even if it takes the form of bad poems in my journal (I'm the worst poet in the world), I will value it even if it doesn't do anything for me aside from make me feel better. Whether it's painting minis for my D&D game or revising my actual novel that I want to publish (I'm on the 4th and final draft, y'all!), I'm going to create with wild abandon.
Audrey, Staff Writer
2017 is going to be the year of getting out of bed when my alarm goes off and making my bed so I can't get back in it. Snoozing is basically the first and tiniest red flag of my depression, because it's always about not wanting to get up and be a person in the world, not about being tired.
But this year, I'm getting the fuck up. Maybe I'll go to the gym, maybe I'll just go sit in a chair in the other room and read the newspaper. But step one is getting up, and step two making the bed, and step three is doing something, anything, instead of giving in to the impulse to crawl into my sadbrain and do nothing.
Carmen, Feminism Editor
The first book I bought after Donald Trump became President-Elect was Rules for Radicals by Saul Alinsky. I've spent the last two months stocking up on books about revolution, reading and poring over them to remind myself that the revolution we must build now already has a foundation. When I find myself despairing, I remember that we have despaired before and that we triumphed anyway. On a practical level, I've also decided to make moves to clear up my time and my brain so that I can resist. Fighting back has always been the priority, but now even mores I find myself wanting to prioritize not just work, but "the work." I want to have time for everyday acts of resistance. I want to make room in my life for marches, rallies, and activist projects that need me. I want to go to sleep every night knowing I've done what I need to do to leave my mark — the mark of my movement — on the world.
Feminism has always been the ocean I swam in to stay afloat. It is the desert I lose myself in when I'm searching for freedom. Making sure I am on the frontlines of what comes next — and that I have the tools, perspective, and knowledge to be an asset in resistance and revolution — is my only choice.
Carrie, Staff Writer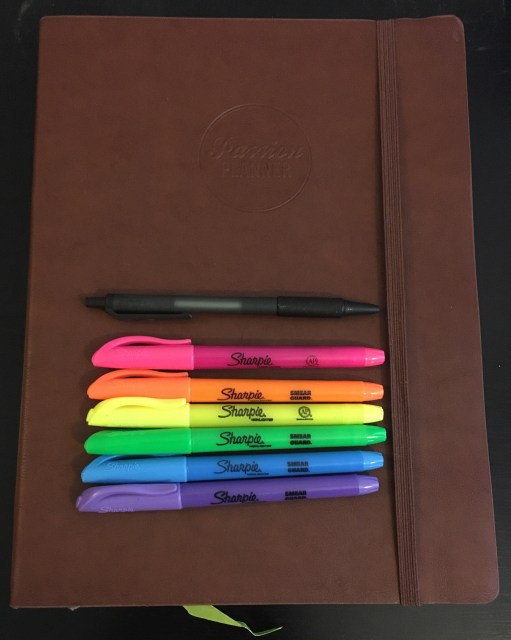 Like many an Autostraddle staffer before me, I finally caved and bought a Passion Planner this year. I'm hopeful that laying my schedule and goals out visually will help me get a grip and cut back on fretting. Anxiety makes my mind a busy place, and if I'm constantly panicking about all the things I haven't done, there's no way I'll be the writer/activist/resource/friend/person 2017 will require. So I'm trying to get everything out where I can see it rather than leaving it in my brain where, if history is any indication, it will promptly grow into worry. I've always responded well to handwritten to-do lists and the Passion Planner seems like that, but next level.
I'm also taking a writing workshop at a bookstore near my house which means 1) I will be able to take a solid walk once a week to go there and back and 2) I'll get steady writing feedback from a whole new group of people. I think it's the push I need.
Erin, Staff Writer
I'm finding that books about consciousness, like The Secret History of the World by Jonathan Black and The Pineal Gland: The Eye of God by Manly P. Hall, are helping ease a state of CONSTANT PANIC. The panicky feeling is an issue, because where that might motivate some people into overdrive, I become immobilized. Allowing myself not to feel pulled in 300 different directions is necessary if I'm going to be proactive/engage, and reading about a centering of self and what it means to be present has been helpful.
Heather, Senior Editor
The thing I keep telling my therapist is that my lifelong battle with anxiety has almost always been the kind of hovering, peripheral anxiety that feels like a bear is going to attack me at any time even though there's no indication that there are actually any bears within 100 miles of me. (The bear is a metaphor.) Now, though, I have that regular bear-shaped anxiety like always and a whole new layer of very real anxiety about very real threats. When is my health insurance going to go away? When are these inevitable anti-LGBTQ bills going to land in state legislatures and start actively hurting my friends who don't live in New York City? When is Donald Trump going to launch an intercontinental ballistic missile from Twitter? (That's not a metaphor.)
Donald Trump poses a unique threat to the entire world and there's no way to overstate or overlook that. What I'm trying to do is remember that Ronald Regan was also a celebrity-turned-president who was wildly incompetent in a variety of ways — for example, when talking to Gorbachev he often told stories that made it clear he couldn't distinguish between real life and the movies he starred in — and we survived the height of the Cold War under his presidency. A lot of horrific fucking things happened under Reagan and I absolutely do not want to forget that. The AIDS epidemic, just for starters. So, when I say "we survived," I understand that a whole lot of people from our community sure didn't. As a country and a gay culture, however, we survived, and in the midst of that horror, we made some of the best movies and music known to man.
So what I've been doing lately is revisiting a lot of the very best and most beloved things to come out of the '80s, and as I watch and listen to those things, I remind myself about Reagan, I remind myself that some of the greatest art comes out of the most troubling times, I remind myself that I have a gift as a writer and I can use it to comfort and empower in these dark times, I remind myself that sometimes story is the only way we make it through. I wrote a novel last year and this year I am working one hour every day on editing it so that it can find a home at a publisher and make it into the wide world. (It's gay. No one dies.) Two hours every day on the weekend, I'm working on a secret project that involves my words being spoken out loud by other humans in front of a camera. (It's gay. No one dies.) I'm making stories. And when I'm done making stories I'm making my cats listen to Spandau Ballet as they chase me around the living room while I do my very own sock ballet on the slippery floor.
I'm thinking: What if I had gay stories in my face in the '80s? (I'm old, y'all.) And then I'm doing something about it.
KaeLyn, Staff Writer
I'm figuring our how I can continue to be active in the REVOLUTION with a babe in arms. I'm used to being able to go to D.C. or the state capitol or even just generally be out after business hours whenever I feel the urge. It's harder to be out in the streets like that with a four-month-old infant and limited funds for childcare. My pre-partum fantasy that I could somehow keep my same life with slight baby modifications turned out to be ridiculous. So I'm figuring out what I can do from my couch, how to prioritize when something is really urgent, how to forgive myself when I can't make it to something urgent, and how to better support and empower other activists who are able to be in the streets. So I'm doing a Know Your Rights training for some folks going to the D.C. inaugural protest this weekend. I'm writing Be The Change for AS. I'm waiting for Remi to be old enough that I can drag her around to meetings and actions with me and show her what resistance looks like first-hand.
Laneia, Executive Editor
Cooking is always an act of care to me: the planning, tweaking recipes, remembering everyone's favorites, showing them new things, and, probably the most personally important aspect of it, giving them a reproducible piece of home, of self and family. They can take these recipes and create these foods themselves; they can make home out of anywhere. Selfishly, I guess, they can take me/us/our lives together with them when they go. But now I'm also looking to add a layer of responsibility to this practice by trying to be more self-reliant as it pertains to food, like container gardening, canning, and planning more meals that focus less on animal-based ingredients. I've wanted to go harder in this direction for years, but it always felt like a whim I'd need to put off a little longer, like it wasn't super important. Then Trump was elected and I was forced to take a more honest look at the government and businesses and politics I support — either openly or inadvertently — and do something about aligning my personal politics and standards with my everyday actions. Food and general consumption are two areas that I feel most capable of controlling in a real way. Megan and I are also working together to learn more about the actual history of not just this country and its government, but also the role the United States has played (or not played) in the current circumstances of other countries; how our policies and politics have been shaped and how they've impacted the rest of the world, for better or worse. If knowledge is a type of power, and it is, then I want all of it I can get.
Laura, Staff Writer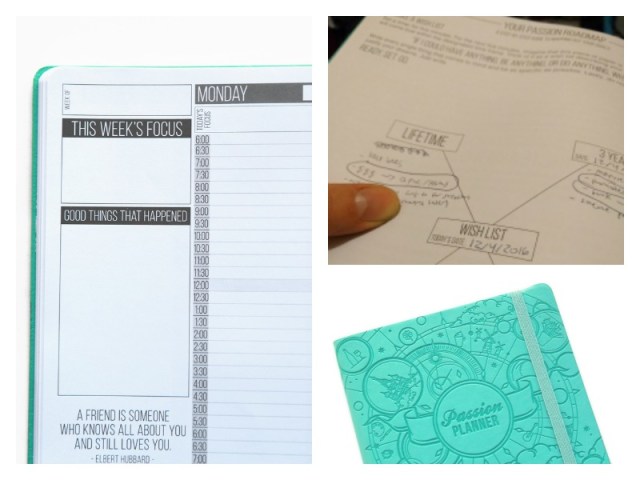 I bought a Passion Planner. Are you all familiar with these things? Laneia wrote about them in the Insider one time, but the basic situation is this: the world is awful. There are depressing derailments coming at us all day every day, and we cannot leave it to chance that our lives will somehow magically end up the way we want them to. We need a plan to make good things happen. Passion Planners are combination journal/appointment books with guided prompts to help you do that, and occasional check-ins to see how you're doing/how your plans need to shift.
I'm using mine as an activism/personal betterment log, but I'm most excited about the "good things that happened" section. I often find it easier to obsess over bad things than to pay attention to little good things, and my hope is that keeping a dedicated spot for goodness will help me be more intentional about where my focus is.
Maree, Staff Writer
One thing I really really want to do in 2017 is volunteer in my community. This is something that has seemed daunting in the past because I live in Berlin and my German language skills are not super strong, but I'm committed to strengthening those skills and not letting it be an excuse anymore. I have been feeling incredibly guilty about the fact that I'm not on the ground in the US right now (I'm still making every phone call I can!) however there are also plenty of opportunities to support vulnerable populations here, where I live.
Mey, Music Editor and Trans Editor
In the new year I'm dedicated to making 2017 the best year of my life. 2017 is going to be terrible so I'm making a lot of conscious changes. I'm moving to Los Angeles, I revamped my wardrobe (no more pants or leggings ever, actually wearing things I feel sexy and empowered in), I'm being mindful about treating my friends better and listening to their needs, I'm going to write more and be braver about the things I'm writing, I'm going to tell my friends and heroes that I love and admire them. Also, I'm embracing something I saw Kayla and Cecelia say, irony is dead in the Age of Trump. Being genuine and earnest is a big part of who I am but I'm making it an even bigger part now. I will be confident, earnest, caring, creative and powerful in 2017 and there's nothing anyone can do to stop me.
Rachel, Managing Editor
I'm much more comfortable taking action on things on my own — I've always been the kid who would rather just do the entire group project by herself because it seemed easier than having to work with others who might have different ideas or approaches that I'd have to accommodate. But history has shown again and again that there's strength in numbers and that we accomplish more as communities than as individuals. So I'm looking for ways to get more involved in the communities I'm already in and to reach out to ones I haven't been a part of previously: I started going to Quaker meeting again for the first time since I was a kid, and have been attending meetings and getting to know people in several local community organizations dedicated to issues I care about, like LGBTQ prisoner support. Meaningful action usually begins when people reach out to their already-existing networks to organize something, and so I want to already be part of strong networks when that moment happens, not hope that someone will send an invite to me while I chill out in my home, alone, as a total stranger. Also, it's nice to feel less alone! And to see that there are other people around who also care about the things I care about, and are willing to show up in the cold for them! It can be tempting to withdraw from communities and organizations that align with my values mostly but not 100%, or have politics I find imperfect. But I'm trying to remind myself that as a person of great relative privilege, I don't have the luxury of writing off groups that aren't already perfect, and that instead it's my responsibility to get involved in them and try to improve them and make them stronger. I've been reaching out to people in networks I'm already in — family and friends — and gently but persistently encouraging them to make calls, get involved, to take action right now instead of "waiting and seeing."
Also and additionally, I'm working on taking my mental health and emotional hygiene more seriously, embracing practicing mindfulness and meditation. I don't think I'm going to feel less overwhelmed by rage and fear anytime soon, and unless I start practicing how to fully feel those feelings without being incapacitated by them I'll be totally paralyzed and not useful to anyone.
Yvonne, Senior Editor
As soon as Trump got elected, I got my wallet from the other room and decided to pay for quality journalism. As a writer and editor working for a queer indie publication, I know exactly the importance of our readers' financial support. You're the reason I get to eat and have a cozy apartment and connect to the internet so that I can be well enough to bring you some queer news and edit beautiful personal essays that mean the world to you and us. I subscribed to In These Times because I wanted an aggressive leftist perspective to help me combat the fuckery we'll endure in the coming years. I also donated a few bucks to ThinkProgress because I've relied on them this past year for so much information. I think now more than ever we must sustain news organizations critical of Trump and his administration and hold all lawmakers accountable. I plan to give more and subscribe to other news organizations. In the past, I thought I was exempt from giving to them because I make such little money and hell, I am ~ the media ~, you know, so I felt I didn't need to give because I'm on their side. That's pretty fucked up because I benefit from these hard working journalists' work and value it so much! The internet is infinite with information, but I want accurate information given to me by the take-no-shit journalists who are out there kicking ass and taking names.
I also joined a local organization who came together because Trump was elected. It's in the early stages of organizing but it felt good to be around people who give a shit and want to do something in Dallas. There's been folks organizing for a long time now in Dallas in their respective areas like police brutality, immigration, Islamophobia, etc, but this organization is hoping to unite those movements together. I'm ready to have an open heart and open mind and be ready to participate and show up for my community.