My name is Maddy and I make niche lesbian memes as @xenaworrierprincess on Instagram. I also make zines about queer relationships and love: The Ex-Girlfriend of My Ex-Girlfriend Is My Girlfriend and the sequel, The Ex-Girlfriend of My Ex-Girlfriend Is My Wife. The basic format is that @xenaworrierprincess followers send in their girl problems, chosen family feuds, and miscellaneous queer angst. I try to answer as much as possible, as thoughtfully as possible. My only hard boundary is that only queer people can submit.
My memes started to circulate seriously about a year ago. Around the same time, I started to receive sad midnight DMs from strangers — messages like, "I think I'm gay?" or "am I a bad person for cheating on my girlfriend?" These questions usually came from anonymous finstagrams with profile pics of misty-eyed chihuahuas. I wasn't sure how to answer them, I didn't understand why they kept coming my way. I heard from a 16-year-old who thought she might be gay because sex with her boyfriend didn't feel like anything. I heard from someone who was in love with their best friend and someone whose best friend was in love with them. I heard from people who were in love with their exes — actually, I heard from a lot of people who were in love with their exes. If the Ex-Girlfriend zines have taught me anything, it's that being in love with your ex is a queer epidemic. I decided to formally solicit submissions and create an advice zine because I wanted to gather all my responses in one place. Also, I needed to pay off my snowballing nightmare of a Discover balance after a summer of straight weddings and veterinary bills.
I take Ex-Girlfriend seriously. I read every submission and I work hard to honor and preserve the spectrum of identities and problems submitted. But if I'm honest, there's one type of question that drives me to punch pillows and drink Big Gulps of desperation. I call these questions DCs, which stands for difficult conversations. DCs are situations when the only solution is to talk to the object of your anger, anxiety, fear, and/or love. DCs are especially frustrating for me because until recently, I was terrified of confrontation. When someone hurt me, I'd muddle through half-related anecdotes and sentences so softened they lose all meaning. I once had to break up with my girlfriend 3 times because my words were cloudy and diplomatic to a fault. I know better than anyone that difficult conversations are easy to prescribe, but difficult to enact. You're coming up against someone else's pride, expectations, and feelings. It's hard to find the right time, if there even is a right time.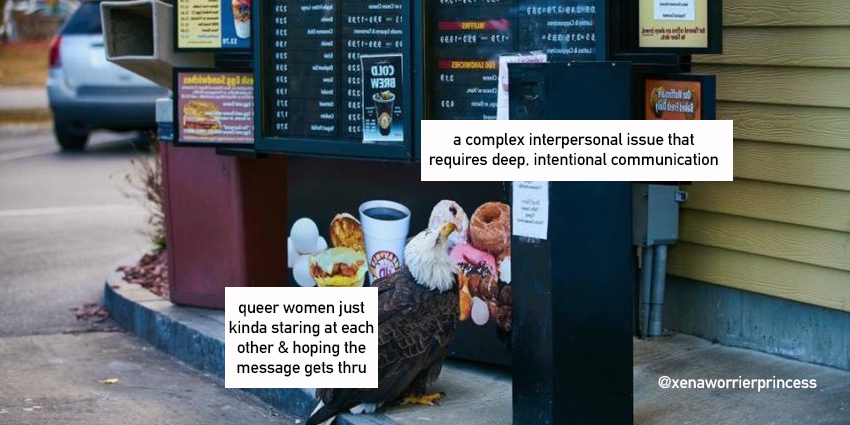 Below, I'm tackling some previously unanswered Ex-Girlfriend submissions. Since I've written extensively about serious break-ups in the zines, I decided to focus on smaller, everyday dilemmas because every conversation can be a difficult conversation — it's all relative.
---
Q:
I've had a crush on my friend since I met her at theatre camp in high school (I know lol). We've always stayed in touch but our conversations were brief and surface-level. Now we go to different colleges, thousands of miles apart. She just came out as bi and we started talking all the time. We FaceTime until 3 every night and have long distance movie nights. She sent me a photo of some clouds and I sent her one back and she said, "nothing makes me happier than knowing we are underneath the same sky." A few days ago, she asked to visit over fall break. I want to makeout and have sex and get to know her more, but I'm worried she'll interpret visiting to mean we're together. How will I know if I want a long-distance relationship? What if we spend the whole visit awkwardly staring at each other? This sounds terrible, but I go to lesbian college and I'm worried about cheating on her. I feel anxious and crazy. How do I remove the uncertainty from this situation so she doesn't buy a flight for nothing or end up resenting me?
A:
The summer I was 19, my friends and I subletted a cinderblock apartment in Center City Philadelphia. The apartment was furnished by an Xbox and a futon. In the freezer, we found an enormous peanut butter cup. It was the size of a Cost-Co pie — the kind of gag gift you'd give someone if all you knew about them was that they liked peanut butter cups. We tried to slice it with a plastic knife and the knife snapped. Instead of checking the expiration date and throwing it away, we gnawed it like animals. The peanut butter cup tasted like chalk and sand. For the entire month of June, it was our communal obsession. When our friends came over, we'd pass it around like a nasty, toothmarked trophy. That summer, I had a dark purple bob and old ladies on Federal Street would call me baby and ask if it was a wig and clap when I said no, it's all me. One day I didn't have money for food, so I watched an entire season of True Blood and drank flat Diet Coke. That summer I walked everywhere feeling oversaturated and bruised. I ghosted my unpaid internship after 2 weeks. I got pickpocketed at Starbucks. I slept with a girl and spent the rest of summer agonizing over what it meant. I stole toilet paper from coffee shops and regularly took bites of a jumbo-sized peanut butter cup. At the end of summer I was weeks late on my rent and nobody could help, so I started avoiding the apartment and my best friend got mad at me, if only for a moment, because I said it would be fun if she came back to Philadelphia early and here we were, squatting at our leafy women's college during freshman week.
I was a scared caterpillar when I was 19 — half of me was in a cocoon, half of me was chugging Malibu from a plastic water bottle. But at the time, I was convinced that my every decision was permanent and life-altering. Like you, I thought every heartbreak and wrong step was apocalyptic. Tell your crush you want her to visit, but you want to take things day-by-day. It's okay if hanging out irl is awkward at first. It's okay if you decide you want something casual, or nothing at all. It's okay if you end up dating all through college and after graduation, you move to Santa Fe together and adopt an elderly chihuahua named Jewel. You're 19 and without invalidating your anxieties, my advice is to stop worrying and enjoy getting to know your long-distance theatre babe.
---
Q:
I am in my early thirties and have been with my girlfriend for 5 months. Before her, I'd only been with men before. She's a top who likes to use a strap so sex with her has not been a million miles away from my experiences with men, but she's recently asked me to go down on her and I have to keep making excuses because I really don't want to.
We had a fight recently and I hooked up with another woman and I let myself go. I did everything. I gave her head, I fucked her. It was very equal. The sex was incredible. I haven't told my gf about this. I love and care for her so much but I don't want to lose her. She is madly in love with me, and this will break her heart. I don't know what to do.
A:
There's a lot happening in your life. You're discovering new facets of your queerness and desires and that's amazing. The core of this question is that you broke your girlfriend's trust by sleeping with another woman. By keeping it a secret, you're continuing to betray her trust. I want to point out that you wrote this question because you feel confused and troubled. Negative feelings, like secrets, have a way of seeping into relationships and corroding them like Diet Coke on asphalt. So yes, you have to tell your girlfriend. She'll be hurt. She might even end your relationship. But if there's a chance you two can reestablish trust and move forward, it begins with you being totally honest.
---
Q:
After 4+ years of knowing each other from community organizing and after dating messier people, I finally asked someone out that, if I'm honest, I've had a low-grade crush on for years. This year we had a few dates and kisses, but she's not in a good place for dating (it's a lot of trauma, trust and intimacy stuff that she's working with). I get the feeling she's trying to let me feel free to date other people, but the problem is, I don't want to. I know that I'd only have her on my mind even if I did try to date other people, which wouldn't be fair to these hypothetical women. I consider myself very sympathetic and patient, and willing to take things slowly. But a small part of me also worries that this is going to end up as an unrequited thing. How long is too long to hold a torch for the person you think is the one you want to settle down with?
A:
If dating is a hike, then expectations are an outfit comprised of layers that can be added and subtracted according to the weather. Right now, you're wearing all your layers in an attempt to keep your feelings in check. Here's what stands out to me about your question: your crush shared important, vulnerable information about herself with you, but you're not sure what it means for your relationship. It could mean she's not ready to date right now, or it could mean she wants something deliberate and slow-moving. Your communication sounds slightly one-sided. Why can't you just talk to her? You don't need to broach the topic of settling down just yet, but you can say that you really like her. You could also say that you're looking for a serious relationship and that you sense a lot of potential with her. Once you stop trying to read her mind, you'll know whether to put your cards down or fold.
---
Q:
When, if ever, is it okay to ghost? I have tons of anxiety around casual dating because I recently got out of a long, long term partnership. Tinder is the easiest way for me to meet new queers because I work all the time, despise parties, and don't have a big social circle. I'm terrified of meeting somebody, not feeling it and being put in a position of ending things. I get the objection to ghosting, but isn't it actually a form of communication? Is it acceptable, maybe a little, to be passive aggressive and avoidant when it comes to casual one-date kinda things? I know it seems overblown, but being an asshole is a major source of anxiety for me.
A:
I wouldn't characterize @xenaworrierprincess followers as an angry bunch. I love my peaceable kingdom. And yet, every time I post something ghosting-related, DMs pour in about how it's singularly hurtful and immature — a first-degree lesbian crime. In the context of casual Tinder-based connections, I agree with you: dropping off a text convo clearly communicates that you're not interested. Still, it's important to give people closure. Even texting something direct and brief like "this just isn't a romantic connection for me" can shift your date's mental state and help them move forward.
What, specifically, scares you about rejecting someone? Passive aggression is a weighty, negative term that gets hurled at all kinds of situations. But who in this world is allowed to be openly aggressive? As a woman, I was socialized to express my needs and feelings in indirect, palatable ways. One time, a friend asked me out and instead of just saying, "I don't see us as more than friends," I said "this weekend is really busy for me." A few days later, my friend asked me out again, and I was doubly pressed to come up with an excuse. I felt so responsible for my friend's feelings, I hurt them more. The next time you're worried about being an asshole, remind yourself that you're not obligated to develop feelings and a relationship with everyone you meet on Tinder. If you did, your life would be actual hell.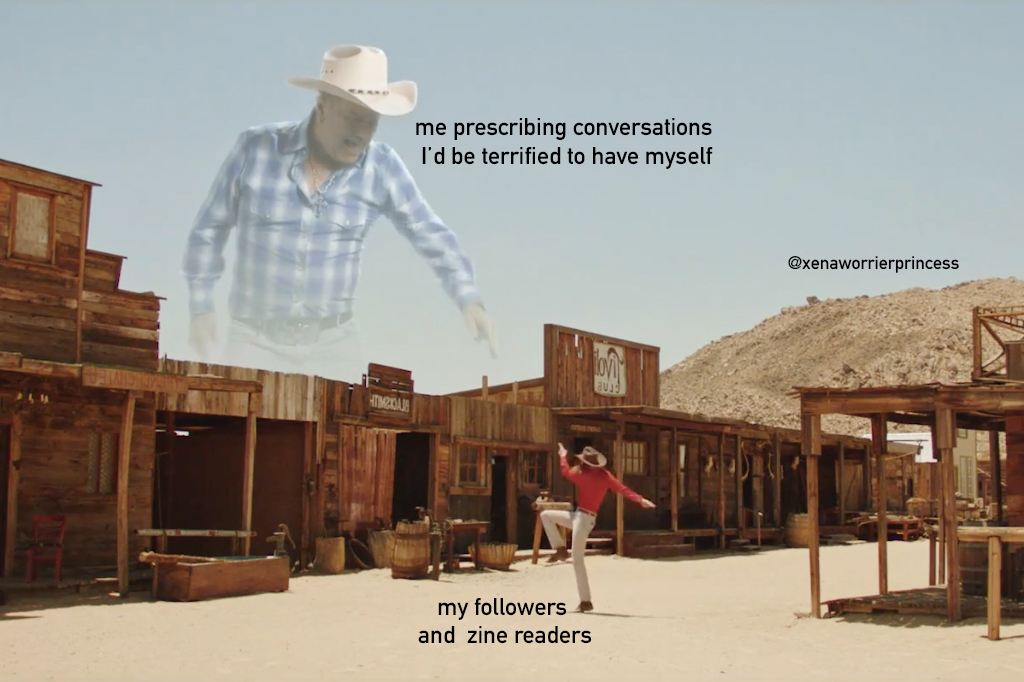 There you have it: difficult conversations with @xenaworrierprincess. In my initial draft of this conclusion, I wrote something like, "nobody submit DCs to the the third and final volume of Ex-Girlfriend advice zine." But then I ate some pretzels and realized that life is all about difficult conversations. I'm here for it all.