Hello, queermos! The weather has finally started to turn—spring has sprung and, aside from me being violently allergic to those horrible white flowers on all the trees that I think smell like fish (I am not crazy, right?), this signifies for me one thing: summer reading season is here. I will allergy-med myself up and lay on a blanket in the park reading books and eating ice cream sandwiches ALL DAMN DAY if given the chance. The other thing that's coming up is Camp, which means a plane and a suitcase; not to mention of course that I ride the New York City subway every damn day. All of this adds up to me finally, FINALLY learning how to use my Kindle properly.
I have a super basic Kindle—the cheapest Kindle possible. I bought it because, while I read slowly, I do read a lot. Like constantly. Books are just about my favorite things on the planet. The Kindle I own is not even a thing anymore—it has buttons on the sides for turning pages and is nice and tiny. Now all the Kindles are touch screen, but the super basic one still exists for $79. I say this because this article really isn't about a Kindle Fire, which is more like a tablet/iPad than a Kindle and will do a lot of these things and more. No, this post is about Kindle-Kindle. Just-for-reading-the-thingz Kindle, the reads-like-ink Kindle. Not the fancy Kindle.
Don't get me wrong—I'm still a bigger fan of paper books than I am of e-books. If I didn't have physical books, what on earth would I decorate my apartment with? You can't display your Kindle contents on your wall. Or maybe you could, with, like, a projector or something? But I have a feeling the effect wouldn't be the same. There are definitely times, though, where a Kindle is useful—carrying many books at once, for instance. Or reading in public without everyone and their girlfriend seeing the cover. Or…well, a lot of things. Here's a few of them!
---
Download Free Classics Directly To Kindle
Yes, there are a bunch of public domain classics on sale for $0 in the Kindle store, but you can also use the experimental web browser to download directly from Project Gutenberg onto your Kindle using wi-fi or 3G, if your Kindle has it. What I like about Project Gutenberg in particular, aside from everything being totally free, is that they have an awesome "popular" section where you can quickly find things like The Picture of Dorian Gray and Alice's Adventures in Wonderland, whereas the Amazon store requires some searching and you'll have to sift through editions that cost money.
To find the web browser, hit the menu button (three lines on top of each other). Select "Experimental" and…well the web browser is the only thing listed under experimental (at least on my Kindle), so it should be impossible to miss.
Once in browser, press the menu button again and select "Enter URL." Enter m.gutenberg.org for the sweet, sweet mobile friendly site. To save yourself some time in the future, make sure to press the menu button and select "Bookmark This Page." Once you've done that, you'll be able to access Project Gutenberg by selecting "Bookmarks."
Browse to your heart's content! Make sure when you're downloading books you select "Kindle," "MOBI" or "PDF." Epubs won't work on Kindles. When you select Download, you'll get what looks like an error or a warning about the file showing up on your home screen. That's actually exactly what you want, so select "Yes."
Et voilà! Enjoy Sherlock Holmes. Project Gutenberg is completely free, but donations are really rad!
---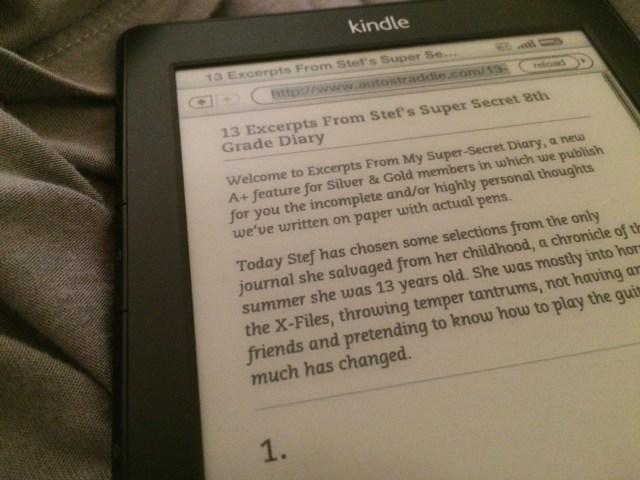 Read A+ Content
While we're at it, this experimental web browser does a lot more than just mobile Project Gutenberg—loads of websites look great on Kindle's basic e-ink web browser. Including ours. That means you can read our longer essays and A+ content all curled up with your Kindle as long as you have access to Wi-Fi or 3G. Why might I want to do this, you ask? It may come as a shock, but I spend a lot of friggin' time on my computer. Too much time. Sometimes my face hurts by the end of the day. I also find myself cranking up the font size on everything now, which says to me that I should probably spend as much time as possible away from this addicting screen that blasts blue light into my face. Plus somehow reading Stef's diary on an e-ink screen lends it a more authentic, inky quality that makes me feel like I'm reading her actual paper diary.
Navigating to the "sign in" link and typing your username and password to access your A+ content can be a bit of a pain, but the good news is your Kindle will remember it once you log in (that means you won't have to do it very often).
Select the queer awesomeness you'd like to read and, once the article's all loaded up, press the menu button (seeing a pattern here?). Find the menu item called "Article Mode." Bam! Now it's all paired down to exactly what Kindle can handle and you can very easily scroll the same way you'd turn pages.
Experiment with other sorts of mobile websites you can access through your basic Kindle—Instapaper, anyone?
---
Send Stuff To Your Kindle via Email
Another way to get stuff that's not strictly books onto your Kindle is by using your personal Kindle email to send stuff to your device. This is a regular feature and every Kindle or device with the Kindle app installed has a unique email address assigned to it. To find out what it is, head to "Manage Your Content and Devices" of your Amazon account, click "Settings" and scroll down to "Personal Document Settings." There's a list of all your devices and their respective email addresses; they should be @kindle.com. This is a feature I feel like people don't take full advantage of because no one really understands how it works. Here are some caveats:
The File Needs to Fit the Parameters
First, the file needs to be under 50MB before compression for Amazon to deliver it to the Kindle—which I found out via email from Amazon when I tried to send my beautiful new PDF of Chainmail Bikini to my device. You can also email more than one file at a time, but there should be no more than 25 attached to the email, or it won't work either.
While sending a file to your Kindle email does convert it if it needs to be converted, there is a list of valid file types for which Amazon will perform this service. According to that email, here's what it can do:
The Kindle Personal Document Service can convert and deliver the following types of documents:

Microsoft Word (.doc, .docx)

Rich Text Format (.rtf)

HTML (.htm, .html)

Text (.txt) documents

Archived documents (zip , x-zip) and compressed archived documents

Mobi book

Images that are of type JPEGs (.jpg), GIFs (.gif), Bitmaps (.bmp), and PNG images (.png).

Adobe PDF (.pdf) documents are delivered without conversion to Kindle DX, Second Generation and Latest Generation Kindles.

Adobe PDF (.pdf) can be converted to Kindle format and delivered on an experimental basis.
The Email You Send It From Needs to Be Authorized
Otherwise, people could spam you or force you to pay document delivery charges (we'll talk about those in a hot second). To authorize all your email addresses to send documents to your kindle, head to the management section of your Amazon account again, and scroll down past Personal Document settings to locate "Approved Personal Document Email List." Click the add button to add all your emails so you won't be frustrated no matter which you're logged in to.
You Could Get Charged—Here's How To Avoid That
The catch to emailing your Kindle documents is that it's free over Wi-Fi, but if your device is 3G enabled, you could be charged 15 cents per megabyte for receiving files over the otherwise-free 3G service. That's not much, but it kinda adds up. Now I had trouble researching this for y'all because my Kindle is not 3G enabled and therefore the menu we'd need doesn't show up on my account settings, but I found step-by-step instructions to making sure your documents are only delivered when your device is connected to Wi-Fi. First, you want to set a per-document charge limit:
Go to Manage Your Content and Devices, and then select the Settings tab.

Select Edit Whispernet Delivery under Whispernet Delivery Options.

Tip: The option to edit your Whispernet delivery options will only appear if you have a Whispernet-ready device registered to your account.

Enter your preferred charge limit, and then click Update.

Important: The limit you set is a per document limit. If you send multiple documents, the total aggregated charge for conversion may exceed your per document limit.
If you set a per document limit of $0, your Kindle will wait until it's on Wi-Fi to retrieve the document according to these very helpful forum users.
And here are some ideas for exactly how to use this feature:
Bestie Book Circle
You're not limited to authorizing your own email—you can also authorize emails from your closest friends who know your book, essay and article taste super well and from whom you'd be happy to receive surprise documents, books, pictures and other cool stuff. If you have a tight-knit group of co-workers, you can even whitelist an entire domain, like @yoursuperawesomecompany.com
Set Up Tinderizer
Tinderizer is super effing easy. The easiest. It let's you install a bookmarklet that sends things directly to your Kindle to read for later, cutting out third-party services like Pocket and Instapaper (and Pocket doesn't work on the just-for-reading-things Kindles anyhow!). I tried this using our latest long read and it looks great! Tinderizer is completely free, but donations are appreciated to keep the server running.
And lastly—Calibre.
In fact, Calibre's such a big topic, why don't we just talk about that for a while.
---
Calibre. Just…Calibre.
Here's the thing about the Kindle—it's my preferred e-book reader. I think the technology is great—I love e-ink like crazy and it weighs, like, nothing. But as a writer, I'm not always 100% with Amazon having such a large marketshare when it comes to books. We've gotten to a point where Amazon's whims dictate not just what does well, but what gets published. And it's intentional—Amazon higher ups have said with their mouths that they want to be the supplier of everything. So what happens when you love your Kindle, but don't want to purchase everything  from Amazon?
That's where Calibre is super helpful—this free software (donations accepted) keeps track of all the loose e-books hanging out on your computer, library style. You can rate, tag and organize them and—here's the crazy awesome part—convert them. Meaning you can get your e-books from anywhere (might I recommend Emily Books? It is Independent Bookstore Day, after all!), keep track of them and make sure they're usable across all your devices.
You can set up Calibre to email books to your Kindle using the above-mentioned Kindle email, or if you want to get fancy, you can set up a server. Calibre also comes with a user manual, which I sent to my Kindle to test the conversion—it looks fabulous.
We're talking like y'all wanna purchase everything, but what if you don't? Let's address some sharing options.
---
Create a Virtual Household
Did you know you can share books with a "household" on Amazon? I didn't, actually. While their description of a household is super heteronormative (one other adult and four children), you can still set up a household with your girlfriend, fiancée or best buddy roommate pal—queer the household feature! To set up a household, both adults need to be present at the same computer so that both can sign in with their Amazon credentials. After a household is set up, you can share individual books to the family library—and don't worry about kids getting ahold of something ahead of their age level, because you can select adult or child.
Here's the step by step run down—head to the Management page again, but instead of clicking "settings," this time click "Content." You'll see a list of your individual books—check the box next to one and click "Add to Family Library." From here, you'll select which profile you want to share with. Other people will then be able to access the shared material on their registered devices.
---
Borrow Books from your Library
Back when I was in customer-facing IT, when people asked me about this I would just mumble through it. Mmm-blerp-a-derp and then you have books from your library. That's because I didn't really understand it—it sounded so easy, too easy. And things that sound too easy must either not be true or actually be really friggin' difficult. But actually, it's not. It really is that easy. Many libraries run Kindle-compatible e-book lending through Amazon's website, actually. The only caveat is that the process is a little different for everyone, depending on your library and what sorts of things they have on offer. So head to your local library and see what you have to do to borrow e-books. I've been blessed with a massive system, so right now I'm reading Super Sad True Love Story by Gary Shteyngart and after, How To Grow Up by Michelle Tea. I've got An Untamed State by Roxane Gay on hold, too—that's the only downside. E-books, much like regular books, can only be leant to one person at a time and they're very expensive for a library to offer, so they may not have many copies.
---
Jailbreak Your Kindle
Now I didn't do this. I was too chicken and I'm a major rule follower. But it's worth noting that such a thing can be done if you want to install unsupported characters on your kindle, or just want your own screen savers for when your device is turned off. You just have to be aware of some things before you start. From Wired's how-to:
All of these hacks risk bricking your Kindle and violating Amazon's terms of service, but only the last might really cause you problems. Amazon's free 3G networking (assuming you've got a 3G-capable device) is intended to be used for Amazon's services only, i.e., the Kindle store and the built-in web browser.
If you're like, maybe. Mayyyyybe. Then other websites definitely have guides on jailbreaking your device.