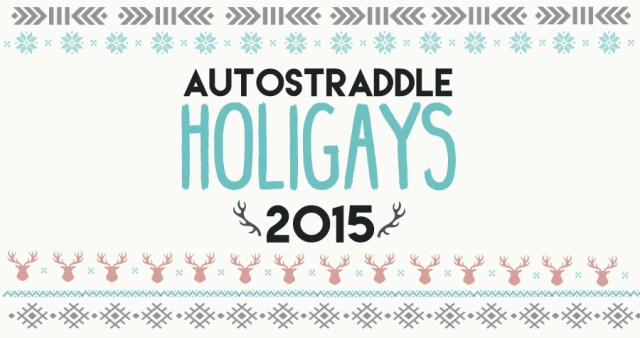 Ah, the holidays. A time for family, nostalgia, reflection on winters past, and the subversion of society's concepts of gender, sex, and sexuality! One of my favorite holigay traditions is putting together a massive list of cool stuff you can give the feminist activist you're secretly in love with for Hanukkah, put on your own Christmas list, and also pepper your family's stockings with in order to make an indelibly progressive statement on December 25.
And so, without further ado, here's a bunch of cool shit your favorite feminists are likely wishing for this year — or should be and just don't realize it yet.
---
Drunk in Love
I gave a sizable amount of my mug collection away in the move, and now I'm asking that you allow me to live vicariously through yours by using the holiday season as an excuse to buy matching girl power coffee cups for you and the rest of your girl gang.

This is What a Feminist Looks Like Mug | Distressed Feminist Symbol Mug | Girls Can Mug
AUTHOR'S NOTE: I originally featured a mug here and then found out that the design was stolen from the original artist, SUGARBONE. That really sucks and isn't okay! So, we've removed the link and image and will keep you updated if it becomes available to purchase from them!
---
Shirts and Giggles
If you walk the walk and talk the talk, it only makes sense that you'd also wear the t-shirt. And the tank tops. And the pendants. And the tote bags. Basically, I'm endorsing the idea of emphatically broadcasting your feminist leanings to the world at the grocery store, on casual Friday, and also on your next date.
Feminist Earth Symbol Tote | FEMINIST Crop Top | Smash the Patriarchy Pendant | Our Lady of Justice RBG Tank Top | Notorious HRC Tee-Shirt | Whatever We Wear Racerback Tank
---
Around the House
Last year, y'all bought Amazon out of feminist throw pillows because the movement is real and throw pillows are the best. This year, mix it up with a wall clock, some pretty prints, and one more pillow — for old time's sake.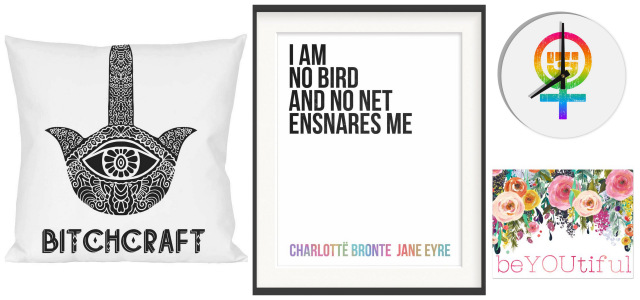 Bitchcraft Pillow | Jane Eyre Print | Rainbow Feminist Symbol Wall Clock | BeYOUtiful Print
---
Feminist Things We Read and Loved
We worked our way through a bunch of feminist texts this year. Here's some highlights, with links to our reviews and/or feelings atriums about them.
Subversive Cross Stitch: 50 F*cking Clever Designs for Your Sassy Side (Review) | Not Funny Ha-Ha: A Handbook for Something Hard (Review) | Tomboy (Review) | Pedal Zombies (Review) | Borderlands/La Frontera (Review) | Ain't Gonna Let Nobody Turn Me Around (Review) | The Feminist Utopia Project: Fifty-Seven Visions of a Wildly Better Future (Review)
Oh, and don't forget to check out those ten workbooks / how-to guides from our last lesson while you're making a list of budding activists in your life and checking it twice.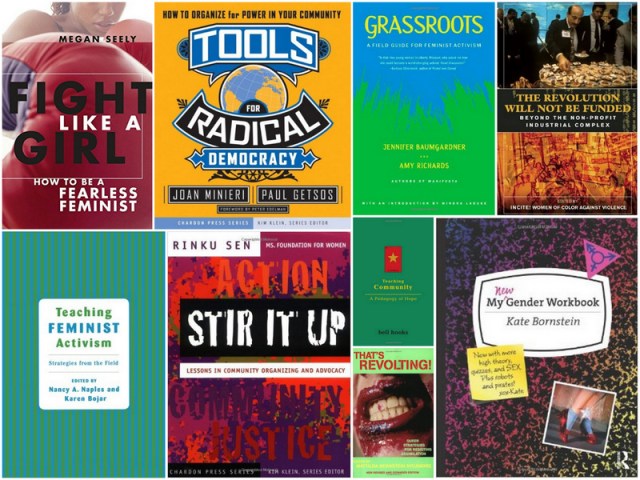 ---
And, Duh
This pencil case is a monument to us all. Get it while you can!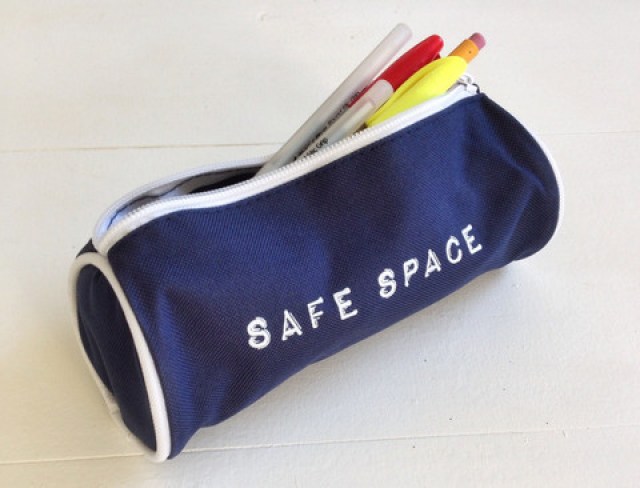 ---
Rebel Girls is a column about women's studies, the feminist movement, and the historical intersections of both of them. It's kind of like taking a class, but better – because you don't have to wear pants. To contact your professor privately, email carmen at autostraddle dot com. Ask questions about the lesson in the comments!