Feature image via Steve Cukrov/Shutterstock
You and your boo have been going strong for a while. Maybe a few months, maybe a few years. You've weathered a couple of holidays apart, but you just can't stand the thought of waking up on Nondenominational Holiday morning without your favorite person by your side. So you've talked it through and come up with a plan to spend the holidays with their family, where you'll gain unprecedented insight into the traditions and drunken relatives that made them who they are today.
Of course, you don't want to show up empty-handed, especially if this is the first time you're meeting the fam. But you also don't want to bankrupt yourself buying elaborate gifts they may not actually like. The key is to pinpoint one fact about each family member — something you couldn't just learn from lurking their Facebook, but rather by actually talking to your person about them — and then find a gift that nods at that interest without being too obvious. Obviously these ideas won't ring true for every family member of every family — all families are different! — but it's a place to start.
---
For their dad, who is impressed by your booze knowledge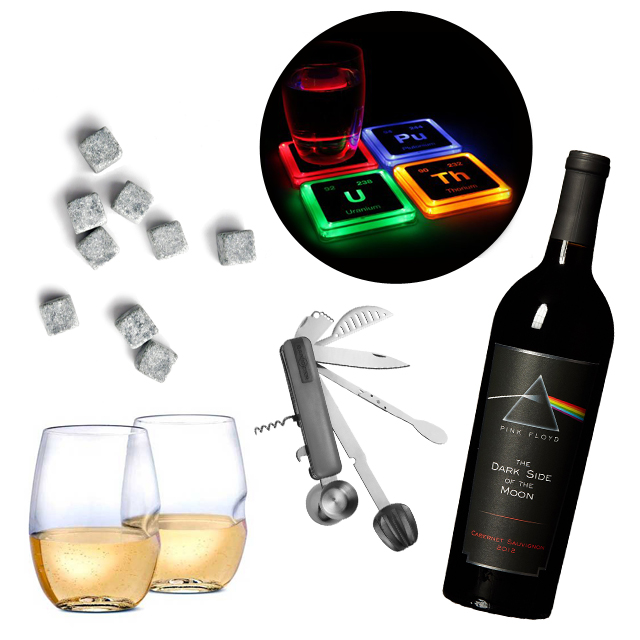 You've already gotten on dad's good side by confidently ordering one of the three beers you're familiar with when you joined the family for happy hour. When you ordered a whiskey on the rocks, he gave you a look that said, "I'm glad my child is dating you." Keep a good thing going by giving him things any at-home bartender would want.
1. Sipping Stones, $11.95. They're rocks that you put in your whiskey to keep it chilled without ice, which dilutes your beverage as it melts, which you can discuss with dad after he inevitably asks you to share a drink.
2. Radioactive Elements glowing coaster set, $24.99. Sure, he probably already owns coasters, but do those coasters glow when you set your drink on them? Are they shaped like squares on the periodic table of elements? Do they SCIENCE? I THINK NOT.
3. Govino flexible shatterproof wine glass, $14.25 for set of two. I'm obsessed with stemless wine glasses, but these take the beauty and convenience to a whole new level. They're shatterproof, y'all. You can drop them (but, like, don't, because you'll spill your drink) and they won't break! The only person who will appreciate this fact more than me is your boo thang's dad. I promise you that.
4. Bar10der Ten-in-One Ultimate Bartending Tool, $29.95. Ali suggested this on her Liquor in the Gift Guide last year, but it's always a good time to stock up on bar tools. As with all of these gifts, suggest that you and dad try it out by making beverages for each member of the family.
5. 2012 Pink Floyd the Dark Side of the Moon Cabernet Sauvignon, $16.99. This is probably not universal, but to me, red wine + rock music = dadn. And even if he's not a Pink Floyd fan, who doesn't love a good cabernet?
---
 For their mom, who just got a smartphone
She's the last one in the family to join the smartphone era, but that just means she's relying on everyone else to show her the most important things she can do with her new gadget. Join the effort with these helpful gifts to get her FaceTiming, Venmoing and Instagramming like a millennial.
1. iPhone 6 wallet case in pacific green, $39.99. Show her the wonders of combining your phone and your wallet with this case, which has room for three credit cards and some cash. Plus, the color is just so pretty.
2. Spotify Premium Gift Card, $30. This gift card will get her three months of Spotify Premium for ad-free mobile listening. Be sure to warn her ahead of time she won't be able to stream 1989, though.
3. Minisuit sporty armband with key holder, $11.95. If she's the exercising kind, it won't be long before she realizes there's no good way to store your phone while you're breaking a sweat. This armband will solve that problem before she's even had a chance to encounter it! Bonus points because it includes a pocket for her house key, so she doesn't have to take the whole ring.
4. Anker Astro E3 ultra compact portable external battery charger, $25.99. As smartphones get bigger, their battery life is (for the most part) dwindling. This backup battery pack can charge multiple devices and will even charge your phone while the pack itself is plugged in! Like magic.
5. Sony MDRZX100 ZX Series Stereo Headphones, $15.25. For listening to music while she reads, for watching Netflix while your dad is sleeping, for keeping her ears warm during her evening walks. They're inexpensive but good quality, and not so big that she'll feel silly wearing them in public. Pretty perfect gift, eh?
---
 For their sister, who is taking her first gender studies class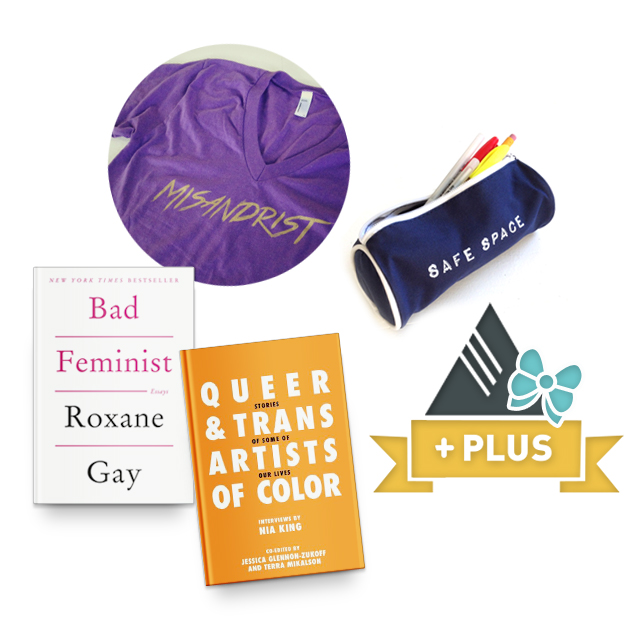 She's started reblogging bell hooks quotes and stopped shaving her armpits. She's developing a reputation during family events because she's not afraid to call out the racist/sexist/homophobic comments, and you're damn proud of her for it. Show your support with these gifts, and she'll surely see you as an ally in the good fight.
1. Autostraddle "Misandrist" shirt, $25. Every good budding feminist needs one.
2. Autostraddle "Safe Space" pencil case, $8. She can use it to store her favorite note-taking pens, with the added bonus of showing everyone around her that she's cool as hell.
3. Bad Feminist by Roxane Gay, $9.99. This is one of the most acclaimed books of the year, and for good reason. Once she reads this collection of essays from Roxane Gay, she'll join us in our mutual obsession with the writer.
4. Queer and Trans Artists of Color: Stories of Some of Our Lives compiled by Nia King, $20.66. Gently nudge her toward intersectionality with this anthology, which our own Mey described as "like a primer for how to be an effective artist or community worker."
5. Autostraddle Plus membership. Do I really have to explain this one?
---
For their grandmother, who is tentative about your attendance at this sacred family event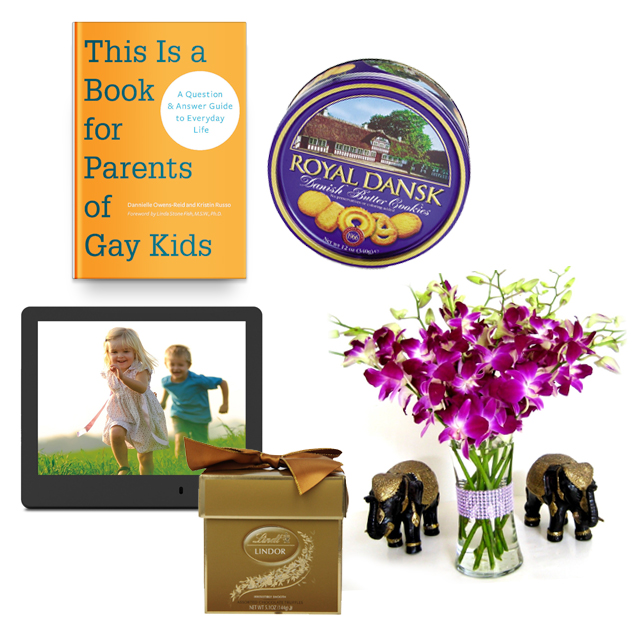 She's allowed you in the door, and that's a first good step, but you can do so much more to win grandma over. These gifts will acknowledge that she's still getting used to the idea while also showing her how much there is to love about you.
1. This Is a Book for Parents of Gay Kids by Dannielle Owens-Reid and Kristin Russo, $13.44. Admit it, Maddie's interview with her dad and grandmother made you cry a little bit. Print out a copy of that story and stick it in the front cover of this book when you give it to grandma for added thoughtfulness.
2. Royal Dansk Danish butter cookies, $7.98. I have never met a grandma who didn't like Danish butter cookies. They're a guaranteed hit.
3. ViewSonic 8-inch digital photo frame, $34.99. A place for her to display all the photos of her loved ones. Bonus points if you pre-load it with some family snapshots (and maybe sneak yourself into one or two shots!).
4. Lindt Lindor Truffles, Assorted Token Gift Box, $11.44. If nothing else, she can remember you as "that nice girl that brought me delicious chocolates." Be sure to ask if she's got a condition that requires a sugar-free version, though!
5. Fresh Purple Dendrobium Orchids, $21.34. Of course, if you're truly stumped, you can always just bring her some nice flowers. Pick a bright color or a particularly well-scented bunch so that she'll be able to appreciate them even if her eyes aren't what they used to be. Once you offer to trim the stems and set them up in her favorite antique vase, she'll have no choice but to like you.
---
Which of your partner's family members are you most nervous about impressing? Do you have anything special you're planning on giving them to win them over? Does your grandmother hate butter cookies? Let me know in the comments!