In a semi-regular segment entitled Liquor In The ______ that can't be too regular because I'm probably drinking right now, I'm going to write to you about all the different ways you can liquor. I recognize that it's weird, especially for those of you who have actually had a drink with me, because I am what the frat boys would call a "two-beer queer" (what I would call a "no-beer queer," as I'm gay all the live long day). But I get drunk very easily, is the point. Still, I really really like beer, wine and liquor and want to share that love for the artistry of alcohol with you all, my favorite queers. Let's lift a pint to alcohol and our Autostraddle community – they go together like wine and soft cheese.
Header by Rory Midhani
---

I have many loves when it comes to alcohol. Which is kind of hysterical, because I actually don't drink that much. But when I do, it's always a toss up. I love wine, beer and cocktails equally. So when it came my turn to contribute to our Holigay Gift Guides, there were just so many things across the board I wanted to tell you existed and recommend that you get for your girlfriend/partner/person/parents/siblings/friends who like to drink, well. I couldn't pick. I couldn't pick just one road to go down. So I went down all three roads. My fellow queermos, I present to you the largest gift guide I have ever done.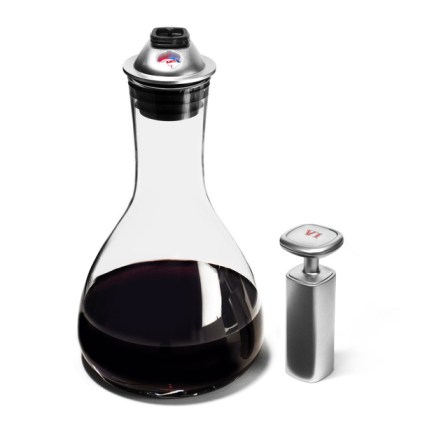 Gift Ideas for the Wine Lover
You DECANT overlook the importance of a great decanter to a wine enthusiast. DECANT. Get it? Get it!? Get…no? Aside from the V1 Vacuum Decanter pictured above, here are 15 good ideas for the person your naughty list who loves them some wine. Numbers go from left to right, like you're reading a book.
1. Moleskine Wine Journal, $17.35 — I'm such a huge fan of journaling your feelings, and wine is such a complex thing to have feelings about.
2. Rabbit Corkscrew, $45 — Basically it's magic for your cork. Cork magic.
3. Parrot Corkscrew, $60 — This is the exact corkscrew my girlfriend and I used to open wine while we were in Napa. So I have strong positive feelings towards this corkscrew.
4. Handle Bar Mustache Corkscrew, $8.58 — I know you like this. I see you.
5. Bow Tie Glass Markers (set of 6), $4.99 — Dapper up your wine glass while also not mixing up your wine glasses.
6. Paşabahçe Red Wine Glasses (set of 16), $44 — Okay, I'm fully aware that there's more than one type of red wine and that you don't use the same glass for all of them. But for someone who doesn't really have stemware and needs a lot of it fast (like a holigay party, for instance) this shape and size is kind of a catch all.
7. Paşabahçe White Wine Glasses (set of 16), $44 — Again, more than one kind of white wine, but a really good basic set.
8. Preservino Wine Saver Set (argon gas), $50.16 — So I was all set to recommend a vacu seal thing here, but then my girlfriend (who worked on a winery this harvest) informed me that wineries use argon gas to seal and preserve their wine. It's apparently far superior to a vacuum seal!
9. Wine Enthusiast Private Preserve Wine Preservation Spray (argon gas), $11.64 — This is that same argon gas preservation at a lower price point – just make sure you grab stoppers to go with it. Stoppers much like…
10. Rabbit Wine Stoppers (set of 2), $5.50 …these stoppers. Perfect, plain, aren't too tall so that you can still fit your white wine back in the fridge.
11. Toadstool Wine Bottle Stoppers, 9.99 — I'm letting my nerd show a little bit. These are absolutely on this gift guide because they remind me of Super Mario.
12. Wood Crate Wine Rack, $39.99 — Fun fact: if someone plans to keep wine more than six months, they've got to keep it laying on its side otherwise the cork will dry out. Just fyi.
13. Wright and Goebel Wine Club, $79/month — Pricey, but enjoyable. Also when I lived in Brooklyn, this is where I got all the liquor for my recipes – the staff is really lovely and knowledgable.
14. Wine Bow Ties (set of 4), $9.92 — If you're planning to give wine this holigay season, that wine might identify as dapper and dandy. Just a thought.
15. Peg and Awl Cheese Palette and Knife, $34 — Beautiful wooden set, perfect for the pairing expert.
---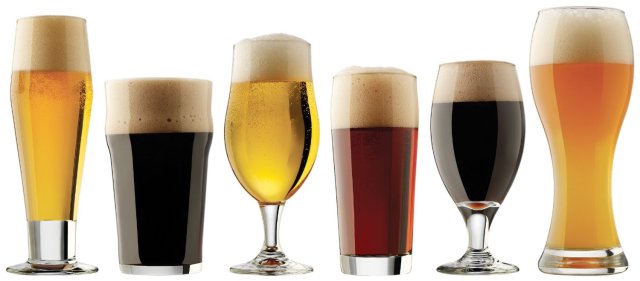 Gift Ideas for the Beer Drinker
I have strong beer feelings – one of those feelings is that beer should never be consumed out of the bottle it came in – thus the Libbey set of craft brew glasses. Here are 15 great ideas for the beer snob at your holigay party.
1. Brewing Starter Kit, $99.99 — This is the same one I asked for this Christmas. Just think, we could all brew together!
2. Amber bottles (24), $24.99 — Necessary for the home brewer.
3. Bottle Washer, $18.03 — Makes a home brewers life a billion times easier.
4. Meriwether Six Pack Carrier, $35 — Is adorable, can also be used at shops where "build your own six pack" is a thing.
5. The Complete Joy of Home Brewing by Charles Papazian, $15.82 — I own this! I am reading it! I like it!
6. Brooklyn Brewshop Every Day IPA Kit, $39.95 — Brooklyn Brewshop actually makes a ton of different kits – I chose this one because it's right down the middle, taste-wise.
7. Walnut Bottle Opener, $14 — This seems like a hardware-esque, slightly masculine-of-center bottle opener.
8. Pub Coasters (set of 15), $5.99 — Bring a touch of British beer drinking into your life.
9. Mustache Beer Markers (set of 6), $10.99 — Okay, y'all know I say don't drink beer out of the bottle it came in. But if you must, it might as well be with a mustache. Plus no more mixing up the bottles.
10. Many Varieties of Beer Poster, $25 — To hang in the corner of home reserved for brewing or drinking.
11. Craft Beer Club, $37.75/month — 12 bottles a month, 4 different beers. Variety is the spice of life.
12. Libbey Flight Set, $21 — Perfect for tasting those four different beers per month.
13. Beer Journal, $16.35 — Basically I'm recommending all the materials to start a beer tasting club.
14. Drink Local Craft Beer Tee, $25 — I'm not sure why there's a lion on this shirt, but I'm digging it.
15. Wall-Mount (Vocabulary) Bear Bottle Opener, $13.99 — In my head, this is a wall-mounted bottle opener shaped like Marni in a bear costume.
---
Gift Ideas for the Cocktail Enthusiast
That, my friends, is basically a bar pocket knife. It's a Bar10der 10-in-1 bar tool for $39.99, (by Quench Products) and it's perfect for A-Camp next Spring! Take a look at all these other cocktail-related gift ideas for the Maddow in your life.
1. Cocktail Revolution Molecular Mixology Kit, $58.95 — For those whose two loves are chemistry and drinking.
2. Cocktail Hour Notebooks, $10 — Pocket-sized recipe notebooks with adorable covers.
3. Boston Shaker, $25.32 — I always recommend a Boston Shaker over any other kind of shaker because it's so versatile. You can use the top as a mixing glass, even.
4. OXO Hawthorne Strainer, $7.95 — This is the exact strainer I have and it seems to magically fit shakers of different sizes? I'm convinced it's a wizard object.
5. OXO Double Jigger, $8.95 — This is the exact double jigger I have, and I didn't know how much I'd appreciate the no-slip grip on it until I was covered in alcohol and mixers and realized exactly how slippery things could get.
6. SPARQ Soapstone Whiskey Rocks, $20-$25 — If you want to cool your whiskey down but don't want to water it down. Also works fabulously for white wine that's not as cold as you'd like.
7. Zoku Ice Ball Set, $16.95 — Fun fact:more surface area means more cooling with less melting. That's why ice spheres are so wonderful.
8. Brandy Glasses (set of 4), $15.96 — Also good for many whiskeys (tulip shaped with a stem).
9. Whiskey Tasting Game, $50 — I know it's no substitute for Alex and I leading a whiskey tasting on the mountain, but this is probably a pretty close second.
10. Cupa Whiskey Tumbler (set of 2), $50 — I thought this was a cute take on the rocks glasses whiskey is normally served in.
11. Bittermens Hellfire Habanero Shrub Bitters, $20.35 — This is like hot sauce for your cocktail. I put that shit on everything.
12. Fee Brother's Bitters (set of 6), $49.99 — I love love love Fee Brothers bitters. Their orange bitters are a staple in most of my summery drinks.
13. Hudson Whiskey Barrel Aged Cocktail Kit, $12.50 — Barrel aged cocktails are on the rise, trend-wise. I just got one of these – put a Manhattan in it. Trust me.
14. Mr. Boston Official Bartenders' Guide, $6.76 — When I'm doing a drink, this is my go-to jumping off point. Plus I think it's pretty and looks classy with the barware.
15. Mercury Glass Bar Tools Set, $34.99 — Put these on a silver tray from Goodwill and bam, you've just given someone a bar for the holigays.
I think, after creating this monster guide, I know why I think wine/beer/cocktail stuff feels like such a wonderful gift. It's almost like you're giving the gift of tradition – wine, beer and liquor-making is such a historical thing. Many recipes and practices have been passed down, generation to generation. The art of tasting has, too. And the art of drinking as a community – it feels like you're giving the gift of friendship – of your group sitting around a roaring fire drinking red wine and shooting the shit. So Happy Holigays, queerloves. Cheers.
---