Welcome to Hidden Gems of Queer Lit! This column is for those of you who found the first reflections of your desires in a dusty corner of the library, and for those of you who know that important histories and new ways of looking at the world are nestled in yellowed pages as well as flickering screens. Every two weeks I'll profile a queer lit title that's outside of the public eye for one reason or another: obscure, small-press, older, aimed at a different niche, or otherwise underrated. It's my hope that you'll connect with some of these books and treasure them as I have.
---
Chrystos is one of those poets who qualifies as a "hidden gem" herself. A Menominee rights activist who identifies as Two-Spirit, her writing offers depictions of the harms of colonialism, the struggles of solidarity, and the earthy joys of lesbian love affairs. Despite being a prolific writer, well-known and well-traveled in the 1990s, her books have gone out of print. Despite being one of the most beloved and prolific queer Native American writers, I seldom hear her work discussed in literary circles. That's a shame, as her poetry is trailblazing.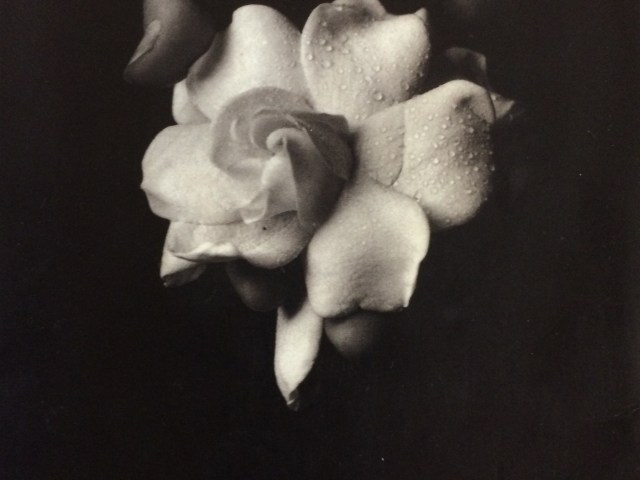 While her other collections tackle a wide range of topics, In Her I Am (1993) offers an unflinching and deeply sensual look at queer desire. In her introduction, she describes the lesbian culture that welcomed her in the 1960s as a place of gender performance and active lust, and admits that "The rejection of this very sexual culture by feminist Lesbians has marred my relationship with Women's Liberation from the beginning." Taking the subject of sex seriously in a way that isn't often done, she goes on to write a sort of poetic playbook of the power plays, freedoms, and joys of one woman's erotic experiences. If you appreciate Leah Lakshmi Piepzna-Samarasinha's political awareness, Michelle Tea's frank confessions, or Sappho's languorous sensuality, you'll find something to love in this book as well. It's one of the most remarkably intelligent sexy reads out there, showing desire, even in its most "deviant" forms, to be both honest and dignified.
This is a book you'll probably want to read in your room with the door closed. Natural beauty mingles with human beauty in lush, omnipresent metaphors: "She speaks burgundy birds," or "my toes skim stars." This is poetry of wild trysts in the car and on the stairs, wet mouths, dildos, and "flames in my fingers," where even making blackberry jam becomes an act of seduction. Often, the sex act becomes a way for the narrator to reclaim and rewrite history: "We're in the grass of prairies our grandmothers rode…Flaming ride us past our rapes   our pain / past years when we stumbled lost." Such gestures are remarkable in Chrystos' writing, known for its unwillingness to erase brutal realities and its careful examination of the wounds of colonialism. Her remarkable first poetry collection, Not Vanishing, shouts in the face of the "vanishing Indian" myth. Chrystos is not one to deny truths or plaster on band-aids; if any healing force is attributed to love or desire, that's because it's there.
Chrystos is a sharp observer of power dynamics. Her introduction and conclusion are unpunctuated prose poems that presage Patrick Stewart, an architect from the Nisga'a First Nation, who wrote his dissertation without punctuation as a form of resistance against colonialism and "the blind acceptance of English language conventions in academia." They tease out connections between sexuality, colonialism, and ethics and lay out the "matrix" the poet has set herself for principled non-monogamy. Chrystos' refusal of myths of romance and sexual ownership and her commitment to these ethics, learned from experience before The Ethical Slut was a thing, intrigues. Her poems depict a delightful rainbow of lovers, from dreamy, bouquet-bearing Lakota women to tough butches "who pack." Her warning in giving thanks to them at the end of the book, "no, you can't have their #s", is well-warranted! She's equally apt at uncovering the interplays of power and pain present in lesbian communities. "Top Sadist in Town," one of the collection's longest and most rewarding poems, depicts a seduction gone wrong with an "s/m" practitioner terrified by the writer's unwillingness to "pretend for Her sake to be frightened." Chrystos writes equally well of her own tendency to disguise resolve with vulnerability: "tie me to my bed with silk so I can't get away / since I don't want / to anyway."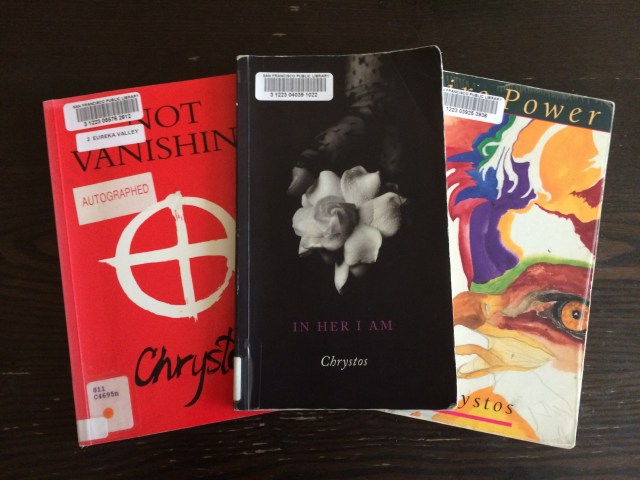 This collection intelligently portrays the varied forms of joy and pain, entrapment and freedom that sexuality can give birth to. It has its funny moments, too, like the tongue-in-cheek personal ad "Dream Lesbian Lover," calling for a woman who "rubs my feet for hours… & thrives on 5 hours sleep a night," or Chrystos' mocking of a lover's cynicism about romance: "Hey I thought I saw you riding by on a white horse / but you say you don't believe in that goo… / Next time you ride by I'll be saddled / ready to go." Her thoughts on BDSM are complicated, and kinky readers may not always find themselves on the same page. Nonetheless, there's much delight in these pages. Come for the thighs and flowers, and leave with a greater understanding of the complex healing art of pleasure.