Hey, you! Yeah, you! I don't know about you, but I think it's fly when girls stop by for the summer and I think you probably do, too, and that means you probably desire to round up all those queer lady-types in one location for a pure moment of bliss this season and guess what? YOU CAN HAVE THAT! You can have that moment. You can have it all, don't listen to anyone else.
You can spend the summer in the company of the coolest queermos in town if you host an Autostraddle meet-up of any kind before Fall comes and kills our dreams, and doing just that is easy as blueberry pie! Are you up for it? Say yes. No, say yasssss. All you have to do is get up the courage to host, make a solid plan, and then submit your event to us via our fancy all-new events submissions form! (Have I told you about the fancy all-new events listings mechanism yet? No? Be shocked. Be awed. Thank Cee.) We'll help you get the word out and love you forever if you do these things, JSYK.
If you're down to clown, here's some ideas to get you started on this, your summer of a million babes.
---
Beach or Pool Party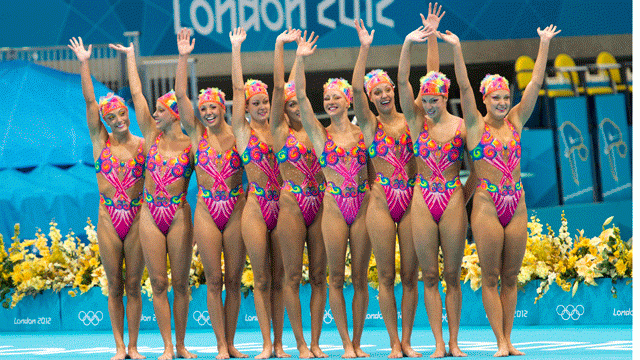 Obviously the trump card meet-up this summer will be anything involving a large body of water, so. The best part about beach and pool parties is that people who hate water can still come and enjoy other people's company, and also sand gets in your shoes but you end up too blissed out to care. I would also like to add that a beach or pool party in which drinks can be imbibed in said bodies of water is an experience matching that of high-fiving a million angels.
---
Carnivals / Small-Town Events You Nostalgically Treasure
Every year, I find myself at home coincidentally at the same exact time the carnival comes to my childhood church parking lot. Since I went to a totally chill church in New Jersey, going to this carnival is more enjoyable than terrible, and also they have zeppoles there. If there's a cruelty-free circus, tiny carnival situation, or even a large fair of some sort going on near the street where you live, probably you should invite other weirdo queer people from this website to meet you there so that you don't ride the Scrambler alone and someone can hold your hair back after the Tilt-a-Whirl. Also, oh my gosh, do you like the Pharoah's Fury? I love the Pharoah's Fury.
---
Ice Cream Cones As Community-Building
I'm so into the idea of 'straddlers around the world getting ice cream cones together. Like, if you do this, could you maybe make sure to post a pic right down there in the comments of everyone eating ice cream together so I can know my dreams came true? Acceptable alternatives to getting ice cream cones include shacking up at the local fro-yo place, making vegan ice cream in your kitchen, and also just rubbing ice cubes all over each other in the street.
---
Wet and Wild Water Park Trip
Pack a formidable bathing suit. Pack a flask. Pack an athlete's foot cream. YOU'RE GOING TO A WATER PARK WITH A BUNCH OF STRANGERS AND IT'S GONNA BE SO FUCKING AMAZING! I know this for a fact because before college I organized a meet-up with people from New Jersey who were also going to said college and we went to Mountain Creek and I shined bright like a diamond the whole time. I also radiated red for a long time after, I'm sure.
---
Get Lost, Go Camping
I've seen a lot of meet-ups about camping since I started my tenure as Straddleverse Editor and I'd like to say that I commend all of you so much for doing this without Riese, Marni, or Robin to guide you through the process. That sounds very hard. But anyway, if you've got some drivers who are willing and maybe some extra tents for people like me who have never tent-camped in their lives (#confessions), I'd highly recommend spending a night or two under the stars with your fellow Autostraddle readers and forgetting the world. Don't get eaten by a bear!
---
Christmas XXXMAS in July Party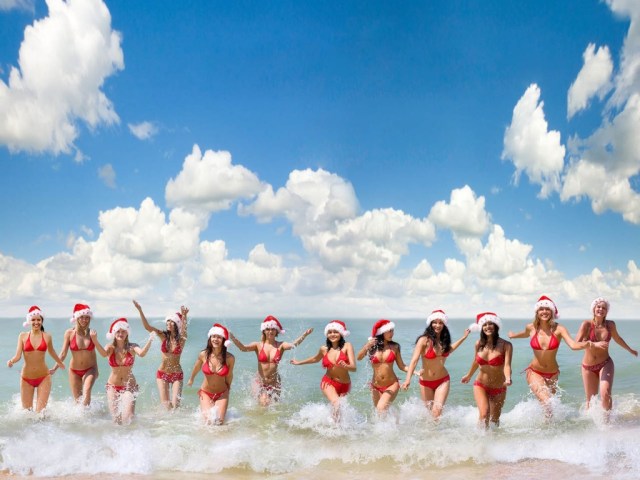 I've been planning to have a "Christmas in July" party since I got to college and found out what theme parties were, but it's never happened. Here's what I'm envisioning: you, me, all of our friends who are reading this article right now, a central A/C turned down to like, 50 degrees, and enough ugly sweaters to satiate every moth at A-Camp. Oh, and this playlist. Make some hot cider! Whip up some winter sweets! MAKE IT HAPPEN SO I CAN DIE A HAPPY PERSON OK.
---
Any Sporting Event Whatsoever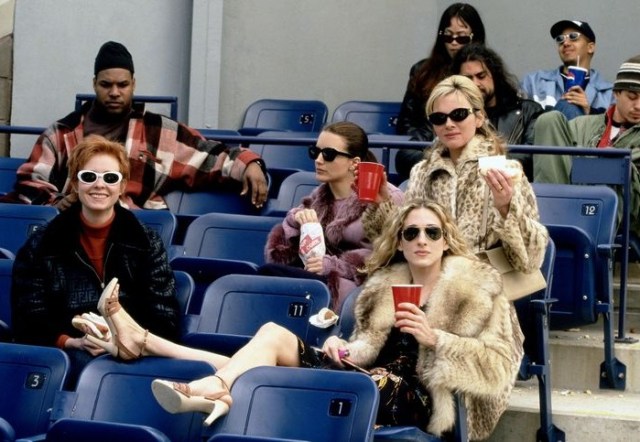 Okay, full disclosure, I do not know what sports are "in season" right now. Is that the right phrase? That's for vegetables, isn't it. EITHER WAY! You know what's better than day-drinking and eating hot dogs? Doing it in a stadium with a foam finger on and children within earshot just waiting to be corrupted by overhearing your conversations.
---
Stoop Kids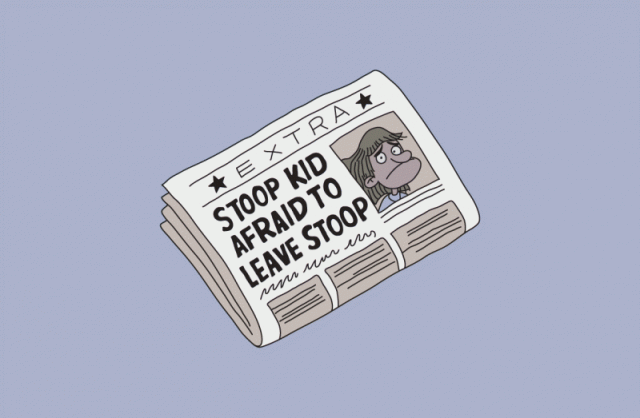 I'm very attached to the idea of a stoop. If you have a stoop, share your stoop with a queer in need. Just tell the world, "meet me on my stoop." I guarantee it'll be a knockout event.
---
The Happiest Hour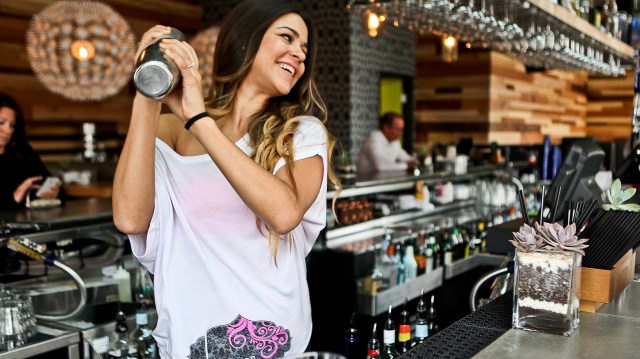 Ah, yes, summer. Season of a thousand hours of sun. Take advantage of the longer days with a post-work happy hour, AKA a bonafide bitch-fest. Extra points if you pick a restaurant or bar with a covered patio, frozen drinks, or cheap tacos. Everyone loves cheap tacos.
---
Go to the (Dog) Park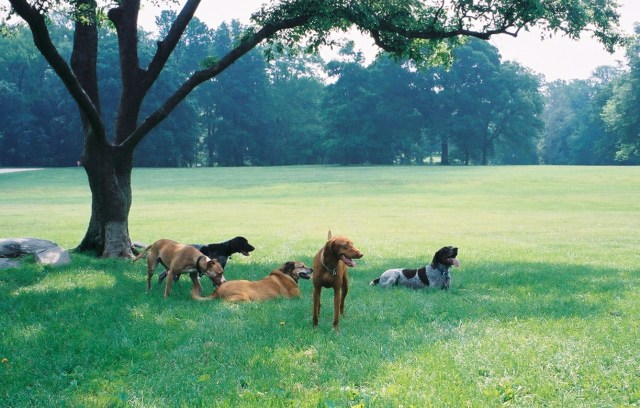 I went to the dog park once with a bunch of queers and everything was fuzzy and nothing hurt. We brought some snacks in well-sealed containers to keep the pups safe and spent the afternoon watching a bunch of tiny beasts run around and freak out with excitement about things like tennis balls, which I'd like to think was a really great moment of reflection for us all. The bonus? You'll meet all the dog people in town all at once and feel less alone about not liking anyone's cat ever.
---
ARE YOU EXCITED YET?? Use the hashtag #straddleverse when you're sharing all those adorable pics of you and your new friends, and you'll probably be reposted by Autostraddle on insta!