TV: Irin at Jezebel has noticed something really special happening over at HBO:
"A hapless man in his mid 20s….who lives in New York City" who, "throughout the series, constantly finds himself in increasingly awkward situations in both his work and personal life." Sounds like… almost all of HBO's bromance-y series lineup.
That's actually a description of the animated series, The Life & Times Of Tim, which returns for a second season next weekend. That's following the debut of How To Make It In America — Entourage east, prequel style — which also features the growing pains of a bunch of dudes around the same age and in the same place. So does Bored To Death, which aired last fall and has already been reupped for a second season… On the comedy side, Funny Or Die Presents, also premiering this weekend, doesn't have a single woman on its directing and writing team, which includes Judd Apatow and Will Ferrell.
Iman points out that the strong parts for women are "tucked into ensembles like True Blood and Big Love. But there is not a single series on the lineup in recent memory or in the near future that is focused on showing the lives of women," although "the cable channel also seems to have less trouble showing a greater range of stories with mini-series and original movies."
Meanwhile, Showtime seems to love the ladies! Though I initially subscribed to Showtime for The L Word, no one in my house wanted to cancel it at the season's end — yet we've yet to pick up HBO. In that time, I've only uttered "I wish I had HBO" twice: when the Grey Gardens movie and the Rosie O'Donnell Family is a Family is a Family movie debuted. Several years ago I couldn't have lived without HBO; I 'needed' Six Feet Under and Sex and the City.
Showtime's current lineup includes Secret Diary of a Call Girl, Tracey Ullman's State of the Union, Nurse Jackie, The United States of Tara and Weeds. And yes, we'll be blessed with Chaiken's latest Bacon, The Real L Word Los Angeles, soon enough (We know who the cast members are, do people care about this? If we tell you will you care?) And despite the departure of its most homosexy empires (The L Word and Queer as Folk), Showtime is keeping the homo alive with lesbian storylines coming up on The United Sates of Tara and Nurse Jackie as well as a bit of girl-on-girl action on The Secret Diary of a Call Girl and in the last season of Weeds.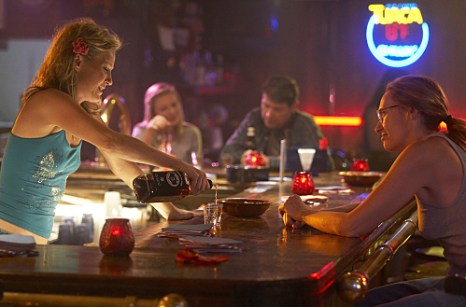 Howevs, HBO continues earning high marks from GLAAD for its continued commitment to featuring male gays. And that being said, as I don't have HBO, so perhaps I'm missing some crucial gay/lady action. Do you subscribe to either network? Do you prefer shows about women?
REALITY: They're casting a Will & Grace reality show — but Queerty thinks they should be casting Jack & Karen. We agree. (@queerty)
TV CAPTION CONTEST: Wanna play our TV Caption Contest? YEAH YOU DO! TV Capture Caption Contest: Round #1. (@autostraddle)
LINDSAY LOHAN: I really hope a lesbian wins this contest: Lindsay Lohan is auctioning herself off for Haiti!
Organizers of the Brit Awards Celebration In Aid Of Haiti! are hoping to raise $160,000 for the Red Cross and Lohan, who will host the event, has stepped up to make her own contribution to the fundraiser.
The highest bidder will get a night out in Hollywood with La Lohan, complete with first class flights to Los Angeles and a weeklong stay at a posh LA hotel.
Hope the winner also gets a box of Red Bull, it's hard keeping up with Lohan!
SKINS: Skins Recap 403: Cook (and the Terrible No Good Very Bad Week): Crystal & Riese recap Episode 403 for ya! (@autostraddle)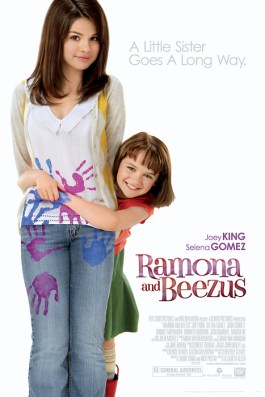 RAMONA: As you may or may not know — I certainly didn't — they're making a movie called Beezus and Ramona, based on the book from the classic children's series by Beverly Cleary starring Selena Gomez, Gennifer Goodwin, John Corbitt and Sandra Oh.
If you — as I do — always felt a peculiar kinship with young Ramona Quimby, read all the books, watched the entire television series starring Sarah Polley, and perhaps made yourself a t-shirt to match Ramona's (with the Q/cat whiskers on it?) — you might be slightly concerned that this new movie is not going to give proper justice to your childhood love and maybe is going to focus too much on the (suddenly very good-looking?) Beezus? It would appear based on reactions to our tumblr post of the movie poster that others agree.
KIDS CHOICE: The Kid's Choice Awards Nominees have been announced, and it appears that "shows and people we've never heard of" have ruled the nomination field. This is one situation where we expect Taylor Swift to win. But wouldn't a Lady Gaga upset be triumphant? (@nickelodian)
JILLIAN MICHAELS: Um so, you may remember that on January 5th, 2010, Autostraddle reported that Jillian Micheals revealed to Ladie's Home Journal that she is a bisexual and/or lesbian.
Now it is February 15th, and our favorite gay blog Queerty is reporting that Jillian Michaels revealed to Ladies Home Journal that she is a bisexual and/or lesbian. Honestly I think we read that issue so long ago it has now suffered rain & wind damage from its precarious post-scanner hideaway on my window ledge. C'mon, boys! Here's their piece: The Biggest Loser 's Butt-Kicking Trainers Jillian Michaels + Bob Harper Both Sweat for Our Team.
JOHN MAYER: The Gay And Lesbian Alliance Against Defamation have hit out at John Mayer for apologising for using the 'nigger' word in his recent and previously reported Playboy interview, but not saying sorry for using the 'fags' term." (@cmu)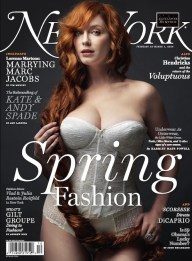 LESBIAN TV: "The Amazing Race is going to feature a lesbian couple and sadly that couple is not us: Carol Rosenfeld, a 47-year-old consultant, and Brandy Snow, a 40-year-old actress. The two women from Los Angeles are going to be one of the several pairs of contestants on CBS TV network's latest round of the long-running series, "The Amazing Race." (@metroweekly)
MAD WOMEN: Christina Hendricks finds talk of her body boring in this NY Mag Cover story: "It kind of hurt my feelings at first,wp_postsshe says. "Anytime someone talks about your figure constantly, you get nervous, you get really self-conscious. I was working my butt off on the show, and then all anyone was talking about was my body!" (@nymag)