by riese & crystal
Crystal & Riese are here to present to you the recap of Skins Episode 403, "Not Naomi and Emily." This week is all about Cook. Cook is not a lesbian. He is a man-born-man who likes to punch people in his face. What lies beneath his aggressive exterior? A soft heart of gold? Secret powers that could save Metropolis from the evil influence of vipers, dinosaurs, Sarah Palin and the Marshmallow Man? Another tiny little person? The Heart of Doom?
Let's begin to unfurl his mystery. You can get all the scoop on Skins at the e4 website. Just let's say from the get-go this episode was very well-done, quite brilliantly written, and gave us lots of feelings. Howevs also we were both somewhat under the weather this weekend. LET'S BEGIN!
---
Skins 403: Cook
Jailhouse Rock
Remember in last week's 402 recap when Cook beat the crap out of an innocent party-goer after seeing Freddie and Effy have a bit of a pash at the house party? Well we didn't really think twice about it because a) Cook beats someone up in every episode and b) we really are primarily concerned here with Naomi, Emily, and whatever dead lesbians they've slept with.
Well, you missed a very important moment. Because now Cook is in jail with only boys, just like the Tegan & Sara song. Oh and this foxy lay-guard: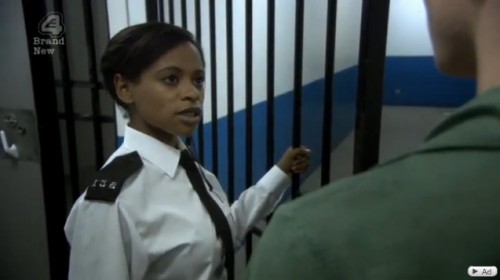 Don't Drop The Soap Etc
See children, actions have consequences! A bloody-fisted and mean Cook sits down with his public defender, Duncan, who is eating a cheese sandwich and talking while he's chewing, so it's kinda hard to follow amid my TOTAL REVULSION!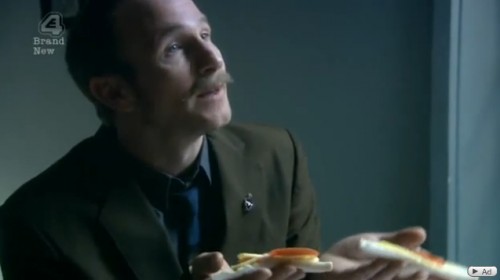 Hard Times at Skins High
After finishing his sandwich, Duncan suggests that life's going to be easier for everyone if Cook just smiles, says sorry and pleads guilty to "punching the fuck out of Shanky Jenkinson." If he's lucky/typical, he'll just cop community service. But obvs if Cook was interested in an easy life then we wouldn't be here. Or else he just seems a bit dumb.
[Cook must have already anticipated his fate 'cause he's already got the prison ink:]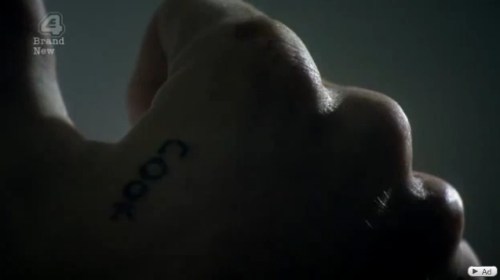 Cook: Not guilty.
Duncan: James, you did punch the fuck out of Shanky. In front of 83 witnesses.
Judge Judy Would Be Proud
Cook claims he's not guilty because he was provoked by Freddie and Effy's tongues, and you're kinda ready for the Law & Order music to begin and for Mariska to be like, "Are you sure about that?" all sexy and stuff.
Duncan does not think that Cook is being clever but doesn't protest too much, he's got bigger things to worry about like that moustache. Casey Novak wouldn't let this shit go down. She'd be like "your honor," and then Mariska would be like, let's make out, etc.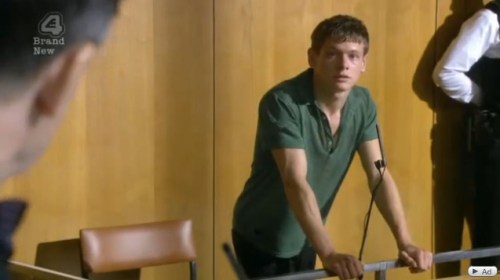 Stop in the Name of Love
On the stand, Cook says he's not guilty and so the judge passes down an electronic tagging order until his trial, meaning he has to wear an ankle tag like Michelle Rodriguez but not as hot.
He'll have to be home all the time, but Cook doesn't have a home. A-HA! Case CLOSED! Nope, he'll be going home with his Momma, Mrs. Ruth Byatt, who he says he is defo not going home with until threatened with, "Yes you will or we'll arrest you, bang you up. Probably bang you about while we're at it."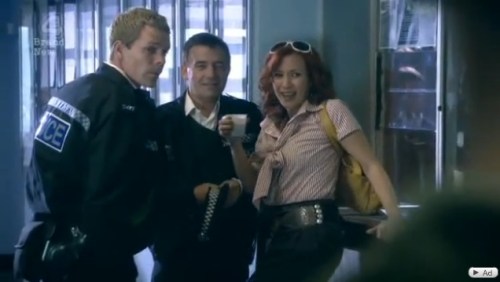 Mrs Ruth Byatt is waiting for Cook in reception, passing time by flirting with police officers. This is anarchy.
Cook: Mum.
Mrs Byatt: Hi Jimmy, how you been?
Cook: No-one calls me Jimmy now Mum.
Mrs Byatt: Hello smelly.
Firstly, that's such a lame insult. What are we, 7? Regardless, I get the feeling Cook never had a chance.
---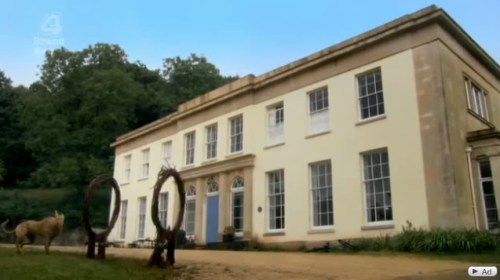 Lifestyles of the Rich & On Probation
Guess it is a bit like Michelle Rodriguez after all, 'cause Cook's Mom is actually a famous artist, probs like Thomas Kinkaid, and therefore Cook will be doing probation in a mansion. Mum is drinking wine out of the bottle as she saunters out of the car, that's nice.
This is Cook's little brother, he is like Cook before he was destroyed by women and the cold icy touch of drugs, alcohol, and rock 'n roll, except clearly still with the rock 'n roll:
Rock Bandit
Cook's little brother is inside, his name is Paddy and he's wearing suspenders and rocking out to Motörhead's "Ace of Spades" on Rock Band. Cute overload. What's with the little brothers on this show being so adorable? Also, Cook is happy to see him. They share a tender moment of brotherly love that endears us to Cook for the time being.
He gives a little away –
Paddy: Mum says she forgives you, and you can come back.
Cook: Yeah.
Paddy: And we got pizza to celebrate.
There are like 20 pizza boxes. Maybe this is a crazy harem or something.
---
If These Walls Could Yell Loudly 2
Cook lies in his ex-bedroom while his brother sleeps beside him. It's 6:35 in the evening and there are loud sexy noises coming from the room next door, but this is not a harem, his Mom just likes to ride the pony. Cook is thinking about how this is his life now and he is never going to leave ever. He checks his bracelet just to be sure.
I thought his tattoo said "Fuck Me Dead" but it actually says "Jack the Lad." Jack is the name of the actor who plays Cook, maybe the make up dept ran out of concealer I dunno.
Oh Right And the Dead Girl
This episode's not depressing enough and so they bring the dead girl back up, with Cook finding the police poster in his pocket. He picks up the phone to call Freddie, then changes his mind and starts dialling Effy, then realizes this is all their fault and instead stares meanly/wistfully at a poster on the wall of him and his friends before they made out with Effster.
A Writer with a Farmer's Tan, WHAT ARE THE CHANCERS
Downstairs we're greeted by enough empty champagne bottles to um, go with all that pizza, as well as Alex, an art critic who is studying Cook's Mom, which seems like a little bit of a conflict of interest.
Alex obvs wants to get laid again because he calls her the greatest conceptual artist since someone whose name I'm not familiar with, but definitely has the sound "douche" in it because it made me giggle. It's really the only entertainment I've had so far.
All in the Family
Cook's mum tells Alex that Cook's a criminal, and the dude tells Cook: "Your mum says you're her greatest creation, a walking conceptual installation. That's cool man." But you and me and Cook and Mom all know the truth: Cook will never be like The Gates, or like the Statue of Liberty or anything. He will just be Cook, the boy from Skins in the polo shirt, la la la.
I guess that's sweet but it's probs best coming from his mother and not his mother's lay. Speaking of conceptual installations, check out her latest –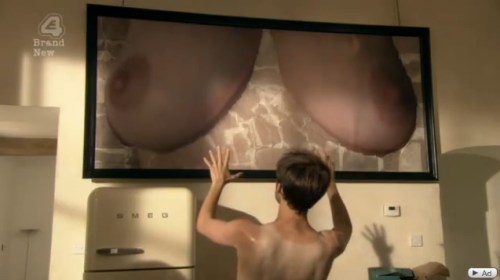 NSFW
Even Bette Porter wouldn't hang this in her art gallery. It's dumb and Jesus isn't in it. Cook looks unimpressed.
Alex: They're so tactile, you know? You just want to touch them. You just want to come on them.
---
So we cut to Cook wearing cute plaid pants and walking with his cutie patootie little brother.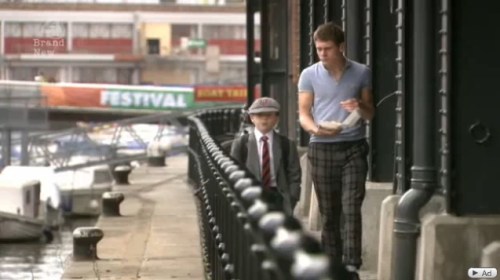 It's Like Billy Elliot But With Less Dancing
It's a sweet moment, they're sharing chips even though it's probably 7am or something.
Paddy: Will you go to prison?
Cook: I might.
Paddy: But if you say sorry won't they let you go?
Cook: I'm not sorry.
Paddy: Why?
Cook: Never say you're sorry.
Paddy: Why?
Cook: 'Cause you're not a pussy, are ya.
Paddy: No.
Cook: Then we don't play that game, do we. We don't play anyone's game.
Paddy: Except for Rock Band, we can play that..
Cook: Yeah, yeah we can play that.
Paddy calls Cook "barmey" and on top of reminding me of a miniature Angus Young, he could not get any more adorable.
Oh whoops wrong picture! Here's the right one: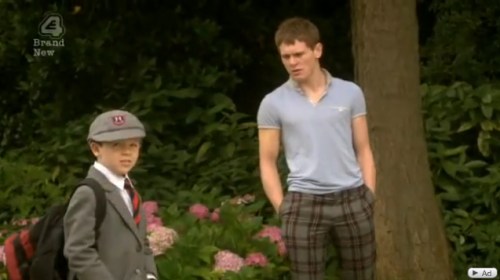 Little Cooky
They arrive at his private school, where lots of cute little boys are wearing cute little hats also and Cook throws intimidating looks at the ones that have been giving Paddy a hard time and kicking him in the balls. He's going to need those balls later, when he becomes a massive pimp like Cook. Because balls are where boys keep their sperm right. I don't know, I'm a lesbian.*
*JK
---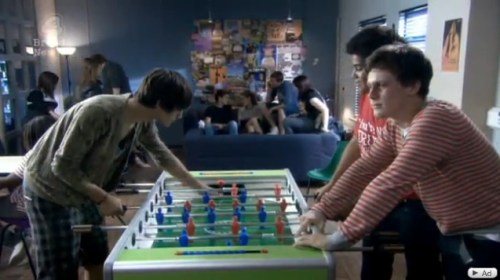 Foosball Prelude to Ultimate Surrender
At college, the kids are playing foosball and JJ's team wins, they chest bump and are only two seconds away from patting each other on the ass. JJ's sporting a huge shiner that he must've gotten from Cook when he tried to break up the fight last week. [Riese sidenote: I am watching this as I read/recap and I thought that JJ was Cook until I read this paragraph, Crystal!!] Where's Emily and Naomi?
Pandora's looking miserable on the couch and JJ suggests they go cheer her up, but Freddie points out that it's hard to cheer someone up when her boyfriend cheated with a girl who is the "hottest of the hot". He has Effy though so STFU.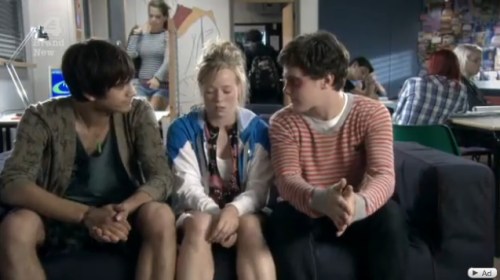 Love Doctors
Freddie: Are you alright, Panda pops?
Pandora: No, not really.
JJ: You know, love's thoroughly overrated. I've never had a girlfriend and look how happy I am. In between minor psychological breakdowns.
JJ starts talking about endorphins but all he's doing is making a depressing episode even more depressing. But hey speaking of the hottest of the hot – someone is having a fashion disaster! But Cook still loves her, even if the bra strap don't.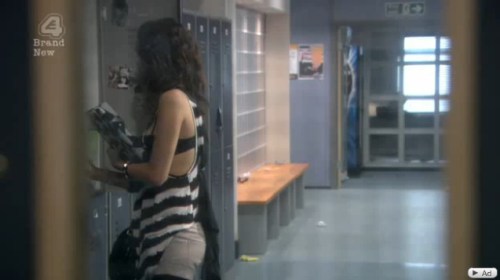 I'm Just Effy From the Block
Effy has arrived. The next thing on her to-do list after being hot is to sit on the couch with Freddie and swap some spit. Cooks shown up and looks heartbroken, but barges into the rec room like he doesn't care and hasn't just put a kid into hospital and gone to prison.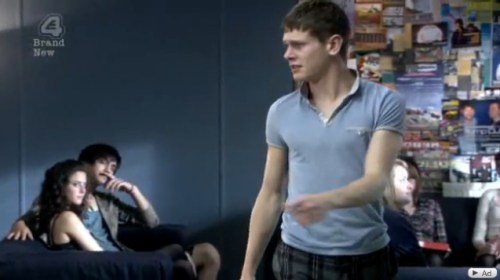 Hey Kind Friend
Cook thinks they're all suckers for being in school and so he tries to convince everyone to go to the pub with him. OH HEY LOOK WHO HE ASKS.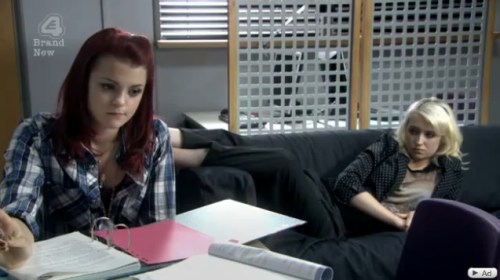 Where Did the Good Go?
Cook: Naomi? What about you? Bring your lady and we'll make it a threesome. … What's up with you two?"
Naomi and Emily look so depressed that even Cook senses it, and Cook doesn't sense anything. From this scene I assume that Emily and Naomi are still together, I'm no body language expert but I think if they did split up then Emily would be in the bathroom crying and Naomi would be having breakup revenge sex.
The best part is when Cook turns to the black guy and says, "Black guy?" But the black guy doesn't want to go either.
Pandora saves them from answering by wanting to know if Cook's scared of going to the "bloomin' jokey". He's not. Oh but look who wants to skip out: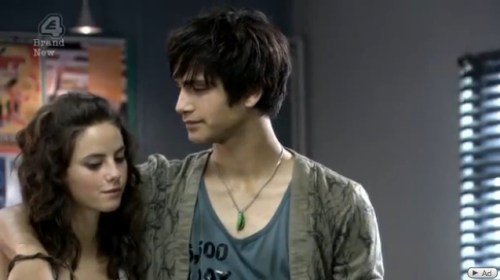 We'd Like a Drink Before We Make Sweet Love Later
Effy & Freddie feel bad for Cook and offer to join. Do they not understand that Cook's hard heart breaks a little every time he sees them so easy breezy beautifully in love? Cook says that's a'ight, he would rather just have a sandwich by himself in his locker.
JJ declines as well. Out of character, but not surprising as he's got a big giant bruise on his face. Cook asks who it is that roughed him up b/c Cook is gonna give that asshat the stare of death, just like he did earlier that day with his little cutie brother, but what Cook doesn't remember is that it is HIM, COOK! Yes, he must look at the man in the mirror like Michael Jackson said.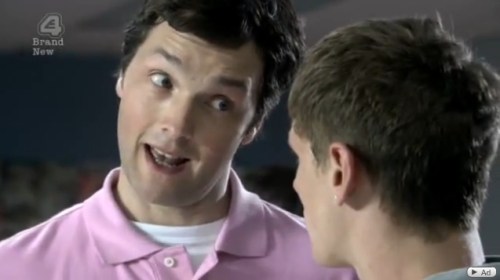 He Wore Pink Today Just for This Occassion
Professor Blood, the new college director, breaks up the party, acting very hoity-toity.  He offers Cook his business card and suggests that he and Cook need to "pow wow," which I think is actually something that Cook should stop doing. Cook apprently missed the year they studied Native Americans and pow-wows and such, but no matter this is actually gonna be more like a 'public beheading' which I believe is part of traditional early government both in the US and in the UK and surely he caught a tad of that lesson.
The Professor explains that because Cook's been implicated by the law, he's automatically expelled. And expunged. And ex-communicated. All those other E words, this dude likes to Enunciate. Effy. Edie. He tells Cook he needs to "scoot off," or else an Enforcer named Jonathon will Escort him out with "Extreme prejudice."
Cook: Jonathon can kiss my ass. That's if he's not tired from licking yours.
SMACKDOWN
I think Cook and Thomas should start a little club for kids that got kicked out of school. They can go to the mall, learn how to use bunsen burners, be big brothers to underprivileged children, take anger management courses and develop valuable technical skills for the workplace.
Jonathan is held by the guard while Professor Blood, apparently confused thinking this is like a Vietnam protest or something, sprays Cook in the eyes with pepper spray. For a second I think Effy and Freddie are going to leap to his defense and a brawl will break out, but they don't. SHEEP!
The kids are all standing by shocked, including Naoms and Ems. I hope they bond over this trauma later.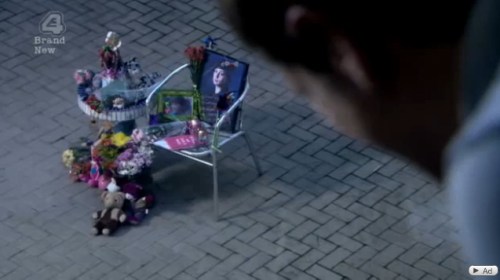 Dead Like Me
When Cook gets his vision back, his eyes fall on Sophia's memorial. Who had the baby chair idea? That baby chair is sad. They should've gotten a wall or something like they have for Vietnam.
---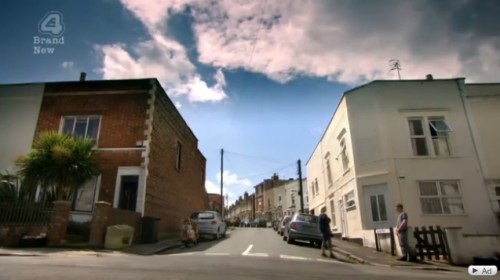 Mean Streets
Cook is wandering the streets like the vagrant he still is when he comes upon Naomi's house, where she's taking out the trash. Emily's scooter is on the sidewalk… good sign? I guess cohabiting with the strayer is better than cohabiting with the Fitch family. Also Emily's gotta keep her eye on Naomi. Never know when she'll sneak off to an Open Day and come back with a yeast infection.
Pages: 1 2See entire article on one page