Last night a musical extravaganza took place in Los Angeles, California, occasionally punctuated by various well-dressed, unusually attractive humans announcing the "winners" of assorted musical awards and then handing a large statue to the winner of the award. As I believe we touched on last year, the Grammys are total nonsense.
This year's ceremony included excessive quantities of country music, hyperbolically hyped performances (hope you caught Dr.Dre/Eminem because it's going to show up in your AP History class next year, seeing as it is so f*cking HISTORICAL), an especially smarmy-looking John Mayer, a plethora of gratuitous Nicole Kidman-centric crowdscans, a cornucopia of "upsets" (Best New Artist, Album of the Year, etc), Adam Lambert not winning a Grammy or making out with anyone on stage, and Lady Gaga arriving inside a giant egg.
Ten Things Worth Noting About the 2011 Grammy Awards:
1. Esperanza F*cking Spalding, Y'all
Who the hizell is Esperanza Spalding? Well, it's not Justin Bieber, that's all we needed to know.
No but for real, Esperanza Spalding surprised everyone by winning Best New Artist — making her the first Jazz Artist to do so. I haven't been this surprised since the last time Taylor Swift won a thing.
However this win didn't go over as well backstage as it did in our living room:
When Spalding made her way back to the media room at the Staples Center, she had no mercy for the competition, especially Justin Bieber. "He'll have many more years and many more nominations, so he'll be straight," she said when asked about beating the teen pop sensation.
Bieber's devoted acolytes didn't take her victory so lightly. In dozens of changes to Spalding's Wikipedia page, Beliebers attacked the singer/bassist, with the most glaring being this gem: "JUSTIN BIEBER DESERVED IT GO DIE IN A HOLE. WHO THE HECK ARE YOU ANYWAY?" On top of that, people changed her middle name to "Justin" and then "Quesadilla." Another Rhodes Scholar among the vandals went on to call Spalding a "reatard," which probably has nothing to do with the late Jay Reatard.
A Little Bit More About Esperanza: Esperanza Spalding is a half-black, half-Welsh/Hispanic/Native American 26-year-old jazz singer and bassist. Growing up in a rough part of Portland, Oregon, raised by a single mother, she was inspired to become a musician when she saw Yo-Yo Ma on Mr. Roger's Neighborhood. She studied and taught at the Berklee College of Music, released her first album in 2006, and her 2010 record, "Chamber Music Society," is currently holding court in the iTunes Top Ten following last night's win.
Here she is performing at the White House. You know this song because of Lauryn Hill.
+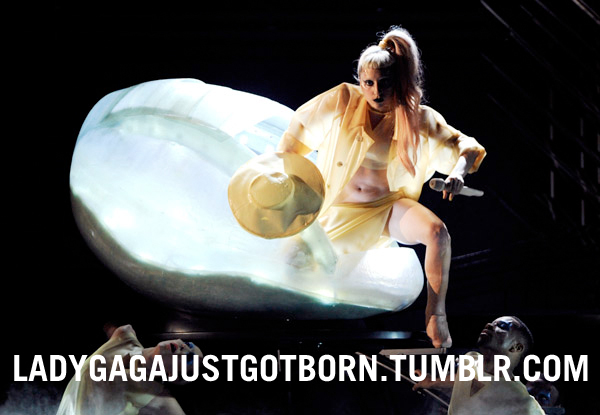 I've got "Born this Way" stuck in my head for life now — and as usual, Lady Gaga's performance warmed me up to this tune in a way I'd not felt prior. Thoughts?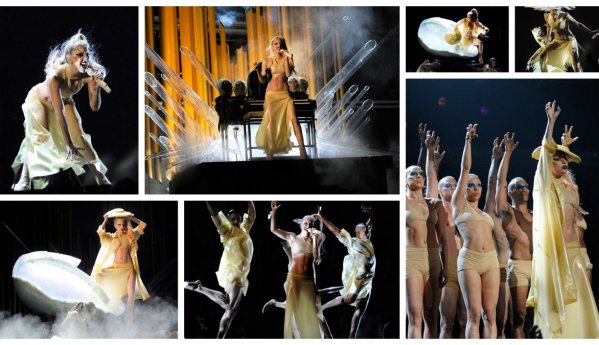 +
3. Glee
These kids are at everything now. It's like a thing. Is Glee a thing? We hadn't noticed.
+
4. Why Does Katy Perry Exist
You know when your friend fancies him or herself a singer and starts singing along to some ballad on the radio in a way that makes you feel both bored and strange? You know when your friend subjects you to their wedding photos even though you already saw all the parts you cared about on facebook? Katy Perry combined both of those things last night and called it a "performance." Katy, go get a giant lollipop and a short skirt and some hyper-pop beats from hell and some gay back-up dancers and show us what you can do because what you can do is not "sing ballads," it's "be in music videos."
+
5. This Year was The Year of the Most Annoying Fucking Songs Of All Fucking Time
If you thought "It's a Small World" was difficult to get out of your head after tripping balls through China and Russia and the USA in Disneyworld on a raft, then the Grammys have probably turned your head into a psychotic pulsing mound of I CAN'T GET THIS FUCKING SONG OUT OF MY HEAD.
Songs I Can't Get Out of my Fucking Head:
Train "Hey Soul Sister" (winner, Best Pop Performance)
Bruno Mars "Nothin' on You" (nominee, Record of the Year)
Justin Bieber "Baby" (nominee, Best New Artist)
Lady Antebellum "Need You Now" (winner, Song of the Year)
Gweneth Paltrow and Cee-Lo, The "Forget You" version of "F*** You" (nominee, Song of the Year)
Katy Perry, "Teenage Dream" (nominee, best Female Pop Vocal Performance)
+
6. It's Not Gay, It's Fashion
I don't know anything about fashion, as is evidenced by the two fashion articles I have penned for this website: Top Ten Sweatpants and How to Not Dress for Success: Top Ten Fashions For Being Alone in Your Apartment. But that won't stop me from trying. Nobody wore sweatpants, btw.
+
These Fashions Seemed Real Good: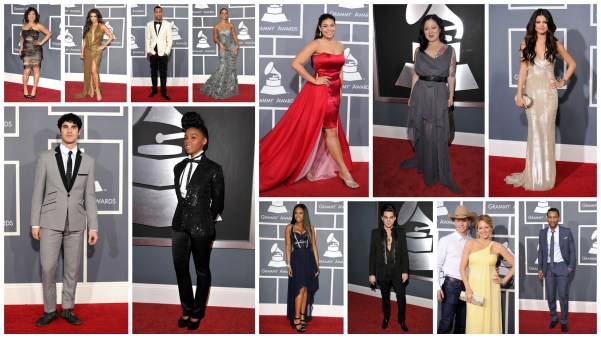 +
These Fashions Seemed Real Bad:

+
These Fashions I Am Unsure About, Open to Input: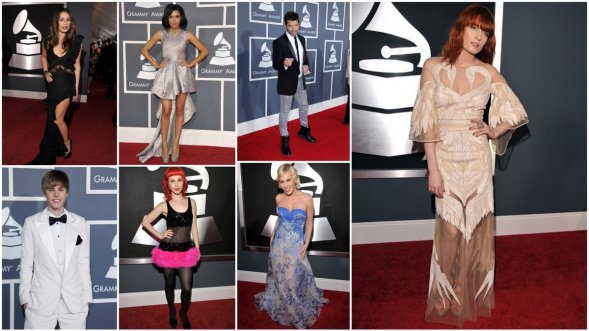 +
7. Muppets Take the Cake
Want your musical performance to be not only bearable, but impressive? Try a muppet. Cee-Lo as Elton John meets the Enchanted Tikki Room meets Muppets in Space was the highlight of the evening.
+
8. CUTIES
Let's be real clearly I didn't pay attention to the Grammys last night. But I found some cute photos:
9. combos
These are my favorite Combos:


But I also enjoyed these combos:
+
10. FYI These Are the Winners
Record of the Year: Need You Now, Lady Antebellum
Album of the Year: The Surburbs, Arcade Fire
Song of the Year: Need You Now, Lady Antebellum
Best New Artist: Esperanza Spalding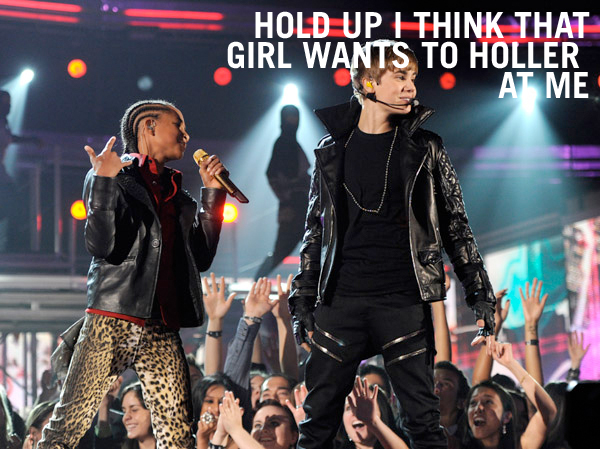 Best Female Pop Vocal Perofmance: Bad Romance, Lady Gaga
Best Male Pop Vocal Performance: Just The Way You Are, Bruno Mars
Best Pop Performance By A Duo Or Group With Vocals: Hey, Soul Sister (Live), Train
Best Pop Collaboration With Vocals: Imagine by Herbie Hancock, Pink, India.Arie, Seal, Konono No 1, Jeff Beck & Oumou Sangare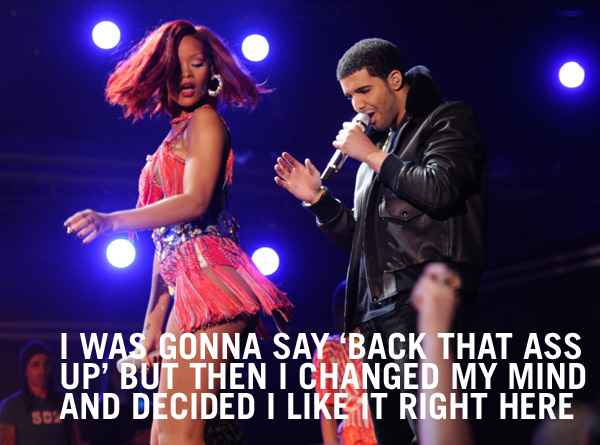 Best Pop Instrumental Performance: Nessun Dorma, Jeff Beck
Best Pop Instrumental Album: Take Your Pick, Larry Carlton & Tak Matsumoto
Best Pop Vocal Album: The Fame Monster, Lady Gaga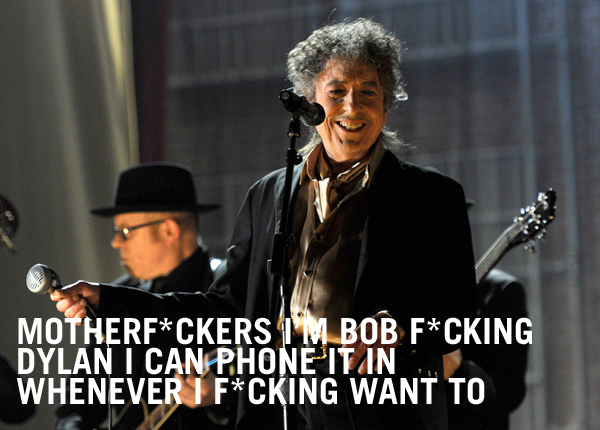 Best Dance Recording: Only Girl (In The World), Rihanna
Best Electronic/Dance Album: La Roux, La Roux
Best Traditional Pop Vocal Album: Crazy Love, Michael Bublè
Best Solo Rock Vocal Performance: Helter Skelter, Paul McCartney
Best Rock Performance By A Duo Or Group With Vocals: Tighten Up, The Black Keys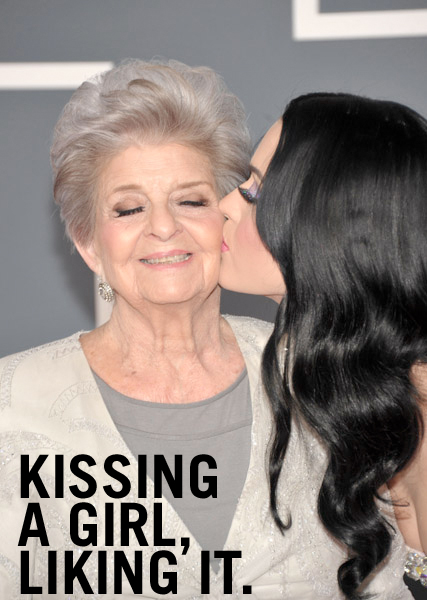 Best Hard Rock Performance: New Fang, Them Crooked Vultures
Best Metal Performance: El Dorado, Iron Maiden
Best Rock Instrumental Performance: Hammerhead, Jeff Beck
Best Rock Song: Angry World, Neil Young
Best Rock Album: The Resistance, Muse
Best Alternative Music Album: Brothers, The Black Keys

Best Female R&B Vocal Performance: Bittersweet, Fantasia
Best Male R&B Vocal Performance: There Goes My Baby, Usher
Best R&B Performance By A Duo Or Group With Vocals
Best Traditional R&B Vocal Performance: Hang On In There, John Legend & The Roots
Best Urban/Alternative Performance: F*** You, Cee Lo Green
Best R&B Song: Shine, John Stephens, songwriter (John Legend & The Roots)

Best Rap Solo Performance: Not Afraid, Eminem
Best Rap Performance By A Duo Or Group: On To The Next One, Jay-Z & Swizz Beatz
Best Rap Song: Empire State Of Mind, Shawn Carter, Angela Hunte, Alicia Keys, Jane't "Jnay" Sewell-Ulepic & Alexander Shuckburgh, songwriters (Burt Keyes & Sylvia Robinson, songwriters)
(Jay-Z & Alicia Keys)
Best Rap Album: Recovery, by Eminem