The next day at school, the Glee Clubbers are all having lunch together enjoying their new found popularity that allows them to be total dicks. Unique shows up in a full face of makeup that, I might add, looks fucking bomb.
Unique: Unique offers her greetings and salutations.
The jerkos tell Unique to go take off her makeup even though Kurt was probably riding that Sephora train all the way to nationals. This is particularly annoying because no one is addressing the real problem, which is that Unique absolutely has to stop referring to herself in the third person. I really can't stand that. Either way, it's a totally sad moment. I really hated Blaine for a bit, which made me even sadder because he's basically the only non-lesbian character I like. Not just on Glee, I mean. Anywhere.
The football players/Cheerio kids come to sit down revealing that being Actually Popular at McKinley means being Actually Mean. They start rehashing truly terrible fat jokes about the new lunch lady. The Actually Popular kids look to Artie to chime in with the jokes. Will he bend to peer pressure or standup for what he truly believes in?!!? He bends to peer pressure. Womp womp. Man I almost forgot that Glee is actually just the longest PSA of your life about acceptance and shit.
One Glee Club hopeful is particularly dismayed by the fat jokes. We find out in the next scene that the lunch lady is actually her mother. We're then treated to three minute lecture from Lunch Lady Mother (whose name we are actually not told) about how high school is all about being the right kind of special so you should lie about being poor and having an overweight mother so people will like you. Oh man, looks like this woman needs a lecture from Can't Mind His Own Business Hudson. PSYCH! He's not in this episode! Huzzah!
Auditions come around and basically every kid in town wants join. This should be great right?
Well, if we've learned anything from glee auditions of the past, everyone is predictably over the top and bad. Though I actually really liked this one dancing hipster with the purple bandana. I would so get on that.
Along comes Jake Nolastname and he's just fantastic! He sings a couple bars from the Fray's "Never Say Never," which is a song I actually like and he doesn't butcher! Also Sugar winks to Unique about Jake being hot, which added to my new theory that Sugar will save the show. Obviously Sweaterman Will cuts him off. So Jake knocks over a music stand in a fit of rage. I smell a new Puck.
Back over at NANANANANANAYADA, Madam Tibideaux aka Whoopi Goldberg aka the best celebrity guest star of all time is leading her expert singing class for expert singers. The first girl who gives it a go gets booed off stage and Tibideaux kicks her out of school leading my TV companions and I to questions at what school can you kick someone out on the first day based on thinking they haven't practiced over the summer. Is NYADADA a college? A conservatory? A school for witchcraft and wizardry?
Anyways so Rachel gets on stage and knocks it out of the park as she sings "New York State of Mind" (not to be confused with "Empire State of Mind" which was covered two seasons ago). But here's the twist! The new girl whose mom is the lunch lady, Marley, ALSO sings "New York State of Mind" for her audition and it becomes like a duet thing.
Marley has that cutesy Disney Channel look (despite being like 23) and I love an alto. More importantly she's wearing a hat and I've always said that hats are a dead gaydar giveaway. Highlighting the difference between high school and college, when Marley finishes her classmates look threatened and when Rachel finishes her classmates look hungover.
The next day Will posts the audition results, which is weird since auditions were supposed to be on Friday. But this should be a happy glorious moment for lots of kids. Let's see, Quinn, Finn, Rachel, Puck, Santana and Mercedes all left but Unique joined so there should be at least five new members right? Plus the New Directions are always a bit on the small side so they could probably double that number to have a normally sized choir. Right? Wrong. Besides Unique, Marley is the only new member. Not even Anger Problems Jake who promptly punches a wall or TPs a house or something. This makes zero sense, since some of those kids who auditioned had to have been better than Sugar and, in Jake's case, Will loves to obsess over making someone's life better through song. Also Will should know at least half his show choir will quit over some huge social dispute mid-season. I mean mid-semester.
At glee practice Kurt's still hanging around chastising everyone for being all about who's the best and trying to stay popular. As oppose to before where they were all about who's the best and didn't stand a chance of getting popular. Artie finally announces who The New Rachel is and, lo and behold it's Blaine! I vote yes although I would have accepted HeMo any day.
Enter Mr. Schue with Marley in tow. She's just super double extra excited to join the club! Also she lies and says her shirt is from J. Crew which causes Sugar to give a look that we're supposed to interpret at "Really bitch? That's not for J. Crew." I know this is actually Sugar's look of concern that her Knowing Everything Currently Being Sold At J. Crew superpower is starting to fail because she's been spending so much time studying anatomy and hasn't been able to go online shopping. Again, not that I'm projecting.
After school, Marley sits around with her mother talking about all her feelings about how she's in glee club but feels bad about lying about her mother. See, Marley hates lying and judgement and people not accepting her for who she truly is. Barf. If she were any more one dimensional she wouldn't be able to do profile shots.
Meanwhile, Blaine has the most painful conversation of any high schoolers life. When you have to tell your older boyfriend he has to stop hanging around the high school halls. Without making it sound like you think it's creepy/pathetic (which you do).
Blaine proves he really is The New Rachel by singing his feelings to Kurt. Aside from "It's time to begin" and "Right to the top, don't look back" I'm not sure if Imagine Dragons's "It's Time" is really appropriate here, but I really like Blaine so I'll accept it. Probably the theme from Into the Woods would have been better. Or Mariah Carey's "Hero." Or "Eye of the Tiger." Or S Club 7's "Bring it All Back. C'mon guys there were a lot of inspirational options here.
Also can we talk about how every kid at McKinley wears plaid? What's that about? Also Kurt's letterman style jacket makes me convinced they haven't gone out of style after since last fall. So Kurt and Blaine go home to have awkward high school goodbye sex. Just kidding they have a sweet and tender goodbye kiss. Gotcha again. What do you think this is, HBO? These are gay characters on primetime network TV during an episode that isn't about them coming out, getting together or losing their virginity. They hug.
An ambiguous amount of time later, the glee clubbers are once again sitting around making fun of the lunch lady. Except this time Marley owns up to who she is/stays true to herself/admits the truth/learns a lesson/doesn't stop, never gives up, holds her head high and reaches for the top/whatever PSA message I'm supposed to be receiving right now. Bottom line, she tells everyone that the person they've been making fun of all week (month?) is her mother. Brit-Brit is particularly distressed.
In the Big 'Ol Apple, Rachel is also learning some BS lesson about being who she really is. She's admiring a picture of Thank God He's Gone Hudson when College Cutie Brody shows up. Rachel admits she's been feeling all awkward and wrong in college. This is a refreshing bout of reality since most college freshman know as much about who they are/where they fit in as a potato knows about how to become a grapefruit (unless you're one of those really put together freshman in which case please don't flame me I'm just here to make the jokes).
Brody tells her she's feeling squishy just because she's becoming a different person. He encourages her to not fight the new her. Brody also offers to walk Rachel to class and maybe stick his dick in her later this season. Who knows. I can't wait for the Who Does She Choose episode.
Rachel shows off The New Her in dance class where she is, again, the only person who fails the grayscale test and she spouts something about how she's going to keep improving until she's the best ever EVER. Honestly this doesn't seem like a new Rachel, this seems like Rachel from the first season. And I missed that girl. I'm glad she'll be replacing the sad sack of needy, whiny poor planning pumpkins we were subjected to last season.
Twenty minutes later, Burt drops Kurt off at the airport to fly to New York without an apartment or plan. How am I just realizing now that Burt rhymes with Kurt? I really dropped the ball on that one.
Regardless Burt encourages Kurt to go have an adventure and maybe rub up against some strangers at Flaming Saddles. I truly honestly wholeheartedly hope that Kurt moving to NYC doesn't meant the end of Burt on Glee. I just think he's the most perfect role model for how parents should talk to their kids.
Back at McKinley the glee club kids beg Marley not to quit. They tell her that they're all perfect wondrous different snowflakes with a unique story to tell. Especially Unique.
This of course leads to some particularly harsh words from the new head Cheerio, Until Next Thursday, who kicks the New Directions out of the cool kids clubs and slushies them. That's okay because they all love each other forever and ever and dance off to rehearsal.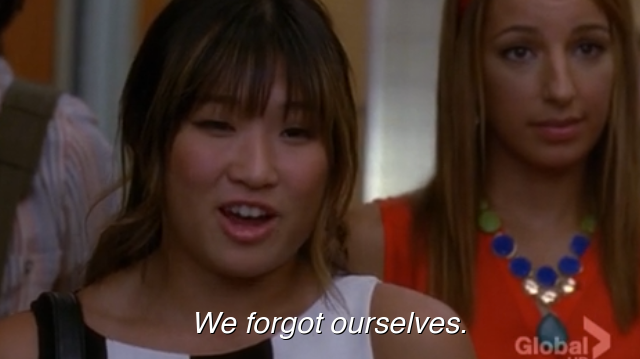 Speaking of teamwork and crap, Will does a little digging on Jake and calls him to his office. Turns out Jake doesn't just seem like a new Puck, he is literally a new Puck. Jake Puckerman. Yup. The brother Puck didn't even know he had. So obviously Will has to help the sad, angry fatherless kid bit offering his the gift of music. Again.
Will almost melts the kids heart just by calling him good, but instead he refuses to join the club. So Jake goes ahead and stands in the auditorium dramatically watching Marley sing "Chasing Pavements." It is my personal belief that no one besides Santana should ever be allowed to cover Adele, but that's neither here not there. Literally. Since Santana is neither here in the episode nor somewhere else. She's nowhere. Fuck this.
Rachel calls Kurt mid-song, crying out of the blue. She cries to him about all the shit that has been going on and he suggests that she move out and find a different roommate.
He tells her to turn around and Kurt is standing there having somehow found Rachel despite New York being pretty ridiculously huge. But I don't even care because I love a good old New York Moment. And it's a really great New York Moment because it's not the typical two lovebirds finally meeting at last. It's two non-romantic best friends who haven't seen each other in a long time and miss each other because one of them left home and ran off to a strange new city to pursue her dreams even though living with new people in a new city is really stressful. Not that I'm projecting.

So in conclusion, folks, here's what I think of the new characters:
In other words:
---
Are you following us on Facebook?
Pages: 1 2 See entire article on one page