all images via Pride in London
Ah, Pride season, that wonderful time of year where we all get together, cover ourselves in rainbows and moan about how what originated as a radical anti-establishment protest has been sanitised to please corporate sponsors and straight allies. Modern Pride exists as a terrible paradox, simultaneously a joyous affirmation of LGBTQ identity that's the highlight of the year for many of us and a corporate hellscape that actively excludes most of the community it ostensibly exists for.
If you want to stare into the dark heart of that paradox, there are few places better to do it than Pride in London (the name London Pride was taken by a beer company in the 1950s which, as we all know, was before gays existed). The UK's largest LGBTQ event is, at this point, basically an advert for Barclays bank, who as Pride in London's headline sponsor get to have their logo squat awkwardly on every piece of marketing, merchandise and God knows what else. Lesser sponsors include those famous queer allies Starbucks, Amazon and Delta Air Lines. Their cash has bought them more or less the entire event. The organisers seem to consider the queer community an annoying inconvenience that gets in the way of the real purpose of Pride: giving straight, cis people the opportunity to show how tolerant they are.
Pride in London's organising committee's endless prioritisation of straight feelings has left them in bitter conflict with the community they claim to be celebrating. In 2015, far-right party UKIP were initially included in the parade line-up, with the organisers claiming they didn't want to "discriminate." The party was removed after thousands signed a petition calling for them to be banned, only for them to turn up on the day and march anyway. Pride in London's Chair has complained openly about the "outrage, anger and hypocrisy" of the LGBTQ community, saying that "as a community interest company we are not making decisions based on politics." That was made clear again this year when the initial line-up for the 2017 parade was announced with no bisexual groups included in the march. After first blaming the lack of representation on the groups themselves for not applying in time, they later backed down and extended an invitation to BiPride to join the march.
And the fuck-ups only keep going. Pride in London kicked off its festivities with a marketing campaign dubbed "Love Happens Here." The main focus of the campaign was a series of over 30 posters, each featuring an illustrated quote from what Pride in London call "a member of the community". To that I ask, "…which community?" Less than half the posters feature an LG or possibly B person talking about their own experience, with the rest made up of quotes either explicitly or implicitly from straight allies. The only acknowledgement that trans folk even exist is in a pair of lists that also include straight people. Queer folks are reduced to silent extensions of their straight friends and family, erased even in a campaign ostensibly meant to celebrate them and their identities. One of the posters uses gay as a slur. It's the kind of shitshow that makes other shitshows say "Going a bit far, aren't you, mate?"
Looking through the poster set, all you can ask is "What the fresh hell were they thinking? " We'll likely never receive an answer, presumably because the sound of desperate grasping for approval from the corporate establishment is quite hard to transcribe. Instead, we can only stare in increasingly angry confusion and eventually decide to rank the posters from least to most incomprehensible in a futile attempt to get some kind of handle on whatever thought process produced this bizarre fuck up.
---
29. "I got lost on my first date. She's made sure I haven't got lost ever since" – Emily, Kings Cross Station
As someone who is almost constantly lost, this is some #relatablecontent and thus earns my official Seal of Approval™.
28. "London is the first place that I've felt comfortable and could truly love myself" – David, London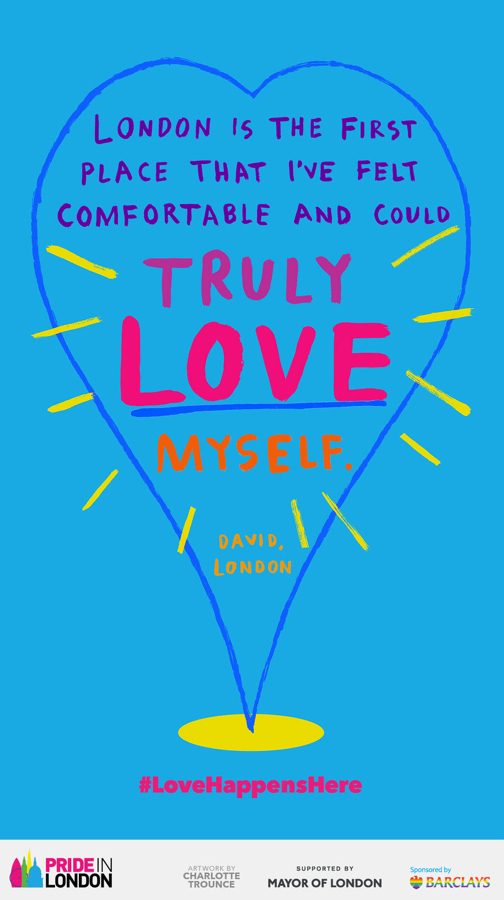 Sweet. Also, potentially the closest thing this whole sorry mess might have to trans representation if you still have some hope left in your heart?
27. "I walked hand in hand with my date, not worrying what people thought of me" – Mark, Marylebone
Good for you, Mark!
26. "As soon as I saw him, I knew we were meant to be together" – Jon, the British Museum
Also fine!
25. "The love surrounding us when we celebrated our union was overwhelming" – Zoë, Forest Hill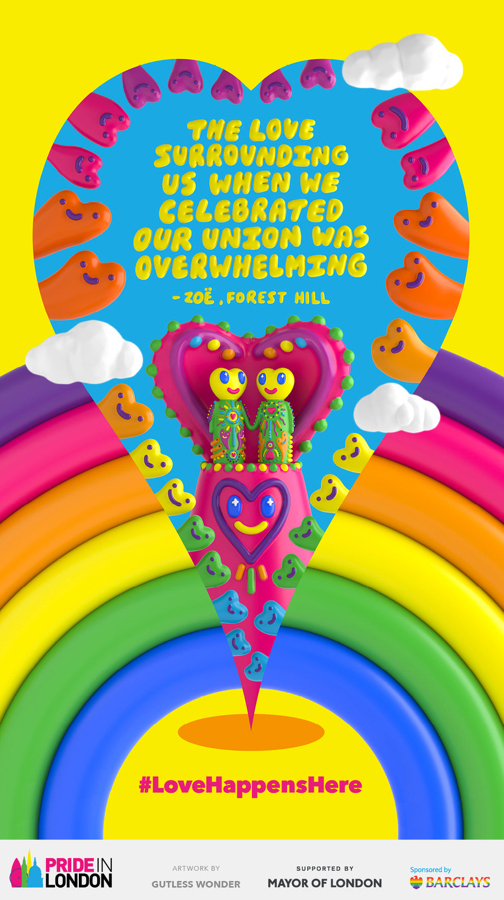 Solidarity forever, solidarity forever / Solidarity forever / For the Union makes us strong
24. "Midnight. New Year's Eve. That's where my best friend became my boyfriend" – Joshua, Trafalgar Square
Do you ever think about how the emphasis on amorphous 'love' in the modern gay rights movement is designed to pander to straight squeamishness at the reality of queer sex and trans existence?
23. "On our second date I knew I never wanted to leave him" – Robbie, Soho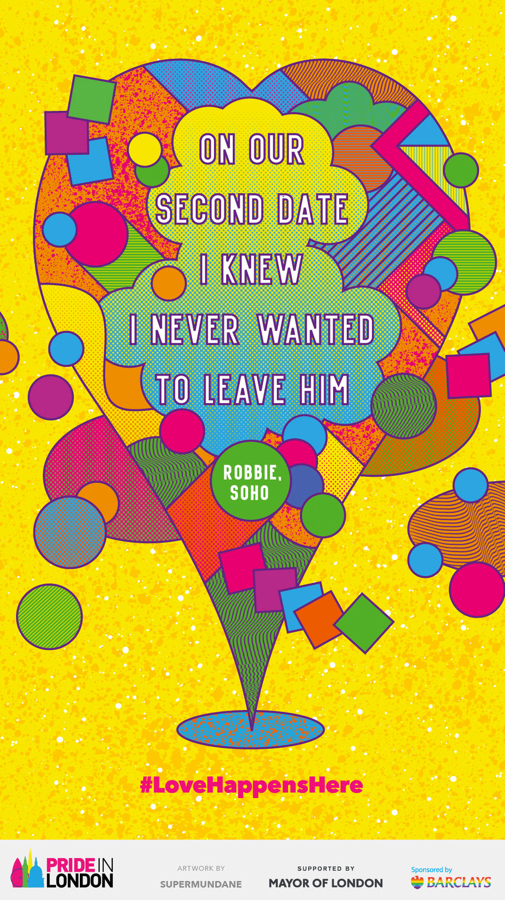 No? Just me?
22. "I realised I was in love with my girlfriend when I couldn't stop looking at her rather than the art" – Grace, National Portrait Gallery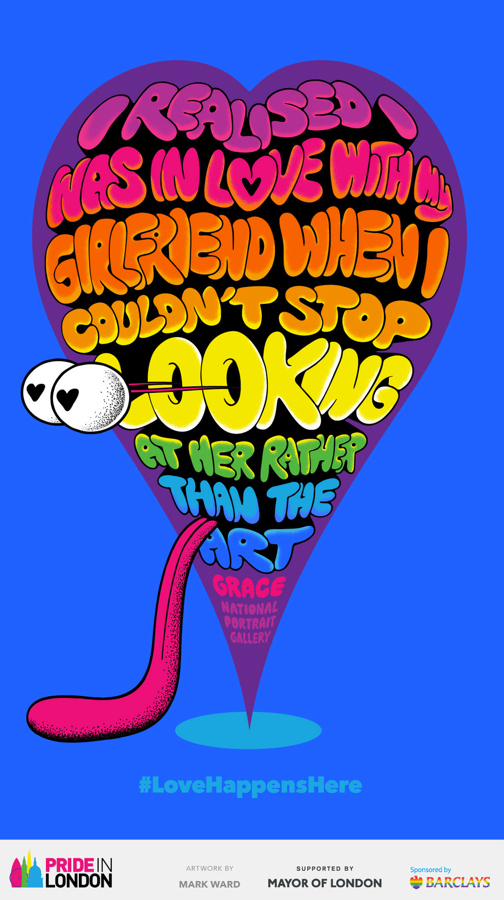 This is cute until you remember that the National Portrait Gallery is the worst gallery in London and after an hour in there I'd rather look at literally anything than another painting of a rich white dude who died in 1826.
21. "I proposed to my boyfriend on stage at a gig. He said yes!" – Robert, London Palladium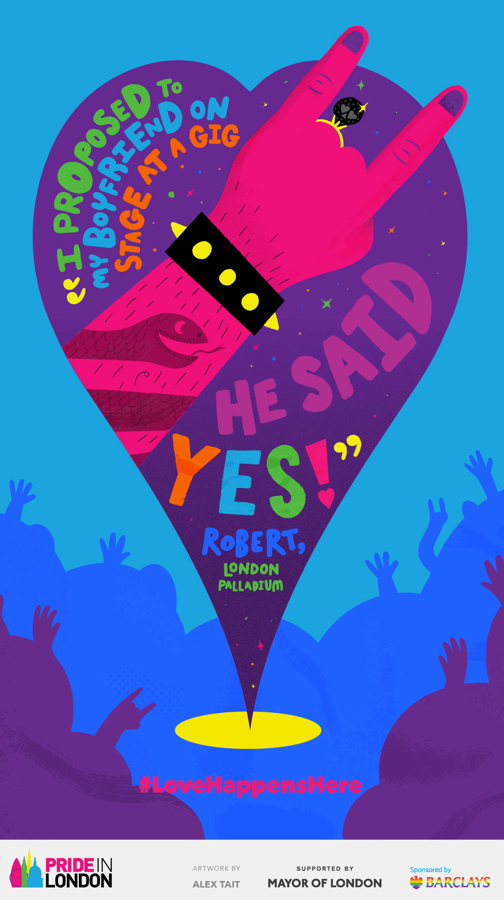 Public proposals are the worst. Why would you be encouraging this, you monsters.
20. "I met the man I would spend the next 24 years of my life with here" – Matthew, Earls Court / "A blind date turned into 21 years of love" – Laurent, Soho / "I met my partner at Brief Encounter. 27 years later, I'm pleased the bar didn't live up to its name" – Brian, St Martin's Lane
One of these would have been endearing. I might have raised an eyebrow at two. Three starts to look like a conspicuous reassurance for straight audiences that queer men are capable of being in long-term relationships.
19. "London lets you love whoever you want to love" – Lily, Hackney Wick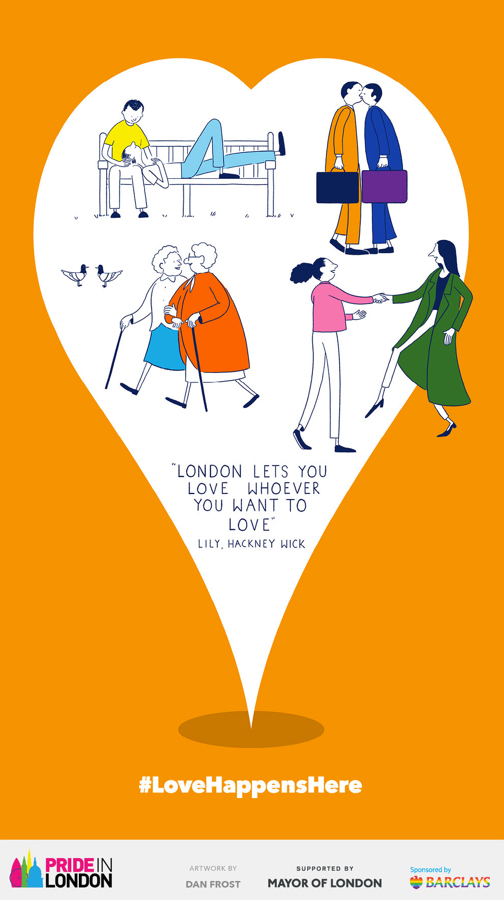 "This looks hella white, Heather, but so does the rest of the campaign. The quote's fine enough, so why have you ranked it so high?" you ask. "Literally a week before this poster campaign, Pride in London themselves launched a separate poster campaign highlighting the fact that 42% of LGBTQ Londoners had experienced a hate crime in the last year," I reply. We both sigh, and look silently into the distance.
18. "Lazy weekend breakfasts made me realise I love my gf more than baked eggs" – Emma, Islington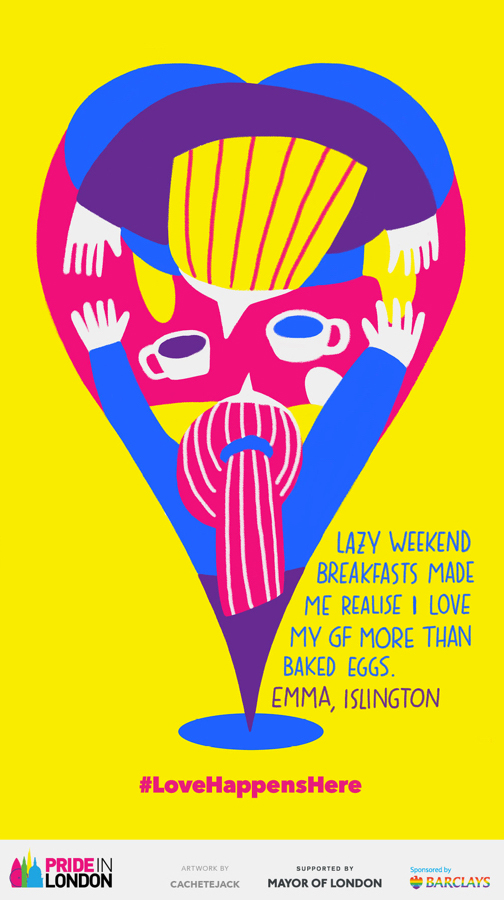 That's nice, but why the hell are you baking eggs for your breakfast? In order to decide to bake an egg, you have to decide not to boil it, scramble it, fry it or poach it, every single one of which is a superior option to baking it. Rethink your breakfast choices, Emma.
17. "We've created a life in London where we feel safe to do so" – Cheryl, Kings Cross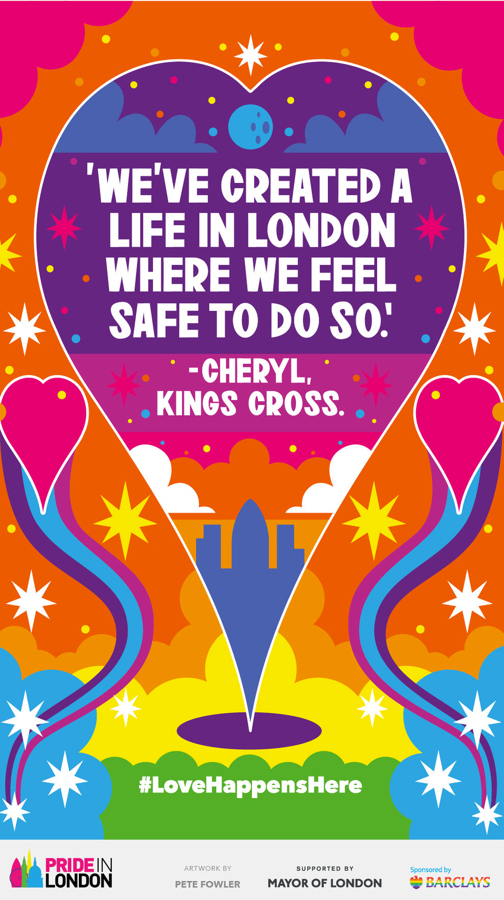 …What?
16. "Now my daughter has married her partner I've gained another daughter!" – Mike, Stoke Newington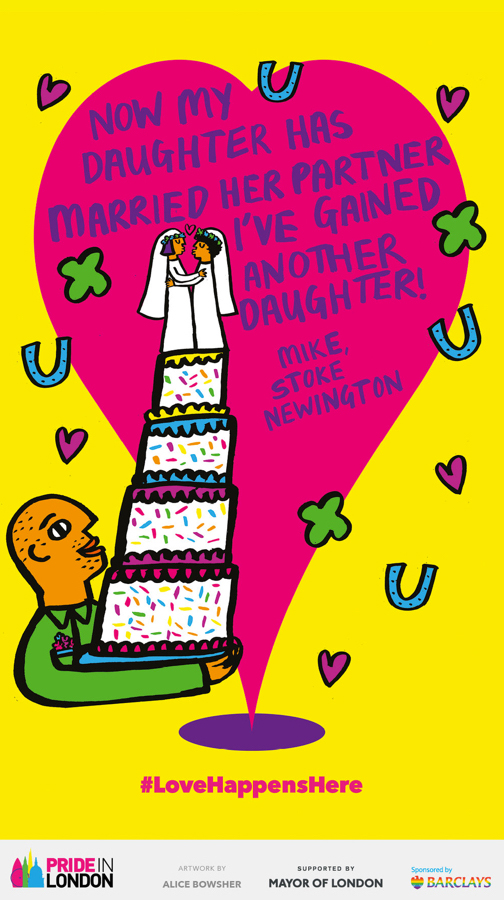 It's all downhill from here, folks. Mike seems sweet, but this marks the entrance to Straight Ally Town, just adjacent to the charming village of Meaningless Platitudes. Pull on your walking boots and let's go on a tour, shall we?
15. "Love thy neighbour. Full stop" – Ashton, Greenwich
Thanks for your input, Ashton.
14. "Love gives, hate robs" – Hayley, Forest Hill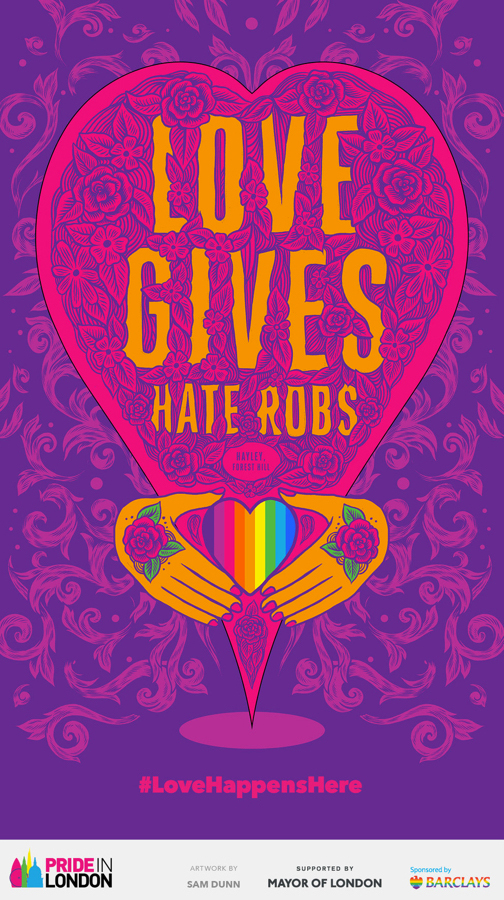 This is the tattoo you get after a bad break-up and if anyone asks you if you regret it, you tell them you don't, but you kind of do.
13. "London, lez we can!" – Grace, Poplar
Remember Bob the Builder? Which of his vehicles do you think was most likely to be a lesbian? I think it's Dizzy.
12. "Homosexuality is not contagious, hatred is" – Lee, Fitzrovia
Imagine if homosexuality was contagious, though. What a beautiful world that would be.
11. "Gay man, straight man, we're all hu-man" – Ted, Londonfields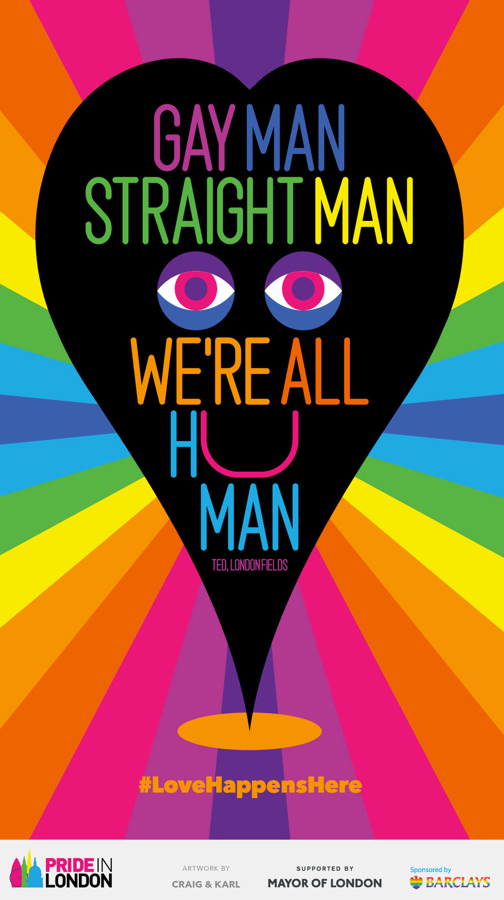 Bullshit, but my dedication to puns means I appreciate this ever so slightly more than it deserves, which is not at all.
10. "London welcomes you, whether you're lesbian, gay, bi, trans or straight!" – Callum, Aldgate / "Gay, bi, lesbian, trans, straight, you're all welcome here!" – Mia, Tottenham
Finally, a place where straight, cis people can feel free to be themselves. Thank God.
9. "Why can't both people wear the trousers in the relationship?" – Misha, Clapton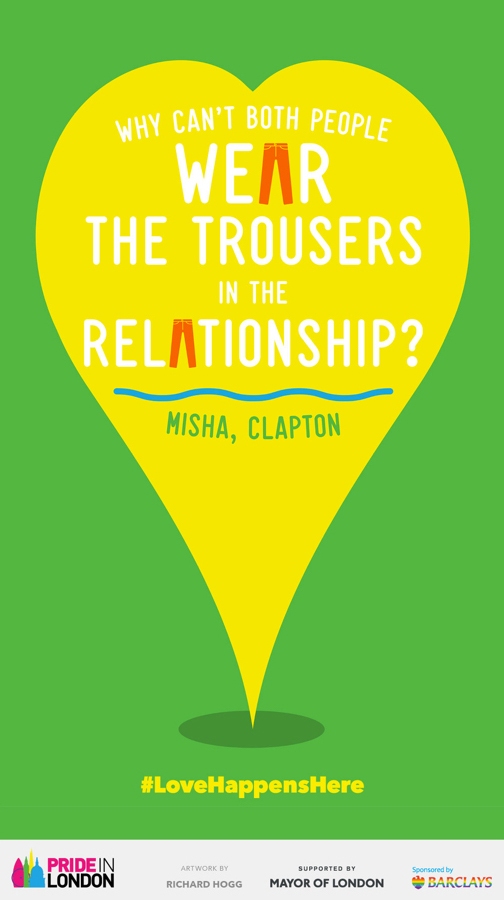 Who wants to volunteer to give Misha a ring and let them know people of all genders have been wearing trousers for a wee while now.
8. "My best mate came out to me in London. Proud of him" – Ollie, Finsbury Park / "My friend is gay. His parents are cool with it as long as he marries a lawyer" – George, Holloway
Congratulations on meeting the minimum standards of human decency, you guys! You're doing so well!
7. "My sister is gay, I'm straight, together we're g-raight" – Skye, Dulwich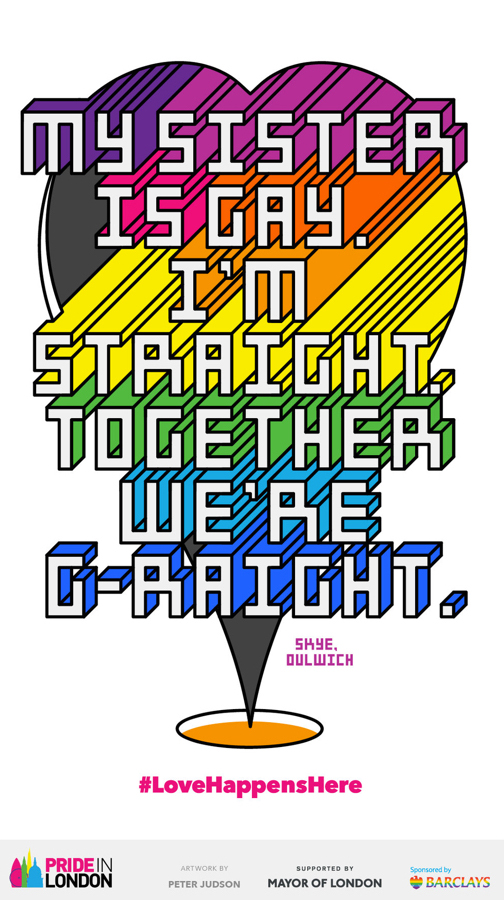 What fuckery is this
6. "Boys who love boys, girls who love girls, I love pizza so what do I care?" – Cheryl, Tooting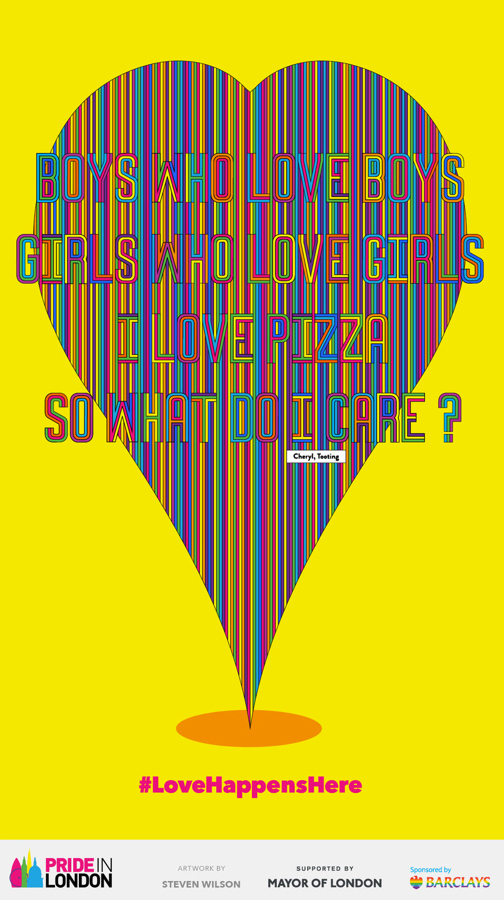 The fact that this is basically unreadable actually works in its favour, because once you manage to decipher its message, you'll want to set it on fire.
5. "People think I'm gay, which I think is cool" – Christophe, Stratford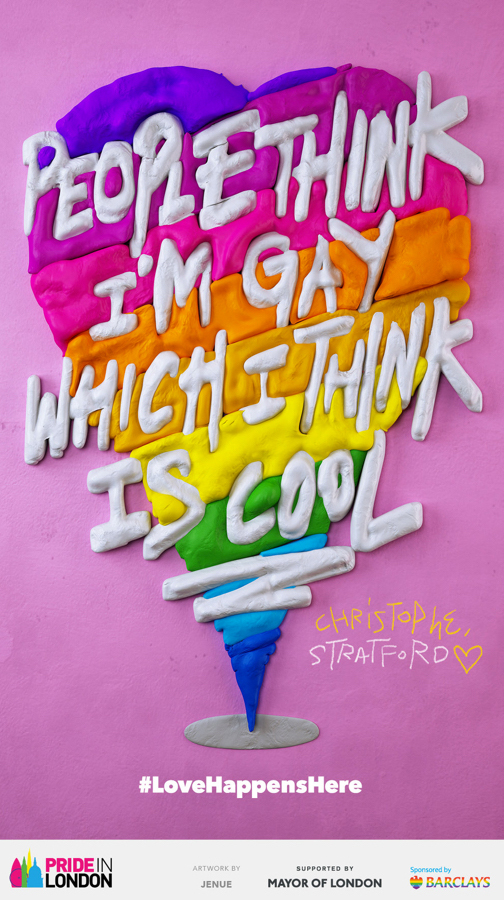 If you read this in the voice of a child under the age of, say, eight, it's pretty charming. I would recommend doing that, because otherwise you have to think about a grown man saying these words out loud and actually meaning them and why would you do that to yourself?
4. "Befriend a gay person and win a prize. Friendship" – Bradley, Camden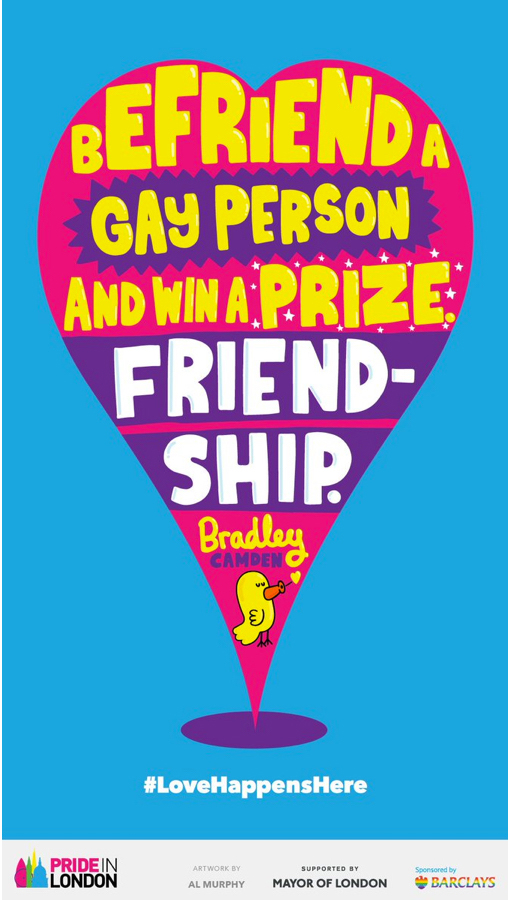 We're into the danger zone now, gal pals. The entire campaign is obviously a blazing tire fire, but these are the four posters that Pride in London specifically apologised for producing and pulled, possibly because they were the four this devilishly handsome human chose more or less at random to include in a tweet that inexplicably blew up.
Despite Pride in London rapidly admitting that the posters "[undermined] the individuality, importance, and dignity of the LGBT+ community" after being called out, the idea that treating queer people like a fairground stall isn't great somehow didn't occur to anybody during the entire inception, design and launch of the campaign. Anyway, everyone knows the real prize you win when you befriend a gay person is a constant layer of glitter over everything you own.
3. "I'm a straight man with gay pride!" – Sammy, Brockley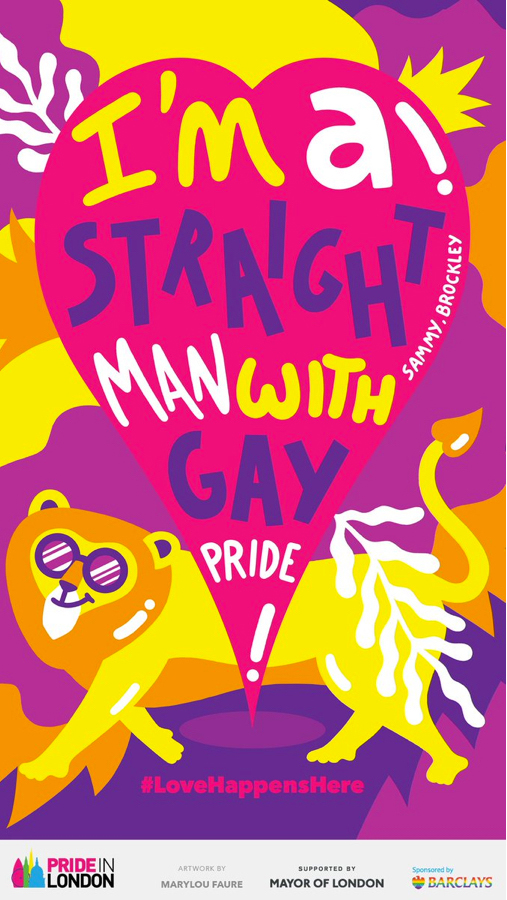 Fuck off, Sammy.
2. "My gay friends make me more attractive by association" – Marv, Vauxhall

This is really just creepy, and not in a fun Babadook kind of way.
1. "Being homophobic is sooo gay" – Tori, Leyton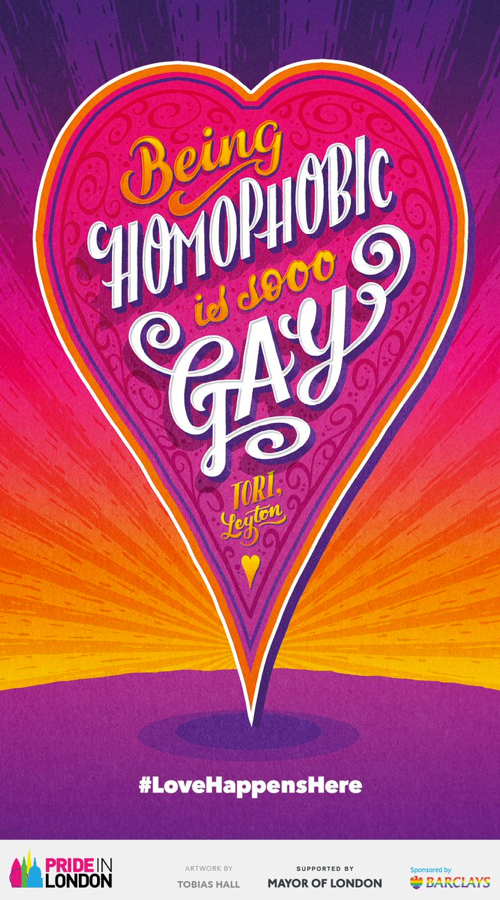 I've been trying to think of how on this sweet queer earth a poster that literally uses gay as a slur ended up being produced to promote a motherfucking Pride parade. I've come to the conclusion that these are the most likely scenarios:
Pride in London's marketing team have never actually met a queer person, ended up on the organising committee by mistake and are all too embarrassed to say anything.
Everyone involved in Pride in London has been cursed by a witch and can no longer read
This campaign was outsourced to a corporate ad agency whose clients include Sky and the Royal Navy. Its focus on straight allies is just a reflection of the fact that queer voices were never prioritised during its creation, which in itself reflects Pride's ever-deepening detachment from the community that created it as a radical act of self-love. The most common response I've seen to this poster in particular is people asking if it's a joke; the idea that this quote managed to be chosen, designed, signed off and published without anyone realising it was offensive shows that corporate Pride has officially reached a point beyond parody.
Personally, I hope it was the witch.