In the Glorious Bleachered Courtyard of Lima's Own McKinley High, The Christian God Squad's got a musical gift for Rachel Berry the Jew, 'cause Rachel loves shoe drives and highways, and if there's one thing this girl can't get herself — and that's what gift-giving is all about, really, giving something to someone they'd never give themselves — it's "the gift of song."
Santana, looking to Start Some Shit, Make a Point, and Top the Hell out of this sweet sweet 'ship, saddles up to the Motley Gang of God-Fearing Gospelites and slips a ten between the strings of Ziggy's Magical Guitar:
Santana: "I would like to send one to my girlfriend Brittany. And by that I don't mean my friend who's a girl, I mean my girlfriend-girlfriend. How's that sound?"
It sounds really good to me!

Faced with their very first Homosexual Issue in the history of McKinley's Home for Homos, God Squad tackles whether or not it's okay to sing for gay people.
Sam: "Well, three of us here are in Glee Club, so we pretty much sing to gay people all the time."
Mercedes, all Full of Judge now that she's got that mallet at hand, posits that perhaps Ziggy Whitney — after a decade underground sleeping on a stack of discarded Niagara Falls motel room Bibles — may feel singing for a-girl-who-likes-girls will perhaps destroy his life or potentially all of mankind.
Mercedes: "Yeah they say one out of every ten people are gay. And if that's true, that means that one of the 12 apostles might have been gay. And my guess is Simon, because his name is the gayest."
HAR. Sidenote, that statistic is not true. Anyhow, Sam suggests that the Bible's got a graf or two in it regarding man-on-man action and Quinn points out the Bible also forbids Jesus's followers from shopping at Wal-Mart, having periods, adopting highways, wearing tiny hats, eating chili cheese dogs, watching teevee shows about vampires, collecting beanie babies, using an entire roll of toilet paper before bothering to put it back on the spool and well, you know. To hell with all that.
"I don't wanna hurt somebody's feelings, but I also don't wanna make someone do something they're uncomfortable with," says Mercedes, which is my cue to stop giving a fuck about her present storyline, which'll make it easier to cover up that I don't give a fuck about her present storyline. Really, they've yet to sell the Sam/Mercedes connection to us as anything beyond Murphy's response to fan backlash about Mercedes's sexless sex life. I think there could be a lot there, actually, but we need to SEE IT.
Cut to —

Mercedes and Sam deciding they can't be together, due to Matthew-Crowley-Lady-Mary-Josephine-Crawley-Style reasons which enable an easy segue to Amber Riley belting "I Will Always Love You." This particular tribute made Marni (my girlfriend) cry but she didn't cry during Jennifer Hudson's version on The Grammys. If only Burt Hummel had waddled onstage in his Carhart and offered Amber a bro-hug, then Marni would've probably had a complete mental breakdown!
Mercedes kills the song, kills the hell out of that dress, and Sam's lips shine like a guppy's pucker in the shimmery shimmery moonlight. 

Let's hop on over to Chez Berry! To prep Finn for the best possible job he'll ever obtain in the theatrical arts, the Berrys gift us with some honky-tonk "dinner theater" in their Impeccably Decorated Homosexual Home as the Hummel-Hudsons fantasize about bread baskets.
Nextly, the Hummel-Hubbard-Berrys sit around a table looking alternately at one another and at the plates of food before them, saying various sentences. Hiram announces it's time for a night of romantic teenage-lovemaking, which is funny except that he's completely totally serious, so then it's gross. "Reverse psychology," we'll learn, is the tune of the song they're singing.
Finn and Rachel retreat to the upstairs sex dungeon. Then, in a manner reminiscent of the great Haviland Pekor Stillwell, Rachel launches into an elaborate nighttime ritual involving washing her face 45 times. At the ritual's end, Rachel slips into a silk thing not at all reminiscent of HPS's sleepytime sweatsuit (HPS gets very cold at night) and emerges to find Finn fuming with hot burning desire to take a shit.
Rachel suggests he do so at his own house and then the shit hits the fan, SO TO SPEAK.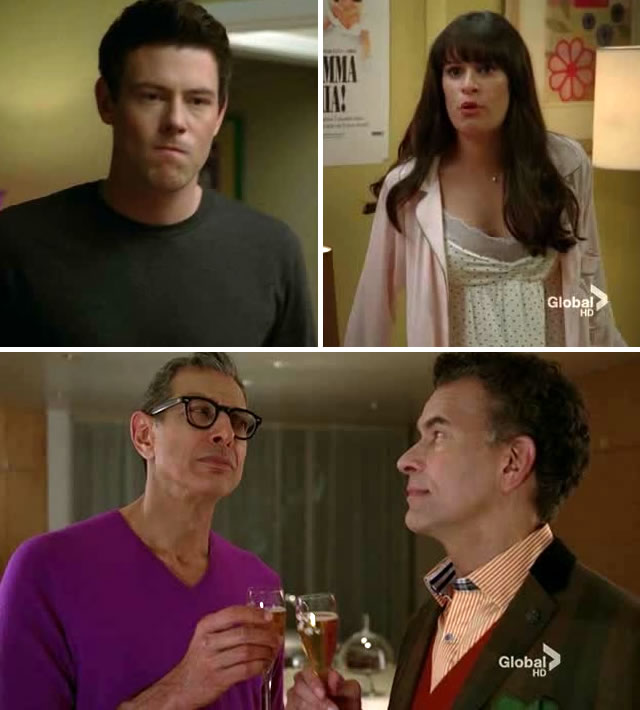 The two squabble heedlessly, Finn says she can take "getting into bed with Finn" out of her night-time routine, she yells "THANKS! That'll save me HEAPS of time!" in her head, and throws a news paper at the door, really cutely. Downstairs, the Amazing Gays toast to a plot well served.

Ah, back to the strip mall, where Kurt hits up Breadsticks for soup, salad, breadsticks and gorilla sex. It's not a gorilla though, it's Karofsky! Raise your hand if you called it. Now raise both hands. Now go "wheeeee!!" Don't you feel better now? I do.
Karofsky confesses his predictable crush on Kurt and Kurt turns him down like a gentleman, although personally I would've cut out the whole part except "but I'm with Blaine."
Kurt: "… David, you just think you love me. You don't really love me… I am so proud of you for coming so far and i want you to be happy, and you will be happy, but I'm with Blaine. And, I like you. But just as friends."
Karofsky's not dropping $5.99 on a "friend," thus he storms away from endless pasta bowls into the night, but not before he gets spotted by a Jock seemingly from Karofsky's new school. Kurt handles it seamlessly, but it's too late, the Jock already knows Karofsky is gay and will be beating Karofsky up and then attack-kissing him very soon.
"Worst Valentine's Day EVER," Karofsky thinks to himself in his furry facemask. This would never happen at the Olive Garden.

Back at Chez Berry, Rachel & Finn are happy as one lunatic and one strange boy in a bed, having resisted just about every aspect of teenage behavior by quickly calming down post-squabble and  lying in bed with all their clothes on while deciding to skip the sleepover and go have fun with their friends at breadsticks. They also look at each other and talk about each other, 'cause that's the only thing they ever talk about to each other. Each other!
Downstairs, Dads are on edge because the fighting has stopped:
Leroy: "Do you need a Xanax?"
Hiram: "I already took three. This is a stupid plan. We've never lied to her like this before. Honesty, respect, dance — those are the foundations of the Berry family.
Leroy: "These are desperate times. Every teenager does the exact opposite of what their parents tell them. I don't know where she got this idea of marriage anyway, but she's not gonna go through with it. She is a little girl with big dreams."
And then… the duo bound cheerfully announce they'll wed in time for next week's winter finale. Eeek.
And barf/NEXT!

Onto Breadsticks, completely redone to resemble Sugar's sugar walls, for the couples party seemingly transformed into a combo "couples/pity" party, as Artie, Mercedes, Quinn, Joe and Sam have somehow snuck their Forever Alonely asses into the fruity thick of this bash.
But let's not fuck around, we came here for these two:
Sugar, OWNING this episode from top to bottom, introduces The God Squad. The quartet takes the stage to congratulate themselves for not being douchebags and, more importantly, to re-focus this shengagen to the ladies of the night, Santana and Brittany.
Ziggy Whitney: "My name is Joe. Santana Lopez asked me if The God Squad would sing a song for Brittany S. Pierce. And after thinking and praying about it, I knew there was only one right answer. Absolutely. Love is love, man."
Thus God Squad launches into "Cherish," fronted by Angeltoe Quinn. The lovely ladies canoodle and Santana is just truly really unbearably adorably chivalrous and cute towards Brittany in a way she's never been before with anyone, really, ever — not other boys or other people or any anything. Like she's so soft.
God would I like to see more of this. Not to look a gift horse in the mouth while it's got its tongue in Brittany's, but I'm genuinely interested in their actual dynamic as a couple, and I fear the writing team hasn't figured it out yet themselves which's why Brittany's been nearly mute since their official get-together.
Quinn's wearing a nice pink-white-red-striped dress thing like an Easter Sunday where you're planning on getting laid, and the really good news is that Brittany's got her hair done up just right to work in the bomb factory or to, you know….
…kiss!
Brittany puts her arms around Santana and holds her, too, and then Sugar screeches "Jesus, HOLLA!" which is what we should always do when two hot girls kiss.
Then Sugar announces her special guest, The Cute and Compact Pocket Gay, back from Broadway to sing "Love Shack" with his suddenly-sexy boyfriend, Kurt, who I guess has been sitting in Breadsticks for like five hours playing chicken with The Jock.
The last number is happy, all pink and red and glittery, with balloons everywhere and poofy dresses and tiny hats. Blaine's playing the room like a drum, and Brittany's got a fishtank all up in her unit but I don't care. It was sweet, but also red is my favorite color and words can't express how pleased I am to see Kurt in jeans. Kurt looks better than he's ever looked in the history of this show in this scene, by the way.
You know what I wanted to watch after writing this recap, randomly? This!
Once more, with feelings:
Pages: 1 2See entire article on one page