This week on Glee, Santana and Brittany had full-on sex. Just kidding! I think some tongue was slipped, though.
This week on Glee, Tina and Mike sang me to sleep, Rachel gave herself a facial, Brittany pulled Santana's hand out of her pocket so she could hold it, and everybody partied at Breadsticks.
Also, Whitney Mixter guest-starred as a Rastafarian God-fearing fellow I thought I recognized from Jewish Camp until I realized The God Squad was a club focused on the latter element of the Judeo-Christian Situation.
Well what are we waiting for? Let's dive in! This week's episode was written by an actual lesbian woman!


We open in the left hand corner of the television screen, where Santana and Brittany are locked in a Jellyfish-esque embrace, communicating via secret lesbisexual-only language only dolphins and unicorns can hear (that's why Brittany doesn't really need to talk anymore, it's all about body language, like Ursula said in The Little Mermaid) but the camera almost instantly cruelly sweeps away towards Glee Club Center Stage where William's marker anxiously awaits its debut onto the white board for this week's Special Doritos Challenge.
William once more demands his drug-runner choirgirls and boyz gather funds for something I've already forgotten about, which places William squarely in third place on the list of "people who keep asking you for money" (after NPR and Autostraddle). Perhaps they need new light fixtures/haircuts or rollerblades to visit The International National Regional Sectional Partial Highlights Festival.
Thank G-d, William's financial woes are promptly silenced by a wad of cash from Sugar's purse.
Then! Sugar, with a gigantic red bow on her tiny head, dressed like a drunk Valentine's Day package on a Bahamas Cruise, announces she's throwing a HUGE Valentine's Day Party at The Sugar Shack for Glee Club and ~25 extras.
Sugar: "You have to bring a date, no single people allowed. They're sad and boring and they don't exist in my world."
Sugar then inexplicably spends the episode's entirety vacillating romantically between the two saddest, boringest boys in school. Regardless, Sugar is clearly the black horse lightbeam of this unfortunate series.
William announces they'll be singing "world's greatest love songs" this week. SPOILER ALERT they forgot "Take Me Anywhere."
Then Puck smears chocolate all over his face.

Cut to the Grand Theater Auditorium, where Rachel and a man-shaped chunk of peet moss have been summoned by, SURPRISE!, Rachel's Dads, Hiram & Leroy! Inspired by McKinley's lenient instrument rental and parental visitation policies, Hiram and Leroy are wheeling in on a piano, chanting "Here comes the Bride!" as Beauty and the Beast lumber to the stage.
Hiram and Leroy — who I love, I mean, they're gerat — volley some Clever Gay Jokes as Finn fidgets in the presence of so much homosexual awesome, wearing The Look dumb boyfriends get when they realize their girlfriends' smart family was probably expecting their daughter to marry someone smart/talented/interesting. This is problematic 'cause Finn spent the entire morning wondering whatever happened to Anna Kournikova and doesn't know any of the words to any of the songs and thinks Into the Woods is the Broadway adaptation of Stand By Me.
The Dads have invited the Humbert-Hummels to their tastefully designed abode for everybody's favorite Family Holiday, Valentine's Day, which sounds like an unfortunate idea. Surely they can't truly be okay with this. Nobody with a blazer that impeccably tailored could approve of Finn?
Anyhow, the median age of first marriage for a woman in Ohio (and in the U.S. as a whole) is 26, by the way, which means Rachel's SO far ahead of her time that one must really ask oneself, "what the hell is she thinking?" and so thank GOD Kurt's emerged from harpy hell into homo heaven this episode to do just that. NOT YET, but later.
Locked in embrace, Hiram gives Finn a fleeting "Really? You? You?!!" glance and the scene cuts before Finn pees/cums in his pants.

We cut to God's Glee Club, The God Squad, featuring three members of The Omnipresent Glee Club and Ziggy Marley.
While Mercedes and Sam passive-aggressively project everything about everything onto their own hearts/minds, the "meeting" addresses pertinent issues like "re-introducing Quinn into the fold."
Quinn: "When I was at my lowest, I turned to pussy."
Just kidding, she said "prayer." But she said it in a way that made it sound like "pussy," which is a word I actually LOATHE and would never say out loud, but moving on — apparently prior to this very moment, God Squad was a duo-dominated situation as it seems Joseph Hart, the tattooed sandaled vaguely creepy-looking guy with dreadlocks, is also a new member.
Sam suggests they perform Singing Telegrams to raise money for a "shoe drive" and "adopting a highway," the latter of which could work out in my favor as I believe my "blankie," which fell out of my car during a 2001 highway accident in the Lima area, has yet to be recovered. Yes I was 20 years old at the time, but ENOUGH ABOUT ME and my need to always stick my hand in something, let's move on!
Attempting to target the source of this program's latest unnecessary casting atrocity, I checked out IMDB to discover SURPRISE that Ziggy Whitney, played by a man named Samuel, is a pick from The Glee Project, which is up there with "inventing Finn" on Ryan Murphy's list of Life Mistakes. I even watched a Glee Project clip on IMDB in which Samuel and another contestant have the following exchange:
Dude on bed: "So Sam. What are you gonna do if you don't win?"
Samuel: "If I don't win? I'm gonna bug the living shit out of Robert until I get a role on Glee. Seriously. That's all I wanna do, I've decided I'm gonna be on Glee before I die, so that's what I'll do."
So I guess this was inevitable.

Onto the Melody Cafeteria, aka the "Mel Caf," where the chitlins are popping pop chips while dishing out the deets of the day. "I have a secret admirer," says Kurt, eating a delicious Pop Chip. "I'm gonna fuck a bunch of sorority girls, who actually are younger than me," says Puck, a Pop Chip swimming gallantly into his gullet.
"It's a gorilla!" says Kurt, pop-chips-popping, as a Gorilla delivers another secret Valentine. "That's not weird at all!" Tina exclaims from her far corner of the Plotless Desert. Then Tina eats a Pop Chip.
"All these weird Valentine's Day balloons and stuffed animals  are from," Kurt eats a pop chip, "Blaine!" Apparently Blaine has been coordinating bestiality-themed messages to his lady-love all the way from his sick bed, 'cause unlike last episode, Kurt is no longer able to cross the force-field into Blaine's Bed of Sorrow and they can only communicate via primate.
"I wanna shimmy into Sugar's Sugar Walls!" says Irish Breakfast, mashing a Pop Chip into his face.
"NO I DO!" says Artie, tossing a bag of Pop Chips onto the ground, wheeling over them, and then stuffing his face in the bag to eat them and get a helium-esque high. "I have a four leaf-clover!" says Irish Breakfast. "AND I LOVE POP CHIPS!"
"WE ALL LOVE POP CHIPS!" The children exclaim, and then they all throw food in each other's faces and die.

Back to the Hallowed Hallways of The McKinley School for Rachel and Finn, where Brittany approaches her lady-love with an open laptop and a look on her face you can imagine a Young Brittany giving to her mother as Brittany announced that she'd finished all her vegetables.
It's a present! Santana beams brightly as Brittany hands her a whole entire laptop! Santana is confused about why she's being gifted a laptop but —
Brittany: "It's a playlist. With all the songs that I hear in my head when I'm with you or when I'm thinking about you. I wanted to make you a CD for Valentine's Day but this is as far as I got without any help, so… Oh and I made you a cover."
Clearly this calls for Santana to cart that shit around on her shoulder, boom-box-in-the-80s/90s-style, blasting her love from the proverbial rooftops.
See, we told you that if you ever let us see them, it'd be so sweet all your teeth would fall out. "Aw, Brittany," Santana coos, leaning in for a kiss –
—INTERRUPTED!
Smear to The Office, where Santana and Brittany are getting that oh-so-familiar Lesbian Double-Standard Shakedown which I hope all of you here have had the extreme pleasure of experiencing first-hand. (THAT'S WHAT SHE SAID)
Santana: "This is such bullcrap! Why can't Brittany and I kiss in public, because we're two girls?"
Figtown: "Please don't make this about your sapphic orientation. This is about public displays of affection. PDA simply has no place in the sacred halls of McKinley High."
[Unlike a cheer coach soliciting sperm donations from seventeen-year-olds, obviously, which has a place and that place is The Glee Room.]
Regardless, Santana has this shit on 14 kinds of lock — in a manner reminiscint of Bette Porter, what's so fucking fantastic about Santana's Sapphic orientation is that she's just as eager to apply her quick tongue to combatting injustice and hypocrisy as she is to insulting Rachel Berry's alleged facial hair. That's not all she's willing to commit her tongue to however HAY-O
Figtown: "We've had complaints!"
Santana: "About us? When?"
Figtown: "Most recently, yesterday, 12:16 PM."
Flashback to the teaser-tease:
Santana: "That? Our lips barely even grazed! And by the way, did you get any complaints about that hideous display that started at 12:17 p.m. and lasted for several uncomfortable minutes?"
Figtown: "Believe me, I'd much rather see you and Satana kiss than that so-called Finchel, but if a student files a complaint because for religious reasons –"
Satana: "Oh, great. So it was some Bible-Thumper who complained."
Figtown: "Ms.Lopez, I'm sorry, but I'm trying to keep this school from turning into a volatile powder keg."
Santana: "I'm sorry too, 'cause all I wanna be able to do is kiss my girlfriend but I guess no one can see that because there's such an insane double standard in this school."
It's so meta I can barely stand it — but also, awesome.


Back at the Plentifully-Chaired Room of Glee, Rachel's got another announcement up her skirt to bestow upon the class — "we're getting married!" she gleefully exclaims. "What the fuck?" the children say with their eyes, mouths, and noises of disapproval. "This is like when Shane hooked up with EZ Girl," Santana says with her eyebrows.
Rachel, unaware that just because she's convinced herself this isn't the worst idea ever doesn't mean she can convince anyone else, continues with pep in her out-of-step-step while Kurt is like, "ew" and Quinn is like "um, as I said in the bathroom last week, HELL TO THE NO."
Tina volunteers to "be there" because she "knows what being in love feels like," which is sign #1 that she actually doesn't know what being in love feels like because it doesn't feel like wanting to get married at the Justice of the Peace to a Rugby Shirt with legs.
Hey Rachel #2 from The Real L Word, what do you think about Finn & Rachel getting married?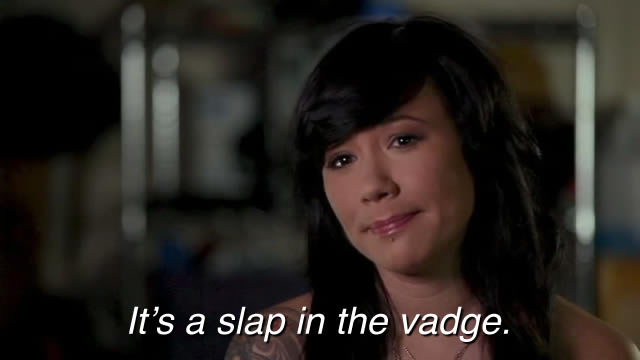 Exactly. Artie jumps into one of the greatest love songs of all time, Mario's "Let Me Love You" [what?], but lest we lie to ourselves that I give even half a fuck about this storyline, let's pop off!


In the Glorious Bleachered Courtyard of Lima's Own McKinley High, The Christian God Squad's got a musical gift for Rachel Berry the Jew, 'cause Rachel loves shoe drives and highways, and if there's one thing this girl can't get herself — and that's what gift-giving is all about, really, giving something to someone they'd never give themselves — it's "the gift of song."
Santana, looking to Start Some Shit, Make a Point, and Top the Hell out of this sweet sweet 'ship, saddles up to the Motley Gang of God-Fearing Gospelites and slips a ten between the strings of Ziggy's Magical Guitar:
Santana: "I would like to send one to my girlfriend Brittany. And by that I don't mean my friend who's a girl, I mean my girlfriend-girlfriend. How's that sound?"
It sounds really good to me!

Faced with their very first Homosexual Issue in the history of McKinley's Home for Homos, God Squad tackles whether or not it's okay to sing for gay people.
Sam: "Well, three of us here are in Glee Club, so we pretty much sing to gay people all the time."
Mercedes, all Full of Judge now that she's got that mallet at hand, posits that perhaps Ziggy Whitney — after a decade underground sleeping on a stack of discarded Niagara Falls motel room Bibles — may feel singing for a-girl-who-likes-girls will perhaps destroy his life or potentially all of mankind.
Mercedes: "Yeah they say one out of every ten people are gay. And if that's true, that means that one of the 12 apostles might have been gay. And my guess is Simon, because his name is the gayest."
HAR. Sidenote, that statistic is not true. Anyhow, Sam suggests that the Bible's got a graf or two in it regarding man-on-man action and Quinn points out the Bible also forbids Jesus's followers from shopping at Wal-Mart, having periods, adopting highways, wearing tiny hats, eating chili cheese dogs, watching teevee shows about vampires, collecting beanie babies, using an entire roll of toilet paper before bothering to put it back on the spool and well, you know. To hell with all that.
"I don't wanna hurt somebody's feelings, but I also don't wanna make someone do something they're uncomfortable with," says Mercedes, which is my cue to stop giving a fuck about her present storyline, which'll make it easier to cover up that I don't give a fuck about her present storyline. Really, they've yet to sell the Sam/Mercedes connection to us as anything beyond Murphy's response to fan backlash about Mercedes's sexless sex life. I think there could be a lot there, actually, but we need to SEE IT.
Cut to —

Mercedes and Sam deciding they can't be together, due to Matthew-Crowley-Lady-Mary-Josephine-Crawley-Style reasons which enable an easy segue to Amber Riley belting "I Will Always Love You." This particular tribute made Marni (my girlfriend) cry but she didn't cry during Jennifer Hudson's version on The Grammys. If only Burt Hummel had waddled onstage in his Carhart and offered Amber a bro-hug, then Marni would've probably had a complete mental breakdown!
Mercedes kills the song, kills the hell out of that dress, and Sam's lips shine like a guppy's pucker in the shimmery shimmery moonlight. 

Let's hop on over to Chez Berry! To prep Finn for the best possible job he'll ever obtain in the theatrical arts, the Berrys gift us with some honky-tonk "dinner theater" in their Impeccably Decorated Homosexual Home as the Hummel-Hudsons fantasize about bread baskets.
Nextly, the Hummel-Hubbard-Berrys sit around a table looking alternately at one another and at the plates of food before them, saying various sentences. Hiram announces it's time for a night of romantic teenage-lovemaking, which is funny except that he's completely totally serious, so then it's gross. "Reverse psychology," we'll learn, is the tune of the song they're singing.
Finn and Rachel retreat to the upstairs sex dungeon. Then, in a manner reminiscent of the great Haviland Pekor Stillwell, Rachel launches into an elaborate nighttime ritual involving washing her face 45 times. At the ritual's end, Rachel slips into a silk thing not at all reminiscent of HPS's sleepytime sweatsuit (HPS gets very cold at night) and emerges to find Finn fuming with hot burning desire to take a shit.
Rachel suggests he do so at his own house and then the shit hits the fan, SO TO SPEAK.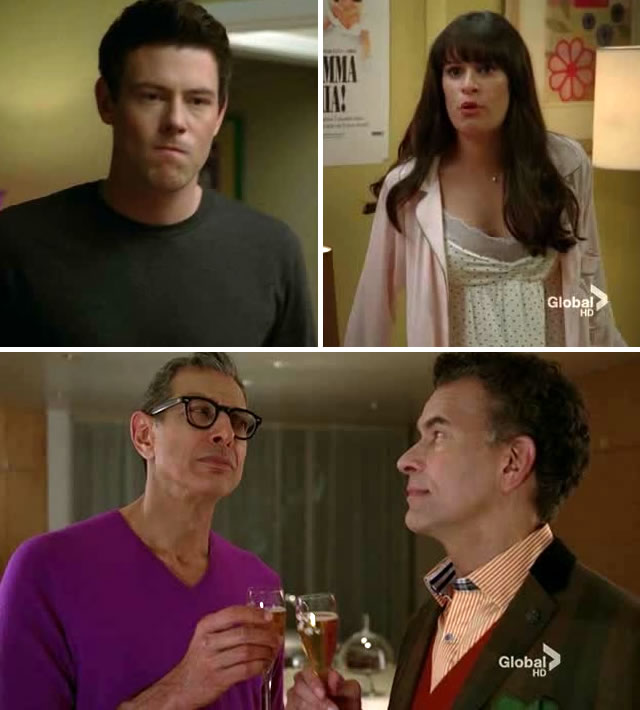 The two squabble heedlessly, Finn says she can take "getting into bed with Finn" out of her night-time routine, she yells "THANKS! That'll save me HEAPS of time!" in her head, and throws a news paper at the door, really cutely. Downstairs, the Amazing Gays toast to a plot well served.

Ah, back to the strip mall, where Kurt hits up Breadsticks for soup, salad, breadsticks and gorilla sex. It's not a gorilla though, it's Karofsky! Raise your hand if you called it. Now raise both hands. Now go "wheeeee!!" Don't you feel better now? I do.
Karofsky confesses his predictable crush on Kurt and Kurt turns him down like a gentleman, although personally I would've cut out the whole part except "but I'm with Blaine."
Kurt: "… David, you just think you love me. You don't really love me… I am so proud of you for coming so far and i want you to be happy, and you will be happy, but I'm with Blaine. And, I like you. But just as friends."
Karofsky's not dropping $5.99 on a "friend," thus he storms away from endless pasta bowls into the night, but not before he gets spotted by a Jock seemingly from Karofsky's new school. Kurt handles it seamlessly, but it's too late, the Jock already knows Karofsky is gay and will be beating Karofsky up and then attack-kissing him very soon.
"Worst Valentine's Day EVER," Karofsky thinks to himself in his furry facemask. This would never happen at the Olive Garden.

Back at Chez Berry, Rachel & Finn are happy as one lunatic and one strange boy in a bed, having resisted just about every aspect of teenage behavior by quickly calming down post-squabble and  lying in bed with all their clothes on while deciding to skip the sleepover and go have fun with their friends at breadsticks. They also look at each other and talk about each other, 'cause that's the only thing they ever talk about to each other. Each other!
Downstairs, Dads are on edge because the fighting has stopped:
Leroy: "Do you need a Xanax?"
Hiram: "I already took three. This is a stupid plan. We've never lied to her like this before. Honesty, respect, dance — those are the foundations of the Berry family.
Leroy: "These are desperate times. Every teenager does the exact opposite of what their parents tell them. I don't know where she got this idea of marriage anyway, but she's not gonna go through with it. She is a little girl with big dreams."
And then… the duo bound cheerfully announce they'll wed in time for next week's winter finale. Eeek.
And barf/NEXT!

Onto Breadsticks, completely redone to resemble Sugar's sugar walls, for the couples party seemingly transformed into a combo "couples/pity" party, as Artie, Mercedes, Quinn, Joe and Sam have somehow snuck their Forever Alonely asses into the fruity thick of this bash.
But let's not fuck around, we came here for these two:
Sugar, OWNING this episode from top to bottom, introduces The God Squad. The quartet takes the stage to congratulate themselves for not being douchebags and, more importantly, to re-focus this shengagen to the ladies of the night, Santana and Brittany.
Ziggy Whitney: "My name is Joe. Santana Lopez asked me if The God Squad would sing a song for Brittany S. Pierce. And after thinking and praying about it, I knew there was only one right answer. Absolutely. Love is love, man."
Thus God Squad launches into "Cherish," fronted by Angeltoe Quinn. The lovely ladies canoodle and Santana is just truly really unbearably adorably chivalrous and cute towards Brittany in a way she's never been before with anyone, really, ever — not other boys or other people or any anything. Like she's so soft.
God would I like to see more of this. Not to look a gift horse in the mouth while it's got its tongue in Brittany's, but I'm genuinely interested in their actual dynamic as a couple, and I fear the writing team hasn't figured it out yet themselves which's why Brittany's been nearly mute since their official get-together.
Quinn's wearing a nice pink-white-red-striped dress thing like an Easter Sunday where you're planning on getting laid, and the really good news is that Brittany's got her hair done up just right to work in the bomb factory or to, you know….
…kiss!
Brittany puts her arms around Santana and holds her, too, and then Sugar screeches "Jesus, HOLLA!" which is what we should always do when two hot girls kiss.
Then Sugar announces her special guest, The Cute and Compact Pocket Gay, back from Broadway to sing "Love Shack" with his suddenly-sexy boyfriend, Kurt, who I guess has been sitting in Breadsticks for like five hours playing chicken with The Jock.
The last number is happy, all pink and red and glittery, with balloons everywhere and poofy dresses and tiny hats. Blaine's playing the room like a drum, and Brittany's got a fishtank all up in her unit but I don't care. It was sweet, but also red is my favorite color and words can't express how pleased I am to see Kurt in jeans. Kurt looks better than he's ever looked in the history of this show in this scene, by the way.
You know what I wanted to watch after writing this recap, randomly? This!
Once more, with feelings:
Pages: 1 2See entire article on one page