Hey-o, did you read a lot of historical fiction as a child? Do you like tough women handling heavy machinery in pants and sometimes changing into skirts afterwards but sometimes just keeping the pants on? Do you like lesbians? Then you'll LOVE Bomb Girls, a sometimes-cheesy show about Canadian women factory workers during World War II with heaps of feminist and homosexual content. You might also love the fancy slick interactive educational website, another high-production-value element of the show my Canadian girlfriend says is unique for Canadian-produced television.

The show is drawing comparisons to Mad Men but I'm not sure why — the culture this program blows open, despite its color scheme, is nothing like Mad Men's slick world of sales and smoky boozey lunches. Mad Men is about the men with power who want more power and the women who surround them. Bomb Girls is about women with no power begging for a place on the production line because the men who traditionally surround them have been shipped overseas. The show's description:
"Set in the 1940s, Bomb Girls tells the remarkable stories of the women who risked their lives in a munitions factory building bombs for the Allied forces fighting on the European front. The series delves into the lives of these exceptional women – peers, friends and rivals – who find themselves thrust into new worlds and changed profoundly as they are liberated from their home and social restrictions."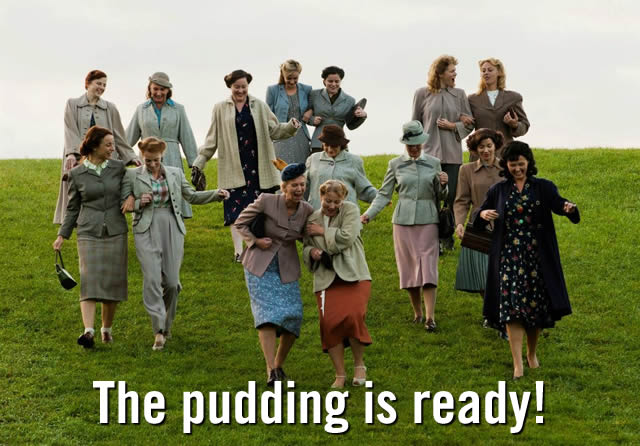 Also Mad Men is a tightly-written, carefully crafted program. Bomb Girls is fun and entertaining with great pacing, and I love the fuck out of it, but at times the combination of oft-hammy dialogue and historical exposition gives it a distinctly 9th Grade American History feeling. Coincidentally, I loved Ninth Grade American History (or "Grade Nine" as they say it in Canada). If you liked Anne of Green Gables, you'll probably like Bomb Girls. (I did and I do.)
That being said, the writing appears to be getting better as the season zips along — the first three episodes have already aired, the fourth comes on tonight at 8 — and if you're anything like me, you're gonna be glued to the screen in anticipation of the moment when the homosexuality buzzing so potently in the show's subtext blows right open (like a bomb!).
The show focuses primarily on four different women.
Kate Andrews (Charlotte Hegele) is the demure, agreeable and secretly tough girl with a mysterious background — her real name isn't Kate Andrews, and the show opens with the scene of Kate fleeing her home, with her mother's blessing, as her fanatically religious father rants and screams at her. I've gone ahead and assumed that she's a lesbian and that's why she had to leave home forever, though this fact has yet to be absolutely confirmed. Also, she enjoys singing to herself in large empty rooms while carrying a clipboard.
Next up is Gladys Witham (Jodi Balfour), a wealthy privileged woman engaged to a wealthy privileged man who is relatively horrified that his fiancee has talked her way out of the office work she was assigned to and onto the factory floor. Her whole arc is a common trope, but it works, and Balfour does a winning job with the material. She looks a lot like Mary Louise Parker sometimes and I think wears real fur.
Then there's Betty McRae (Ali Liebert), the toppy-sexy-uber-dyke-lezzer-lezoholic who never met a pantsuit she didn't like. She's tough and smart and overall seems like the kind of girl who could fix your cabinet or save you from a shark attack without flinching. She's never explicitly declared her homosexuality but it's way obvious. She's protective of Kate, kinda, and the evolution of their relationship is the aspect of the show I'm most prominently obsessed with.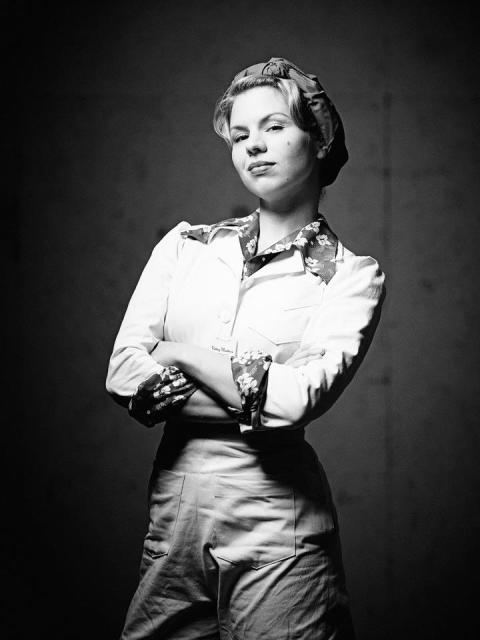 Betty and Kate live in a dorming house for factory workers which appears, to my totally biased eye, to be chock-full of lesbians.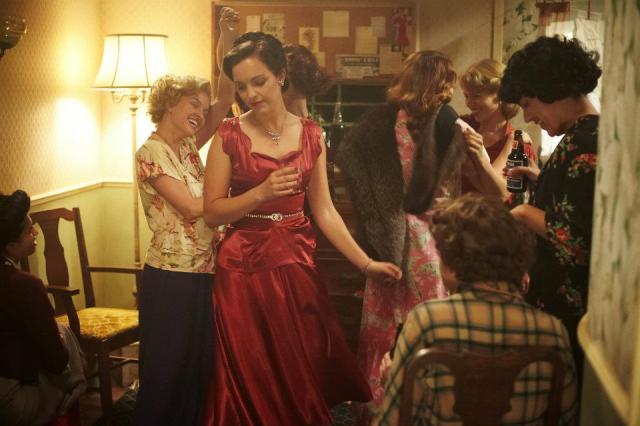 Meg Tilly, who I like a lot and have met a few times, plays Lorna Corbett, the uptight leader of the factory girls. (Tilly was a big star in the 80s, you may also recall her sister Jennifer Tilly from Bound, among other films.) Tilly is patriotic to a cloying fault though the scenes with her at home with her husband do a lot to illustrate where, exactly, her discontented arbitrarily control-freakish ways come from — she seems starved, really, for love. Unfortunately there are no signs of her becoming a lesbian.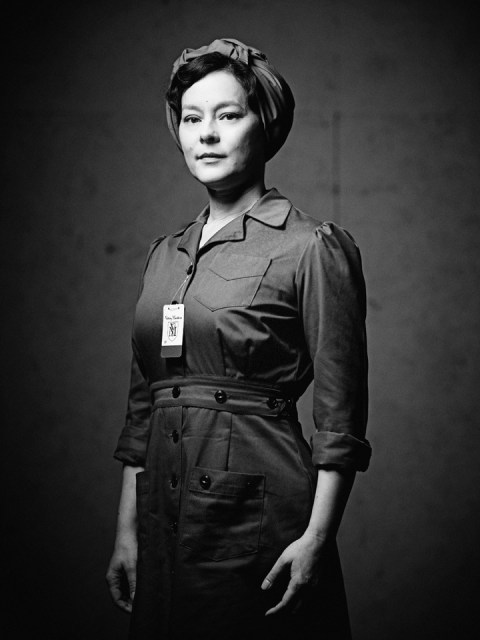 Although the 'Rosie the Riveter' period is often a topic of historical fiction, Bomb Girls seems to be daring enough to tell the untold story, too — like how this was a fascinating time period in LGBT history. During the War, lesbian women were granted unique privilege to actually exist as whole people, and the sudden availability of factory work gave women the opportunity to be self-sufficient and live with other women without scrutiny.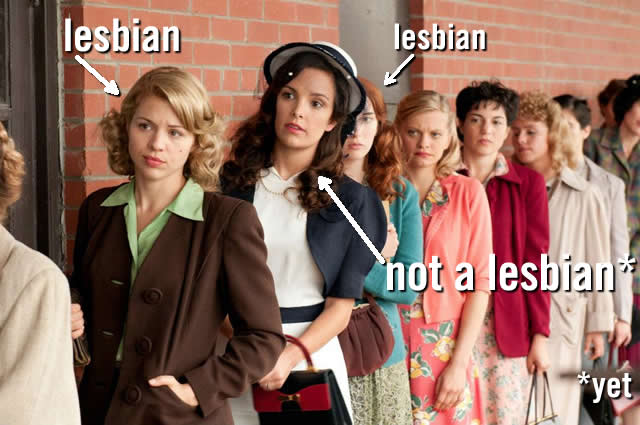 Although I'm not familiar with the Canadian Lesbo Underground, I know that in America during World War II, it was no longer as scorned upon for women to go places unaccompanied by a man, and unlike the elitist University Option many upper-middle-class gay women chose to escape domestic heterosexual life, the factories were often open to working class women as well. When looking at the Gay Rights movement as a whole, it's easy to overlook the specifically gendered way in which gay men and gay women were oppressed. Many women of all sexualities craved autonomy, and this desire uniquely united a certain group of women (read: white and middle class), whether that desire for autonomy played itself out in 'wanting a career' or 'wanting a relationship with another woman.' (Or both.)
This is the first time I've seen this phenomenon addressed in such depth in a show for mainstream audiences. But even more refreshing than that is the fact that this is a show entirely about women. It passes the Bechdel test about every two minutes.
The Bomb Girls facebook page says tonight's episode "is going to knock you off your feet" and contain "SERIOUS twists." I'm pretty sure that means Betty and Kate are going to make out. Right? There's only one way to find out…