Last night President Obama, wearing a tie that I personally think outshone either John Boehner's or Joe Biden's, addressed the nation and discussed where it's been for the last year, and where it's going in the year ahead. (Sidenote: Boehner's facial expression throughout the address leads one to believe that his pet gerbil may have died shortly beforehand, or perhaps that he was passing a kidney stone.) It's theoretically possible that this could be Obama's last State of the Union if he loses the election in November; as such, it also functioned as an advertisement for him continuing his presidency. Sort of an "If This Was Still Your President, You'd Be Doing This Stuff" billboard.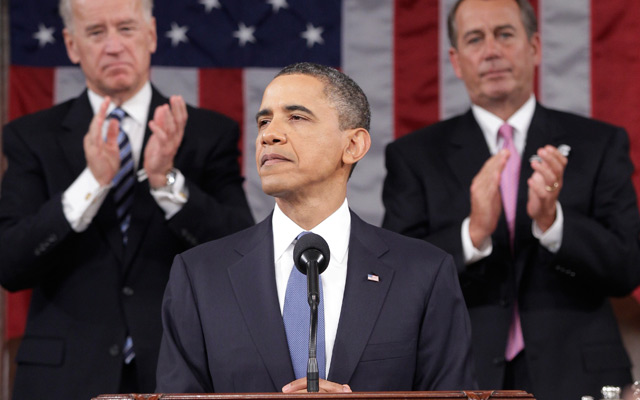 While the SOTUS included requisite appeals for gratitude to our troops and an extended reminder of Osama bin Laden's death that seemed like it was aimed at proponents of the war on terror, it also talked at great length about relief for teachers, students, and homeowners, as well as a series of references to "everyone playing by the same rules" that seemed to call out to the Occupy Wall Street protests.
A quick recap:
+ The economy is getting better, and we're working on the problems that caused the recession. "In the last 22 months, businesses have created more than three million jobs. Last year, they created the most jobs since 2005. American manufacturers are hiring again, creating jobs for the first time since the late 1990s. Together, we've agreed to cut the deficit by more than $2 trillion. And we've put in place new rules to hold Wall Street accountable, so a crisis like that never happens again." Part of fixing the economy is keeping jobs in America. "Tonight, my message to business leaders is simple: Ask yourselves what you can do to bring jobs back to your country, and your country will do everything we can to help you succeed."
+ Education! That includes encouraging people to get more training in science and technology, give schools the resources to get and keep good teachers, stop interest rates on student loans from doubling, and reward universities that keep tuition down (while punishing those who don't). Obama also wants to make it mandatory to attend high school until age 18 or graduation.
+ Immigration reform and the DREAM Act — while he didn't actually say the words "DREAM Act," he did talk about how people who came to the country as children and want to get an education and contribute to the nation should be provided with a path to citizenship.
+ Energy! Mostly he really wants to develop natural gas as an energy source, largely so we rely less on foreign oil. Also, renewable energy use! That sounds like a good thing, right? Obama has promised to " allow the development of clean energy on enough public land to power three million homes" and also says that the Department of Defense is making one of the "largest commitments to clean energy in history" by purchasing a lot of it.
+ Hey homeowners this one's for you: in the most late-night-TV-commercial moment of the address, Obama promised that you can "save about $3,000 a year on their mortgage, by refinancing at historically low interest rates." That sounds neat!
+ Military! "Yes, the world is changing; no, we can't control every event. But America remains the one indispensable nation in world affairs – and as long as I'm President, I intend to keep it that way. That's why, working with our military leaders, I have proposed a new defense strategy that ensures we maintain the finest military in the world, while saving nearly half a trillion dollars in our budget. To stay one step ahead of our adversaries, I have already sent this Congress legislation that will secure our country from the growing danger of cyber-threats."
+ Gays! Just kidding he mostly only mentioned us sort of in passing when he talked about the military and how "When you put on that uniform, it doesn't matter if you're black or white; Asian or Latino; conservative or liberal; rich or poor; gay or straight." Colonel Ginger Wallace, an openly gay member of the Air Force, did sit with the First Lady during the address, though!
Last but not least, the GIANT AMORPHOUS CONTROVERSIAL GRASSROOTS MOVEMENT ELEPHANT IN THE ROOM: Occupy Wall Street! While I do not believe the President said those words at any point exactly (although he does say "98%", which, is that an intentional joke?), here are some words he did say:
"I will not go back to the days when Wall Street was allowed to play by its own set of rules… So if you're a big bank or financial institution, you are no longer allowed to make risky bets with your customers' deposits. You're required to write out a "living will" that details exactly how you'll pay the bills if you fail – because the rest of us aren't bailing you out ever again. And if you're a mortgage lender or a payday lender or a credit card company, the days of signing people up for products they can't afford with confusing forms and deceptive practices are over… We will also establish a Financial Crimes Unit of highly trained investigators to crack down on large-scale fraud and protect people's investments. Some financial firms violate major anti-fraud laws because there's no real penalty for being a repeat offender… So pass legislation that makes the penalties for fraud count. And tonight, I am asking my Attorney General to create a special unit of federal prosecutors and leading state attorneys general to expand our investigations into the abusive lending and packaging of risky mortgages that led to the housing crisis…
…we need to change our tax code so that people like me, and an awful lot of Members of Congress, pay our fair share of taxes. Tax reform should follow the Buffett rule: If you make more than $1 million a year, you should not pay less than 30 percent in taxes. And my Republican friend Tom Coburn is right: Washington should stop subsidizing millionaires. In fact, if you're earning a million dollars a year, you shouldn't get special tax subsidies or deductions. On the other hand, if you make under $250,000 a year, like 98 percent of American families, your taxes shouldn't go up. You're the ones struggling with rising costs and stagnant wages. You're the ones who need relief. Now, you can call this class warfare all you want. But asking a billionaire to pay at least as much as his secretary in taxes? Most Americans would call that common sense… I've talked tonight about the deficit of trust between Main Street and Wall Street. But the divide between this city and the rest of the country is at least as bad – and it seems to get worse every year. Some of this has to do with the corrosive influence of money in politics. So together, let's take some steps to fix that."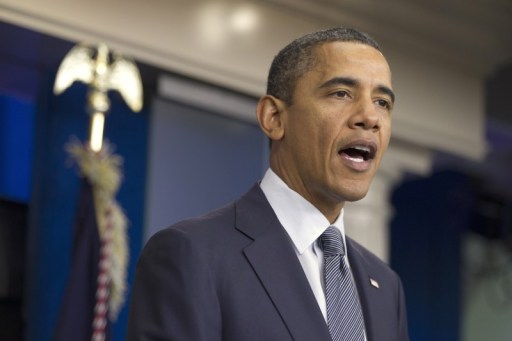 While this stops short of, say, "picking a side," Obama does choose his State of the Union address, one of the most important interactions with the American people he'll have all year, to come down firmly on the side of higher taxes for the wealthy and place the blame on Wall Street for a variety of national problems.  Has the Occupy movement gained enough momentum (or at least sympathy) that Obama's move will endear him to voters? Unclear as of right now! It has been called a "populist challenge" at least once by now, however, so there's that.
The rest of the address largely discussed similarities between the character of the United States with the bravery of soldiers, Osama bin Laden's death, and the American flag. If you'd like to read a full transcript, complete with a comments section, the internet is your oyster. Overall, though, it would seem that Obama is promising us a foreseeable future that's in keeping with his past performance — that of a moderate with a commitment to bipartisanship, who does't necessarily espouse liberalism but is acutely aware of what the people are going through. Romney told his supporters that "the detachment between reality and what he says is so extraordinary, I was just shaking my head at the TV last night." Conveniently, it was also revealed this week that Romney and his wife made $40 million in income over the last two years,  and were taxed on a significantly lower percentage of their income than they would have been in a lower tax income bracket. He went on to accuse Obama of hypocrisy and disingenuousness. Between that and the State of the Union, you have what I suspect is a fairly accurate picture of the next ten months or so.