This is a recipe that I remember in a sudden flash of insight 3-4 times a year when I want a quick, delicious weeknight meal. Every time I make it, I am reminded that it is not actually all that quick or easy; having to roast the veggies and then cook them in a pan afterwards is sort of irritating. But when I eat it, it's so delicious that I don't mind at all, and thus the cycle of life goes on. This is really good and also vegan and gluten free! Also though really good. That's the important part.
Indian Spiced Cauliflower and Potatoes
via Smitten Kitchen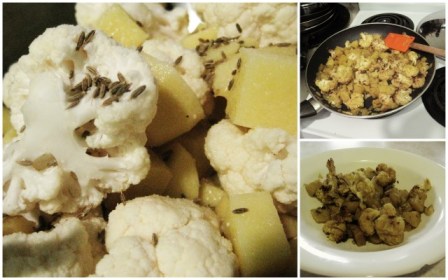 Ingredients:
1 (1 3/4-lb) head cauliflower, cut into 3/4-inch-wide florets
1 1/4 lb Yukon Gold potatoes, peeled and cut into 1/2-inch cubes
5 Tbl vegetable oil
1/2 tsp cumin seeds
3/4 tsp salt
1 medium onion, finely chopped
2 garlic cloves, finely chopped
2 tsp minced fresh jalapeño, including seeds
2 tsp minced peeled fresh ginger
1 tsp ground cumin
1/2 tsp ground coriander
1/4 tsp turmeric
1/4 tsp cayenne
1/2 cup water
1. Roast the cauliflower and potatoes! Toss them in a bowl with 2 tbsp oil, cumin seeds, and some salt. Then put them in a 475-degree oven for 20-30 minutes, stirring every 10 minutes or so.
2. 20 minutes or so after you put the vegetables in, heat a large pan with the rest of the oil (really large, like this just needs to hold a whole lot of stuff, like all of the cauliflower and potatoes) and then cook the onion, garlic, ginger, and jalapeño for 8-10 minutes, or until the onion is translucent and soft. Add the rest of the spices and a 1/2 tsp salt and stir for a few more minutes.
3. Add the 1/2 cup of water, and scrape to get all of the cooked bits off the bottom of the pan. Add the roasted vegetables from the oven, and stir to cover with the sauteed onions and spices. Cover and cook for a few more minutes, and then eat with basmati rice or something else delicious. Mazel tov!