Seriously whoever wrote this episode must have been as stoned as we get to watch this episode and I mean that in all the best and worst ways possible. Basically the episode just flipped back and forth between "killer musical numbers with paradisiacal costumery/choreography" and "really profoundly inane/repetitive and sometimes racially insensitive conversations." Oh and, a lot of this: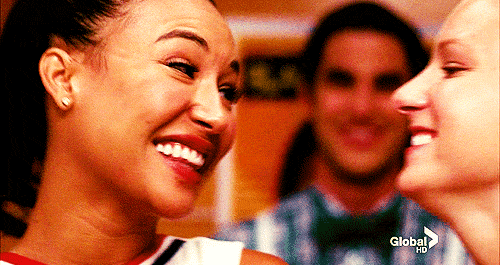 But just when you thought you couldn't listen to someone tell someone else to be who they really are because who they are is beautiful ONE MORE TIME (AHEM Aesop Amnesia), someone fucking broke out in song and you wet your pants.
(Sidenote: I do not feel confident about the quality of this recap or my ability to make it better. Just close your eyes and remember how funny I USUALLY am.)


We open in Booty Camp.
Santana's back in Glee Club, because, Duh, this is Glee.
Santana: "I've re-sworn my allegiance to the Glee Club. Without telling Coach Sue."
Mercedes shows up late and promptly ralphs in the garbage. Usually when a woman throws up on a teevee show, it means she's pregnant, but it seems more likely that Mercedes is just so full of passion for her music that there's no room for a 6-inch party sub.
Satana: "Why are you babying her? She can't do three steps without puking because she had a Quiznos before she showed up in this joint."
Mercedes: "Mr. Schue, you have us scheduled to the second right now. With school, Glee Club and booty camp, when else am I supposed to eat?"
Santana: "When the rest of us do."
Mercedes: "Oh, like you eat!"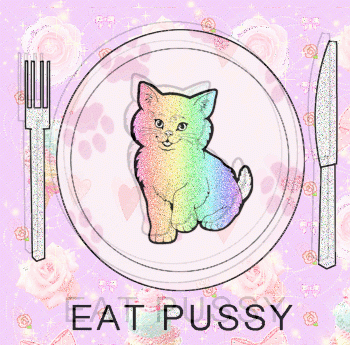 Mercedes insists she's doing her best but Mr.Shue reminds her that it only gets better if she gets better.
Will.i.am: "It's not about doing your best anymore, it's about doing better."
Maybe Mercedes wouldn't roll her eyes so much if Will.i.am didn't talk like that.

There's this pretty significant Will/Emma storyline this episode that I'm going to totally ignore. Except I would like to share this with you:

Mike and his Overbearing Asian Father summon a parent-teacher conference to discuss Mike's apparent drug problem as evidenced by his A- on the chem test, for which OAF blames Mike's girlfriend and other indoor sports.
Overbearing Asian Father: "My son got an A- on his chemistry test. An A- is an Asian F."
Figgins is pretty sure Mike's not hooked on Sudafed, but he agrees that Tina is bad news:
Figgins: "Tina Cohen-Chang and her vampire ways have no place in this school."
Cut to Tina zooming around McKinley like a bloody bandersnatch out of hell, hypnotizing The Principal into excusing her from gym class.
But dancing is what Mike loves! Dancing is his heart, not Harvard! However if the career of Mike's doppelganger Harry Shum Jr is any indication, Mike's got a good shot at making a career of this ish, maybe even starring in a major prime-time television program despite a relative inability to express any kind of emotional range.
Overbearing Father has no time for such things. Only one thing is good enough for his Asian Son and that thing is The H-Bomb.
Fun fact: did you know that the practice of colleges judging applicants based on "character" started at Harvard in the 1920s because they needed to find a sneaky way to weed out the Jews? In order to assess said character, Harvard introduced The Academic Essay. Now everybody does it! It's because of the Jews. Jews like me and Tina Cohen-Chang.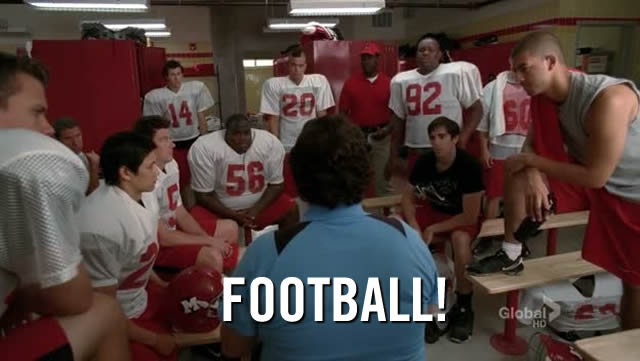 Beiste: "Listen up, ladies. I kicked a fire hydrant when I found out Ace of Cakes was canceled, so… the crutches. Number two, the entire wrestling team has come down with a flesh-eating staph infection so fellas, wash yourselves! and that includes your batcaves and your bramble patches."
Oh disgusting.
Cut to Mike, looking anxious and distracted because of his Overbearing Asian Father and Chemistry and how The Smash is always stealing the spotlight. Also because the entire football team is looking at him like a Christmas Turkey 'cause Beistie says they've gotta learn to dance by Wednesday, just like Chaz Bono.
Then big black guy jokes about how his Daddy didn't raise him and I had to go throw up my Quiznos.

Cut to the lunchroom, where Mercedes and Shane are about to have a conversation about how Mercedes has to follow her heart and be her true superstar self and be recognized for her passionate feelings/talents re: music.
Shane's giving Mercedes the stinkeye as she conspiratorially embraces Berry Bramble despite the fact that they're competing for the same role. It's like the Trojan War, but with music. Maria is the only part in the whole entire play and if Mercedes can't be Maria then the world is a terrifically unfair place. It's like No Exit, but with Music.
Shane: "You say you're Beyoncé, but on the inside you feel like Effie White."
This means that on the surface Mercedes is real, but on the inside she's a fictional character based on the life of a real person as represented in the musical "Dreamgirls."
Shane: "You're better than Rachel Berry, babe."
Mercedes: "I've been here for three years, nobody has ever said that to me."
Swish over to Mercedes' Big Musical Number, Orthodontist-office favorite "Spotlight" by J-Hud. At first she's sitting on her chair at Glee Club with all her feelings like Adele while Brittany and Tina are behind her harmonizing like musical bobble-head-dolls of delight.
Cut to Mercedes' audition for West Side Story. Brittany and Tina are still behind her doing step-touches and it all seems very thoughtfully put together in a way that makes me feel like maybe Glee is back, FINALLY.
She's wearing this wrap-around black dress folded by seventeen magical elves of night who pinned and clipped and birthed that thing on her body as she stood there and on the seventh day they looked at their work and they said "damn, this looks good."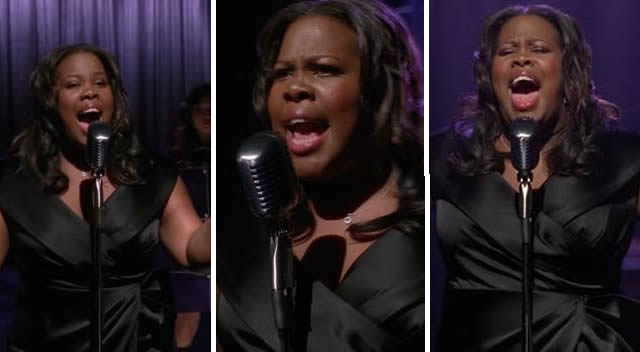 By the time you're like DAMN this girl does need more solos, we pan over to Wynken, Blynken and Nod, cheering wildly.
Mercedes: "I just want you guys to see me the way that I see myself now. As a leading lady."
AHEM luckily there are lots of parts in West Side Story, although as the pithy cast list later reveals, they're apparently doing a Readers Digest version which'll employ five leads and a bunch of lords a'leapin' in shoulder pads.

Cut to the lockers, where Tina and Mike are about to have a conversation about how Mike has to follow his heart and be his true superstar self and be recognized for his passionate feelings/talents re: music.
Tina's super-stoked for Mike's audition tomorrow and exposits the hell out of not only this scene but the entire plot of West Side Story as Mike stoically moves books around in his locker. Then Mike confesses his paltry Chemistry exam score and Tina winces, "You got an Asian F?" And I'm not talking about fellatio, that was in the Fondue for Two episode.
Mike injects the show with a tiny drop of executive realness by pointing out that on top of football, glee club, school, lunch, sleeping, and booty camp, there's not much time to be a Jet all the way, but Tina lacks time management skills and disagrees. If he can bend his arm like that he can probably fuck with space/time, amirite?

Elsewhere in the haunted hallways of hoebag high, Kurt and Rachel come eyeballs-to-eyeballs with Brittany and Santana who are disappointed that Rachel's already voting for Kurt, who moments ago was tactlessly gloating that despite his bowtie, nobody takes Brittany seriously.
Santana: "Did you know that after six years at this school we've only exclusively had male student council presidents? And yeah, Kurt looks like Jimmy Fallon's butch daughter, but a vote for him would only empower yet another Frank and Beans."
Brittany: "Yes, and where has that patriarchy gotten us? A double-digit inflation, economic free-fall, oil spills, war in Afghanistan…"
You guys. Brittany said "patriarchy." Did you melt? I melted. Her lips, G-d's ears.
Santana: "I tweeted about Brittany's flash mob pep rally in the gym and we're all showing up to support her with girl power."
Brittany: "Yes, boys have made one hell of a mess in this school and there's only one way to clean it up."
This is maybe the last show in the world I expected to acknowledge, even if only by accident, that it's often still harder out here for a woman than it is for a white man even if he's gay.
And then "Who Runs the World (Girls)" begins, and everybody's life changes forever:
The thrummy beats pound out of the school walls as Brittany thrusts her hips back and forth and swishes her head in circles like the air is her swimming pool. Her legs are long jockey reeds of playful power sheathed in gym socks and tall black hooker boots.
She's like this cheerleader dominatrix with a face like bubblegum and as she struts fantastically through the halls of McKinley, she's gradually joined by other, elastic-limbed girls in short skirts. She's like the Pied Piper of Girl Power.
Her pseudo-girlfriend Santana is in tow fairly consistently with Kurt at her side, but it's impossible to actually locate any other familiar faces in the kinetic rows of girls running the world.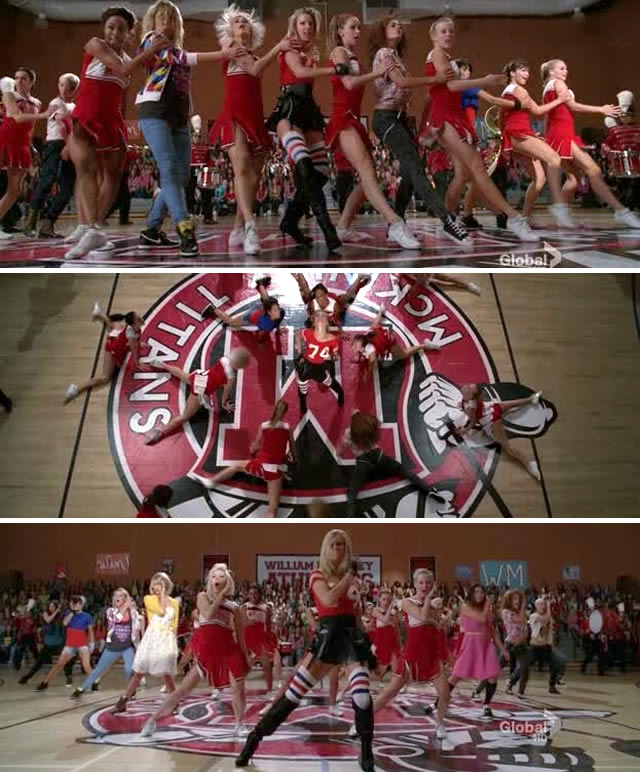 But that's how it's supposed to be because this number isn't really about each girl, who they really are, it's about one girl who can be half-magnet, half-mascot, and then of course what we can all be together.
And when Santana breaks out of the bleachers with a surprisingly smoky, "You'll do anything for me"? Hot damn.
Before long the entire female population of McKinley High floods onto the gym floor by the end of the number, high on girl power and hairspray.
Brittany may be dumb but she's strong and open-minded and willing to learn and regardless of all that — when she dances it's clear that yes, girls should run the world.
Brittany: "I'm Brittany S. Pierce and I'm your next Senior Class President!"
If only Hilary Clinton had hired Brittany to run her campaign.



The post-Brittany afterglow is slightly tainted when Stop, Drop and Roll call Mercedes and Rachel into The Office for another irritating conversation.
It's just too close too call and because, as aforementioned, Maria is the one and only female part in the musical and everyone else may as well be a shrub, there's no option but to stage a DIVA-OFF.
Mercedes is livid and Rachel continues being obsessed with I Feel Pretty. She wants to sing the fuck out of I Feel Pretty but the Three Musketeers have already selected a song for both of them to sing — "Out Here on My Own" from Fame.
Rachel: "I know it."
Mercedes: "I lived it."
Rachel offers Mercedes a hug and Mercedes says "hug me after I get the part." Audition hasn't even started and Mercedes is already stealing Rachel's lines.

Pages: 1 2See entire article on one page