Yesterday marked a significant moment for the Occupy Wall Street NYC encampment when for the first time major unions such as the Transit Workers Union and the City of New York teachers' union openly gave support to the leaderless group, joining a student walk-out from schools across the city.  Yesterday also marked the day I was at the protest myself.
Soon after the protest began Rachel gave us an overview of the happenings at the Occupy Wall Street protest, including the difficulty of pinpointing their aim in protesting and the comparison of this protest to that in Tahrir Square and the Arab Spring. As the storyline develops the Occupy Wall Street movement increasingly being characterized as the left's counter to the Tea Party.The leaderless group continues to camp out in Manhattan's financial district, and this week gained attention from more mainstream media sources such as CNN and support by celebs such as Susan Sarandon and Dr. Cornel West. Naomi Klein, author of No Logo! and The Shock Doctrine, is dropping by today.  And then there was that time their date Radiohead stood them up. But Jeff Mangum of Neutral Milk Hotel did show up, and that's not too shabby at all.  Watch the video and sing along!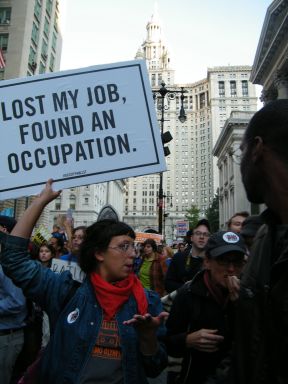 Making headlines over the weekend, a mass arrest occurred when over 700 protestors were arrested when they tried to cross the Brooklyn Bridge.  Demonstrators claim the NYPD directed the march on to the bridge at which point they broke out kettle netting for the mass arrests. A lawsuit is already being filed on behalf of the protestors by the Partnership for Civil Justice Fund. You can read at least one person's account of what happened here, or watch actual video footage.
Incredibly troubling is the story of transgender man and grassroots activist Justin Adkins who reported humiliation and abuse at the hands of the NYPD in his open statement after being arrested on the bridge.
My arresting officer found out I was born female when I yelled that information to the legal observer on the bridge. My arresting officer asked what I meant when I told the legal observer that I was "transgender" I told him that I was born female. He asked what "I had down there." Since it is a rude and embarrassing question to ask someone about their genitals no matter what the situation, I simply told him again "I was born female."
Maybe the most accurate comparison to Arab Spring is the fact that so much of what's happening in these protests is recorded on video and freely available online; people are free to at least partially make their own sense of what's going on, and to judge allegations of police brutality and mistreatment as well as witnessing the commitment of protesters firsthand. Last night, the live video feed was full of grainy scuffles filmed in the dark, with haunting chants and slogans from invisible protesters off-camera. Other video coverage is edited carefully and expertly produced, meant to act as a record of what's happening in this moment.
Right Here All Over (Occupy Wall St.) from Alex Mallis on Vimeo.
While the goals of those camping out at Wall Street remain not-totally-specified (and not necessarily universal, since it's a non-hierarchical leaderless movement), the common thread of economic discontent is drawing sympathy from across the country.  Representing these feelings is the tumblr wearethe99percent, where people are sharing their stories of suffering under the current economic disparities between the wealthiest 1% and the rest of us:
We are the 99 percent. We are getting kicked out of our homes. We are forced to choose between groceries and rent. We are denied quality medical care. We are suffering from environmental pollution. We are working long hours for little pay and no rights, if we're working at all. We are getting nothing while the other 1 percent is getting everything. We are the 99 percent.
Reading the tumblr made me ill.  Learning how many in this country have advanced degrees, significant economic hardship due to family circumstance or health problems and can't even land any sort of job to make ends meet or cover health care costs was horrifying. Hearing about this as a general concept is one thing, reading personal stories held by their authors is something else.
Criticism of the group's undefined demands continue as the movement grows to other cities such as Boston, Washington,D.C., and Atlanta.  Activist Jessica Yee criticizes the concept of using the word "occupy" in a protest movement on what is already occupied indigenous land.  In a New York Time's Op-Ed Nicholas Kristof offered some suggestions for specific demands, something the movement is currently lacking (besides, very reasonably, an end to reported police brutality), namely: 1) impose a financial transactions tax 2) close the loophole allowing the wealthy to pay low taxes and 3) protect big banks from themselves by legislating to limit risky behavior. I can't say I saw any signs with those specific demands during the march or at the Occupy Wall Street encampment last night.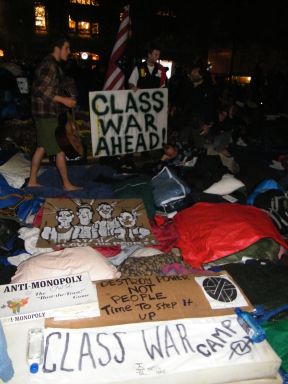 During the march some chanted, "Banks got bailed out, we got sold out!" in protest of the continued financial support for poor economic decisions of banks too big to fail.  I marched near FIERCE, a membership-based organization building the leadership and power of lesbian, gay, bisexual, transgender and queer (LGBTQ) youth of color in NYC", with their inspiring drummers and motivating chants.
My girlfriend and I marched holding the banner "Feminism is for Lovers" and didn't experience harassment from the cops during the march from City Hall to the encampment. During the march the NYPD were actually quite cordial, though about an hour after we left Zuccotti Park it seems the NYPD broke out batons and pepper spray as protestors made attempts to cross police barricades and reach Wall Street. Without a clear end in sight to the protests, tension between protestors and the NYPD continue to escalate.
During the march, demands ranged from an end to fracking to forgiveness of student loans. The hacker-activist group Anonymous is even threatening to shut down the NYSE in solidarity with the movement. Now that the movement is gaining some  mainstream members beyond the ragtag band of activists who began the occupation three weeks ago (some estimates put the number of marchers last night at 15,000 people), will the Occupy Wall Street movement galvanize real change impacting the economic disparities in the country they are protesting? Will the incoming reports of police violence demand the attention of people who would otherwise have ignored it?  Video coverage is making it harder and harder to ignore or disbelieve; The Awl says things will only get "more contentious," noting that "this kind of tension always precedes a greater conflict." It's possible that with the influx of support by the unions some pressure may be placed on the Democratic party to recognize their demands (such as they are), not unlike how GOP candidates are finding it necessary to pay at least some lip service to the Tea Party. It's becoming more and more clear that Occupy Wall Street really does mean to stay. What's still not clear is whether anyone in power is willing to try to understand what they want and give it to them — or, barring that, what they're willing to do to make them leave.