Then we've got this Black Swan meets The Karate Kid meets The Spelling Bee thing happening in the Fame room where Mike was detoured en route to The Chemistry Tutor because he saw that clean wooden floor and just had to writhe around on it and make noises.
Overbearing Asian Father, who really needs to have a little fun before he dies, pops up like Ghost Dad Ninja to tell Mike that dancing is for weddings and it's just a hobby. Mike is just one injury away from becoming Jason Street! Doesn't Mike want a prestigious Ivy League education so that one day he, too, can be part of the 99%?
Cut to Tina popping up to have a conversation about how Mike has to follow his heart and be his true self and be recognized for his passionate feelings/talents re: music/dancing. Mike and Tina's relationship is of great interest to my shoes and just about nobody else. SHUT UP AND DANCE, KIDS!
This segues into Mike's audition…
…he does "Be Cool" and his singing is fine, meh, but the dancing is big and jubilant and the alleged football players behind him are Jets all the way.

Back to the sordid hallways, where Kurt and Blaine are about to have a conversation about how Blaine has to follow his heart and be his true self and be recognized for his passionate feelings re: music.
Kurt is, per his attire, once again prepared for war. But he's got flowers so it'd seem this time, he's a soldier of love.
Kurt: "The cast list goes up on Friday. Are you nervous?"
Blaine: "A little. I try not to think about it."
Kurt: "I wouldn't be. My mole in the casting office says there's only one actor they're seriously considering for the role of Tony, and his initials are 'BA.'"
Mhm. Saint Hummel's had a little transformation, thank god, and I think it's special that he can overcome his bitchiness to be happy for Blaine. And Blaine McPerfectface is all Extra Perfect about it and loves the flowers, which he'll probably be able to carry around school for two seconds before getting slushied.
Blaine: "Kurt! They're beautiful. What are they for?"
Kurt: "You killed your audition, Blaine. If anyone else got Tony, including me, the wrath of Sondheim would fall on William McKinley like a plague of Schubert Alley locusts. These are to celebrate — you."
Blaine: "You always zig when I think you're about to zag. I… I just… love that about you."
Is that the nature of Kurt, or the nature of Kurt vis a vis Blaine? They look like they're about to kiss but then they seemingly both remember that they're gay and this is high school and with West Side Story and sectionals coming up, it looks like a bad day to die.


And back to booty camp where Will wants to teach a bunch of kids who can't tango to do the "widowmaker," not to be confused with K9: The Widowmaker a movie starring Schindler and also featuring a high school friend of mine who was accepted into Julliard's acting program (the one Kurt and Rachel wanted to apply to but had their dreams dashed) and then promptly flunked out or dropped out around the same time K9 came out. Then K9 ended up flopping, actually, but somewhere around there he dumped his girlfriend unceremoniously for no real reason, which is the experience she drew upon when giving me the best break-up advice you'll ever get, and now she's married and just had a baby and I'm flying to New York City right this minute to poke that baby in the ear. So here we are. Full circle and far away. RIGHT. GLEE:
Quinn, sidenote, is prancing around in this scene like she spent lunchtime inhaling helium or she just learned how to put in a tampon and feels really free.
Mercedes cannot do the widowmaker and generally seems sick of the whole entire shitshow. It's that thing where you're just sort of okay with like, your girlfriend being possessive or your boss not giving you a raise and then your friend/significant other gives you a somewhat aggressive inspirational speech about how you're too good for that shit and you suddenly become a giant barrel of largely fabricated self-righteousness. It's usually necessary, but it's rarely pretty.
You know, kinda like when Lauren Zieses inspired THE SAME EXACT CONVERSATION in A Night of Neglect. Anyhow!
So then we flash into a slightly lyrically altered "It's All Over" from Dreamgirls. Santana and Brittany are in the back in glittery purple dresses with giant beehive hair. Brittany's looks especially unruly, probably from eskimo-kissing Santana all afternoon. I'm out of adjectives, but it was good.
Santana:
Effie, please, stop excusing yourself.
You've been late, you've been mean,
and getting fatter all the time.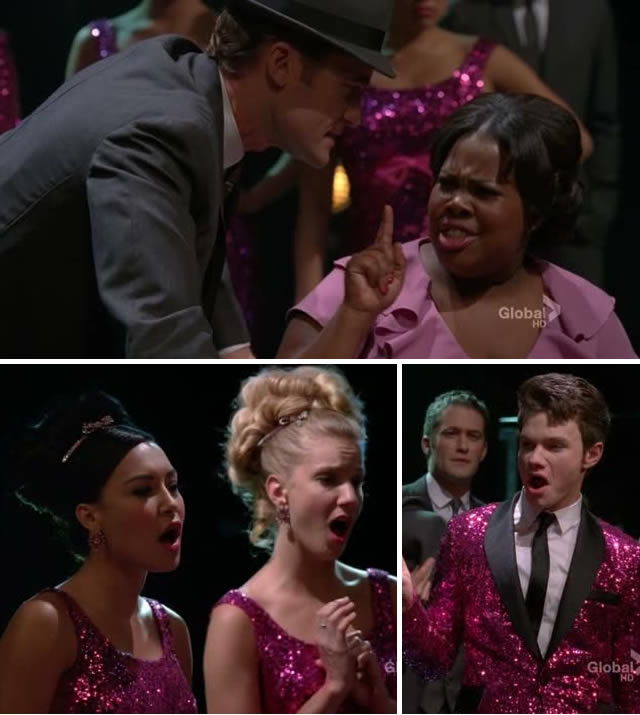 Mercedes:
You're lyin', you're lyin'
I've never been so thin
You're lyin', you're lyin'
cause you're knockin' off that piece
Who thinks she's better than everybody
Runnin' for president
She ain't better than anybody
She ain't nothin' but common
AHEM. 
Just to clarify, Mercedes isn't referencing their knock-off gowns, but the fact that Santana is shtupping Brittany. So.
Santana:
Now you listen to me, Miss. Blame-It-On-the-World,
See, I put up with you for much too long.
I have put up with your bitchin'
I put up with your naggin'
And all your screamin' too!
When the song's over, Mercedes snaps back into the present, and an empty auditorium, realizing it really is over: she's out of Glee Club. Fuck all of y'all.


Back to the dance hall where Mike and Mama Chang are about to have a conversation about how Mike wants to follow his heart and be his true self and be recognized for his passionate feelings, re: music.
Mama Chang knows Mike ditched the Chem Tutor but then Mike does a little spin in the air and says that's what he wants to do, he wants to be an artist who does spins in the air. Mama Chang subverts her Overbearing Asian Motherdom and tells him to follow his dreams, grasshopper.
Mom: "I let go of my dreams but I never want to do that. You hear me?"
Then I think Mike decides to teach his Mom to dance and everyone cried except for me, because I'm heartless and I was like "oh my god this is so corny."


Now time for the Sing-Off and its opening coin toss. Alvin, Simon and Theodore have those obnoxious bright-eyed "we love to watch the children dance" faces on overdrive and the glee kids in the audience are amping up the significance of the event Chaiken-style — it's THE CLASH OF THE TITANS! I also think Santana is fingerbanging Brittany under her cheerleader skirt, but maybe I'm projecting.
I mostly spent this time staring at my refrigerator wondering who ate my Phish Food  but I think they both gave really stellar performances.

Rachel, who made her dress with a pattern from Jo-Ann Fabrics in 1989, is in crisis mode because Mercedes was so good and what if Rachel doesn't get Maria? She's decided instead to run for student body president because really, the field's right open, and the contingency of students likely to vote for glee club members — that is, Glee Club itself — will now be split three ways which I think means 1.5 votes per candidate, plus all the boys Brittany slept with.
Of course the truth is that if she's applying for a conservatory (BFA) program, which I believe she is, being student body president really won't be of much consequence, though I find the possibility of her reign terrifyingly awesome. I'm imagining McKinley High draped in a giant Berry Banner, Christo-and-Jeanne-Claude style.
Kurt calls her out for this epic miscalculation:
Kurt: "In ten years, you're not going to be thinking about the clubs you were in or the things you did, but the friends you had and the ones you tossed aside."
One day we all have to grow up and realize just 'cause this or that behavior is a caustic quirk your peers have come to expect that doesn't mean they'll ever accept it. I don't think she'll run.

Ultimately, Huey, Duey and Louie are unable to pick between the two and pitch that they share the role.
But Mercedes doesn't want to share it and she doesn't want to to learn the Widowmaker and end up like my friend who went to Julliard. She wants to be carried on stage inside a motherfucking egg and she wants only blue m&ms and eternal tater tots.
Mercedes wants to know why nobody ever wants to hurt Rachel's feelings, which makes about as much sense as a nursery rhyme.

Oh, so this whole time there's been stuff going on with Will and Emma but as you know I only recap the children's parts. So it leads to this scene where Will and Emma are kneeling at the bed praying because Emma's parents are assholes and G-d knows it, and then Will breaks out into Coldplay's "Fix You" and I feared it'd transform into a Skins S1/Magnolia situation with everyone looking like ghosts of themselves singing this song but totally butchering it, but instead it's just Will and his pudding face and his Lady Blinkin'.
In some alternate time/space continuum, the cast list goes up and everyone gets what they wanted/expected.  Everyone hugs their significant others — Kurt and Blaine, Tina and Mike, Santana and Brittany. Santana is gonna be Anita and it's gonna be the BOMB.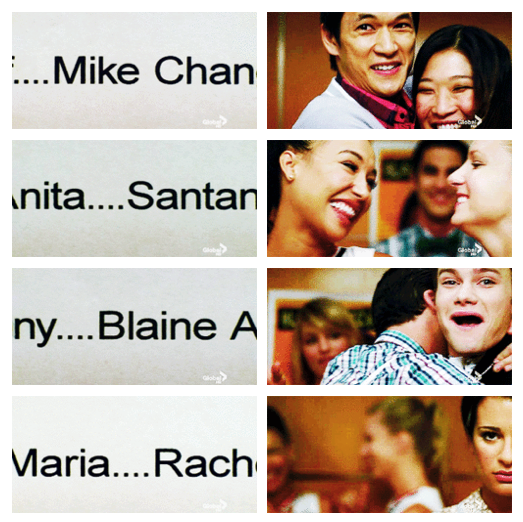 Also there are a lot of clubs at this school: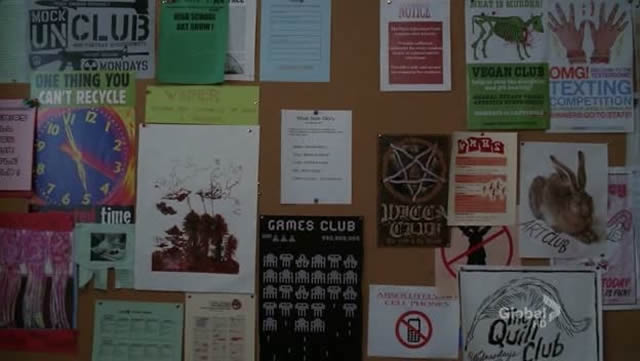 The scene ends on the stage where the Saint Holy Choir of Coldplay is in full effect:
Then Mercedes goes to visit Elphaba to sign up for the Disaster Catastrophe Show Choir.
Hopefully Mercedes will sing loud enough to drown out Sugar. Their first show can be Dame Edna: The Royal Tour.
Oh, my intern has a feeling about Finn and that is "remember when Finn was a character and not just a facial expression"?
Pages: 1 2See entire article on one page